Kitchen organization is usually focused on high-traffic spots like the pantry, cutlery drawers, spice racks and shelves— all the places that can be seen. But sometimes lurking at the bottom of the kitchen sink is a mishmash of sponges, a questionable dishrag, a few stray Cheerios stuck on the side of the drain, a discarded cheese string wrapper and a mix of rinsed, washed and dirty dishes.
Sorting out the sink isn't the most glamorous project, but a few small accessories can create more space for rinsing dishes and food, extra space for drying dishes, and a dedicated spot for cleaning products, so the sponges don't get dingy.
These items were chosen to suit different size sinks, suit different design styles and be budget-friendly, with most products coming in under $25.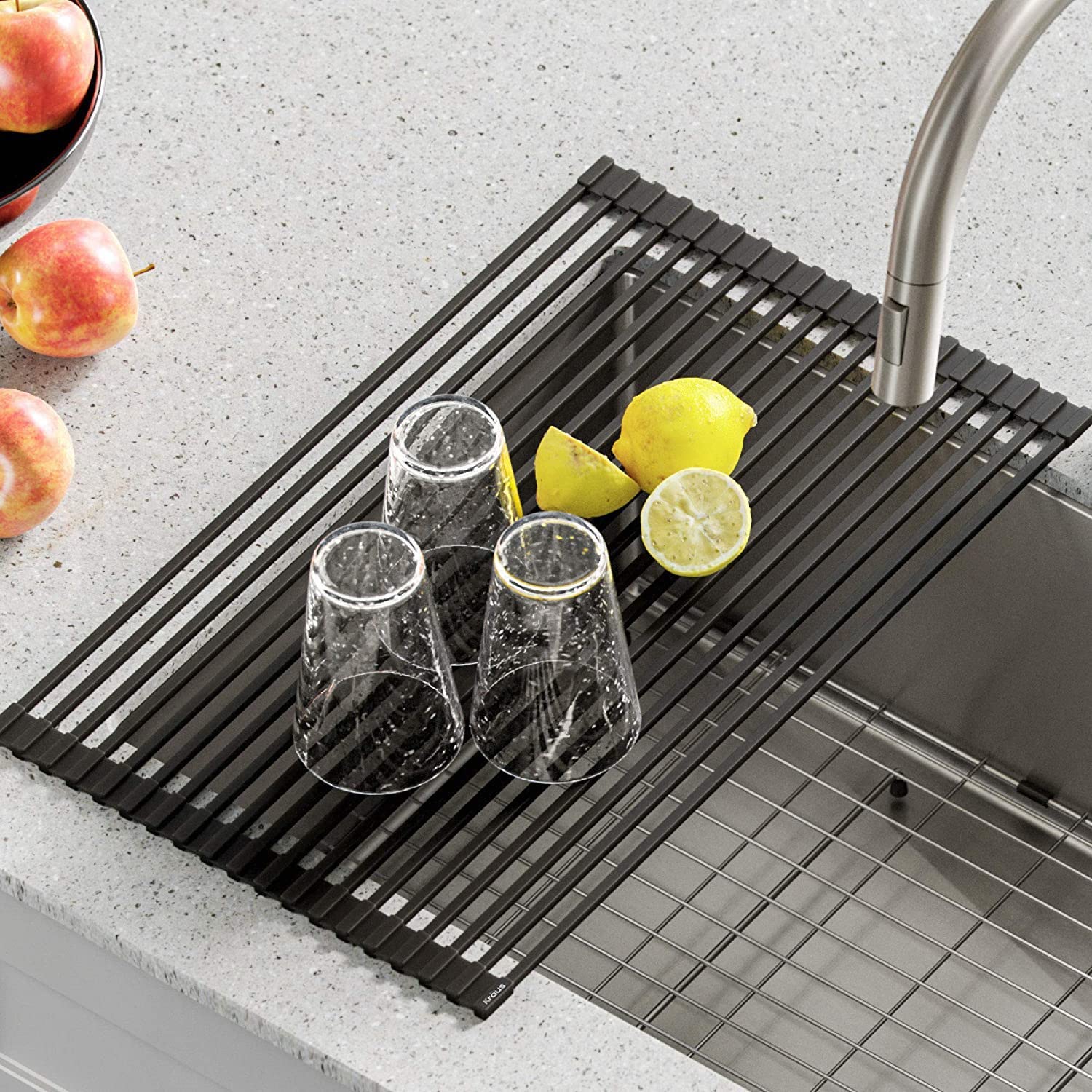 The roll-over rack has made it onto many Endorsed-approved lists for its ingenuity and multi-use function that combines a dishrack, colander and sink grind. It's ridiculously handy because it can be used to wash fruits and vegetables, doubles drying rack for large platters and cutting boards that won't fit in the dishwasher. This one is heat resistant, so it acts as an extra space for a hot pan or a pot full of pasta waiting to be strained in the sink. Available at Amazon.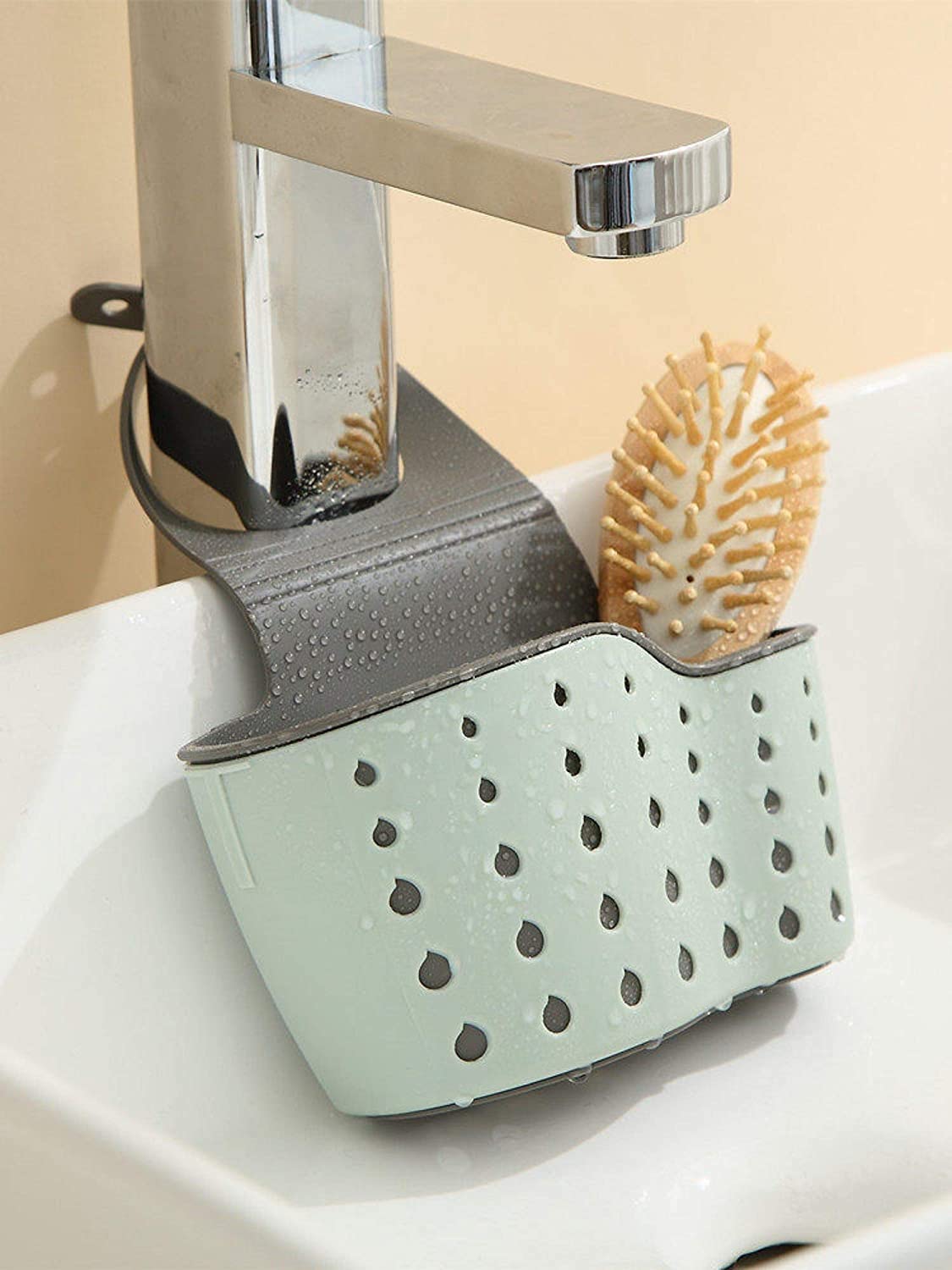 This relatively inexpensive OXO Good Grips sponge holder hangs off the base of a faucet (with adjustable length). It's made from flexible rubber, rather than other caddies that are usually metal or hard plastic. Available at Amazon.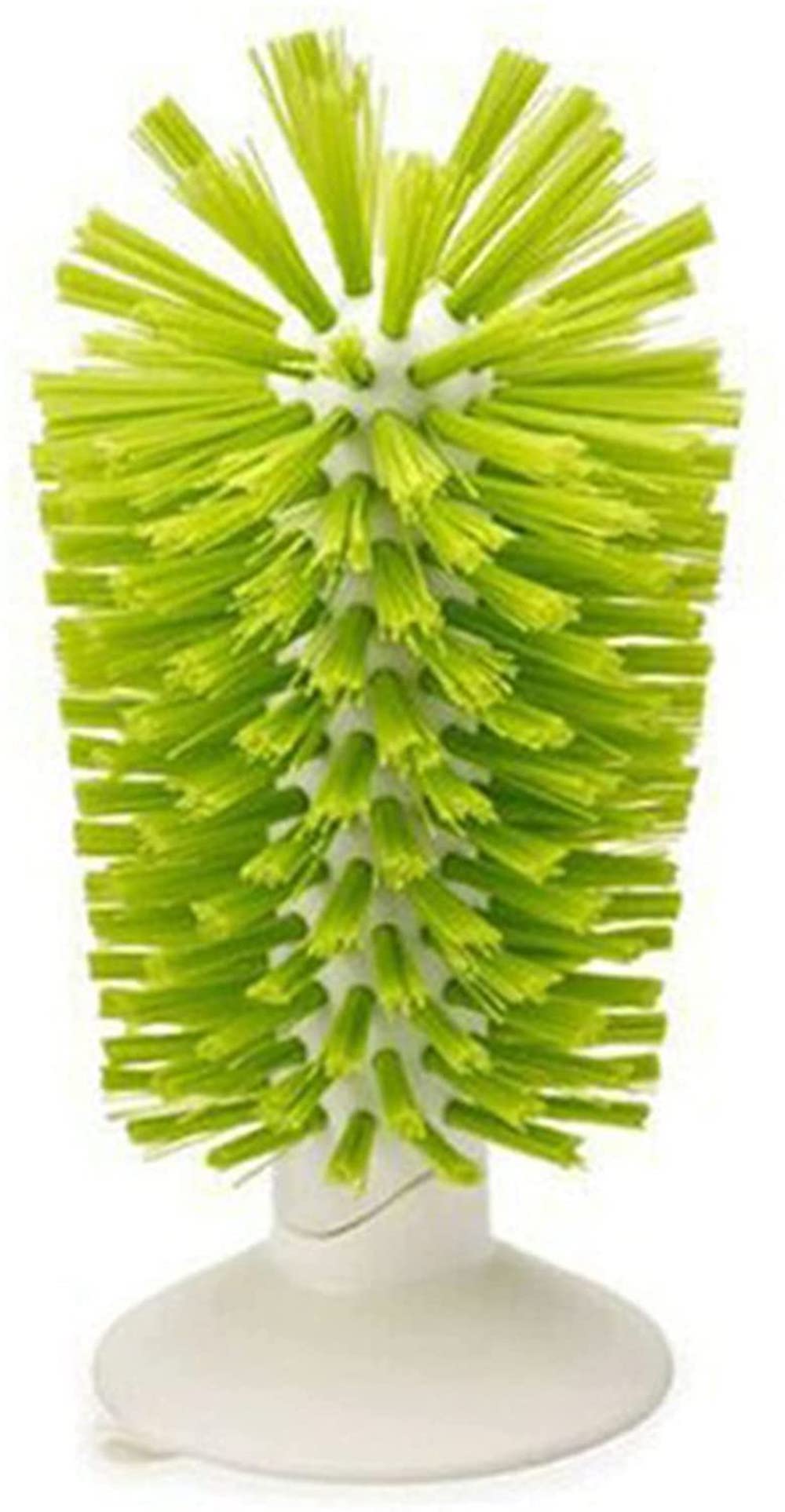 Stand-up scrubbers with suction can be stored in a sink, next to a sink, under a sink or in a caddy. This brush is made for glasses and cups, mason jars and bottles, and this scrub brush is for dishes, pots, pans and can help clear away water spots.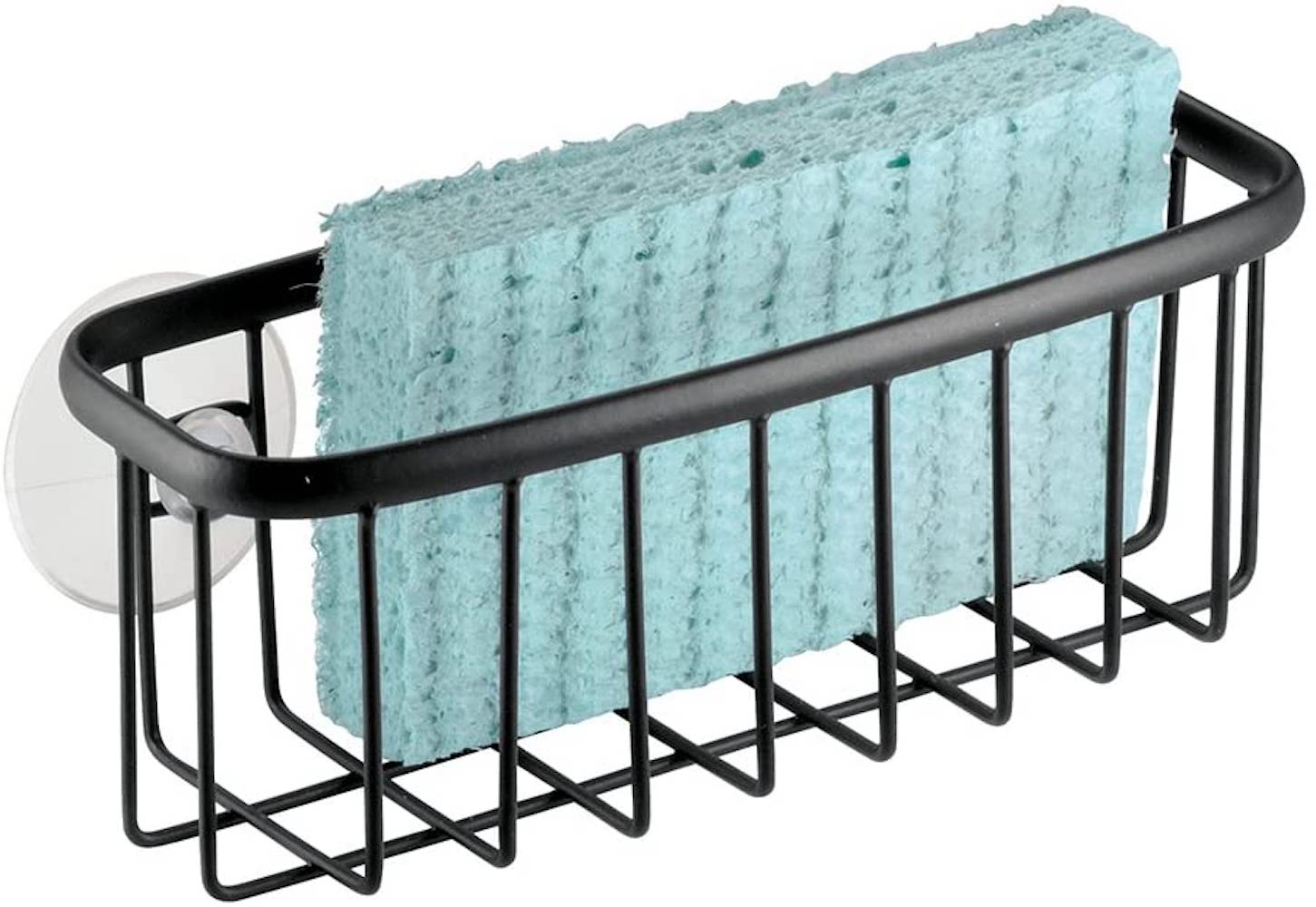 This simple iDesign steel sponge holder has a bronze finish (it's rust-proof). After a thorough rinse and wringing, it holds sponges, so they dry and don't sit at the bottom of the sink getting covered in stray bits of cereal milk and coffee grinds. Available at Amazon.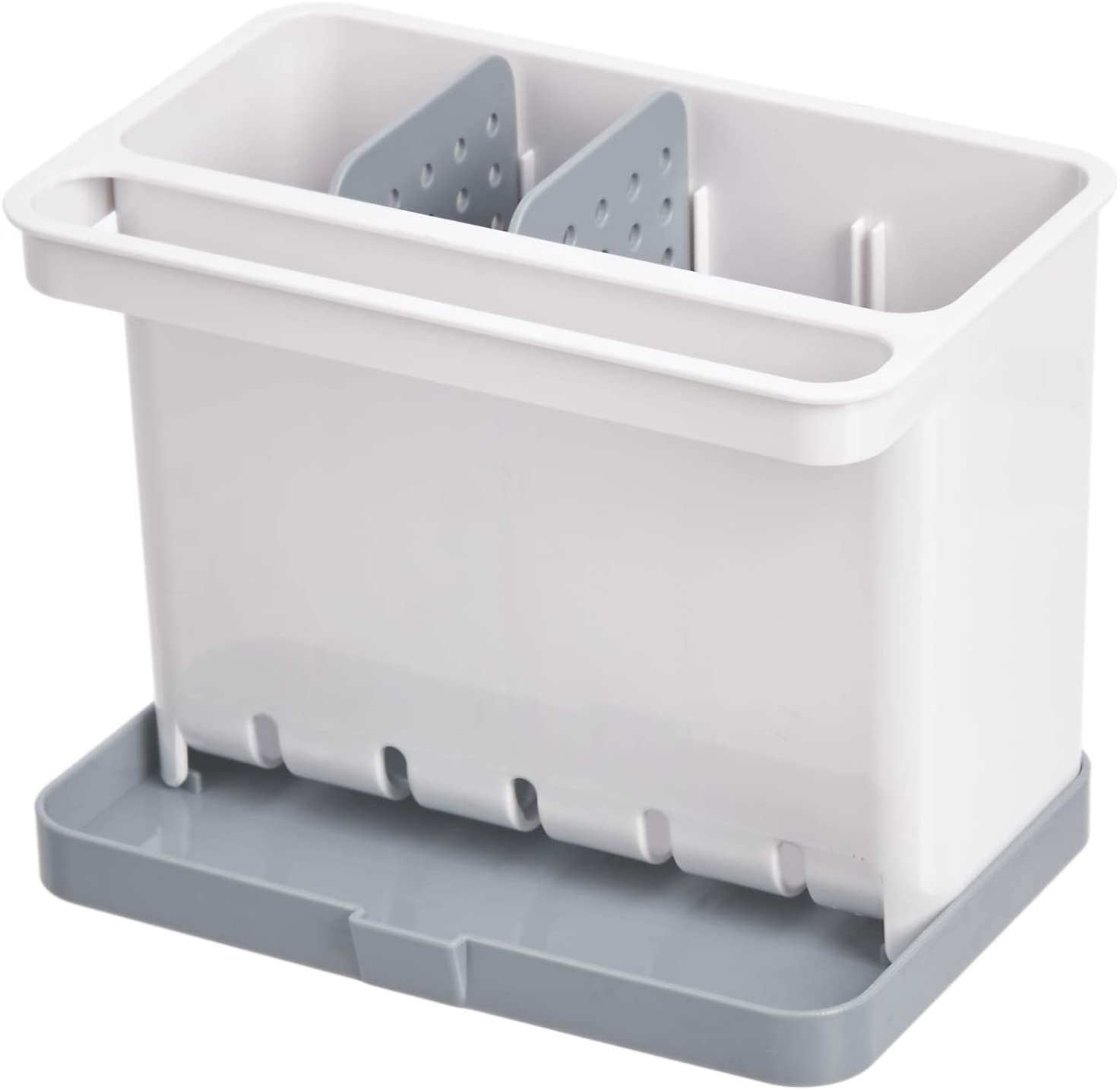 Are you working with a small or a single sink (or a small, single sink)? This Amazon Basics Kitchen Sink Organizer/Sponge Holder can sit on a ledge or be moved under the sink when done with the dishes. With just enough room for a bottle of liquid, scrubber and cloth, it has a washable tray and rinses clean. Available at Amazon.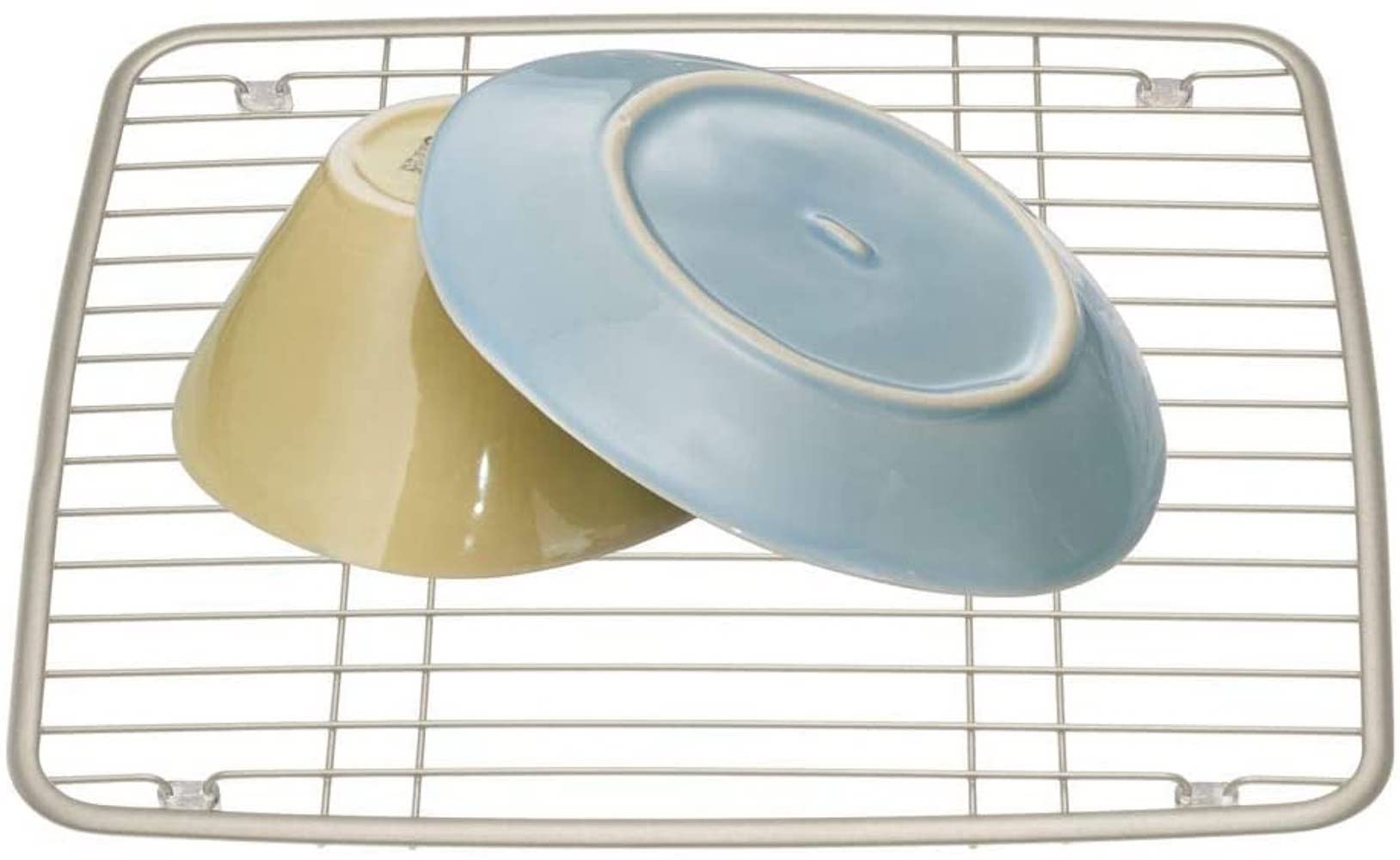 Sink grids make space with an extra layer at the bottom of the sink. Raised a few inches, it was made to protect farmhouse sinks with a glazed finish, and it can be used as an in-sink drying rack for dishes or a washing rack for fruits and vegetables. Available at Amazon.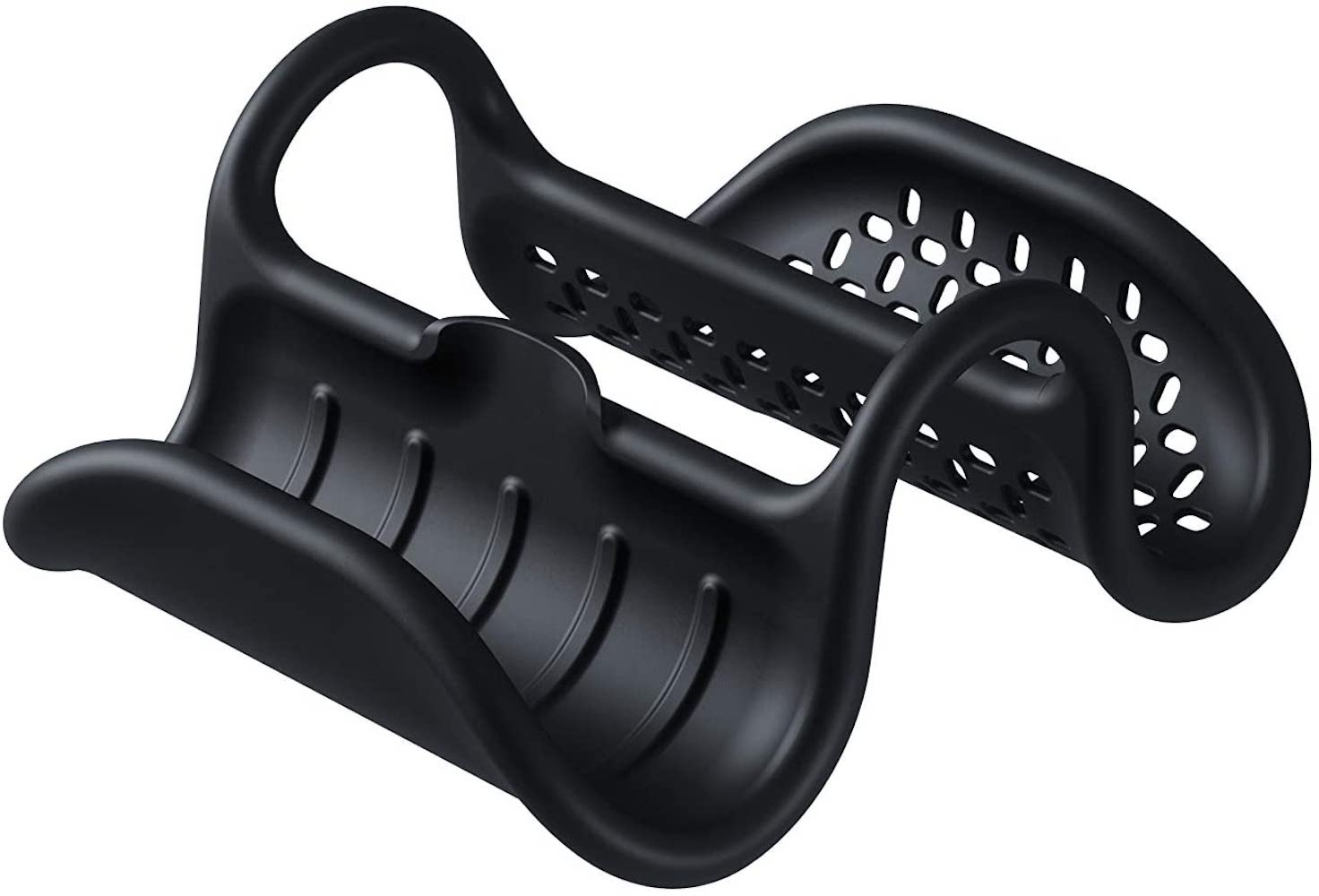 Not sure exactly how a sink caddy would work in your space or how you want to use it? This Umbra sling caddy is flexible so that it can hang on the middle partition of a standard double sink, or part of it can be adjusted to lay flat. Available at Amazon.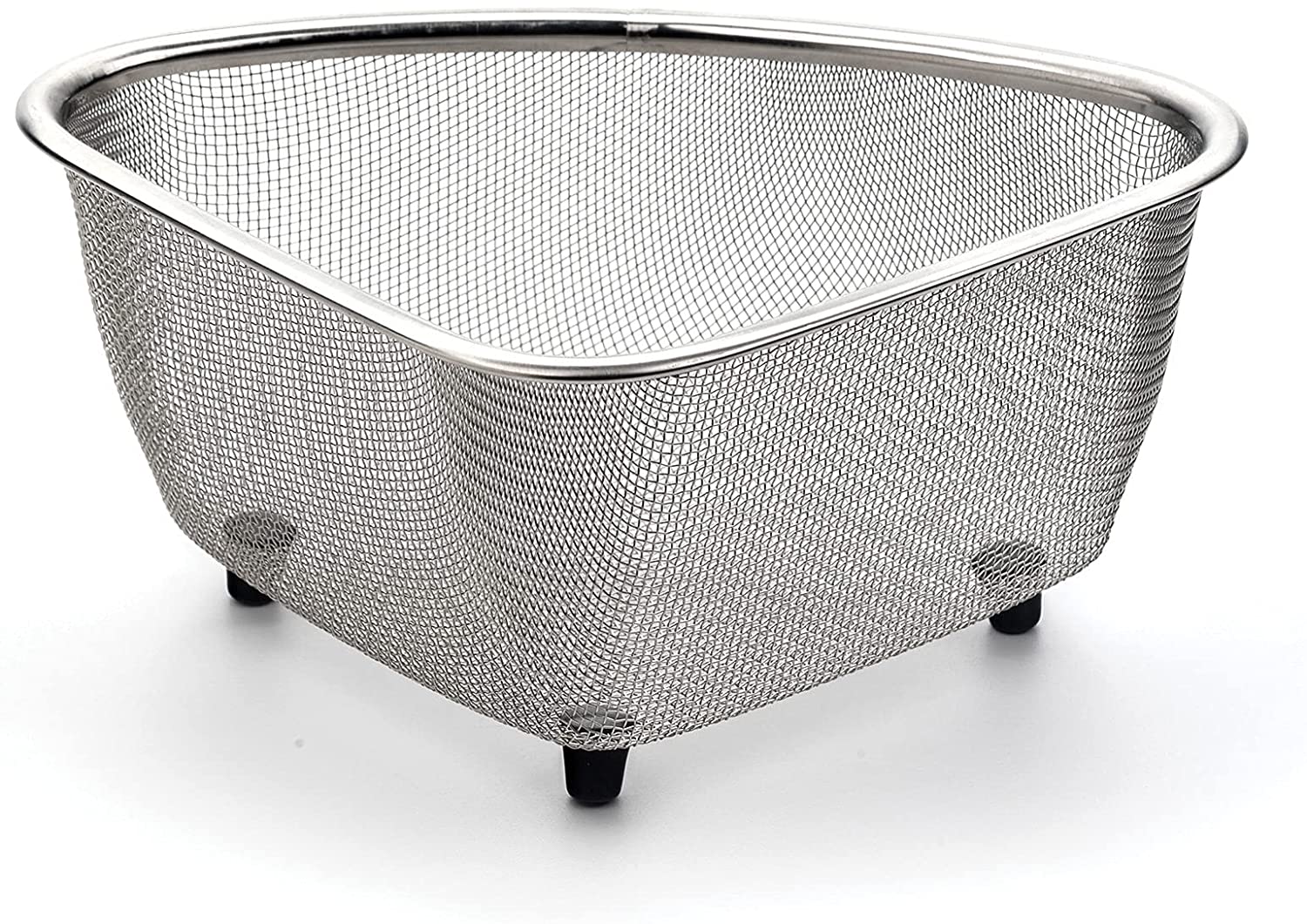 Despite the most stringent plate cleaning, bits of food always seem to end up in the sink. Some kitchens have a garburator to handle that, but for the rest, this mesh strainer sits in the corner of a sink and keeps food scraps out of the drain until it's time to clean up and compost. Available at Amazon.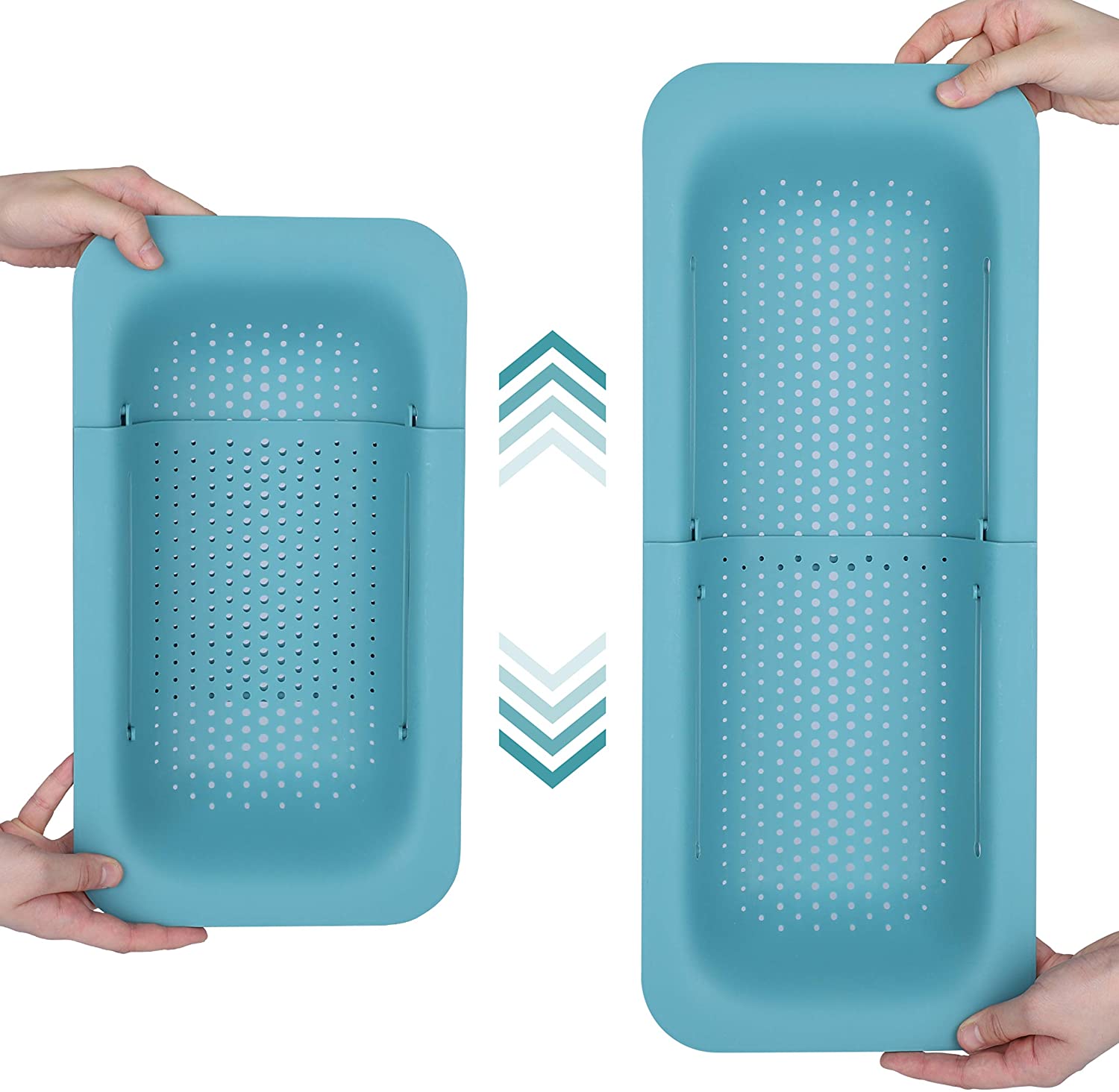 This extendable sink colander is for prep and cooking, not for clean-up. Made of BPA-free plastic, it hangs in the sink and makes it easy to rinse and drain food, and can double as a cutlery rack. Available at Amazon.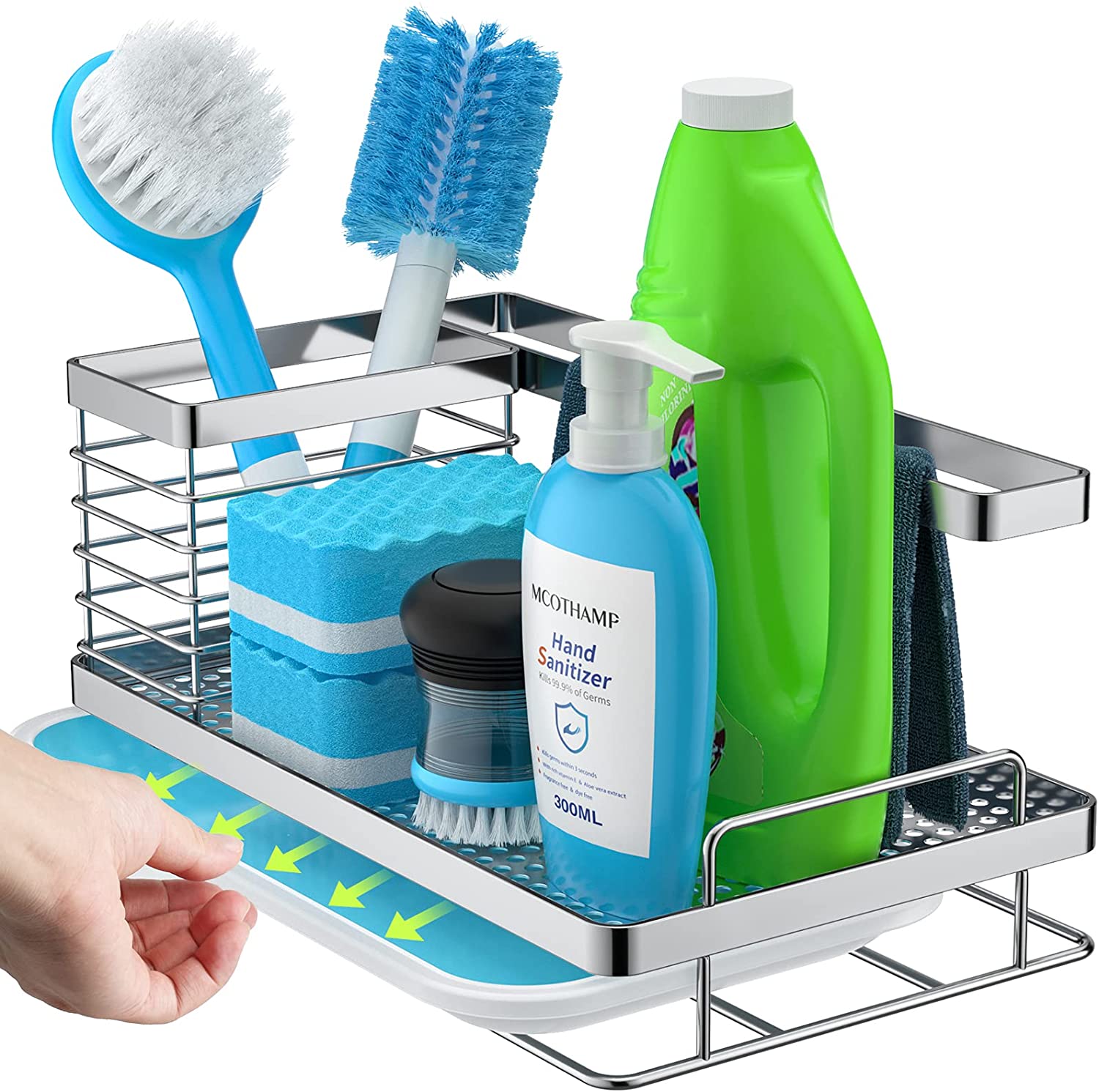 This highly rated, multi-level organizer has space for all the stuff that lives at the bottom of the sink. There are multiple slots for dish soap, scrub brushes, sponges and a removable drip tray. This is built to hold several wet products and won't rust. Available at Amazon.