Triniti Laser Clinic and Medi Spa is not just another skincare center; it's a sanctuary where passion, expertise, and cutting-edge technology converge to help individuals achieve their best skin and new-found confidence.
The driving force behind the clinic is a deep-rooted desire to help people feel better about themselves and overcome skin issues that may have seemed insurmountable.
"I have always had a passion for helping people and helping them feel better," clinic founder and director Tahora Eslahian says.
"That's what makes my day: putting a smile on someone's face when it comes to something they didn't think there was a solution for and helping heal their skin. Especially around acne. It's very rewarding."
Customer-centric care
At Triniti, the primary focus is always on the customer's needs. The clinic continually strives to understand clients' requirements and invests heavily in the necessary equipment, training, and knowledge to meet those needs. The clinic's core philosophy is that everyone deserves to feel their best.
Customers are treated like family, with many choosing to remain with Triniti for the long term, becoming an integral part of the team.
Harnessing the power of laser
Triniti Laser Clinic uses advanced laser technology to stimulate the body's natural healing processes. The laser tools they employ are instrumental in achieving these results.
The team utilizes laser devices to stimulate collagen, repair the skin, and target various skin issues. Most treatments involve minimal downtime, with maximum resurfacing treatments requiring only four to five days of recovery. This approach offers an alternative to surgical and invasive procedures, making it possible to address issues like pigmentation, vascular problems, acne, and scars without the risks associated with surgery.
Triniti also offers AviClear, a laser treatment specifically targeting acne, offering a less invasive option than medications such as Accutane, which can have harsh side effects.
​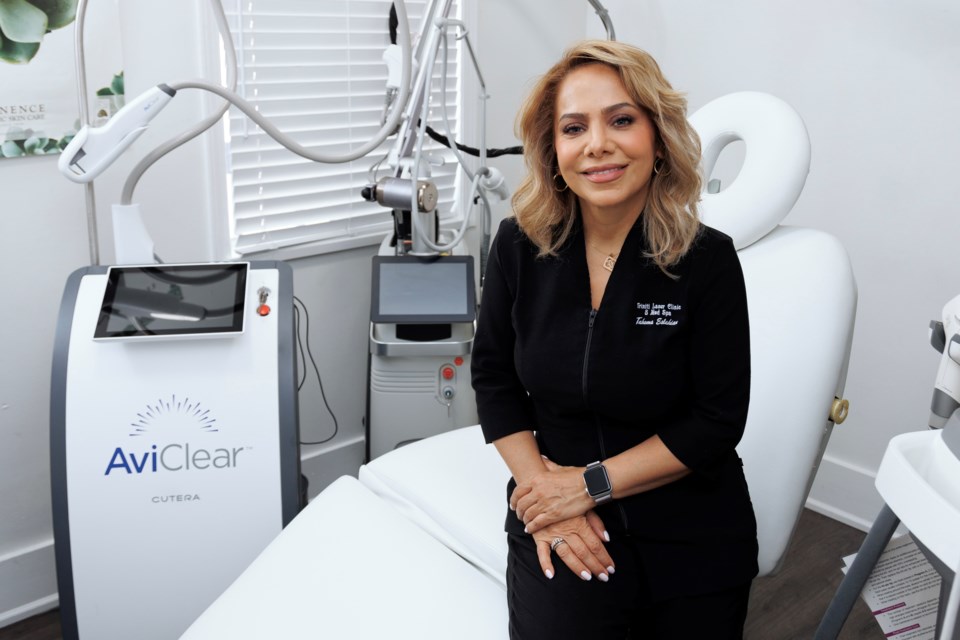 ​Personalized plans and education
Triniti offers complimentary consultations for every client, recognizing that each person is unique. They take the time to understand concerns and create exclusive plans tailored to individual goals, catering unique approaches and techniques to empower clients with knowledge about at-home skincare and dietary practices that can enhance results.
Investing in safety and effectiveness
Triniti Laser Clinic's commitment to safety and effectiveness is unwavering. They carefully assess new technologies and conduct advanced training two to three times a year to ensure they provide the best results. Education is paramount, and the team stays updated with the latest literature to formulate safe and effective treatment plans.
Inclusive care for all skin types
Triniti Laser Clinic proudly caters to individuals with all skin types, addressing a longstanding industry gap. Their range of laser machines allows them to specialize in treating darker skin tones, providing a comprehensive solution for a diverse clientele.

To learn more and book your free consultation today, trinitilaser.com.