Next time you're on the hunt for the perfect housewarming gift, or a serving platter that'll be the talk of your next dinner party, skip the big-box stores and head straight for PotteryWorks.
Not only will you wind up with something gorgeous and unique — your purchase will be directly supporting artists with disabilities in your community.
"Our pots aren't mass-produced – they're made completely by hand in our studio and one-of-a-kind," says Deidre Blackmore, PotteryWorks' program coordinator.
"There's also a value-added component, in that buying from us has a social purpose. It's changing a life."
Based out of a studio space on Victoria Street, PotteryWorks is an offshoot of Community Living Society (CLS), a not-for-profit group dedicated to supporting and empowering individuals with developmental disabilities or acquired brain injuries.
The studio is also home to a gallery and storefront, with additional retail locations at River Market, Vancouver's Pacific Arts Market, and Burnaby's City Of Lougheed Mall (plus an online shop).
All of them are stocked with exquisitely-glazed pieces from PotteryWorks' artists – some of whom, like Blackmore, have been part of the program since its launch 23 years ago.
By day, PotteryWorks is home to a group of artists funded by Community Living, all of whom earn commission on each piece of theirs sold. Around 30 artists offer their work for sale through the program.
Among them: James Lash, a 23-year PotteryWorks veteran whose skill as a landscape painter spills over into his pottery pieces; Sheri-Lynn Seitz, an accomplished photographer featured on City of New Westminster billboards who specializes in pop-art-esque splatter-glaze pottery; and Dan Tell, a multi-disciplinary artist whose mugs and dishes range from bold, graphic colour to whimsical house motifs.
CLS also operates a sister program, Colour Collective—which also hosts several of PotteryWorks' artists—and has mounted shows featuring many of the artists' works at galleries throughout the region.
With so many artists on its roster, PotteryWorks offers pieces that suit a wide variety of design styles (from minimalist to maximalist), gifting occasions and practical needs.
Blackmore adds that dishes and bowls tend to be the most popular sellers, and that many of the artists in the program—whether they're throwing their own pottery from scratch, or focusing more on decorating—prefer to work with low-fire glazes that translate into brilliant, saturated colors perfect for intricate painting.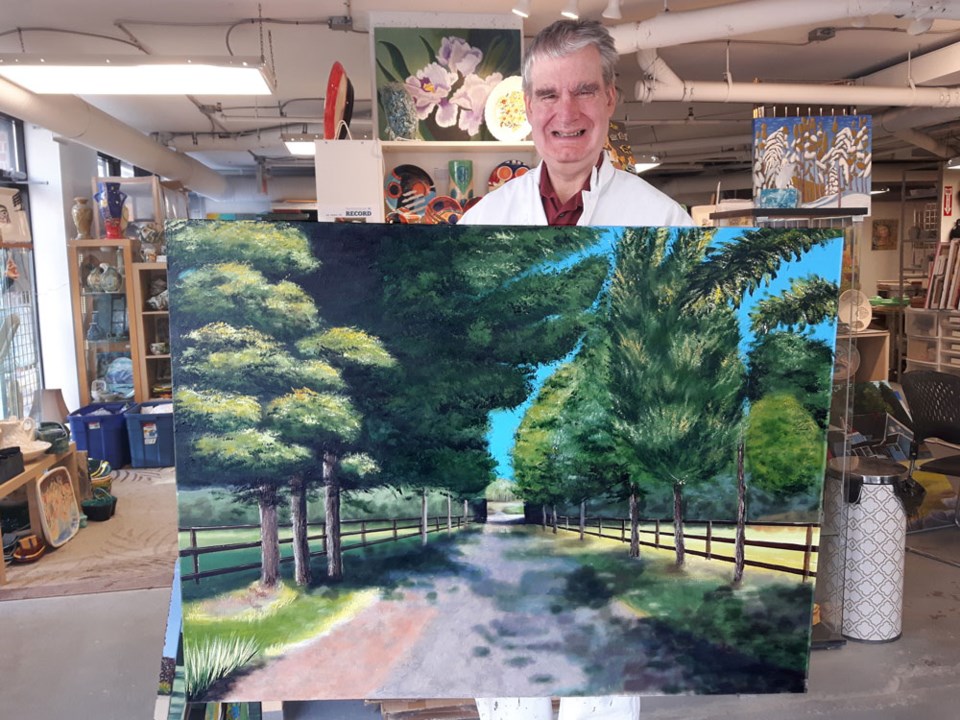 The studio itself, however, isn't limited to those working directly with CLS. During the day, PotteryWorks offers drop-in pottery studio access to artists with disabilities from other organizations. For a nominal fee of $15, they gain access to use of the studio and supplies, plus pottery wheel tutorials.
"We want this to be universally available — not just for our own individuals, but for the community of disabled artists in this area," Blackmore says.
In the evenings, the studio access opens up to the public: Wheel classes are offered Mondays through Thursdays. Hand-building and pottery painting workshops (including ones geared toward families) are offered on Saturday afternoons at the Victoria Street and River Market locations.
The classes are taught by professional potters, who are assisted by young people with disabilities hired through PotteryWorks in an effort to help them build professional experience.
Ultimately, the program is working to empower disabled artists, providing them with an audience for their work and a platform to succeed.
"It isn't just about seeing them develop their skills and talents, for me — it's the transformation in personalities, in self-esteem," Blackmore says.
"We're taking people who, in our society, haven't really been told they're good at very much. And now, they're doing something, and people are saying, 'Wow, you're really good at that — I want that.'
"We're giving them a platform to become a greater part of their community."