After a four-year, COVID-induced hiatus, New Westminster firefighters are trading out their boots for skates next Friday evening for their bi-annual charity hockey game, the Hydrant Cup, against Vancouver Canucks alumni.
Be there or be square, New West.
This year's roster of Canucks alumni include Dave Babych, Kirk McLean, BJ MacDonald, and more recently retired, Jannik Hansen. Behind their bench will be Gino Odjick and Darcy Rota as coaches.
"The New Westminster Firefighters Charitable Society typically hosts this game every two years, and this is the first time we've been able to hold it since 2018. So, we're super excited to bring it back this year," says Ryan Heaven, one of the firefighters organizing the Hydrant Cup.
On Friday, Nov. 4, doors to Queen's Park Arena will open at 5:15 p.m., followed by an autograph session, sponsored by Piva Modern Italian, from 5:30 - 6 p.m. During the hour until the puck drops at 7 p.m., you'll have a chance to check out the raffle table, mosey around the Steel & Oak Brewing Co. beer garden, and catch up with the community.
It's going to be an evening of family fun, celebrating with and supporting the local community.
"People are able to see each other again, enjoy the community, and enjoy these events, and it's all for a great cause. We're raising money for our charity, which goes right back into the community," says Heaven.
In addition to the other activities, there will be a minor hockey scrimmage during the first intermission and a frisbee toss to win a bicycle in the second.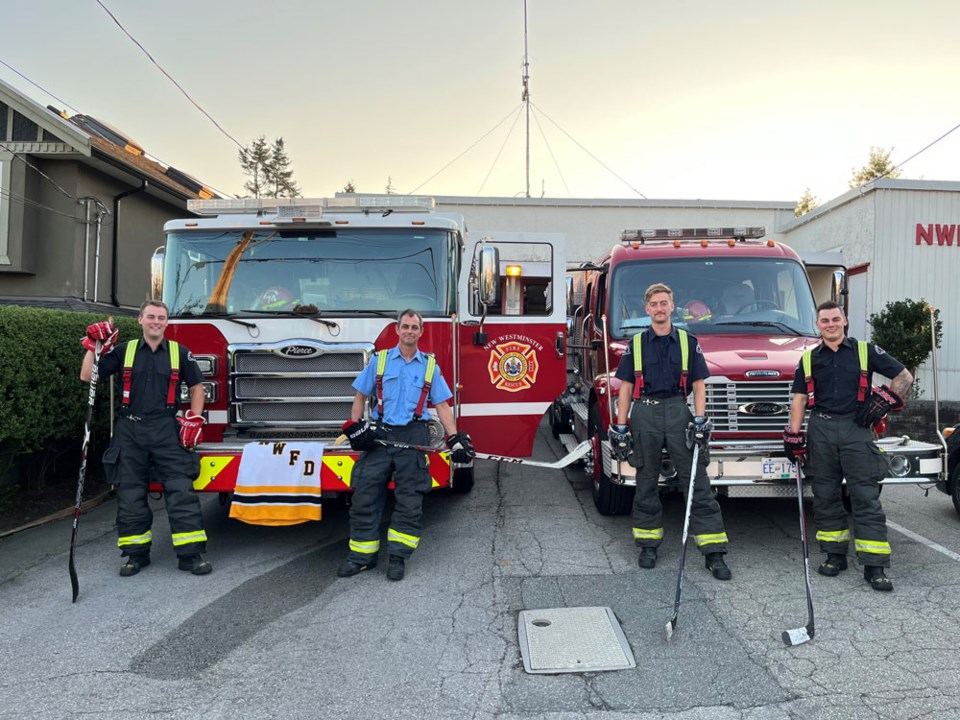 For some – like Heaven, himself – the Hydrant Cup is a long-standing family tradition.
"I grew up in New Westminster, I played hockey in New Westminster, and I remember going to these games as a kid. I remember always dreaming of playing in the game, and now, having the opportunity to do it is certainly cool," says Heaven. "As somebody who used to go and watch the games, to be able to play is fantastic."
If you're interested in purchasing a ticket to the Hydrant Cup, they're $10 for adults and $5 for children. They are being sold at Queen's Park Arena, Moody Park Arena, G&F Financial at 760 6th St. in New West, and at Glenbrook Firehall at #1 East Sixth Ave. in New West.
"To be able to host this again really shows that we're back, and we're able to get together and make these events happen. It truly is awesome, and there's been a lot of planning and working with multiple agencies to make it work, but it's something that we're truly proud of and something that the community appreciates," says Heaven.
To stay up to date with what the New Westminster Firefighters are up to, follow them on Facebook and Instagram.
The Hydrant Cup is presented by their Centre Ice Sponsor, Piva Modern Italian, and is sponsored by various local businesses and organisations.