New West Dentistry & Implant Centre celebrated its second "Yoonniversary," marking the anniversary of Dr. Stephen Yoon's ownership.
The occasion highlighted the clinic's patient-focused expansions and advanced technological integrations.
"I'm happy to be part of the community and to grow," Yoon says.
Since Yoon's takeover in 2021, the dental clinic has pioneered several advancements in patient care, with a notable addition being the integration of cutting-edge technology. Devices such as the iTero Digital Scan, Velscope Camera, and the innovative Sleeper Wand — which reduces pain during local anesthetic administration — are now part of the clinic's arsenal.
"Patient comfort is our highest priority. We use this machine to reduce their pain," Yoon says.
"One of patients' biggest fears is the needle. But this helps provide an almost painless injection."
In a bid to enhance patient experience further, the centre added two state-of-the-art rooms this year, growing the number of operatories from eight to 10, with one room reserved for emergency procedures. These expansions aim to reduce wait times, allowing for quicker diagnosis and treatment scheduling.
"Previously, patients had to wait for emergency procedures because we didn't have a chair for them, now we have a dedicated chair for emergencies," Yoon says.
The dental team's expertise is another feather in the clinic's cap. Alongside Dr. Yoon, professionals like Dr. Douglas Lovely, Dr. Chantal Thériault, Dr. Alan Yang and Dr. Amy Kim bring decades of combined experience. Their range of services are vast, covering everything from general fillings and root canals to cosmetic procedures like veneers and full mouth reconstructions (implants).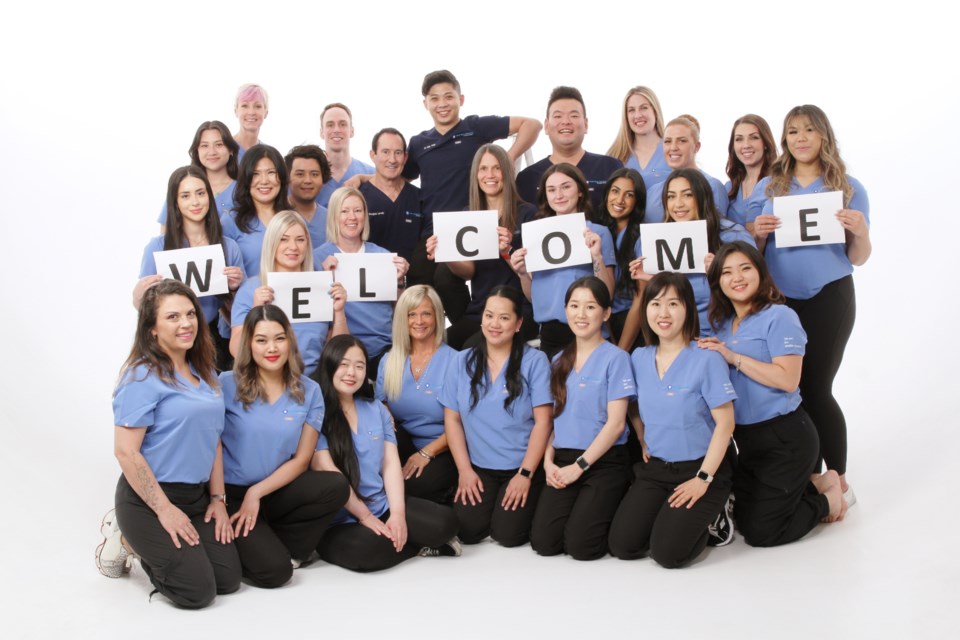 "We've grown and doubled our staff. The amount of dental visits for a patient to have their smile taken care of has been reduced. Among the five of us (dentists), we can cover everything," Yoon says.
The practice offers supervised Invisalign treatment for patients, which can correct misaligned teeth. In addition, on-site imaging technology ensures patients can receive all their care under one roof.
Beyond infrastructure, Dr. Yoon has shown a personal touch in team management. He's known to uplift staff morale with surprise treats, staff bonding outings and ongoing education, reinforcing a positive and patient-friendly environment. Such gestures not only enrich the team's experience but also reverberate in the patient interactions.
"We have general meetings four times a year. We close our office and dedicate that time to improving ourselves. We get guest speakers and learn. We recalibrate with each other and set a new standard for patient care," Yoon says.
The dental clinic, a stalwart in the New Westminster community for over 20 years, emphasizes transparency in dental care. Yoon's leadership echoes the clinic's foundational principle that patients should be well-informed about their treatments. This approach fosters a collaborative relationship, aiming for long-term oral health achievements.
Recognizing the diverse linguistic landscape of New Westminster, the clinic champions inclusivity. It offers services in multiple languages, including but not limited to English, French, Spanish, Korean and Arabic. This initiative ensures that linguistic barriers don't stand in the way of quality dental care.
To learn more and book an appointment today, visit newwestminsterdentistryandimplantcentre.com