Window treatments can transform your rooms, adding style, ambiance and warmth, filtering light, providing privacy or managing temperature. With safety, comfort and function top of mind, deciding which window covering is suitable for your home can be challenging.
Fortunately, you can trust the professional team at Budget Blinds of New Westminster & Surrey to provide the right solutions for every space and price point. Backed by 30 years of expertise, owners Clay Tierney and his wife, Lacey, are proud to be part of a brand that has earned a solid reputation as a trailblazer in the custom window covering industry.
By continuing the mission of the five founders, Budget Blinds' local experts provide the most convenient window treatment shopping experience, offering the best products and industry-leading, five-year no-questions-asked warranty.
The team are pioneers in design, style, innovation and product expertise, with custom blinds, shades, shutters, drapery, and more. "We work with you every step of the way, from the in-home consultation to the installation, to make your vision a reality," says Tierney.
In order to discern your goals and guide you through all the products and features that reflect your taste and vision, Budget Blinds offers free in-home consultations, essentially one-on-one personalized showroom experiences designed uniquely for you.
"We come to your home and ask questions to get to know your needs," explains Tierney.
"By using a rating system, for example, we might ask how important room darkening is on a scale of one to 10 and make recommendations based on your answers. We bring swatches and samples to show the operation of everything applicable to what you're looking for to help you make a wise choice for your home."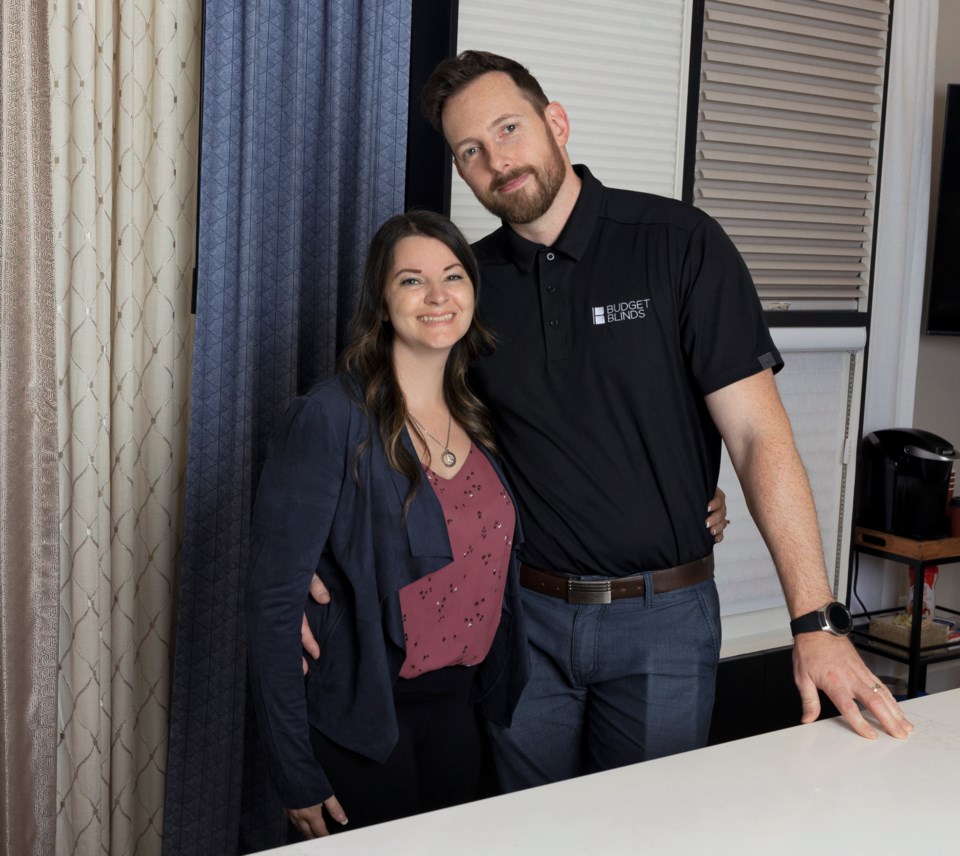 Motorization is one of the most exciting advancements and innovative solutions in window treatments. You can elevate your lifestyle with the touch of a finger with motorized blinds powered by Budget Blinds' Smart Home Collection. Heat-sensitive sensors adjust your motorized blinds to close automatically when temperatures rise, effectively lowering your energy bills.
"We come to the market with very inexpensive motorization compared to a remote style system," describes Tierney. "Many of our vendors offer various product styles with several outstanding benefits that include enhanced privacy and safety."
Safety is a benchmark for Budget Blinds, particularly regarding your children's well-being in the home. Continuous cord and chain loops present a high strangulation risk and can lead to tragic outcomes. As a result, new Health Canada regulations came into effect on May 1, 2021, restricting the length of cords and the size of loops allowed on window coverings sold in Canada.
"We are the leading company in the window-covering industry for all cordless products since the new regulations, and offer many options for child-friendly window treatments, practical solutions that provide peace of mind," reveals Tierney. "We sell a lot of Maxxmar's DecoraSafe™ product, an Ontario-based company's innovative anti-strangulation device with a shrouded loop."
"Ideally, you don't have hazardous window coverings in your house, but if you do, we can help with replacements."
"Budget Blinds is committed to serving our community, and we're blessed to be connected to the communities we're part of," Tierney continues. "The only way we're able to operate is with the support of the local communities."
To find the perfect features for your home or to book a consultation, visit budgetblinds.com/newwestminster or visit in person at #2120-580 Nicola Avenue, Port Coquitlam.