Theatre-goers are back, and so too are creatures who've been extinct for eons. It's been seventy-five million years since dinosaurs roamed the earth in the Canadian Badlands, and a mysterious time-warping wormhole has brought them back into the present day.
Playwright Louis B. Hobson's live-action fantasy adventure "A Dinosaur Tale," is presented by Massey Theatre on March 18 and 19 with four performances at 2 p.m. and 7 p.m. It's a family affair that's geared towards a young audience, especially dinophiles. It will delight kids, and of course, there are references for adults, too. But if you're worried that you'll be the oldest in the theatre, you won't. Promise.
"This production is really exciting for us," reveals Erin Jeffery, director, marketing and communications, Massey Theatre. "It's about getting young kids out and experiencing the magic that theatre can offer."
The play takes on touches from iconic family favourites like "E.T.," "Avengers: Endgame," and "Jurassic World." The audience is transported on a journey with a grade eight science class, an exploration through the Badlands, where junior paleontologists Lisa and Declan encounter five dinosaurs, and must send the creatures home before their field trip ends.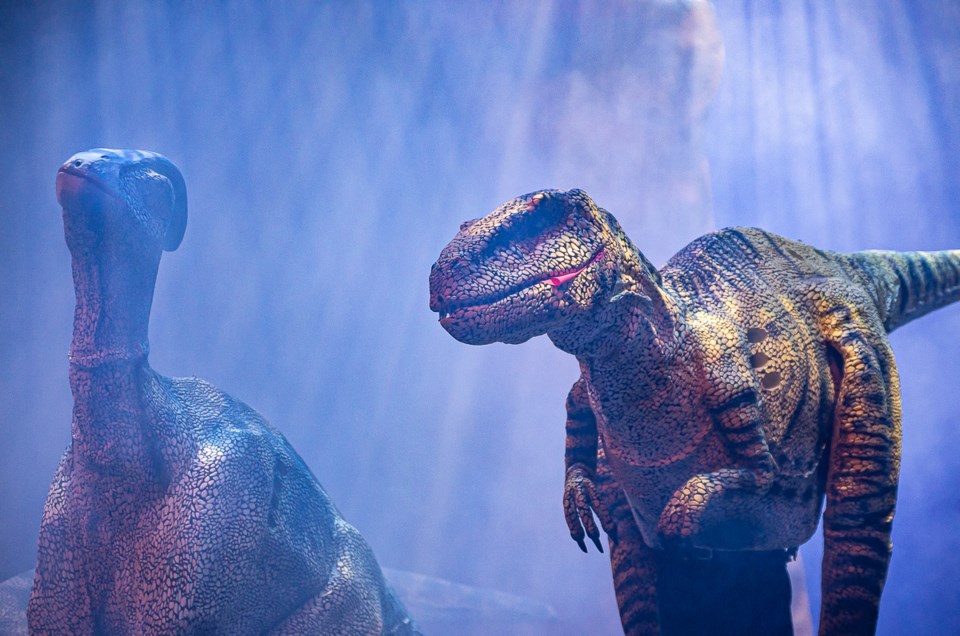 ​"Another thing that theatre for young audiences can offer is that spark of imagination—showing them that they could create these stories, that they could be part of these stories—however they want," says Jeffery.
Exceptionally talented puppeteer-actors operate the realistic-looking dinosaurs from inside, giving life to them through movement and sound.
"These are skilled performers that are able to perform either as a puppeteer or in a full-size costume such as these," says Jeffery. "They have to get the dinosaur's personality and share the moments of humour and empathy using their bodies."
You'll experience lots of laughs, a few scares, and a mild sense of danger, just enough to build tension, but not frighten anyone.
"It's designed to be approachable and welcoming and not overwhelming for little kids," Jeffery explains. "The dinosaurs are not menacing and mean."
Expect to encounter a raptor named Tyrrell, the hero, named after Alberta's Royal Tyrrell Museum, a Brachiosaurus, T-Rex, and even a baby Triceratops.
"We're working with School District 40 to ensure that families who have financial barriers to attending the show are able to go," says Jeffery. "Each of the schools have some tickets to give to families that have identified a need."​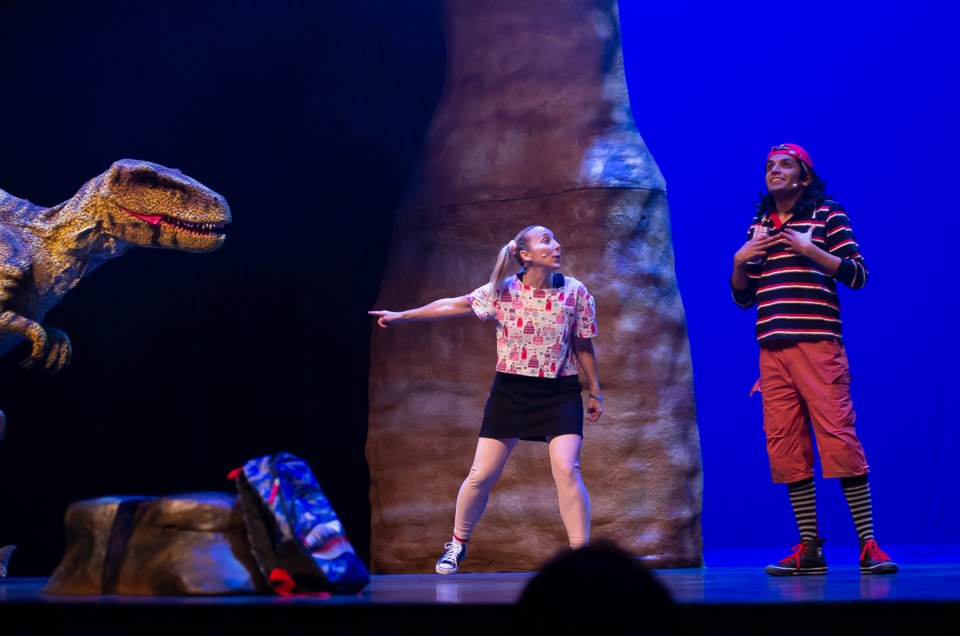 ​The production intersects with Spring Break and is a wonderful opportunity to experience live theatre with the entire family. Jeffery notes, "Affordable fun theatre for young audiences is back at the Massey, and we just want people to come out and share that wonder, that moment in time that a live performance can bring."
The Massey Theatre is the only venue on the play's tour in the Lower Mainland, and with affordably-priced tickets at $20 for kids/students and $30 for adults, don't wait; it's likely to sell out.
Jeffery hints at a future production for young theatre-goers. "We'll have something in our upcoming season in theatre for young audiences, although I can't share it yet—but it'll be exciting."
For more information and tickets, visit www.masseytheatre.com.