Soaring insurance premiums are causing panic among some condo owners.
Asifa Lalji, who owns a condo in Anchor Pointe at the Quay, said her strata had been anticipating increases to their insurance rates, but it turned out to be far worse than anyone imagined.
"We thought we were going to get a 40% increase in our insurance for our building, which would then translate to an increase in our maintenance fees," she said. "Then January rolled around, when our insurance for the building actually came due, and we found out instead of a 40% increase that we had budgeted for, we actually ended up with a 300% increase."
Lalji said other stratas in the area are facing similar increases, which could result in increased maintenance fees and/or special levies – something many residents may not be able to afford. She said the increases are particularly challenging for seniors and people with disabilities.
"Having a hit like that – where does the money come from? You dip into your savings, you dip into your home equity lines. There is no fiscally responsible way to cover these costs," she said. "What do you do when all of a sudden you have like a $150 or $200 increase to your living expenses every month?"
Bruce Campbell, Anchor Pointe's strata president, said a 40% hike in insurance premiums would have seen in his monthly strata fees rise to about $480 a month, but it's now more than $600.
"People are obviously in a panic and a crisis mode at this point in time," he said of the 300% increase. "They just don't know what is going to happen, what the rates are going to be next year."
Lalji has started an online petition, which will be forwarded to the premier and other provincial officials, the Office of the Superintendent of Real Estate Services, the BC Financial Services Authority, the Insurance Council of BC, the Financial Consumer Agency of Canada and the Financial Institutions Commission. The petition, called Stop the Unfair and Unprecedented Increase to B.C. Strata Insurance Premiums, is found at change.org.
The petition is an attempt to bring some calm to the crisis by sparking a conversation and a process that aims to bring everyone to the table.
Campbell believes part of the problem is the current insurance model means condo owners are dependent on commercial insurers, who need to show a profit for their stakeholders.
"There is any number of ways it can be addressed. It is a matter of getting all the stakeholders together and figuring out what the best way to do this is," he said. "The only way that is going to happen is bringing everyone to the table to discuss it. This petition is kind of the starting point for that."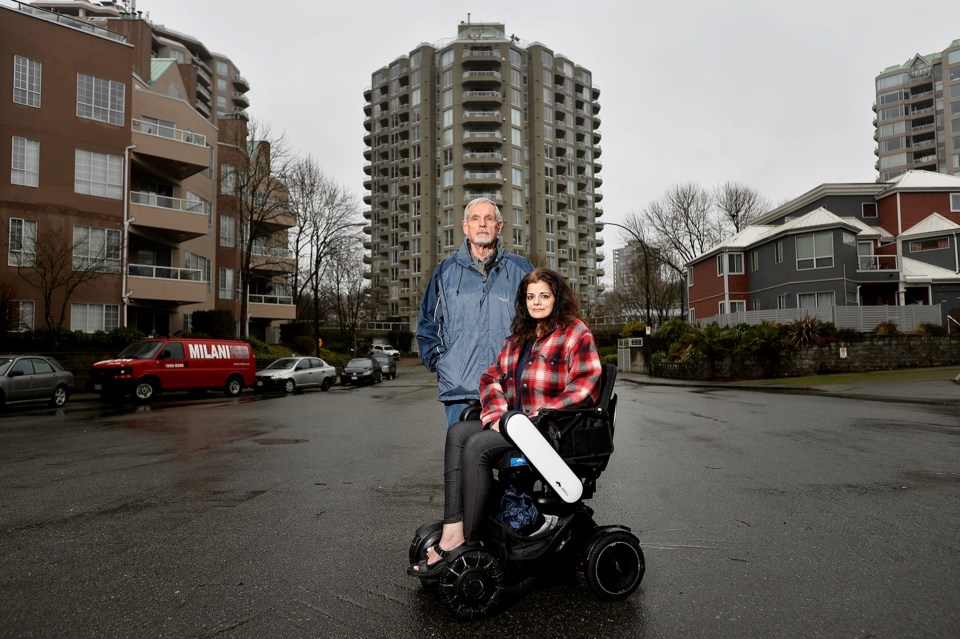 Anchor Pointe representatives are also reaching out to the Quayside Community Board and other residents' associations in the city, New Westminster MLA Judy Darcy, Burnaby-New Westminster MP Peter Julian and city hall for support in dealing with an issue that could affect hundreds of thousands of strata owners across the province.
"Although some of the regulatory bodies are trying to lobby the province, there is not a lot of consumer protection. We need to see that," Lalji said. "We need to see the consumer, the strata owner, the tenant protected in all of this. We aren't seeing that right now. … We want to see that protection and we want to see it get to a point where it is affordable again."
Lalji said the soaring insurance premiums and deductibles is an affordability issue that affects folks on a number of fronts. She noted some people will be forced to sell their homes, some people who want to buy condos may choose not to get into the condo market because of uncertainty about future costs, and tenants in units that are being rented out may lose their homes if the owners need to sell.
"I think there is a sentiment that this isn't a local issue, that it's not something that the local government can do anything about. The effect, the consequence at the end, will very much impact the social and economic base here in New Westminster," she said. "If the condo market goes down, if there isn't a confidence that the insurance market will adjust itself and somehow our monthly expenses and the cost of living is actually going to go down, you can have catastrophic effects here."
As strata owners across B.C. and in other provinces start to get their insurance renewals for their buildings, Lalji said some of them are starting to realize they aren't even going to get insured.
"Stratas are getting denied their insurance premiums. We are hearing that people are trying to move and because of the increases in their maintenance fees, they are not able to sell their homes," she said. "They are being priced out of the market based on affordability."
While some organizations have suggested stratas can bring their insurance deductibles down by ensuring their building is well maintained, Lalji said Anchor Pointe did that but still faced a huge premium increase. In addition to putting money into a contingency reserve fund, she said the building had a study done to determine all of the work that needs to be done to the building.
The Insurance Brokers Association of BC recognizes the severe impact recent increases to strata insurance deductibles and premiums are having on consumers and is calling for consultation amongst all key stakeholders with a focus on proposed legislative action.
"Now is the time to act to help stabilize the market, "said IBABC executive director Chuck Byrne in a news release. "We all have the consumer's best interest in mind, and by acting together we can help them through this difficult situation and add long-term clarity and stability to the market."