"You have to see it to believe it," says Georgia Desjardins. "It truly is a special place."
Desjardins, asset manager at developer Seacliff Group, is talking about the masterplanned community of Fairwinds, located in Nanoose Bay, just north of Nanaimo on Vancouver Island.
"Fairwinds is so spectacular, it can be hard to capture in words," she says of the 750-acre oceanfront community. "It's truly a place where you can live your passion – whatever that may be. While on the surface there's a collection of beautiful homes and amazing amenities seamlessly intertwined and accessible from your front door, one thing that really stands out is the community. It's the people that make it so special — this amazing group of active, engaged, well-travelled people who are so excited about life. Fairwinds, with its residents who have been living there for 25 or 30 years, already has this in place, yet at the same time is continuing to grow and evolve."
This unusual, idyllic community was established 30 years ago and is anchored by the Fairwinds Golf Club, the Fairwinds Wellness Club and the marina, in addition to a variety of more natural amenities, including an extensive network of hiking and biking trails. Currently, more than 1,000 residents have been living there, giving it a homey, lived-in feel that most new masterplanned communities cannot offer. Now, the next phase of the masterplan for the neighbourhood is coming to fruition, with incredible new amenities to add to the natural beauty of the beaches, marina and forested trails in the area.
In the heart of all this, right at the marina and looking out across the Strait of Georgia, is a new condo building offering just 39 one- to two-bedroom-plus-den residences, known as The Westerly. Built to stand the test of time, The Westerly is a contemporary, six-storey concrete building with standard-exceeding sound protection, and homes that range from about 775 to 1,500 square feet, plus oversized covered decks and balconies.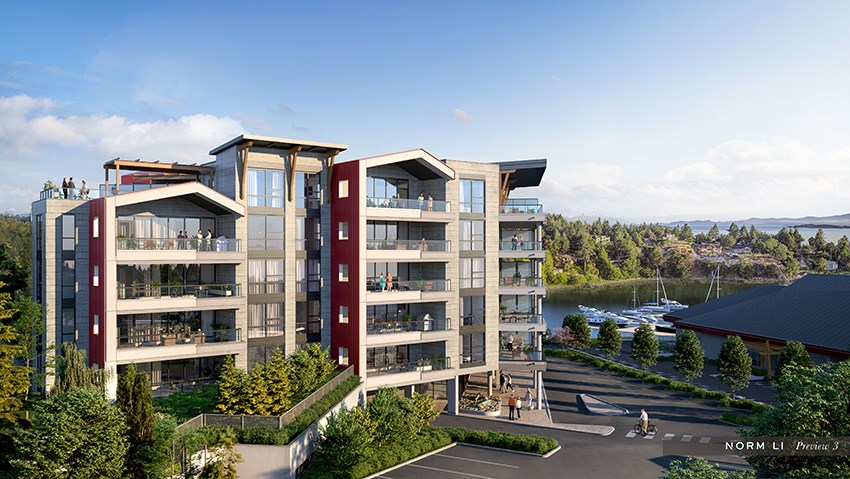 "There's never been a building like this one at Fairwinds, where you have high-end condos that you can just lock up and leave," says Desjardins. What's more, Nanoose Bay is outside the speculation and vacancy tax region, meaning that vacation-property buyers won't get dinged for using The Westerly as their second home.
The elegant residences, most of which have an ocean view, have high-end finishes including hardwood floors throughout the living spaces, natural gas fireplaces, and kitchens with soft-close cabinetry, under-cabinet lighting, quartz countertops and gas ranges. And until October 15, the interiors come in a choice of two colour palettes, Seaside Salal being the lighter option and Coastal Cove being the darker, richer selection.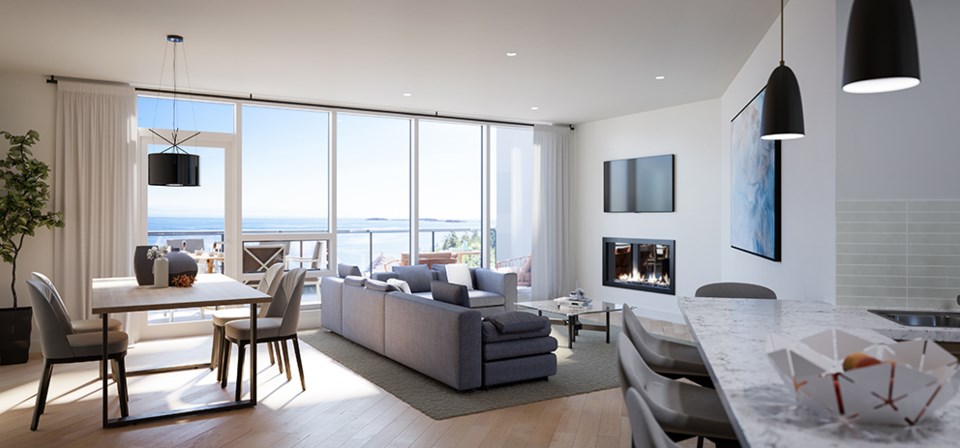 "It's a really clean and timeless interior finishing package," says Desjardins. "There is also a stunning curtain wall system of floor-to-ceiling windows offering those views and a huge amount of natural light into the homes."
There are also extremely large covered balconies and decks, all of which have water and gas BBQ hookups, which are perfect for soaking up those ocean views and entertaining.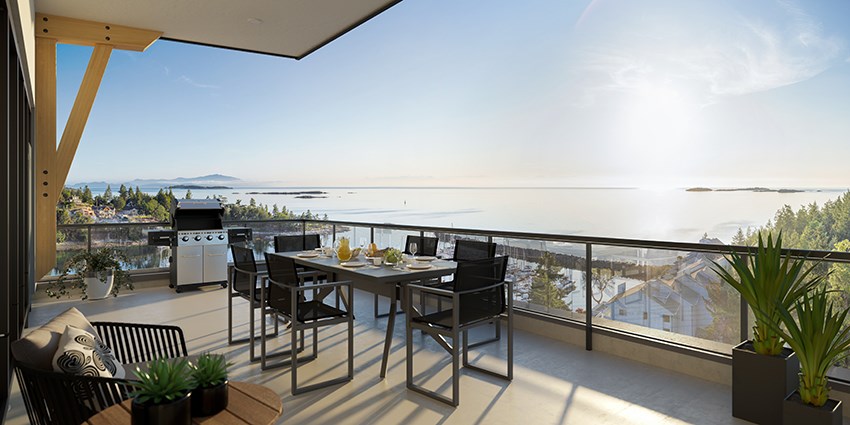 The Westerly also benefits from a multi-purpose amenity room, including a kitchen as well as landscaped gardens with paths that connect residents to the waterfront, while Fairwinds as a community offers an abundance of fabulous amenities. These include a 20,000-square-foot wellness club including indoor pool and spa, fitness centre with classes, and tennis courts, and an award-winning 18-hole golf course with its Fairwinds Bar and Grill.
Coming soon, to be completed at the same time as The Westerly and steps from the homes, is the neighbourhood's new social hub, Fairwinds Landing. This is a well-loved, 40,000-square-foot oceanfront building that was originally constructed in the late 1970s which is being completely transformed to house a brand-new seaside restaurant, café, convenience store and other retail units, along with 11 rental residential units.
"It's going to be amazing. People are just so excited about this gathering space — they just can't wait to have their morning coffee or socialize with friends overlooking the ocean, myself included," laughs Desjardins, whose excitement is palpable. "These new amenities will also make this community much more walkable, as you can step out of your front door and get dinner or grab necessities."
The Westerly is due to be completed in spring 2020, and the limited offering of 39 suites is selling now. Buyers must purchase before October 15 to pick their custom interior colour palette. Prices start from the low $400,000s up to $1.153 million for a penthouse.
For more information, visit the presentation centre at Fairwinds Wellness Centre, located at 3455 Fairwinds Drive, Nanoose Bay. You can also visit thewesterly.ca or call 250-387-4162, or toll-free on 1-800-340-9539. See video below for more on this new community.