Since I posted a blog on Sunday about a condescending letter a Burnaby renter received from his landlord (you can read it here), my inbox is full of other terrible messages from unsympathetic landlords.
Let me state first that I personally have sympathy for some landlords who are also facing uncertainty and have mortgages to pay. Landlords aren't inherently evil. They provide housing for people.
But that's no excuse for the kind of uncaring, condescending and vaguely threatening messages some landlords have been sending to their tenants during the COVID-19 pandemic.
I was contacted by Sally (not her real name because she's terrified of her landlord) and she provided me with evidence through screenshots of texts messages she has received from her landlord.
Sally was laid off a few weeks ago due to the pandemic, one of many people who have found themselves unemployed. With her bank account quickly draining away, she contacted her landlord explaining her situation and asking if the two could "work together" on some sort of rent payment solution.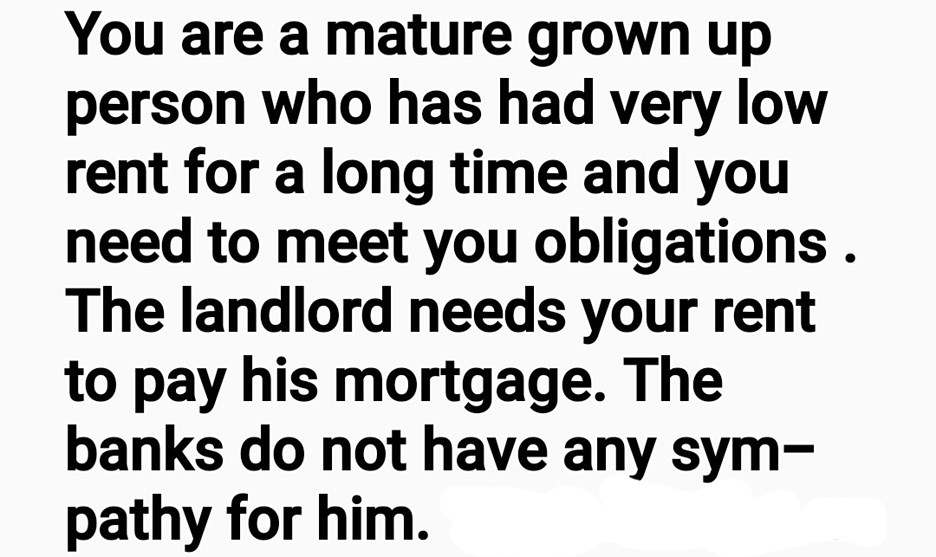 The landlord responded by saying she was a "mature grown up" person who needed to meet her "obligations." Then he said that the "government" said that those who can "afford their rent, must pay their rent."
Yikes.
Like, she just got finished telling him that she had lost her job and was out of money. Government funding for laid-off workers is at least weeks away.
Our society is crumbling and he responded with zero sympathy and zero compassion.
"The anxiety about ongoing issues with this landlord have shaken me," Sally said. "The last thing anyone needs right now is more uncertainty."
Like would it have killed him to be a human being and at least discuss things with a tenant who is clearly suffering?
And telling somebody to act like a "grown up" during a global crisis is some next-level hostility.
Follow Chris Campbell on Twitter @shinebox44.