When Traft Teleske takes his dog for a walk, he braces for the worst.
By "worst" I mean the garbage he finds strewn around his Sapperton neighbourhood, particularly around Royal Columbian Hospital.
Teleske is fed up with New West residents dumping all over the community.
As he says, it's not just an eyesore, it's also dangerous.
Case in point, Teleske found a used syringe in the lane behind 478 East Columbia. The syringe was found in a pile of garbage that has been there for more than a month, Teleske said. It includes light fixtures, a sink and other debris.
"The pile keeps getting bigger every week," Teleske said. "This problem is only getting worse."
He also regularly finds piles of garbage on a bench at the bus stop on the corner of Braid and East Columbia.
Teleske is fed up and wrote to me hoping to spread the word to the city and the general community at large. It's what people do when they can't take it any longer.
So, I'm spreading the word in the hopes that people will be more diligent about reporting people who dump illegally. I don't know how much this will do, but sometimes it's good to say it because people can become immune to things they see every day.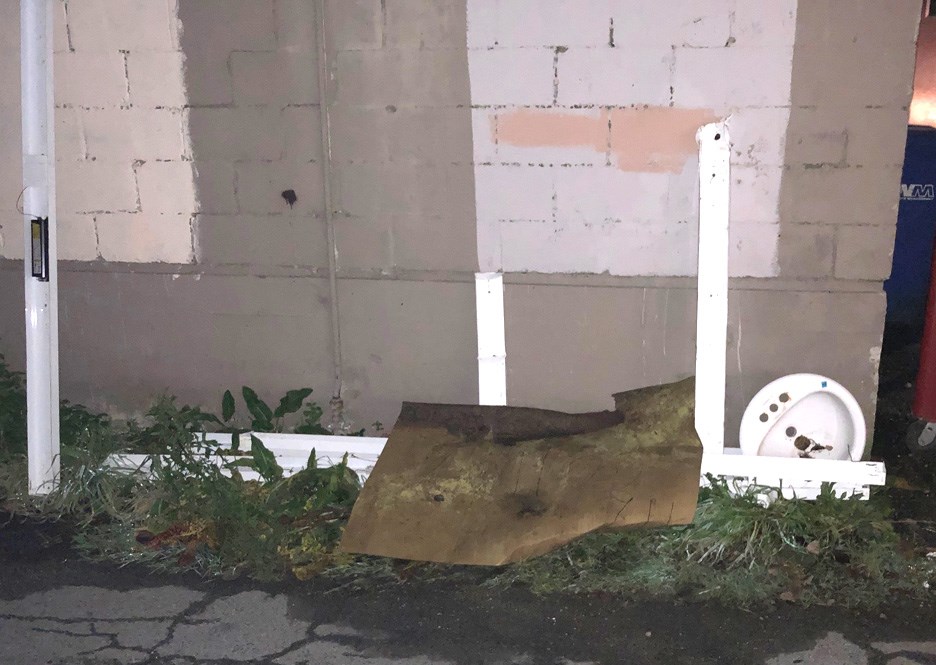 One other point Teleske brought up was the City of New Westminster having recently removed some of the litter receptacles from poles – such as the one at the Braid and East Columbia bus stop pole.
Teleske doesn't understand the logic of removing the cans.
Well, Record reporter Theresa McManus wrote about this very issue on Oct. 16. You can read the full story here, but let me sum up by saying there is a method to what Teleske views as madness.
City staff has been monitoring and reviewing the use of litter receptacles in the Sapperton, Downtown and Uptown neighbourhoods for almost a year, and has found that when staff removed, relocated or reduced the size of receptacles, there's been a dramatic reduction in unauthorized use of the receptacles and less litter on the streets and open spaces.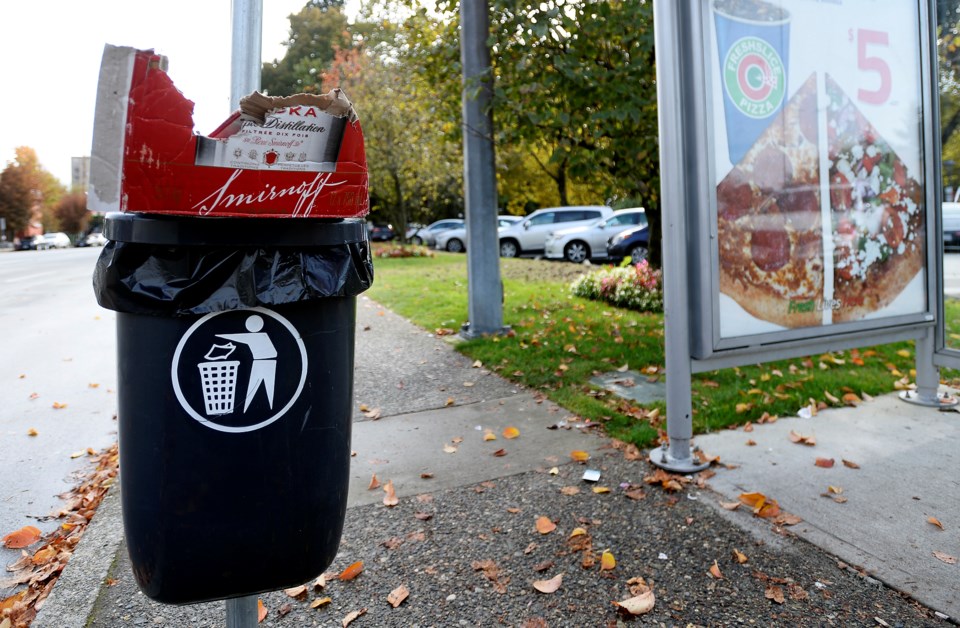 "With regard to where does the garbage go if the receptacles are gone, what we have found is that people are generally more respectful of the area," said Jonathan Marcone, the city's supervisor of parks and open space maintenance. "What we have found is littering is kind of a faux pas so people don't generally want to do it. When you remove the receptacle, you actually remove the illegal dumping in that receptacle and that area as well. We haven't found an increase in the illegal dumping in other areas on the streetscape and laneways and things like that, and a reduction of litter as well."
Mayor Jonathan Cote said the concept of reducing litter by removing waste bins initially comes off "as a bit counterintuitive" but some communities have seen "dramatic improvements" when they've removed receptacles where people can dispose of their household litter."I think it is important to recognize this is not a cost-saving measure. We are not reducing staff by doing this," he said. "It will actually allow our staff to do other very important maintenance and streetscape work that they can't necessarily get to if they are servicing these."
Not everyone is convinced about this idea.
Coun. Chinu Das is skeptical that removing the bins is the way to tackle the litter problem.
"The garbage is not going away. My worry is if we are making it a smaller size or relocating it, it's not going to remove the problem. It will remove the problem out of that area but my worry is: where is this garbage going to go?" she said. "Again, my concern is that the people who are misusing the system now will misuse it in some other way, and this will show up in the neighbourhoods and the garbage will be dumped in the neighbourhoods."
I'm still wrapping my head around this one, but am willing to trust what city staff have found while studying the issue and look forward to future results.
In the meantime, if you're an idiot dumper, please grow up.
Follow Chris Campbell on Twitter @shinebox44.