"Stay home," the Province of B.C. shouted today as heavy overnight snow and sub-zero temperatures made life miserable on roads and transit.
Many people did not heed this warning for various reasons and chaos ensued – no more so than on the two bridges that connect New Westminster with locations south of the Fraser River.
Check out the video below and you'll see the clown show that was the Pattullo Bridge coming over from Surrey. Vehicles – apparently without proper winter tires – were just slip-sliding away.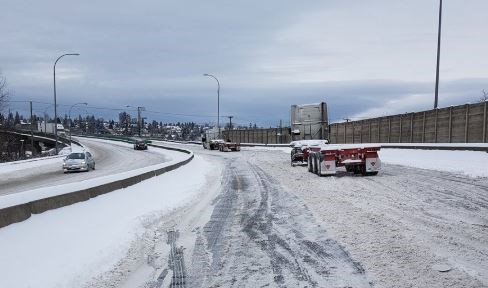 And then there was the Queensborough Bridge heading north towards New West. There were multiple stalls blocking lanes throughout the day, with some as recent as 5 p.m.
Just check out these photos and you'll see the stuck vehicles range from cars to semi-trailers.
This kept happening over and over throughout the day at the exact same point – that little rise in the road as drivers curve onto the Queensborough. At some point, it seems like it would have been good idea for a road crew to pay special attention to this spot so vehicles would stop getting stuck.
Expect more delays as the temperatures continue to drop. The provincial government is also warning drivers that some bridges might end up being closed completely due to predicted strong winds.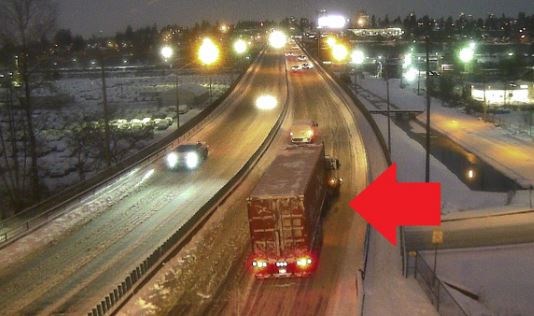 As for the Thursday commute, perhaps more drivers should heed the warning and just stay home. It's going to continue to snow and stay cold.
Sure, it's not easy for many people to stay home from work. Not all employers are sympathetic. But be warned that the roads aren't going to get any better. There might actually be even more vehicles on the road Thursday as people who stayed home Wednesday are possibly pressured to show up tomorrow.
Watch what happens getting onto the Pattullo bridge today with the road conditions. Stay off the roads if you can. #snowday #Snowmageddon2020 #Snowpocalypse2020 #Snowmageddon @GlobalBC @CTVVancouver @City_tv @DriveBC @cbcnewsbc @CHEK_News @newwestrec pic.twitter.com/Hl1vKAADfP

— Open Connection (@OpenConnection_) January 15, 2020
As for transit, that should be a good alternative, but TransLink had a rough day as well today.
Good luck to everyone.
Follow Chris Campbell on Twitter @shinebox44.