Burnaby South's Diego Medrano took home a silver medal for Team B.C. in the u-16 boys' 200m hurdles at the Legion national youth track and field championships in Ste-Therese, Que.
The New West Spartan Club athlete finished just two one-hundredths of a second behind Liam Foudy of Ontario in a three-men photo finish with Saskatchewan's Payne Wylie in the 200m final at the three-day championship meet.
Medrano also placed sixth in the 100m hurdles with a time of 13.91. Foudy and Wylie placed second and fourth, respectively. Aaron Marcynuk of Alberta won the race with a Legion championship record time of 13.48.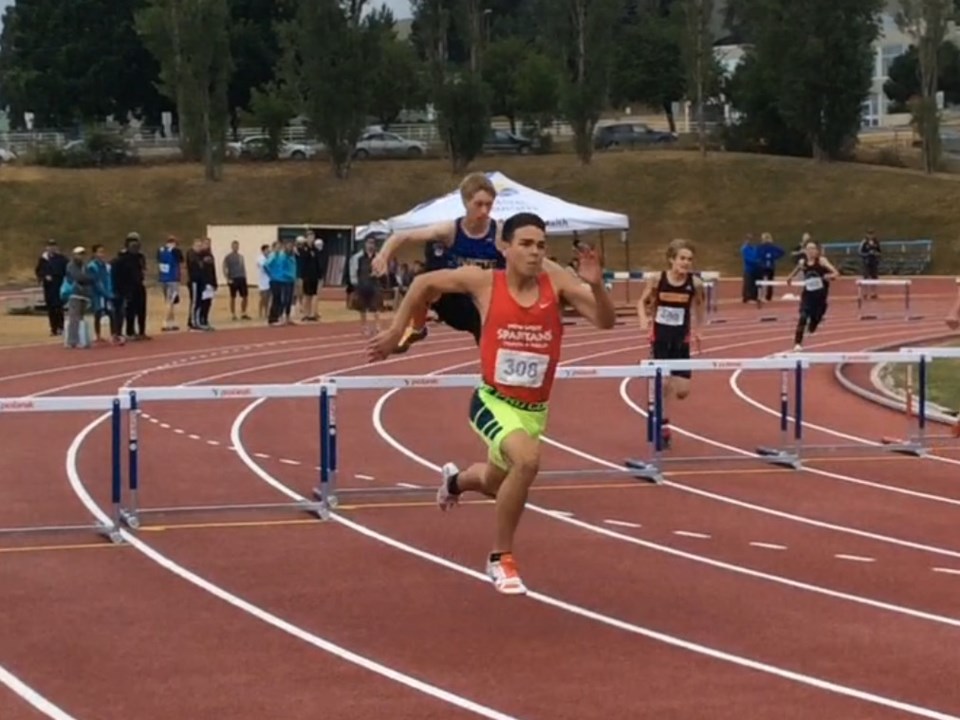 The New West Spartans' sprinter placed sixth in the 4x100m relay for B.C.
New Westminster's Nina Schultz leaped 1.72 metres in the u-18 girls' high jump to claim a silver medal behind Quebec's Mikella Lefebvre-Oatis, who took the event at 1.78m.
Schultz, who also trains with the Spartans club, ran the anchor leg for Team B.C.'s 4x400m relay that placed fifth overall in a time of 3:56.90.
The B.C. girls, including Glynis Sim, Alyssa Mousseau and Madison Heisterman, were one of seven teams to better the national Legion record of 4:06.08 set in 2010 by Ontario.
Quebec won the 1,600m relay in a new national meet record of 3:51.32.
Royal City Track Club's Jenevieve Patry-Smith placed in the top 10 in four separate u-16 events.
Patry-Smith finished just off the podium in the girls' discus, placing fourth with a throw of 33.60m – less than half a metre shy of third-place Emma Bauer of Lethbridge, Alta.
The New West field athlete was in fifth place in both javelin and hammer throw. She threw the spear 37.19m and the three-kilogram hammer 35.47m. She also placed ninth in the shot put.
St. Thomas More Collegiate's Shiloh Corrales-Nelson, representing the Burnaby Striders, was 11th in the u-16 girls' shot with a heave of 10.63m.
Nathan Mah of Burnaby picked up three bronze medals at the Legion national meet.
The Burnaby Central Secondary student finished in third place in the under-18 boys' 100 metres in a fast time of 11.02 seconds. Mah's time was just two one-hundredths of a second behind runner-up Khamal Stewart-Baynes of Ontario and less than three-tenths of a second shy of race winner Chuba Hubbard of Edmonton, who took the gold in a winning time of 10.73.
Mah also helped Team B.C. to a bronze in the 4x100m relay in an overall time of 42.90, two-tenths of a second behind Flying Angels Academy and almost one second back of race winner Team Ontario at the three-day meet.
Mah's third medal came in the 4x400m relay, where he ran the anchor leg in a sprint to the finish with second-place Team Alberta in a time of 3:23.55. Ontario won the race in a time of 3:19.84.