Sixteen-year-old footballer Terran Campbell of Burnaby is going pro.
Campbell inked the deal with the Vancouver Whitecaps FC2 team on Wednesday, along with local residency teammates Kadin Chung of Port Coquitlam and North Vancouver's Thomas Gardner.
"I've been developing well and (the Whitecaps) decided to offer me a contract," said Campbell on Wednesday. "Right now, I'm just focusing on my soccer career and trying to go as far with it as I can."
All three players were members on Canada's under-17 national team that lost its bid for a berth into the World Cup following a 3-0 loss to Costa Rica in CONCACAF qualifying back in March.
Campbell, Chung and Gardner were also previously called up to Canada's u-15 national team.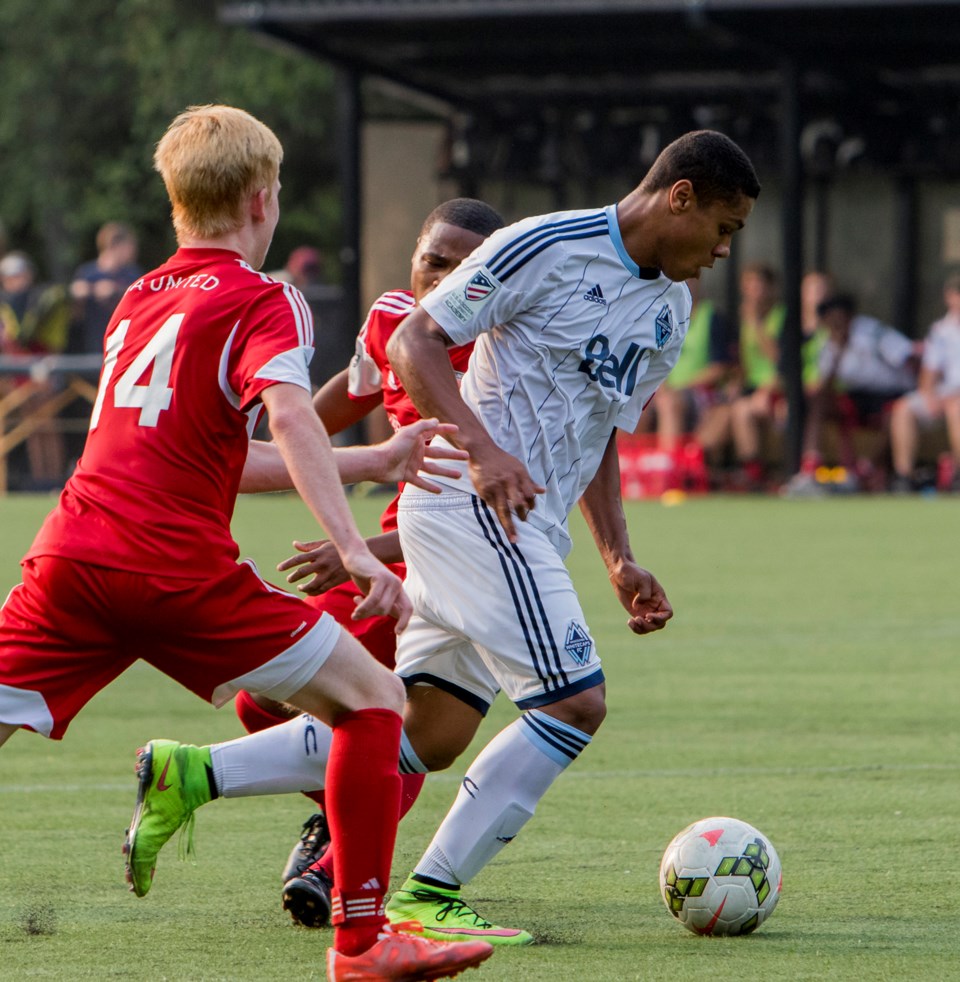 "We're thrilled to see three more local players progress through our residency program and earn professional opportunities with our club," said Whitecaps FC residency technical director Craig Dalrymple in a press release. "Kadin, Thomas and Terran deserve this opportunity and we look forward to continuing to help them develop through the next stages of their careers."
The teens also experienced a heartbreaking shootout loss to Georgia United in a u-16 U.S. Soccer Development Academy quarter-final earlier this season held on Burnaby Mountain.
In the quarter-final, Chung assisted on Michael Baldisimo's 2-2 game-tying goal that sent the game to extra time. Campbell and Gardner both scored in the penalty shootout.
Campbell, who had a couple of chances to score in the 22nd and 54th minute of the quarter-final match, called the playoff game a learning experience.
"Never take a game for granted and give your heart to the win," he said.
This season, the Burnaby native scored 10 goals in 11 matches with the Whitecaps' u-16 squad, while also adding another three tallies in 22 appearances on the u-18 squad.
Chung started in all but one of the u-16 residency's 35 games this season. He also scored his first international goal in a 3-1 win over Haiti in CONCACAF qualifying.
Gardner, a midfielder, captained the u-16's in his final season with the squad.
Campbell made his debut with Whitecaps FC2 as an academy call-up, coming on as a substitute in a 3-0 road win against the Tulsa Roughnecks in July.
"It was a really good experience – the environment – everything was great," said Campbell of his FC2 debut. "I went at them – did everything I could – got a few passes in – had a chance to score but it didn't work out."
But, with a bright future ahead, the Burnaby Central student has all the time in the world to develop.
"Yeah, I'm really happy," he said.