For some five years, Dec. 12 marked the joyous occasion of Paul Oei's wedding anniversary. But in 2017, it also became the day when a B.C. Securities Commission panel ruled he committed securities fraud.
And on the same date, in 2018, a similar unfortunate fate repeated itself for the former high-flying socialite and luxury car collector, when B.C. Court of Appeal Justice Lauri Ann Fenlon denied him the chance to appeal the panel's decision.
Oei was found to have defrauded investors of just over $5 million. His actions spun a web of hearings and lawsuits, some of them ongoing.
Oei, who once figured prominently in Vancouver's lavish Chinese investment circles and rubbed elbows with local politicians, stood before Fenlon representing himself, revealing it was a special day for he and his wife Loretta Lai — who also happens to be banned from commodities trading by the securities regulator for past violations, only under her former name Winnie Lai.
With Lai behind him in the public gallery, Oei told the court, and later Glacier Media, of how he has "lost everything" and the penalties and sanctions against him prevent him from even working as a fast-food restaurant manager (he can no longer be a company officer). This after he and Lai once earned, according to his account, upwards of $500,000 each annually as insurance agents.
Fenlon denied Oei's application for leave to appeal the panel's decision, as Oei could not prove the panel erred in applying the law. He still maintains his innocence.
"The Court [of Appeal] does not interfere with findings of fact," Fenlon explained to Oei.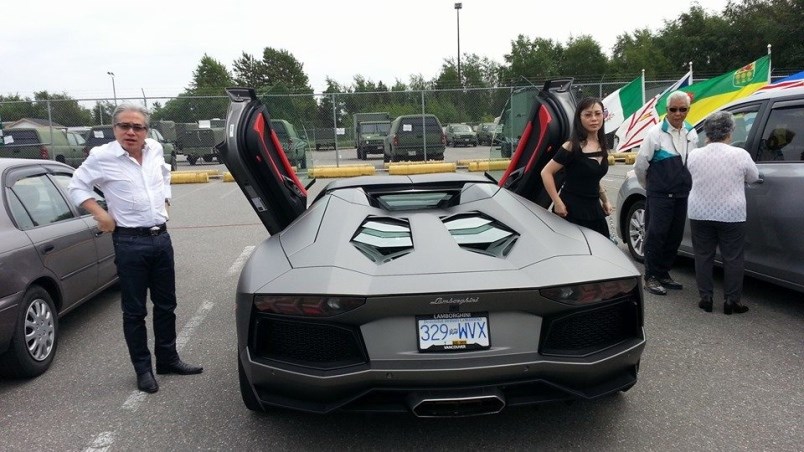 The man who introduced a soon-to-be Prime Minster Justin Trudeau to a Richmond Chamber of Commerce luncheon once controlled two companies collectively called Cascade, a start-up composting facility. From 2009 to 2013, he sought investors understood to be recent or prospective Chinese immigrants and raised about $13.3 million for the venture.
He issued shares in Cascade through two numbered companies he controlled, and by having investors sign authorizations he siphoned money to his personal accounts, via Cascade's trust accounts set up by Peschisolido and Co., the law firm of Richmond lawyer and Liberal Member of Parliament Joe Peschisolido.
Oei argued he received bad legal advice from Peschisolido and Co., but BCSC lawyer Nicholas Isaac noted "the legal advice for structuring the investment doesn't answer the issue of the nature of the fraud itself, which is Mr. Oei himself directly telling investors that their money is going to one place and then keeping a significant amount of it for his own benefit."
Exactly how Oei structured shares in Cascade is difficult to explain, noted the panel's 2017 decision, as the investment documents given to investors are "nearly indecipherable from a legal perspective."
Oei contended the investments were private and the sale of shares by Cascade, which he wholly owned, meant the money was his and hence it couldn't be legally misappropriated.
But as the BCSC notes on its website, "there is a common misconception that securities laws only apply to incorporated companies listed on stock exchanges. Actually, securities laws apply to any issuer, incorporated or unincorporated, including those not listed on a stock exchange."
While in some instances Oei's share distributions were incompatible with the concept of share ownership, the panel was able to determine, from a legal perspective, that investors did acquire securities, as they were given shares of a company and provided investment contracts, however unclearly written.
Oei did not contest this at his appeal hearing.
Some money went to Oei's immigration consulting firm Canadian Manu Immigration & Financial Services, whose sole director was Lai. But the couple claimed to the panel it was Oei who nevertheless maintained control of the accounts.
Canadian Manu held a life, accident and sickness insurance licence. In October 2016 the Insurance Council of British Columbia suspended Oei's then-expired insurance licence while Lai's remains under a supervision order.
Lai was banned from commodities trading and paid a $15,000 fine in 1996 after improperly shorting her company's trust account $500,000 (later repaying it after being caught).
The Insurance Council told Glacier Media it has information sharing agreements with regulators but could not explain how Lai got her licence as the council does not discuss personal details of a licence holder.
Meanwhile, one investor, Yicheng Jiang, has brought a lawsuit against Oei, Lai, Peschisolido and Co. and Desjardins Financial Securities Investments.
The latter is involved because Jiang claims despite BCSC prohibitions against Lai, she was able to, as a contractor under the Desjardins name, trade in securities and deal mutual funds.
Oei told Glacier Media Lai was able to obtain her insurance licence by disclosing her commodities ban.
Desjardins counsel Joe Cahan said there's no evidence of such disclosure and "it would make no sense for (Desjardins) to take on someone with a securities ban."
Jiang largely claims he was induced by Oei to invest in Cascade. He is trying to recover upwards of $4 million he lost to Oei and claims the money was wrongfully transferred from Peschisolido's trust accounts to Oei.
Much of the money Jiang lost via Oei is from other Chinese investors, who have successfully sued Jiang in China. Jiang claims he was wooed by Oei's political connections and assured he could trust the deposits to a then former (now present) Canadian MP.
Peschisolido, who quit the B.C. Law Society last January and wrapped up his practice, is now, via his counsel, claiming Jiang was breaking money laundering and investment laws in China.
Jiang, Oei and Lai intentionally hid an underground banking scheme — admittedly used by Jiang — from Peschisolido and Co., claimed Peschisolido's counsel.
Peschisolido is also claiming Jiang, Oei and Lai intended to improperly influence elected and unelected government officials to allow Jiang to circumvent immigration laws and gain permanent residency.
Meanwhile, Oei maintained he got poor legal and investment advice from Peschisolido and Co.
This has led to the Law Society of British Columbia citing Peschisolido's partner Yvonne Hsu for alleged incompetence.