Lorrie Williams may have retired from political life but she's found plenty of ways to fill her days.
Williams was named New Westminster's Citizen of the Year at the 2019 Platinum Awards.
"It feels wonderful," she told the Record. "You do these things because it is the right thing to do but it's sure nice to get a pat on the back."
The Sapperton resident's current list of charitable and community works includes being a director with the Sapperton Pensioners Association, serving as vice-president of the New Westminster Symphony Orchestra, supporting the Royal City Humane Society, and volunteering with the Royal Columbian Hospital Auxiliary and Aunt Leah's Place.
"Since I retired I go to Aunt Leah's Place on Sundays and I wash dishes. They make a Sunday dinner for kids who have aged out of foster care," said Williams, who retired from politics in 2018. "On Thursdays I am at the Royal Columbian Hospital Auxiliary thrift store on East Columbia. That is so much fun. I love it. I have a great time."
Williams is also a member of Royal City Rotary and a supporter of the Lookout Housing and Health Society.
"I haven't retired. I like staying involved," she said. "I love my city, I really do. I am very proud of New Westminster. "
In the years before she served as a city councillor, Williams worked as a teacher in the New Westminster School District. She took a leave from 1972 to 1977 to teach at a Department of National Defence base in Germany and again in 1985 to teach at a school in Africa.
"One of my jobs was to kick the kids out of school who couldn't pay," she said. "I hated it."
That experience led Williams to create the Canadian Harambee Education Society, which arose when she was tasked with kicking out a student named Margaret.
"When it came to kicking out Margaret I thought, 'For God's sakes, she's the brightest girl in the school,'" Williams recalled. "I went to the headmaster and said, 'I can't do that.' He said, 'If you care so much, you pay for her.' I said, 'OK.' I paid her school fees. She was the first girl. She is now a registered nurse. She is the head of the dialysis unit."
Since its formation in 1985, Williams said the Canadian Harambee Education Society has helped "thousands" of girls in Kenya and Tanzania attend high school.
"As we speak, I have got about 600 girls going to high school in East Africa. Each one is a life," she said. "Each one is going to get out there and do something. We have got doctors now, lawyers."
Following her 1998 retirement from teaching, Williams ran federally for the NDP in the 2000 election. She lost that race but won on a spot on New Westminster city council in 2002, serving five terms as a councillor.
During her 16 years on council, Williams is most proud of the Wait for Me Daddy war memorial in Hyack Square, the construction of a new animal shelter and restorative justice initiatives in New West.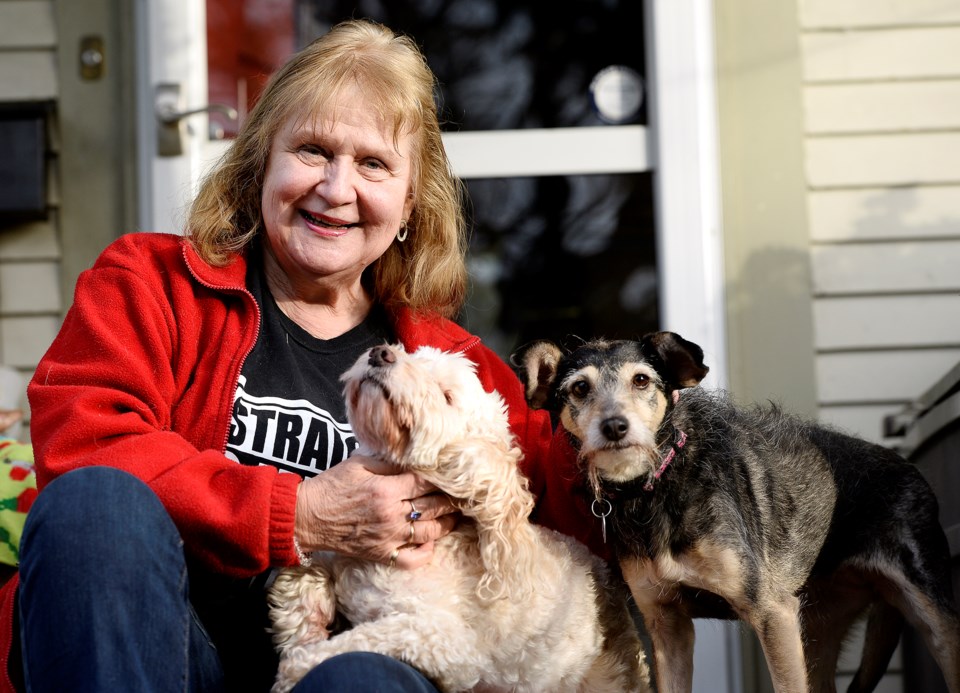 In addition to supporting animals on the home front through the Royal City Humane Society, Williams visits an animal shelter in Guatemala each December with fellow New West residents Angela Kerslake and Leona Green.
"We help animals during the day and drink margaritas at night," she laughed. "We have fun. If you can do something good while you're at it, why not?"
Williams has always had a soft spot for animals and feels the need to work on their behalf of the voiceless creatures.  As if on cue, barking begins in the background, and one of Williams' pets jumps on her lap.
"She was in the corner of the clinic in Guatemala. I said, 'What about that little dog in the corner?' They said, 'She's blind, nobody is going to adopt her.' I walked over there, picked her up and said, 'oh honey, you just won the lottery.'  I brought her home. She is totally blind, but she is doing really well."
Williams said she gets as much out of her volunteer endeavours as the organizations she assists.
"When I am miserable, it's when I am thinking about myself – poor me. I am happiest when I am doing stuff for other people," she said. "It's a two-edged sword – you can cheer other people up and you can serve yourself as well."