An app shows that locals might be consuming the equivalent of several cigarettes daily in parts of the Lower Mainland due to poor air quality.
Metro Vancouver extended an air advisory for the Lower Mainland on Monday (Oct. 17) in the wake of poor conditions caused by wildfire smoke.
The advisory was first issued on Friday (Oct. 14) because of high concentrations of fine particulate matter in the atmosphere caused by wildfires burning southeast of Chilliwack (near Chilliwack Lake), near Hope, near Harrison Lake, and in Washington.
With the forecast calling for a week of sunshine, the poor air quality isn't expected to improve for several days until there is a significant change in the weather.
As of 10 a.m. Monday, the Vancouver region had the 15th worst air quality of any city on the planet — worse than chronically polluted cities like Mexico City or Jakarta, according to global air quality monitoring network IQAir.
As a way to comprehend how pollution affects cities, an app called "Sh**t! I Smoke" converts air quality into the number of cigarettes a person will "smoke" in a day by simply breathing the air.
In Vancouver, locals are currently smoking .08 cigarettes daily by breathing the air. In a week, this number climbs up to 5.7 of them, according to the data.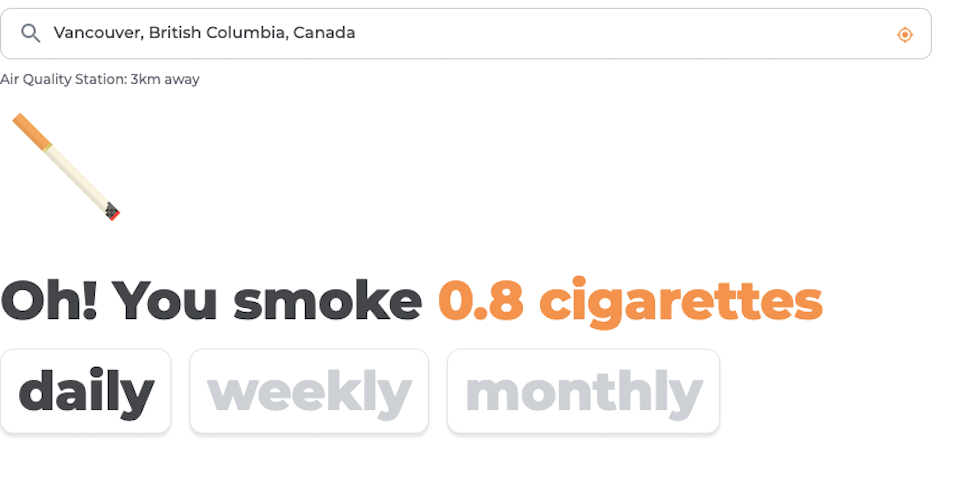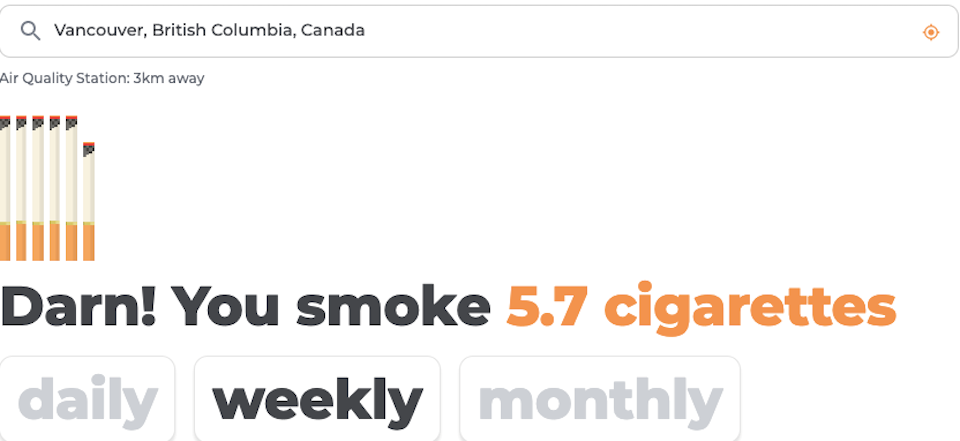 In other areas of the Lower Mainland, however, the findings are worse. In Abbotsford, for instance, people will smoke over a cigarette a day (1.3) outside. In a week, this figure works out to nine cigarettes.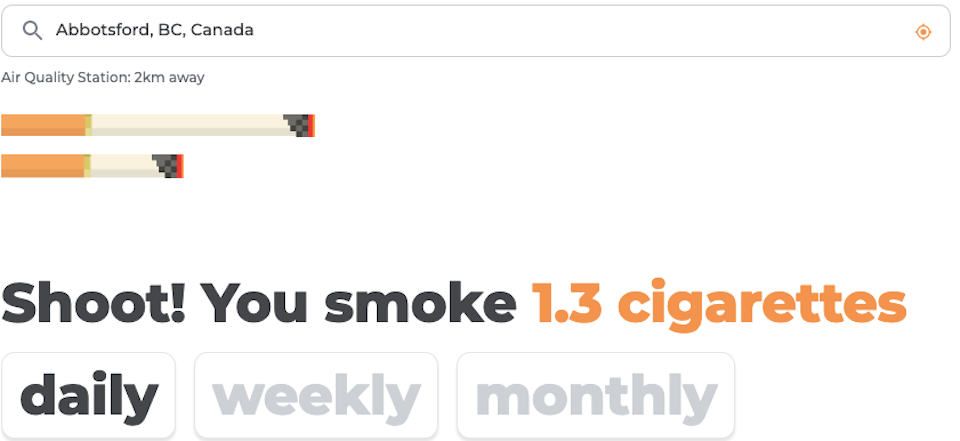 Residents of Chilliwack face the worst air quality. The data shows that locals will smoke a staggering 5.3 cigarettes daily by breathing the air. In a week, the figure climbs up to 36.8 cigarettes.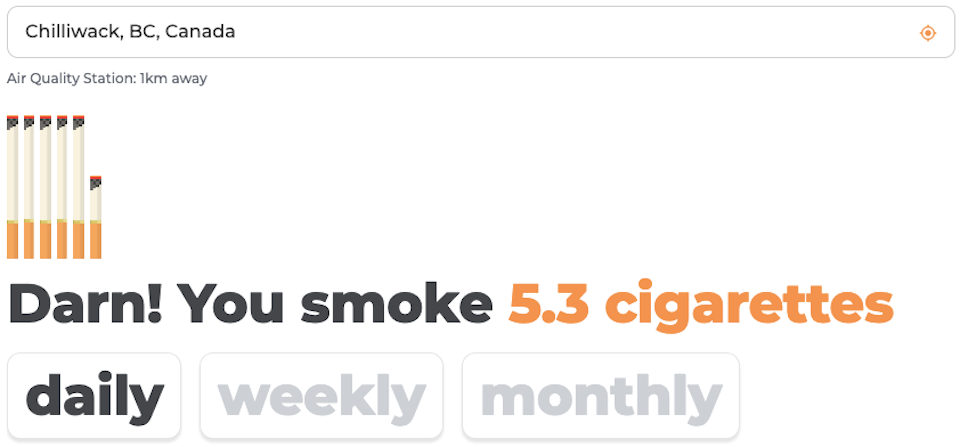 The app, created by Brazilian-born designer Marcelo Coelho and Paris-born app developer Amaury Martiny, was inspired by Berkely Earth's findings about the equivalence between air pollution and cigarette smoking. According to the data, one cigarette per day (24 hr) is the rough equivalent of a PM2.5 level of 22ug/m3.
The creators admit that there have been a few surprising results in the data, such as large cities with better air quality than small villages, or stations in the same towns showing significantly different numbers. However, they note that air quality depends on myriad factors, including temperature, pressure, and wind patterns that may alter the data.
App users should still consult other resources, such as the World Air Quality Index and OpenAQ, for more information.
Metro Vancouver weather forecast includes an ongoing air quality advisory
Fine particulate matter, also known as PM2.5, refers to airborne solid or liquid droplets with a diameter of 2.5 micrometres or less. PM2.5 can easily penetrate indoors because of its small size. You should refrain from outdoor activity during the air quality advisory, particularly if breathing feels uncomfortable.
"Exposure to PM2.5 is particularly a concern for people with underlying conditions such as lung disease, heart disease, chronic obstructive pulmonary disease (COPD), asthma and/or diabetes; individuals with respiratory infections; pregnant women and infants; children; older adults; and outdoor workers (e.g. construction and agricultural workers). Individuals who are socially marginalized may also be at elevated risk (e.g. people who are experiencing homelessness or are underhoused)," according to Metro Vancouver.
If you are impacted by the smoke, keep windows closed, run a portable HEPA air cleaner, or visit a public building with air filtration.
If you are experiencing symptoms such as chest discomfort, shortness of breath, coughing or wheezing, seek prompt medical attention. Call 911 in case of an emergency.
You can consult an online interactive map for current air quality conditions in your region.
With files from Stefan Labbe.