This story has been updated from the original version.
Around 30 people waved rainbow flags, held signs, and cheered and waved at passing vehicles at a "love rally" outside a New West church Thursday evening.
Inside, Free Methodist Community Church (320 8th St.) was the site of an anti-SOGI event by New Westminster- and Burnaby-based group Canadian Council for Faith and Family Values. The group was created after B.C.'s Ministry of Education adopted the SOGI 123 policy — Sexual Orientation and Gender Identity — last year.
Pastor Brian Hornibrook, lead pastor of the church, said they invited the group to make a presentation because some in his congregation are concerned about the content of the policy and curriculum.
The Facebook event said the meeting was for parents who want to "raise their children with love and wisdom" and claimed that SOGI 123 was a threat to children, parental rights and traditional and Christian values.
According to the SOGI 123 website, it is less of a curriculum and more of a policy, which includes SOGI-inclusive lesson plans, meant to make schools inclusive and safe for students of all sexual orientations and gender identities. It includes policies, like a school's code of conduct and how to make environments safe and inclusive, and curriculum resources that can be used in lesson plans to further the goals of the overarching policy.
Organizers estimate over 100 people attended the anti-SOGI presentation.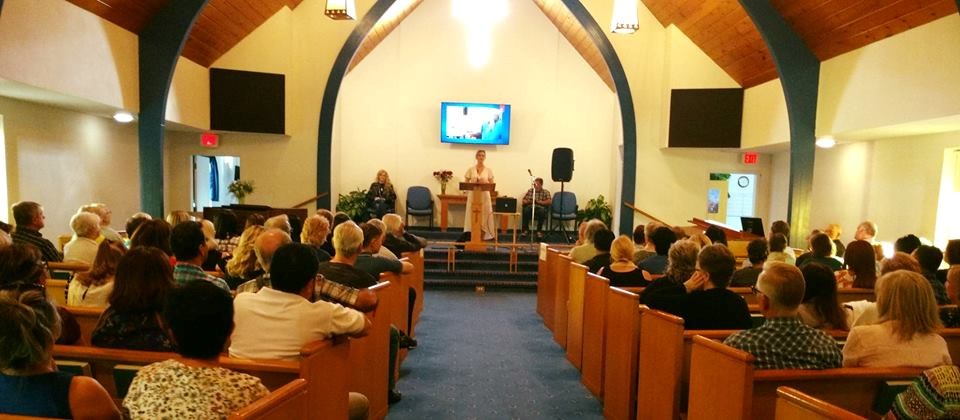 But this reporter only attended the rally outside because security guards and event organizers barred her from entering the church.
An older man who did not give his name but said he was a member of the church denied the Record entry to the event because he saw this reporter interviewing those who attended the rally. The man told the reporter she could only attend the private meeting if she was against SOGI although she indicated she was a member of the media and not affiliated with the protesters.
Hornibrook said protesters were excluded because they do not allow "discord" or "disruption" in the church because it is a place of worship. However, he said, regular worship services are open to the public.
Laura-Lynn Tyler Thomson, former* co-host of the Christian talk show 700 Club Canada and one of the two speakers at the meeting. Jenn Smith, a transidentified man, was the second speaker.
Tyler Thomson told the Record Friday morning she was not aware that any members of the media were turned away at the time.
She said outlets should request permission to attend ahead of an event and they may allowed in, but no audio or video recordings may be taken.
When asked why the group has strict security protocols, she said they don't want protesters to disrupt the meetings as they have in the past, and those who want to speak to her about her views can access her easily on social media.
"We are presenting to faith-based people who are interested, and they can bring friends who are not faith-based, but we are protected," she said. "This is not our first rodeo."
Two police officers were also on scene.
New West residents Louise Cournoyer and her son Will decided to attend the rally after they saw a story in the Record. Louise said she supports the LGBTQ community and SOGI because she wants children to feel accepted.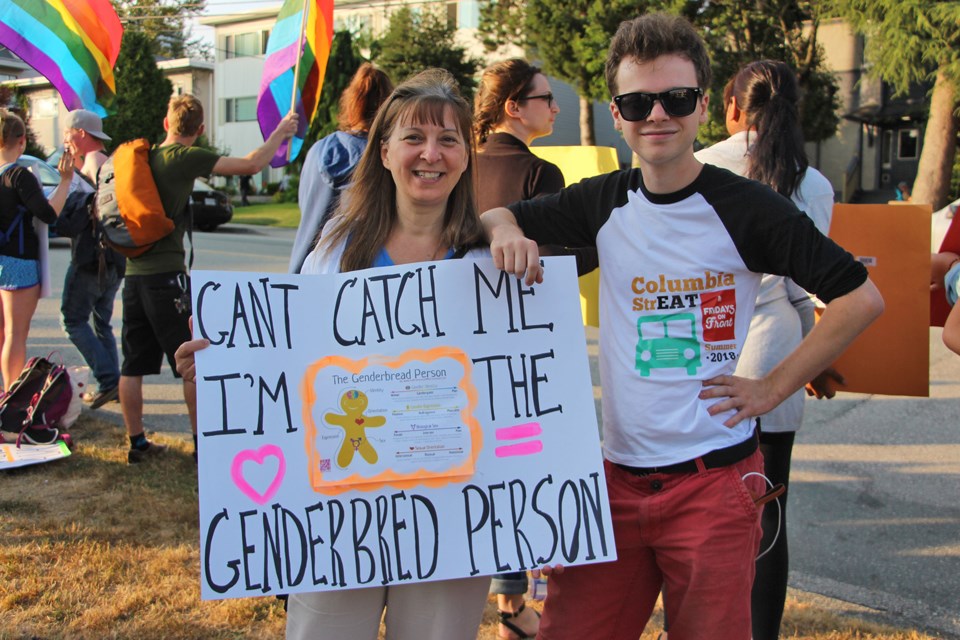 "It's so important to protect children who are members of the LGBTQ community and include them, for them to have a voice in the school system," she told the Record. "By implementing SOGI, changing the way we talk about gender, about sexual orientation, it's extremely important."
Will, who said he is a member of the LGBTQ community, said that as someone who wants to become a music educator, he thinks it is important to understand what changes SOGI is implementing, and he feels the new policy is inclusive.
"It's about ... making other students feel comfortable," he said. "I feel like I was very privileged as a kid, I wasn't bullied that much, and I was able to express myself, but I feel like there's a lot of other students who probably don't feel that way."
Will was also refused entry to the meeting when he first arrived, prior to joining the rally. He said he hoped to listen to the presentation and understand their point of view.
Katie Marsh, a teacher who lives in Burnaby, was one of the organizers of the love rally. She said the information being shared by the event hosts is incorrect. She passed out about 20 flyers to attendees hoping to correct misconceptions about the policy.
"This was too close to home for me to not do anything about," she said.
This story has been updated from the original version. It has also been corrected: Laura-Lynn Tyler Thomson is no longer a co-host of the 700 Club Canada.
– With files from Cayley Dobie