KETTLE FALLS, Wash. — A British Columbia man was killed Tuesday morning when his motorcycle was struck by a dumptruck at the intersection of Highways 20 and 395 about four miles northwest of the city.
A 69-year-old motorcyclist named David P. Gilbride from New Westminster was pronounced dead at the scene about 40 miles south of the U.S.-Canada border crossing at Laurier.
Truck driver Leland J. Williams, 62, of Spokane, was injured and transported to Sacred Heart Medical Center in Spokane. His condition was not immediately available.
According to the Washington State Patrol, the motorcyclist was southbound on U.S. Highway 395 on his 2012 Yamaha motorcycle; Williams was northbound in a 2008 Kenworth dumptruck bearing the logo of Dirt and Aggregate Interchange Inc.
At about 9:23 a.m., as both drivers neared the Highway 20 intersection, the truck crossed the centerline and hit the motorcycle head-on, just west end of the Columbia River bridge.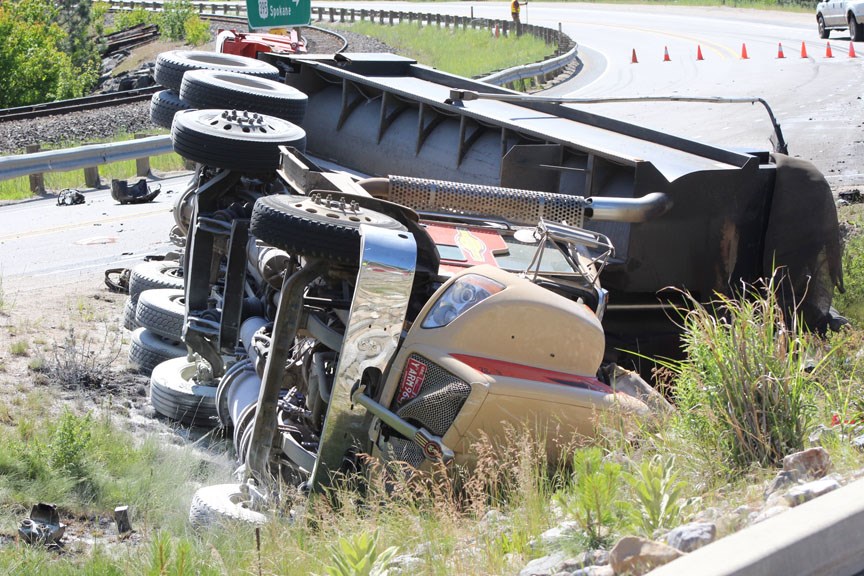 The motorcycle became entangled between the truck frame and bed as it overturned and slid into the swale in front of Colville Fuels-Noisy Waters, formerly known as Barney's Junction.
The wreckage was strewn across Highway 395, prompting officials to close the highway to traffic.
Colville Tribal Police responded and managed the fatal crash scene until state patrol investigators could arrive.
Traffic through the busy intersection was limited throughout the day, with some northbound Highway 395 traffic being detoured through the convenience store's back parking lot.
The truck and motorcycle were impounded and taken to the state patrol's District No. 4 bullpen as evidence.
The cause of the crash remains under investigation and charges could be pending.
Read the original story here.