New Westminster's Army & Navy store will not be reopening - ever.
In fact, all five Army & Navy stores that owner Jacqui Cohen temporarily closed on March 18 will never reopen, she announced May 9.
"After an incredible 101 years, we have made the difficult decision to permanently close Army & Navy," she told Glacier Media May 9 in an emailed statement. "In March, we were forced to shutter all five of our stores and temporarily layoff our staff. We had hoped to re-open but the economic challenges of COVID-19 have proven insurmountable."
She expressed gratitude toward her staff for their years of service, her suppliers and her customers.
"It is hard to comprehend," she said. "This time last year we were celebrating the centenary of Army & Navy – a company my grandfather started in 1919 – and we were looking forward to the years ahead. Now we are closing a company that was at the heart of eight communities in western Canada over its 101 years."
Sam Cohen opened his first Army & Navy store in Vancouver in 1919, with a store in New Westminster opening in 1939. A year after Eaton's closed its store at 502 Columbia St. in 1977, Army & Navy relocated to the space and has remained there ever since.
In 2017, the New Westminster store was closed for three months due to a fire.
When it reopened, many celebrated a return of the New West institution.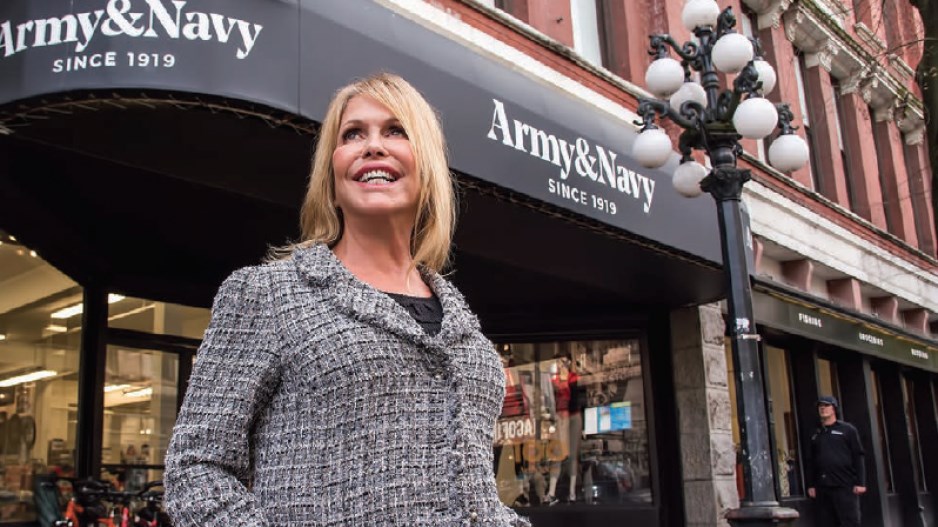 Kendra Johnston, executive director of the Downtown New Westminster Business Improvement Association, was pleased to see the store reopen.
"Army & Navy is a valued and integral part of downtown New West's history, and its recent temporary closure only reminded us of how important they are to our business community," she told the Record at the time. "Army & Navy goes beyond being a retail store, but rather a brand that has been a fixture for almost three-quarters of a century within the hub of Western Canada's oldest city. Downtown New Westminster has seen quite the evolution, and having entered a new era of revitalization in recent years, we look forward to continuing to work with Army & Navy as a valued community partner in that revitalization."
With files from Glen Korstrom, Business in Vancouver