New Westminster's community spirit shows throughout the year, but it really sparkles during the holiday season.
Launched in 1996, the Record's Guide to Giving lists some of the local non-profits that work year-round to help those in need. It's our way of helping to connect community members to some of the organizations operating around town.
The COVID-19 pandemic has had a profound impact on people around the world, including here in New West. It's also highlighted the needs of some of our most vulnerable citizens – folks who often rely on the services provided by many of the groups featured in our 25th annual Guide to Giving.
Aunt Leah's Place
What does it do? Aunt Leah's Place helps prevent youth in foster care from becoming homeless and helps mothers in need from losing custody of their children. To support them on their journey to adulthood, Aunt Leah's provides food security, housing, pre-employment training, education opportunities and coaching in essential life skills. Throughout the pandemic, Aunt Leah's has been a lifeline for these vulnerable young people by offering financial assistance for rent, housing, meals, groceries and, above all, a supportive and compassionate adult to help them navigate these difficult times. Aunt Leah's tree lots are a key fundraiser, with money raised through trees sales going to housing and programs.
How can you help: You can help Aunt Leah's mission of supporting foster youth this holiday season by purchasing a Christmas tree from one of its three charity tree lots in Burnaby, Coquitlam or Vancouver, by making a donation or purchasing a gift card from its online thrift store.
Contact info: For tree lots information go to www.auntleahs.org/trees. For donations, contact Dumi Owane at 604-525-1204 (extension 251) or donate online at www.auntleahs.org/get-involved/donate. For gift cards, go to www.thrift.auntleahs.org/.
Century House Senior Peer Counsellor Program
What does it do? The Senior Peer Counsellor Program offers services that assist adults aged 50 and older with counselling and support.
"Our services are especially important now as we move out of the COVID-19 lockdown, which has had a disproportionate impact on seniors. This includes isolation, grief, failure to visit family, whether at home or in a care facility, and failure to visit friends," said Pat McDonald, the program's treasurer. "As well, if the senior is not familiar with technology, the sense of isolation is further increased. During 2020, the Senior Peer Counsellor Program did not operate and fundraising efforts were on hold."
How can you help? Since January 2021, efforts have been made to restore this much-needed and used program. It's actively working on matching clients to counsellors and recruiting and training new senior peer counsellors, but help is needed. Financial donations would help the program achieve its mission and continue its much-needed services, as they would go toward updating the training curriculum for new SPC trainees, developing continuing education and mentoring materials, and printing and distributing the materials.
Contact: Donations can be made online at Canadahelps.ca (search for Century House). Cash or cheques can be dropped off at the front desk at Century House, 620 Eighth St. Cheques should be made payable to Century House Association-Senior Peer Counsellors.
For more information about the program, call Pat or Elizabeth at the Senior Peer Counselling office at 604-519-1064.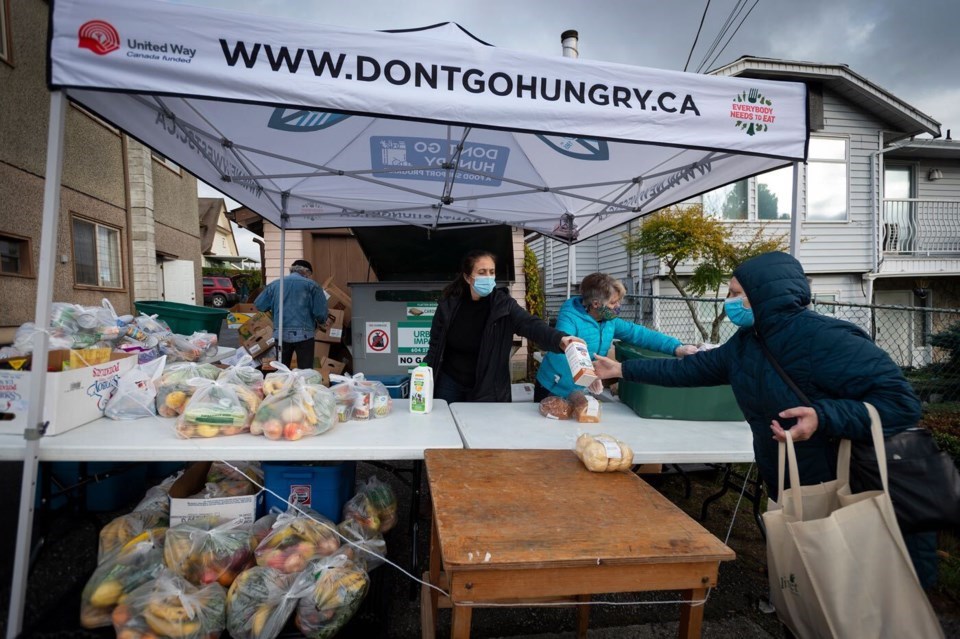 Don't Go Hungry
What does it do? Launched in May 2020 at St. Aidan's Presbyterian Church in the West End, the Don't Go Hungry weekend food-support program aimed to provide food hampers on weekends for folk who may not be able to access emergency foods supports on weekdays. It soon expanded to Sapperton, Queensborough and South Burnaby.
"The Don't Go Hungry program has seen a 37% increase in the number of hampers we give out since January 2021 and a 55% increase in people fed. The average number of people fed every Saturday afternoon at four sites in New Westminster and South Burnaby is 1,000-plus," said Rev. Laurie McKay at St. Aidan's Presbyterian Church, team lead for the Don't Go Hungry program. "We are thankful for almost 380 volunteer hours every week to make this happen."
How can you help? Because the program will not be open on Christmas Day or New Year's Day, it's hoping to give out gift cards.
Contact: Donations can be made through the website, www.dontgohungry.ca, or they can be dropped off at St. Aidan's Church, 1320 Seventh Ave. That's the program's main food hub that distributes food to the Queensborough fire hall, Knox Presbyterian Church in Sapperton and St. Aidan's hubs, with another being offered at Gordon Church on Edmonds Street in Burnaby.
Elizabeth Fry Society of Greater Vancouver (EFry)
What does it do? EFry is a New Westminster-based charity that supports vulnerable women and children, particularly those at-risk, involved in or impacted by the justice system. Its programs focus on shelters and housing, substance-use recovery, counselling, community reintegration, skills development and employment. EFry's JustKids initiative offers a variety of trauma-informed supports specifically created to help children and youth impacted by parental homelessness, incarceration and substance use.
How can you help? For Christmas, EFry appreciates holiday gifts for youth, as the non-profit helps bring the holidays to hundreds of families each year. Toys are always welcome, but gifts for tweens and teens are the greatest need. Board games for youth in shelters and gift cards to Walmart, movies, fast food or prepaid Visas are always gratefully received.
Other items needed include gift cards for grocery stores, which help women in deep need to feed their families. Donations of winter gear, such as new or gently used coats, rainwear, mittens, socks and boots, are appreciated.
Year-round, the society raises funds for the Summer Camp Fund, as it annually provides week-long summer camps for children six to 12 years and youth 13 to 15 years who experience parental homelessness, incarceration or substance use. These camps are made possible entirely through donations, so EFry fundraises for them all year and appreciates contributions in any amount.
Contact: EFry accepts goods and gift card donations Monday to Friday, 9 a.m. to 4 p.m., at its office at 402 East Columbia St. Donations can also be made by phone at 604-520-1166 or online at elizabethfry.com/donate-now. Financial gifts can be earmarked for particular kinds of support at the donor's request.
For more information on EFry, visit elizabethfry.com.
Family Services of Greater Vancouver
What does it do? Family Services of Greater Vancouver is non-profit with a 93-year history of supporting the most vulnerable members of the community. Free programs and services in New Westminster include: individual and family counselling for seniors, youth, and families; victim services for survivors of domestic violence and abuse; financial literacy and other education programs; and family preservation services – all from a trauma-informed, individualized, and evidence-based lens that helps people move from a position of crisis into one of resilience.
How can you help? Family Services notes that there are many inequities in our community, so this time of year can be particularly challenging for low-income families and isolated seniors. Donations received during its Caring Neighbours campaign support people through gift cards and gifts so families and seniors can buy the ingredients and items that mean the most to them.
"The need for support this year in New West has grown immensely," said Family Services in an email to the Record. "In 2020, we supported 600 people, and this year, we have already identified more than 900 people."
Contact: Located at #301-321 Sixth St., the FSGV New Westminster office can be reached at 604-525-9144. More information can be found at www.fsgv.ca.
Fraser River Discovery Centre Society
What does it do? The Fraser River Discovery Centre Society provides a variety of in-person and virtual programs, as well a museum that includes hands-on educational exhibits about the Fraser River and its history.
How can you help? The society has launched its year-end Giving Circle campaign, which raises money to support the society's efforts to spread the word about the Fraser River. RiverSchool programs for students and programs like Faces of the Fraser, Fraser River Dialogues and River Basin Days are among the initiatives supported by donations.
"COVID-19 has continued to have a big impact on our revenues this year," said Stephen Bruyneel, FRDC's director external relations and development. "While we have been able to stay open through sponsorships and grants, additional corporate and personal donations are needed as we move into 2022."
The FRDC's Giving Circle program offers four different levels of support – Friends of the Fraser, Leaders of the Fraser, Stewards of the Fraser and Champions of the Fraser. All come with an official tax receipt for the donation, as well as differing levels of supporter benefits (including annual passes and tickets, free entry to the many events and engagement activities at the FRDC and even inclusion on the FRDC Donor Wall).
Contact: You can donate online at www.fraserriverdiscovery.org/givingcircle/.
Group of Five and Friends Society
What does it do? The Group of Five and Friends Society raises money to support the purchase of much-needed items for Royal Columbian Hospital. Pre-COVID, the non-profit society held various social events in the spring and fall to raise money for equipment at the hospital. Its last official fundraiser was in November 2019, but community members have continued to support the charity – so it can continue to support RCH. Co-founder Gerda Suess and the rest of the Group of Five are hoping they'll be able to host an event in 2022.
"RCH is in need of many items, and our work will never be finished, so we are open to donations from those who have the heart to keep supporting our efforts and our track record," said the group's president James Crosty. "Over the years G5 has raised more than $200,000 to buy equipment and funds to revitalize the breast imaging waiting room. There are no paid employees at the Group of Five, only dedicated volunteers and partnerships with sponsors and the Rotary Club of New Westminster."
How can you help? Donations used to buy equipment for Royal Columbian Hospital are gratefully accepted.
Contact: For more information, visit www.groupoffive.ca, call 604-521-9594 (leave a message and someone will call you back) or email groupoffivenw@gmail.com to make an online donation by Visa or Mastercard (a representative will call you). Cheques can be mailed to Group of Five and Friends, #104 211 Ash St., New Westminster, BC, V3M 3M5
Holy Trinity Cathedral
What does it do? Holy Trinity Cathedral is an Anglican church that established in New Westminster in 1852. In addition to on-site and live-streamed worship services on Sundays and a healing service on Wednesdays, it hosts a variety of programs and services and provides space to a wide variety of community groups. A weekly take-out breakfast for homeless and at-risk persons, plus others, is available every Saturday from 11 a.m. to noon at 514 Carnarvon St. (with extra meals taken to an emergency shelter on Clarkson Street).
How you can help? Holy Trinity Cathedral's Christmas wish is that the health and safety restrictions because of COVID-19 be lifted so it can once again host sit-down breakfasts/brunches as it had done for more than 30 years before the pandemic began. On a more tangible front, it welcomes donations of: gift cards from Tim Horton's or A&W; toques and gloves; black socks (extra large); toiletries such as shampoo, soap and combs; winter jackets; waterproof clothes; and men's and women's shoes (preferably weather proof).
Contact: Call the Holy Trinity parish office at 604-521-2511, email administrator@holytrinitycathedral.ca or visit www.holytrinitycathedral.ca for more information.
KidSport New West
What does it do? KidSport New West provides grants of up to $300 per calendar year that cover the cost of registration fees for New Westminster kids 18 and under who are experiencing a financial barrier to participate in Sports BC-affiliated sports.
How can you help? KidSport appreciates donations to the local chapter through the Give the Gift of Sport campaign. You can also spread the word that grants are available.
Contact: For more information or to make a donation, go to www.kidsportcanada.ca/british-columbia/new-west.
Lower Mainland Purpose Society for Youth and Families
What does it do? The Purpose Society is a multi-service organization that provides a variety of social services to children, youth and adults. These include: youth and family programs; alcohol and drug programs; child-care centres; young parent's programs; a secondary school for students with special needs; a digital inclusion program; a Community Action Team; and a food hamper program that distributes food to between 750 and 850 people a week.
In addition, it offers programs for people who have a lived experience of using substances, are using substances, are living on the street or are marginally housed. A health van operates seven nights a week, distributing harm-reduction supplies, food, water, blankets and jackets.
How can you help? Donations needed include: non-perishable food items; water; juice; six-inch plastic or fibre food containers with covers that can be used for food distribution; small soaps, shampoo, deodorant; regular size packs of wipes; small containers of baby powder; hand warmers; ponchos; and socks, scarves and gloves for men and women. Jackets for men (medium and large) and women (medium) are also needed.
Purpose said the "star on the tree" would be cash donations designated for the purchase of a new health van.
Contact: Ashley Petelycky at 604-526-2522
Massey Theatre Society
What does it do? Since opening in 1949, Massey Theatre has hosted thousands of performances and become a cherished space for community members to experience the arts. It hosts large-scale musicals, international music and dance performances, symphonies, choirs, ballets and more.
"With a commitment to the cultural life of the community, we support programs for emerging artists and community groups as well as new creation and production residencies," said a statement from Massey Theatre. "The theatre is a key gathering place with over 100,000 visitors and hosting over 200 events/performances each year."
Recently, a 35,000-square-foot expansion of the venue has become a reality creating Eighth & Eight (a transitional name), which aims to be a welcoming space to create, play, discover and learn. Eighth & Eight will support more exploration, digital arts production and community practice with expanded programming and opportunity for a numerous and inclusive array of stakeholders activating the facility in innovative ways.
How can you help? Massey Theatre has "significant" needs as it embarks on its new opportunity amid its recovery from the pandemic. The theatre society welcomes donations to its general fund, monthly donors, sponsors for community programming and in-kind donations for equipment and resources.
Contact: Erin Jeffery, director of marketing and communications, at erin@masseytheatre.com or 604-517-5900.
New Westminster Family Place
What does it do? A non-profit, family resource centre, Family Place has been providing services and "a second home" to New West families with children birth through six since 1989. In a non-COVID year, it serves more than 20,000 parents, caregivers and children. This year it's had more than 135,000 views to its online programming, 150 live performances and more than 528 hours of services delivered. Family Place programs, offered out of the Qayqayt Neighbourhood Learning Centre and Massey Theatre, ensure that families are provided with safe, responsive, inclusive and welcoming services that help them build on the strengths of parents and the community so families can thrive.
How can you help? Family Place is doing a toy drive for its 2021 holiday party, with some suggestions provided at www.tinyurl.com/FamilyPlaceList. It's always open to support via volunteers and donations at www.newwestfamilies.ca/donate/.
Contact: For more information, call 604-520-3666 or email info@newwestfamilies.ca
New Westminster Firefighters' Charitable Society
What does it do? All New Westminster Fire and Rescue Services' firefighters belong to the New Westminster Firefighters' Charitable Society, which raises money for programs such as the pediatric unit at Royal Columbian Hospital, the Burn Fund, the Purpose Society, New Westminster Family Place and the Union Gospel Mission.
How can you help? The charitable society is currently collecting donations of new toys in their packaging (gently used toys are no longer accepted) and gifts for teens, as well as items such as deodorant and feminine hygiene products.
"If people want to drop that off at the fire hall, we will gladly accept it," said Glen Bailey, president of the charitable society. "We can get that stuff out to the people who need it, get it to the experts who know the people who need it."
Similarly, the charitable society will also accept donations of non-perishable food items (no expired products) and ensure it gets to the places in town in need of food. Tax receipts are available for donations of greater than $40.
The New Westminster Firefighters Charitable Society is holding its annual, by-donation, tree-chipping fundraising event on Sunday, Jan. 2 from 9 a.m. to 4 p.m. at New Westminster City Hall.
Contact: Cash, toys and food donations can be dropped off at the Glenbrook fire hall (1 East Sixth Ave.) Monday to Friday from 8:30 a.m. to 4 p.m. Cheques can be made out to the New Westminster Firefighters' Charitable Society, 1 East Sixth Ave., New Westminster, V3L 4G6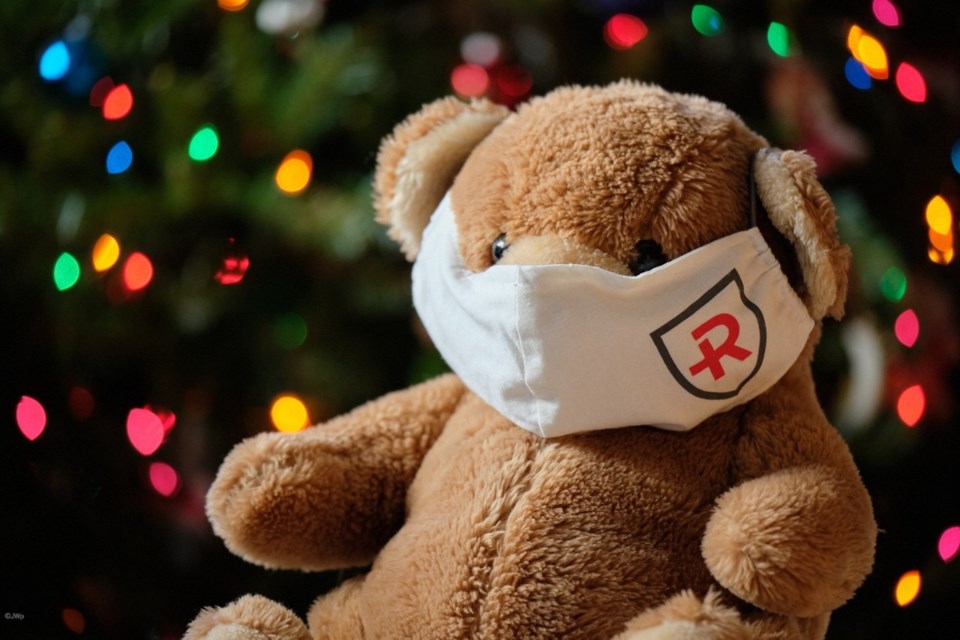 Royal Columbian Hospital Foundation
What does it do? Royal Columbian Hospital Foundation is an independent charitable organization that raises funds for major projects, priority equipment needs, facility enhancements, research, education and innovation at Royal Columbian Hospital. Royal Columbian Hospital, one of British Columbia's busiest hospitals, is a regional referral hospital for cardiac, trauma, neurosciences, high-risk maternity and neonatal intensive care – the only hospital in the province providing all of these services, at this level of care, on one site. RCH is currently undergoing a multi-year, multi-phase $1.49-billion redevelopment, which includes a new acute care tower that will have an interventional super floor with operating rooms and interventional radiology and cardiology suites, a new emergency department with its own imaging unit, new and larger maternity, pediatric, and neonatal intensive care units, and multiple floors for acute and critical care patients. This second phase of redevelopment follows the completion in 2020 of a new mental health and substance use wellness centre as part of the first phase.
"Donors to Royal Columbian Hospital Foundation are helping to support the hospital's redevelopment every step of the way," said a statement from the Royal Columbian Hospital Foundation.
How can you help? One-time or monthly donations are appreciated. Donors can also make donations in memory or in tribute of loved ones.
Contact: For more information or to make a donation, go to www.rchfoundation.com.
Seniors Services Society
What does it do? The New West-based Seniors Services Society supports older adults who are 60 and older and are homeless or at risk of homelessness. It provides a variety of programs and services, including Meals on Wheels, grocery ordering, support calls and a tax clinic. It's once again offering a virtual Santa for Seniors program that aims to provide folks with gift cards, as well as essential services and support – not just during the holidays but throughout the year.
How can you help? Six donation options are available to support the Seniors Services Society's efforts to help vulnerable older adults. A $15 donation will provide a holiday meal; a $25 or $50 donation will support a groceries and medicine bundle; and a $100, $200 or $350 donation will go toward a "temporary housing bundle" that purchases outreach services, medicines, food and shelter.
Contact: info@seniorsservicessociety.ca.
St. Barnabas Church
What does it do? St. Barnabas, which has a long history of supporting its neighbours, reports that it's maintained its weekly food program during "these strange times" of pandemic, has hosted five vaccination clinics and has continued its Sacred Singing Circle (on Zoom). In the new year, it will be running two children's programs and is hoping to restart its community meal program once it gets the go-ahead from Dr. Bonnie Henry.
How can you help? Financial gifts and non-perishable food items are most welcome. St. Barnabas also welcomes donations of socks and items that help folks stay warm, as it's been supporting a group of migrant workers who lost everything in the recent floods and are now sheltering in Chilliwack
Contact: You can reach St. Barnabas, located at 1010 Fifth Ave., at 604-526-6646.
Westminster House Society for Women
What does it do? For more than 40 years, Westminster House Society has offered addiction recovery programs, providing a full continuum of care to women and youth girls impacted by addiction. It addresses nicotine, alcohol, prescription medication, substance misuse, trauma and pain management and associated mental health issues. Westminster House Society now has 53 residential spaces spread over a campus of seven houses, including community beds and solution-focused recovery housing.
"Our programs respond to the needs of our communities at the dangerous intersection of an opioid overdose crisis, COVID-19 pandemic, mental health crisis, and housing crisis," said Westminster House. "Our goal is to ensure that youth girls and adult women seeking help and support to free themselves from the pain of dependence on drugs and alcohol have an opportunity to recover and plan for a whole and healthy life in their surrounding community."
How can you help? Westminster House welcomes foot care kits and related items, such as hard-soled slippers; wool/warm/cozy socks; pumice stones; foot scrubs; and nail polish and toe separators/spacers.
Contact: Call Tressa Cooper or Laura Dunne at 604-524-5633, or email tressa@westminsterhouse.ca or laura@westminsterhouse.ca.
WINGS
What does it do? W.I.N.G.S. (Women in Need Gaining Strength) is a non-profit charitable organization founded in 1997 to provide shelter and supportive services to women and children fleeing from domestic violence. In addition to Monarch Place, which is an emergency first-stage transition house, it provides a second-stage housing program, as well as complimentary services such as community support groups for women and men, counselling, outreach, and multi-cultural services.
How can you help? A variety of donations are appreciated, including: gift cards (grocery, coffee, clothing, toy, electronics, online, etc.); gifts for Christmas hampers (pantry items; gifts for women including, body care products such as body cream and shower gel, journals, adult colouring books, cozy socks, essential oils etc.; gifts for children and teens, including toys (Lego, Disney or themed toys, super heroes, games, science activities, crafts, dolls, cars and trucks, baby and toddler educational toys).
WINGS also welcomes donations of items needed in the house, including diapers, towels, blankets, sheet sets, cooking pots, dishes, etc. Financial donations are gratefully received.
Contact: Call Susan at 604-521-1888 or email wingsadmin2@monarchplace.org for more information.
Follow Theresa McManus on Twitter @TheresaMcManus
Email tmcmanus@newwestrecord.ca