Jarrett Petroski was searching for something new to kick start kids in his classroom at Taylor Park Elementary.
He'd been interested in computer coding and discovered some educators were having success with introducing robotics and electronics to students.
He went to his principal at the time, Kevin Brandt, and got the go-ahead.
Taylor Park seemed to be a natural spot for such an endeavour because nearby Byrne Creek Secondary has a robotics program.
So Petroski set up a club in the school and introduced robotics, electronics, 3D printing and computer technology into his Division 1 classroom.
Soon the kids were doing their own computer coding. Parents and staff also jumped on board to provide resources. 
Friday was a Pro-D day at Taylor Park so students didn't have to go to school. But Petroski's classroom was overflowing with kids who had signed up for a day camp put on by the Canada Youth Robotics Club.
"They're so engaged, they're happy to come to school," said Petroski. "Give them the basics and they will flourish. They will go off on their own and create. It's very rewarding.
"They're more energetic, more positive. They're solving problems, they're doing critical thinking, and for me that's essential."
This year, the school bought electronic circuit boards and robot kits to go along with its 3D printer.
"They're taking electronics a step further, and where there were just a few people that were doing this a few years ago, now all of our kids are involved," said principal Hal Wall. "Our oldest three divisions are rotating through coding, graphics and robotics."
When Grade 7 student Sofia Grujic started building robots in Grade 5 she amazed her parents.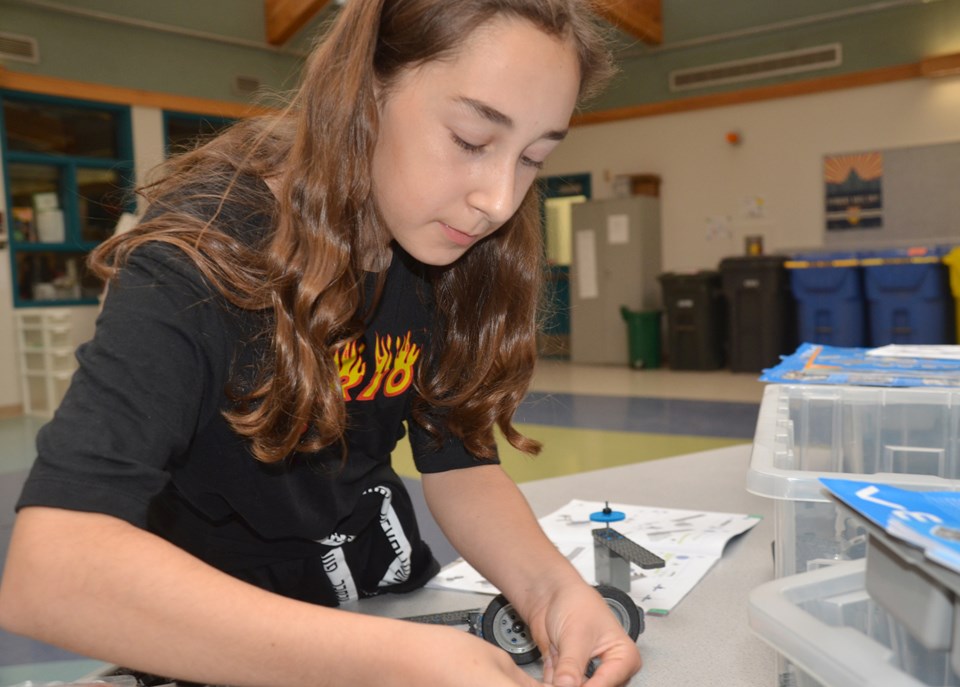 "They didn't believe me. I showed them my (work), and they were really surprised," said a grinning Sofia, who is inspired by her father, a mechanical engineer.
Grade 6 student Daveed Vodonenko's mother is a programmer and has been teaching him basic programs since he was in Grade 3. "I really like it. I tried to teach others in Grade 5 but they didn't grasp the ideas," said Daveed, who is particularly fascinated with the potential of 3D printers.
While the older students turn techie, the younger ones work with more basic materials like wood, cardboard or plastic.
"What happens is they create things together," said Wall. "They build those social and collaboration skills. Those are all 21st-century skills. Then, on top of that, the kids love doing this because this is what they want to do. They are creating it. They are proud of what they accomplish with their friends. 
"Their faces are all smiling. You don't have one child that's not paying attention. They get along better. That transfers into the other things they are doing because they've developed these creative, critical thinking, collaborative skills. Their reading is better, their writing is better, their math is better. The robotics is a vehicle to develop those kinds of skills."
To watch it all in action – like the time students flew drones inside while everyone munched on lunch – is a thrill to Wall. It also makes him a tad jealous.
"I feel like a kid myself, I want to do it with them. The kids are the ones that have spurred this on because they have such an interest. You can see it in their faces," said Wall. "We have said, 'You are going to be leaders. I'm a teacher, I'm a one-off. You are going to help me as a teacher because you're going to help the other students. You're going to be a leader because this is your passion.' "
Taylor Park's success has been noticed. It's why the school was chosen in June 2016 for then-Premier Christy Clark to announce $6 million in funding for teacher training and computers so every B.C. student can learn to code by Grade 9.