A "devastating fire" is still burning at New Westminster's award-winning Westminster Pier Park and could be burning for days, according to the local fire department.
"This smoke is highly toxic, so you don't want to be breathing it in," New Westminster fire chief Tim Armstrong told CTV News so he is advising residents to keep their windows closed. The pier's creosote-covered pilings are burning.
In a tweet just before 11 p.m., Mayor Jonathan Cote said the cause of the fire is not known. He said it's not believed anyone was caught in this fire.
"Devastating fire in Pier Park this evening. Just spoke to our Fire Chief. We are receiving assistance from fire departments across the region," he tweeted. "The fire is being contained to the old part of the pier, but it is likely the old pier of the park will be completely destroyed."
The help also includes a fire boat from the Vancouver Fire Department.
Downtown resident Curtis Stanley told the Record he noticed the fire just after 8 p.m.
"I went up on my roof and then I saw a black cloud of smoke. I was like, 'this is going to get interesting.' I took a step forward and saw it start to turn orange," he said. "I ran down here."
@VanFireRescue Fireboat 1 on scene at pier fire in New Westminster assisting @NewWestFF @newwestpolice. Great job by Capt Bridger and crew dealing with the dark, heavy black smoke and strong river currents. @GlobalBC @CBCVancouver @CTVVancouver @CKNW pic.twitter.com/gC2riggciw

— Assistant Chief Operations Connelly - VFRS (@ACOpsConnelly) September 14, 2020
Front his vantage point on Columbia Street, Stanley watched flames make their way through a portion of the park.
"I saw like 20- to 30-foot flames from on the other side of the W. The whole W was a shadow," he said of the WOW Westminster public art feature. "It was coming out right where the water was – the structure of the pier. This is not good."
(Because of the darkness and smoke, it's difficult to tell how much of the park and which parts of the park are burning.)
"It sucks because it's the pier, and I spend a lot of time down there," Stanley said. "It's just wood and concrete."
Coun. Patrick Johnstone was the community members who went to the Front Street parkade to view the fire. A friend who had seen it in its early stages told him the fire appeared to have started on the east side of the park and travelled west.
I'm completely devastated over the Pier Park fire. When I moved to downtown New West almost 7 years ago, I fell in love with Pier Park on day one. It's my backyard, and has been my escape, my sanctuary, so very many times over the years. It's saved my life.

— Kevin (@604kev) September 14, 2020
As bystanders watched the fire from the parkade, sirens could be heard arriving at different points along Front Street. Vancouver Fire Department was reported to be sending a fire boat to assist.
"I know they have got services coming from around the region to help," Johnstone said.  
Heavy smoke under the SkyBridge prompted TransLink to shut down SkyTrain service between Columbia and Scott Road stations. TransLink set up extra bus services to transport customers between the two stations.
As the fire progressed, New Westminster Police set up yellow caution tape to stop people from accessing the parkade and Front Street. Along with the smoke, the stench of burning creosote filled the air.
"Due to a large fire at Westminster Pier Park, Front Street is closed from East Columbia to Stewardson Way. There is no access to the Front Street parkade," said a tweet from the New Westminster Police Department at 10:21 p.m. "Please avoid the area."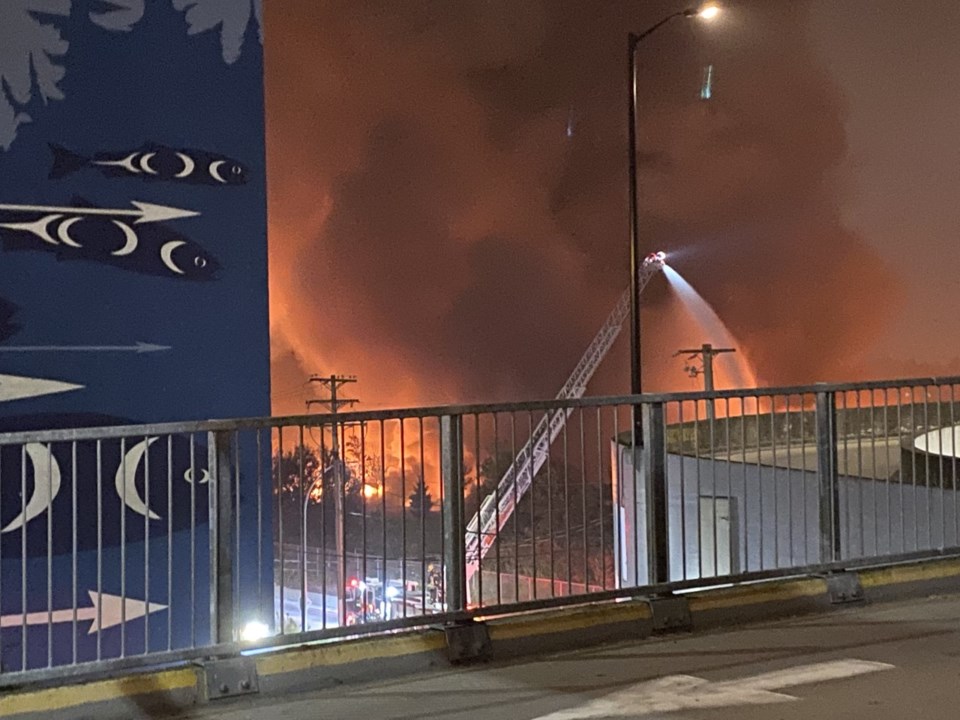 Westminster Pier Park, a $25.2-milllion, 600-metre-long linear park, opened on New Westminster's waterfront in June 2012. The popular destination includes playgrounds, a sports court, a "festival lawn" gathering area, a concession, walking paths, beach volleyball courts and more.
Westminster Pier Park has number of awards, including: a 2012 Environment Award from the Canadian Association of Municipal Administrators, which recognized the innovation and administrative excellence demonstrated by the city; a Sustainable Communities Award from the Federation of Canadian Municipalities; and a national Brownie Award from the Canadian Urban Institute for sustainable remediation technologies.
More to come.