New Westminster posted one of the highest rental price in mid-sized B.C. communities.
The average rent for a local purpose-built and condo apartment dropped by 0.83 per cent in October to a number of $2,604 per month, according to Rental.ca's latest national rankings report.
The price is the 12th highest among Canada's top 25 small and mid-sized communities.
It's also the fifth most expensive in the province behind North Vancouver ($3,360), Coquitlam ($3,116), Richmond ($3,051) and Burnaby ($2,993).
"While headline rent inflation for Canada continued to run hot in October, the slowing of rents in cities such as Toronto and Vancouver was significant, showing that affordability challenges are causing renters to shift into less expensive markets," said Shaun Hildebrand, president of Urbanation, in a statement from last Tuesday. Nov. 14.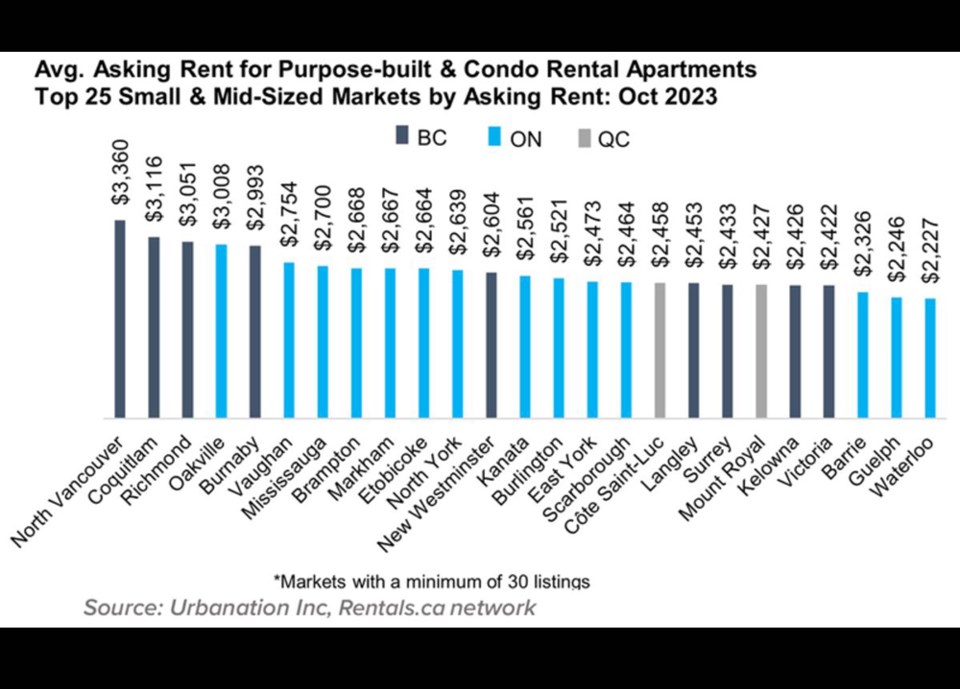 Vancouver is still the most expensive city to rent in Canada:
$2,872 for one-bedroom units
$3,777 for two-bedroom units
Average asking rental prices in B.C. were the highest among all provinces at $2,639, Rentals.ca's report states.
However, Rentals.ca said B.C. rents decreased 0.6 per cent month-over-month, the second consecutive monthly decline, which lowered its annual rate of growth to 9.8 per cent in October from 12.3 per cent in September.
Nationally, the average cost for a one-bedroom suite is $1,938 and $2,311 for a two-bedroom.
Meanwhile, New West was a prime destination for buying real estate last month.
The Real Estate Board of Greater Vancouver (REBGV) reported a benchmark price of $836,700 for local residential properties in October.
That was a decrease of 0.4 per cent from September, according to the latest available data, which continues a consistent decline in the last three months and resulting in a 1.1 per cent dip.
The median price for New West single family detached homes went up to $1,550,700 (+0.8 per cent).
However, prices went in the opposite direction for townhouses at $963,700 (-0.8 per cent) and $658,300 for apartments (-0.5 per cent).
As a result of the downward trend, it appears more prospective homeowners turned to New Westminster in October.
In total, 81 homes were sold locally last month — 59 apartments, 16 detached and six attached — out of 149 listings on the MLS, which was nine more homes taken off the market compared to 72 in September.
Metro Vancouver sales totalled 1,926 in September, a 13.2 per cent increase from the 1,701 sales recorded in September 2022, but 26.3 per cent below the 10-year seasonal average.