Nearly 850 people have signed a petition urging the city not to trash its recycling depot.
The online petition is asking the city to halt its plans to close the recycling depot and to embark on a more thorough consultation with residents. AnApril 8 staff report stated city council had agreed at a Feb. 25 closed meeting to participate with the Tri-Cities municipalities and Metro Vancouver in the new Coquitlam transfer station recycling depot.
"There is a tremendous support for the depot in the community," said resident Daniel Fontaine, who started the petition after being contacted by a resident who was concerned about the city's decision to close the recycling depot. "I think people are extremely disappointed that A, we didn't have a good community dialogue before this decision was made and secondly, that we haven't … been as creative and innovative around looking for alternative solutions to this."
Fontaine ran for council with the New West Progressives in 2018, placing seventh in the race for six seats on council.
With work on the new aquatic and community centre set to get underway in the new year, the city expects to close the recycling depot in early 2020 and anticipates the Coquitlam transfer station and recycling depot to open in the last quarter of 2020. During the intervening months, residents will be able to take some recyclables to other locations (see below) and/or to a series of popup events starting next April.
"One also has to note the irony of getting in your car and driving even further, emitting carbon emissions, to go and recycle out in Coquitlam," Fontaine said of the city's strong stance on climate action. "I know it's not that much farther but if you are. going in traffic, you are likely going to be stuck idling your vehicle, trying to get across the road and the tracks and all that stuff. It's not as simple and as easy, so I think there will be more refuse going into the waste stream that is unnecessarily going there when it could be getting recycled."
Fontaine said there are other places to recycle items in town, but they lack the convenience of the recycling depot.
"Council has to understand there is also a convenience factor when you are going to one site and you can bring five things with you, as opposed to driving around the city in your car bringing stuff to different locations," he said. "That is what people enjoy about this depot – it is very convenient. You can bring paint. You can bring cardboard, Styrofoam. It goes on and on. You can do one trip versus 10 trips."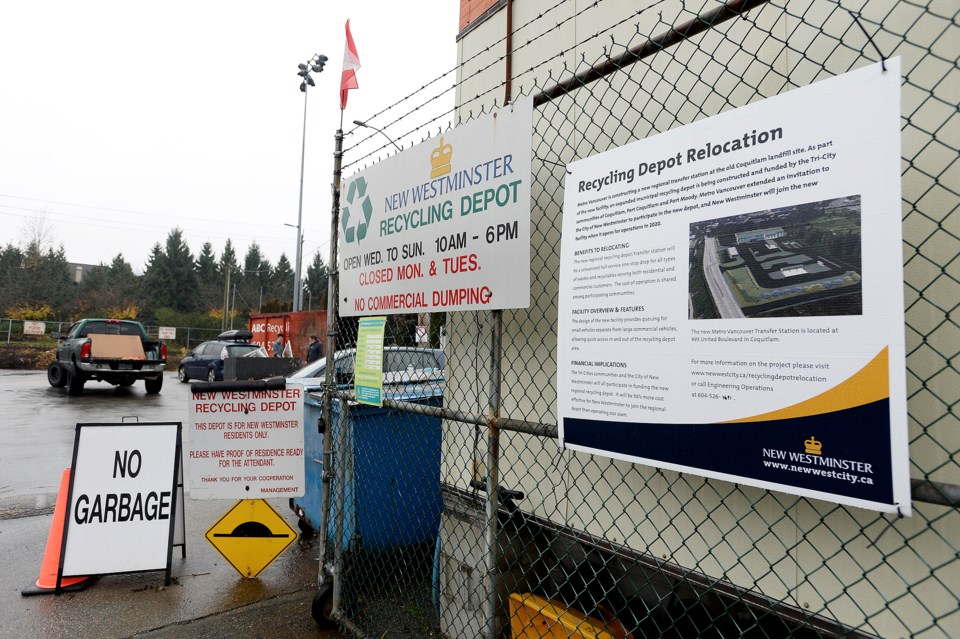 Although residents are upset about the closure of the recycling depot, Fontaine said they're also concerned about the lack of public engagement before a decision was made. 
"There are certain things within our community that bring us together – you can probably name the Top 10 of them. And in an odd, quirky little way, that recycling depot is one of them. It's funny," he said. "People have an emotional connection to it. … It's just part of the community, and it's a way for people to directly feel like they are doing something to help the environment and to do their part to recycle goods that would otherwise go in the dump."
Mayor Jonathan Cote said the city was planning the future aquatic and community centre on the site near Sixth and McBride when the opportunity arose to take part in the regional recycling centre. At the time, he said the city realized that the new aquatic centre was going to have an impact on the recycling centre.
"Looking back at it, I think the move to partnering with our neighbouring municipalities on a shared facility is still the right decision to make," he said, "but I certainly would have engaged in this conversation a lot earlier with the community and maybe been a bit more proactive in looking at what are some other options to augment the move of the facility there that might have alleviated some of these concerns earlier in this discussion."
Cote said council and staff underestimated the passion that a lot of residents have toward the facility.
"I think our engineering department felt that the shared location was a very reasonable response and one that adequately met all of the recycling needs of the community," he said. "I think we missed that passion and love for the existing facility that is out there in the community. I think we need to own that and be able to respond and engage with the community in that conversation."
While the partnership for a shared facility with the Tri-Cities is moving ahead, Cote said the city needs to have a conversation with residents about the items they're most concerned about and find options for providing some additional recycling services in the community.
Fontaine said he doesn't have any specific locations in mind for a depot but isn't convinced the city would have to buy land for a new facility. He believes some good ideas could come out of a consultation process with the community, saying the city has shown an ability to be innovative when it wants to be, such as finding a location for the skate park when it had to be relocated away from Mercer Stadium and finding funding to run the Q to Q ferry and to buy land for a pocket park in the Brow of the Hill neighbourhood.
"If this is truly a priority for them and if it is a priority for the community, they'll make it work and make it happen," he said. "I think they just have to put their thinking caps on and make sure that they explore every option within the city."
The petition is found at www.ipetitions.com/petition/recylingdepotnw.