New uses for roads are part of the city's response to COVID-19.
Since the COVID-19 pandemic began, the city has made taken a number of steps to address issues related to physical distancing. This includes closing the northbound vehicle lane on the McInnis overpass to vehicles and opening it to pedestrians and cyclists; reallocating some curbside parking spaces on Sixth Street (near  Sixth Avenue) to a place where pedestrians can wait for the traffic signage to change and pass one another on the sidewalk; and closing a southbound curb lane on East Columbia Street at Lower Hume Park to motor vehicles to improve conditions for people walking and cycling along the Central Valley Greenway.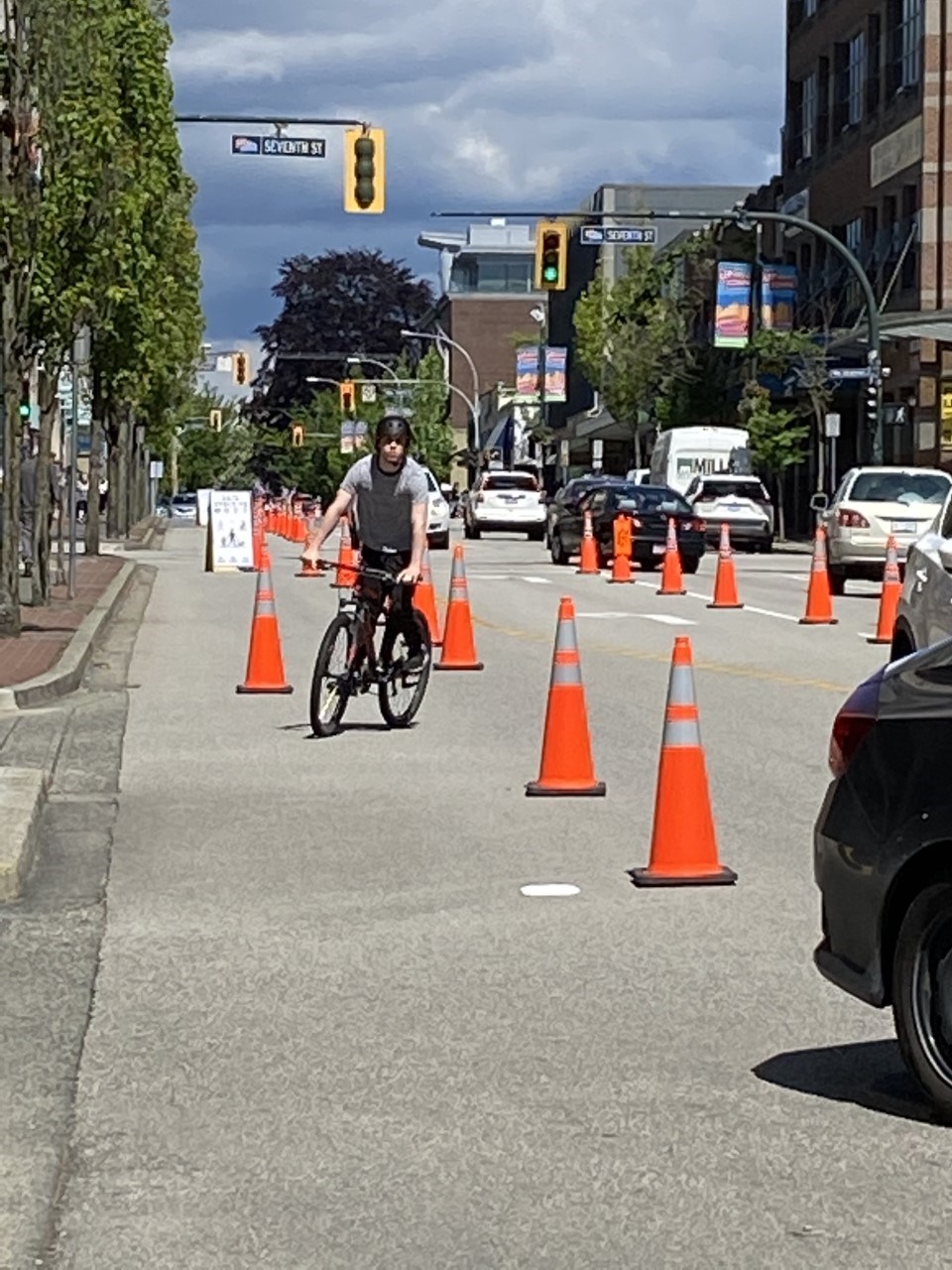 Most recently, the city designated a section of Sixth Avenue, between Sixth Street and Eighth Street, as pedestrian space. The lane, located alongside Royal City Centre, is normally used by vehicles.
And more changes are coming in various areas of the city.
"Staff continue to review the daily education and enforcement task force reports to identify areas of potential concern, and continue to receive reports of locations that are experiencing crowding and/or safety concerns due to increasing numbers of people walking and cycling," said a May 11 report to council.
The report stated that staff are actively conducting technical reviews and developing potential design solutions for in various parts of the city, including: locations in the Uptown where parking could be reallocated to mitigate narrow sidewalk segments; Carnarvon Street, between Eighth Street and the McInnes overpass, which would become one-way eastbound so the south sidewalk can be widened; and the BC Parkway along Stewardson Way, where a variety of responses are being considered.
According to the staff report, other locations that have been noted as places that could benefit from improvements to maintain physical distancing include: the Central Valley Greenway (on East Columbia Street between Cumberland and Stand); Fourth Street (the west sidewalk from Royal Avenue to Columbia SkyTrain station); Eighth Street (the west sidewalk from Columbia to Carnarvon Street); and Sixth Street from Seventh Avenue to New Westminster Secondary School.
"Staff anticipate that some of the measures being implemented will remain in place for several months, and potentially for more than a year," said the report.
Lisa Leblanc, transportation manager, said engineering has been working with the city's economic development and development services staff about how to facilitate the conversion of on-street parking to support local businesses as the city shifts to a COVID-19 recovery phase.
"There are a couple of different ways that can be thought about. One is sort of in the traditional parklet idea, where that space is made available to everybody and not exclusively to one business. It's also possible to think about that space being available for a particular business to expand their patio space," she told council. "So, we are looking at a variety of options and looking at the mechanisms we have in place already with encroachment agreements and sidewalk café agreements, and seeing what we can do to apply that model into the parking spaces – call it parking to patios, if you like."
 With fewer vehicles on the road and more cyclists and pedestrians out and about, council members believe this is the right time to introduce changes to the use of local roads.
"I find walking around in uptown actually quite uncomfortable, simply because there is just not enough space," said Coun. Mary Trentadue. "There is way more people out on the sidewalks, it seems to me, than there has been."
Trentadue said she'd like the city to "be very bold" in tackling these initiatives.
"For Uptown, there are a lot of businesses and a lot of reasons for people to be in that area walking on those streets right now," she said. "I think that is a really appropriate place to do this work. I would encourage it to be done as quickly as possible."
Coun. Nadine Nakagawa said she's pleased the city is focusing on areas, such as the Uptown, where a lot of seniors and people who may be reliant on transit live.
"There are people who must get to jobs, must take transit and must wait at bus stops. We have to prioritize those folks, who need to be there, over other folks who have other options," she said. "I am really happy to see Sixth Avenue on that list. I encourage staff to continue to look at neighbourhoods where people really have to be on the street and have limited other options."
Prior to the COVID-19 pandemic, New Westminster city council approved plans to reallocate a minimum of 10% of today's street spaces that serve only motor vehicles, to sustainable transportation or public gathering spaces by 2030.
Mayor Jonathan Cote said the COVID-19 crisis is going to lead "a really important conversation" about how cities allocate space in their communities. While Columbia Street is fortunate to have wide sidewalks and generally feels comfortable for pedestrians trying to physically distance, he said that's not the case Uptown.
"The Uptown no longer feels comfortable, and it feels, particularly in some areas, quite constrained," he said. "I think this actually connects well to ambitions that we were already working on in terms of allocating space, creating more public space, making room for more sustainable transportation, whether that be walking or cycling."