Stephen Harper made an issue of "old-stock Canadians" during the 2015 federal election campaign, but the issue of "Old New West" and the "New New West" has been simmering in the community for some time.
Whether it was the Royal Lancers dances or some community recommendations for city grants (giving thumbs up to newer recipients and nothing to some of the old stalwarts) there were many moments when residents praised or jeered some of the changes in the city – and for that we've deemed it to be the Record's story of the year.
As more and more condos are constructed and younger folks and families move into the Royal City, it's clear that New Westminster is a city in transition. And with that transition comes clashes between the Old New West and the New New West.
Some newcomers to the Royal City (let's say, those who may have been here 15 years but weren't born and raised in the city) are keen on introducing new offerings to the city like PechaKucha nights and farmers markets. While many "old-timers" embrace these great, new offerings, they are often loyal to longstanding traditions – like May Day.
Many of the "newcomers" appreciate the city's heritage areas and sense of community – but are sometimes ambivalent or downright bewildered by longstanding traditions such as May Day and the Royal Lancers dances.
Earlier this year, city council announced it would not be having the Royal Lancers dances at its annual May Day banquet, a decision that brought longtime citizens, Royal Lancers and members of May Queen's suites out in droves to plead with council to keep the dance that's been part of the banquet for more than 100 years.  Despite the appeals – and some tears – council stood firm and voted in favour of "modernizing" the banquet by eliminating the dances.
Community members who are loyal to the Royal Lancers dances and the city's traditions rallied together and organized a community heritage picnic attended by more than 300 people. Having been cut out of the city's May Day banquet, the group plans to hold the picnic annually and ensure the lancers dances continue in the years ahead.
Behind the scenes, we've heard some born-and-raised  in New West residents express concerns that newbies don't "get" some of the traditions that important to them. Some have suggested that growing up in the city, playing on sports teams together for years, practising the May Day dances at school and attending one high school (aside from a couple of smaller independent schools) forges a bond that carries into adulthood – and is a source of pride.
Jonathan Cote, a three-term city councillor who started his first year as mayor in 2014, isn't afraid of change, having brought forward some new ideas such as parklets, moveable tables and chairs in public areas and a new council meeting format. While some may construe his election as being a rejection of "old" New West, we believe he's politically savvy enough to know he can't alienate too many residents. It will be interesting to watch what changes Cote and city council make – and don't make – in their next three years in office.
But city council doesn't have a monopoly on change, as we're likely to see in 2016. As 2015 wound to a close, it appeared heritage buffs may once again have to adapt to change to longstanding traditions as the school district was poised to review May Day.
Stay tuned.
News Story of the Year Runner Up – The year we were 'wowed' by public art
From a community mural to Vancouver Biennale sculptural installations, it was an art-filled year in 2015
Looking back, 2015 will go down in history as the year New Westminster was "wowed" by public art.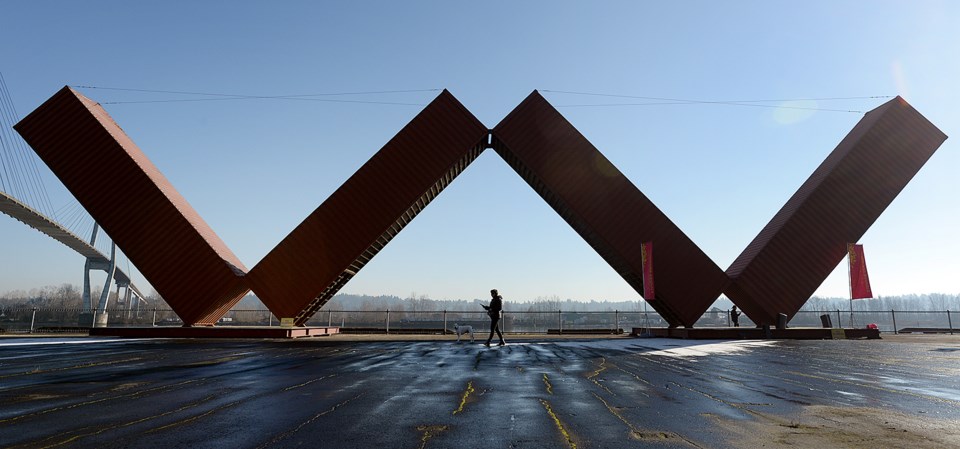 From smaller public art projects – like the Before I Die, I Want To … chalkboards at Westminster Pier Park, the new community mural on Columbia Street and a summer eco-art project in Moody Park – to the Vancouver Biennale's three major pieces around New Westminster, it was a year when public art captured the headlines.
Though many raised their eyebrows at the $130,000 price tag for the city's participation in the Vancouver Biennale, there was no denying that the three works of art it brought into town were headline-getters from the word go.
Public Furniture/Urban Trees made a lower-key arrival in the spring, but Blue Trees got them buzzing in the fall – and, of course, the massive WOW New Westminster boxcar sculpture lit up social media and got the town talking in November.
And never fear, the year of public art is not over yet – discussions are now underway for a public art mural that will adorn the parkade overlooking Western Pier Park.
City councillors have unanimously supported a design featuring birds – but which birds, and how exactly the design will unfold, have yet to be decided.
Stay tuned for more artistic drama in 2016.