May Day 2020 has been unlike any other in its 150-year history in New Westminster.
There were no crowds or revels when F.W. Howay Elementary student Sienna Vahra was recently crowned as New Westminster's 150th May Queen – but there will be when she's crowned again next year.
In a first, 2019 May Queen Amaris Han met up with this year's May Queen in the Queen's Park rose garden for a virtual crowning in a socially distanced ceremony.
"I now crown you Queen of the May," Amaris said as she handed the crown to Sienna, who placed it on her own head.
Large gatherings are currently prohibited because of COVID-19, but the New Westminster May Day Community Association wanted to ensure the 150-year tradition carried on in some way in New Westminster.
A video featuring this year's crowning and comments from members of the 2020 Royal Suite, past May Queens and other community members, was posted on YouTube on Wednesday, May 20 – on the day when New Westminster students would have gathered in Queen's Park Stadium for the annual event.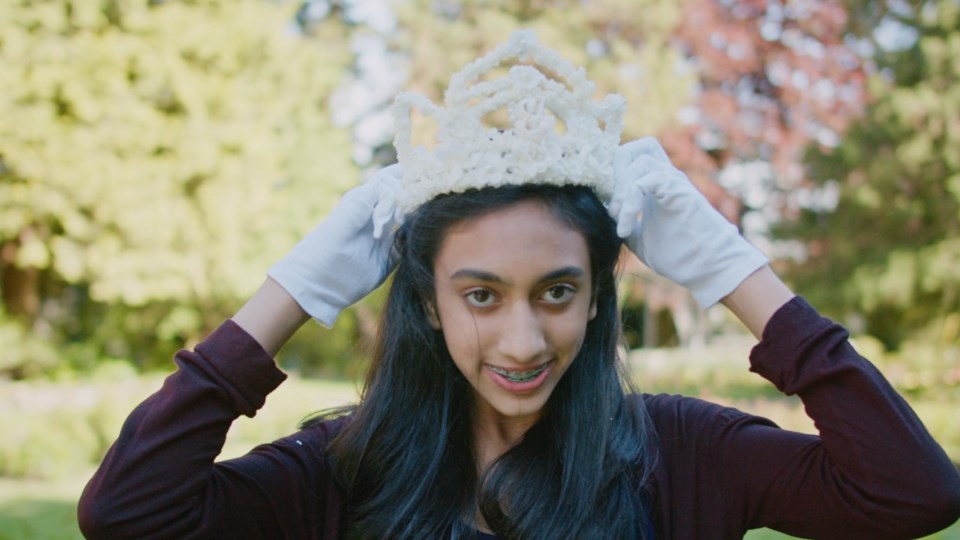 "I was disappointed to hear that May Day was cancelled but I understand this is a hard time and a lot has changed," Sienna said on the video. "May Day is a community-building event that allows us to come together for a common cause. To me, May Day means connecting with my community and keeping a positive tradition alive."
Positions in the 2020 Royal Suite were selected in a random draw in council chambers on March 9 – before COVID-19 forced the cancellation of this year's event in Queen's Park Stadium. In addition to coordinating this year's crowning event, the May Day Community Association is also taking on the role of planning May Days in the years ahead.
"Our plan is to mount a celebration of the 150th anniversary of May Day in grand fashion in 2021," said association president Nikki Binns.
While members of the 2020 and 2019 Royal Suites weren't in attendance at this year's crowning, the association plans to give them their moment in the spotlight in 2021.
"The suite was already picked and everything. How would you deny them? You can't do that. We are going to use the same suite next year – it's going to be the first time that's been done. They will get a proper ceremony," said Rocky Suffron, one of the association's founders and vice-presidents. "We will bring back the suite from last year as well to give them a proper send-off."
The New Westminster May Day Community Association formed with the hope of encouraging the school district to continue organizing May Day, but the district decided this year's event would be its last at the helm.  The association will now take on the lead role of organizing the city's May Day, which will likely be held on a Saturday following the Hyack International Parade.
"I am thrilled to be involved in saving this important cultural event in our city," Suffron said in a press release. "Our vision is to make May Day better, but I realize this is a huge task and I ask that anyone interested in helping us please get in touch."
Lisa Graham, a founder and vice-president, is also happy to be part of a group that will ensure the festival lives on.
"We will be working hard to make May Day an event that engages the whole community in a meaningful and relevant way," she said.
First held in 1870, New Westminster's May Day is the longest continuously observed May Day in the British Commonwealth. The event involves the crowning of a May Queen, maypole and folk dances, speeches and other activities.
Because May Day will no longer be coordinated by the school district, it will see some changes in the years ahead, such as when and where students learn the folk and maypole dances performed at  May Day.
According to a press release from the association, the City of New Westminster has indicated it will continue its commitment to the annual May Day banquet.
A press release from the New Westminster May Day Community Association highlighted one of its new volunteers, Lucas Roque, a consultant to UNESCO who has worked globally on the safeguarding of intangible cultural heritage (ICH) in countries such as Brazil, Mozambique, Angola and Argentina.
 "As a manifestation of intangible cultural heritage, May Day grew out of a demand from New Westminster's community. Its origin is associated with the need to build a strong and better community in a time of crisis. May Day provided to that original group a sense of identity and continuity. Today, May Day still provides this sense of identity and belongingness," he said in a press release. "ICH elements change over time, responding to new situations.  Now, 150 years, later New Westminster has an opportunity to discuss how May Day can answer the current issues of equity, dialogue and reconciliation and be prepared for the next 150 years."
A video of the virtual 2020 May Day crowning ceremony and more information about the association can be found at www.nwmayday.com.