Like many New Westminster residents, David Adams works hard at his trade and earns decent money doing so.
Sometimes, though, he'll be at a dinner party and some guests don't believe he can. He says they are unable to wrap their head around it when he tells them he makes a good living from acting. But he does. Quite a nice one, as a matter of fact.
Enough to live comfortably in New West, starting 35 years ago in the West End. Then Queen's Park for 16 years where he and his wife Suzanne – a ballet dancer, teacher and choreographer – raised two daughters (Kate and Siobhan). For the past three years the Quay has been home. "We absolutely love it," says the deep-voiced Adams of his city.
New West residents might not know his name, but there's a good chance they know Adams' face. He's built his film and television portfolio playing character parts like a doctor, lawyer or politician. He's got a lengthy resumé of stage roles in all sorts of places. He'll throw in some voice work and, of course, he teaches.
"Without being one to toot my own horn, because I've had a lot of variety and whenever things are down in one field I can get work in another field, I've managed to make a go of it all of these years," says Adams. "Sometimes it can be a bit of a grind, as it can be if you're a self-employed contractor. But looking at the big scheme of things, the fact that I'm able to do what I love to do and make a living at it is self-evident that I've managed to do OK.
"If you are industrious and work hard and build your skill level, you can make a go of it no matter what you choose to do. That's always been my credo."
When he teaches he tells his students, "Being an actor is a terrible existence, especially if you want any kind of security. But the people that stick with it, that have the ability to hang in there, can get lots of reward, lots of fulfilment."
At the top of his performance passions is Shakespeare. This summer he's doing a lot of it. For the first time since 1994, Adams is performing at Bard on the Beach at Vancouver's Vanier Park. And true to his versatility, he's playing three roles in two plays – Much Ado About Nothingand The Winter's Tale.
The Much Adotreatment by director John Murphy has it set in 1959 Italy. Instead of the characters being soldiers returning from war, they are production workers coming back from a movie shoot. His main role is as Antonio, a soundtrack music composer.
"Shakespeare wrote quite a few songs and in Much Ado About Nothing, the famous song is Sigh No More Ladies, Sigh No More," says Adams. "I get to sing that (in Italian) as sort of an Al Martino kind of Italian '50s, '60s crooner which makes it really fun."
His other role, Seacoal, is as one of the studio security guards.
"They're kind of like the Keystone Cops. Shakespeare wrote them as bumbling idiots, and that allows us to have a little bit of fun," said Adams. "I always enjoy having two different characters in the play. It gives me a chance to put on another moustache, a different costume, a different voice maybe. Be a totally different kind of person. As far as an actor goes, it's really a challenge."
Adams has done Much Adotwice before. The first time, he was one of the bad guys and it was done in the traditional Shakespearean. The second time the treatment was Bollywood style.
"This one works really well. He's made a few little changes in some of the words, but the script is still Shakespeare. Because it's so well written it can handled," says Adams.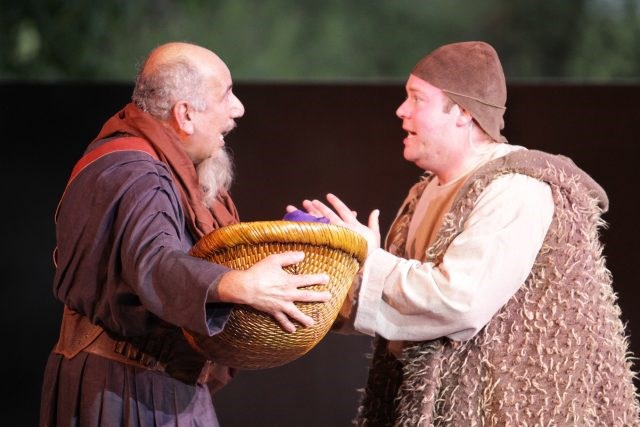 The Winter's Talewas one of Shakespeare's final plays, and by then he'd become a master dramatist who enjoyed telling stories in a fantasy fashion, says Adams. He plays a shepherd who raises a baby he found in the field, the result of a king ordering she be dumped because he believed the baby wasn't his.
Adams says The Winter's Talehas become one of his favourite Shakespeare plays, ranking in his top five.
"When I was a literature student, my goal in life was to be an English professor," says Adams. "I've always loved language, and the fact Shakespeare wrote such beautiful poetry and yet at the same time made the purpose of the poetry was to tell great stories.
"When I'm performing those words, saying those words, I can feel all the thousands of actors over the 400 years that have also spoken those lines, and also, hopefully, captivated an audience. It's almost a religious experience because you're celebrating something that's been around for 400 years."
Adams balked at going back to Bard before because it's a long contract and having a young family made it difficult to devote a whole summer to it. There's been a lot of changes during his 23 years away from it. For one, the tent is a lot larger with 760 seats forcing the actors to use microphones.
"It's the first time I've ever had to do that doing Shakespeare, and it takes a bit of getting used to," admits Adams. "I understand because of the size of the theatre and the fact you are outdoors and you're competing against rescue helicopters and party boats and the people flying their kites."
Changes in character and costume can come fast and furious, which he finds fun, but it has its downside.
"It does make it a bit sweaty in this weather, but it's great fun," says Adams. "Sometimes a nice breeze off of English Bay keeps it a little cooler, although I can tell you when you're in a three-piece wool suit nothing can cool you off once you start getting hot."
Although he has fun performing and feels the history of Shakespeare, being on stage has its limits.
"Frankly, to make a living in the live theatre is almost impossible unless you travel around the country," says Adams. "I did that in my younger years, but you get to a point in your life where you don't want to be living in a hotel or motel or someone's basement suite. I'd rather be at home."
And home would be New Westminster.
Much ado about Bard
What's playing?
Much Ado About Nothing
 (to Sept. 23)
The Winter's Tale
(to Sept. 22)
The Merchant of Venice
(to Sept. 16)
The Two Gentlemen of
Verona(to Sept. 17)
Shylock(Sept. 6 to 15)
What about tickets?
Tickets start at $21 for adults and can be purchased:
wOnlineat bardonthe
beach.org/shop/login
wBy phoneat 604-739-0559
wIn personat the box
office in Vanier Park (1695 Whyte Ave., open 10 a.m. to 6 p.m.)
What else?
Most shows start at 7:30 p.m. nightly. For the full schedule, go to bardonthe
beach.org/schedule