Indigenous leaders and environmental groups will be leading tours on Saturday along the Brunette River in New Westminster where Trans Mountain plans to run through.
More than 200 people have signed up for physically distant, small group tours of the site, followed by "know-your-rights training for those who would like to learn more about non-violent direct action" to protest the pipeline expansion project. People are gathering at Lower Hume Park.
The tours are taking place on the same site where public health physician Dr. Tim Takaro's treetop protest has been taking place this week.  
"I didn't expect to find myself living in a tree at 63 years of age," said Takaro, who has studied the impacts of climate change for three decades. "This threat has compelled me to put my body on the line to prevent construction of this climate killing project."
Takaro has taken an active role in the project's federal approval review process, which he has called "rigged from the start." It's a common refrain from anti-pipeline activists and one that, in some form, was briefly validated after the Federal Court of Appeal found the government failed to adequately consult Indigenous groups along the pipeline route.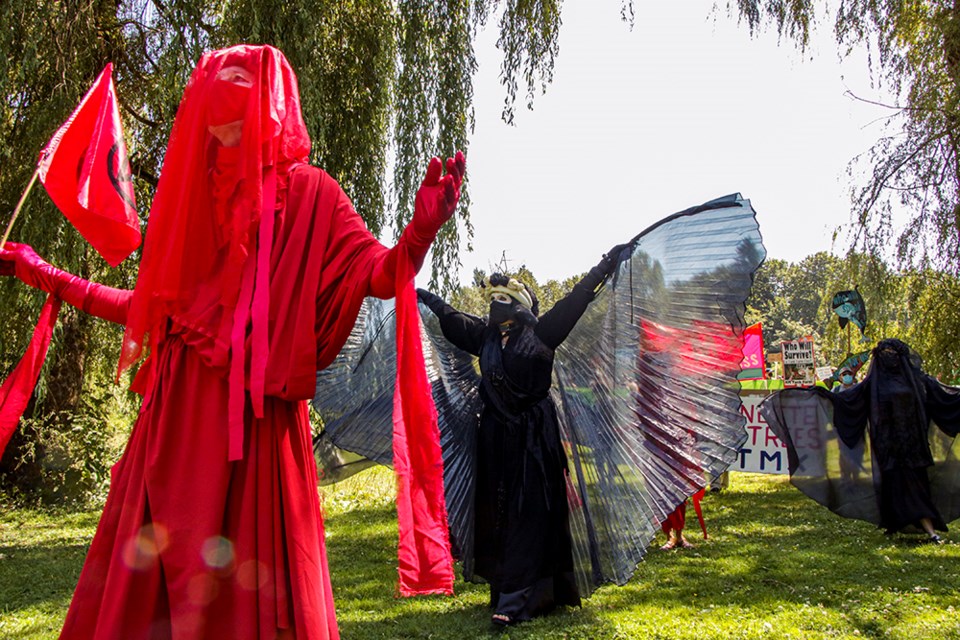 The same court later ruled, however, that follow-up consultations were adequate, effectively clearing the way for the pipeline's construction.
"In choosing civil disobedience to block construction of TMX, I am choosing a far lesser crime than that perpetrated by Prime Minister (Justin) Trudeau, who continues to back this project," said Takaro in a news release.
"In addition to the direct health risks of the project, I am considering the future of my children, their children and future generations around the world. No short-term economic benefit can outweigh this risk."
Extinction Rebellion held a march in support of Takaro at Hume Park in New Westminster on Wednesday.
With files from Dustin Godfrey