Piva Modern Italian restaurant is putting on a new face in response to COVID-19.
Like many businesses, the Columbia Street restaurant closed its doors in March because of the pandemic and later pivoted to add a take-out menu in April. With the province now in Phase 2 of the Restart BC plan, Piva is set to pivot again - reopening for dine-in service starting June 3.
"We just want people to know that they are safe and they can feel safe," said Chris McFadden, Piva's managing partner and wine director. "We will have a welcome sign that has the major points that we wanted to touch on about how and what to expect at Piva, what to expect from us and our staff, and what we are expecting from our guests."
Some of the measures being introduced at Piva to ensure the safety of diners and staff include the screening of all staff (including taking temperatures) and guests, continuous cleaning in the kitchen, dedicated cleaning staff and social spacing. Staff will be required to use face masks.
Piva is taking action to keep people safe – and to make them feel safe – so diners can focus on enjoying their culinary experience without having to think about COVID-19, McFadden said.
"You should feel completely in your Zen moment when you walk in our door, to enjoy the food that you love, to enjoy the team that we have, to enjoy your usual table," he said. "This should be your escape out of the reality of what we have been through. We want you to feel relaxed about it when you come to Piva."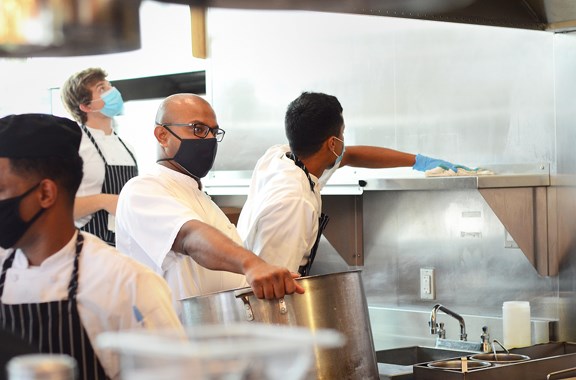 A newly created "guest services liaison" will be responsible for sanitizing high-touch points throughout the restaurant. Instead of cleaning bathrooms every 15 to 20 minutes, Piva is going "above and beyond" and sanitizing them after each and every use.
Due to physical distancing requirements, Piva is reducing its interior and patio seating. The restaurant is also putting up glass dividers between the booths, and glassing in the top of the bar and removing the bar seats from that area of the restaurant.
"The key word is pivot," McFadden said. "When this all began, we never knew how long it was going to last – I think that anticipating that it was only going to be about a month, and then we'd be circling back to a somewhat normal kind of situation."
McFadden offers "a huge pat on the back" to the provincial government, B.C. public health officer Dr. Bonnie Henry and front-line workers who have worked to keep British Columbians safe during the pandemic. He also credited a group of B.C. restaurateurs for providing the province with a document that detailed how restaurants could reopen in a way that would keep staff and guests safe, which was used as a foundation for regulations regarding restaurant reopening.
But reopening Piva's doors wouldn't be a possibility without the support of community members who provided the impetus for finding ways to adapt in changing and challenging times.
"I think this is 100% about the community," McFadden said. "We are very, very blessed that we have such tremendous supporters. That allows us to be able to open and know that people are going to want to come."
Starting the first week of June, Piva will be open for dinner Wednesday to Sunday, lunch on Fridays, and brunch on Saturdays and Sundays. For those who prefer to eat at home as businesses slowly reopen, Piva will continue to offer the take-out service it's been providing since April.
"We want to make sure that Piva can either be at home with you or we will have you at Piva," McFadden said.
In the past week, some New Westminster restaurants have begun to reopen and offer dine-in service, with reduced seating to allow for physical distancing.
In an effort to support restaurants in their restart and recovery efforts, the City of New Westminster is taking steps to make it possible for restaurants to provide seating in patios or parklets.