The first pandemic edition of the New West Farmers Market is over and done – and everything went according to plan.
"I think it went pretty well," said market manager Lily Nichol on Friday.
Earlier this month, the market was left with the challenge of quickly reconfiguring its operations in an attempt to stay open in the face of the COVID-19 pandemic. Working with Fraser Health and the City of New Westminster, Nichol and market volunteers were able to come up with a new plan that would allow it to meet social distancing guidelines and still deliver fresh food to local customers.
The newly reconfigured market kicked off April 2 and runs Thursdays from 3 to 7 at Tipperary Park – the usual space for its outdoor summer-season markets, but with a new format.
Among the changes, it's now smaller, with only food and drink vendors and no extras such as entertainment or kids' activities. It's fenced, with managed entry and exit points to limit numbers, and the lineup is set up with markings to indicate the required six-foot distance between customers.
No cash is being accepted, and customers are asked to use hand-washing stations and hand sanitizer.
Nichol said she heard good comments about features such as the hand-washing stations and the distances between vendors, and organizers also received some constructive feedback that will be taken into consideration for next week and beyond.
"I've noticed there's a lot of things that aren't necessarily Fraser Health rules so much as they're things that make people more comfortable," she said. "We want to make sure that everybody's safe and comfortable."
For instance, vendors have asked about possibly being able to park their cars in the spaces between tents to provide a barrier between stalls, something Nichol is now looking at doing if space permits.
Another suggestion was to add marks on the ground not just at the entrance but also at the individual vendor stalls inside, so people know where to stand to maintain their six-foot distance.
"I think people find it comforting to have that measured out for them," Nichol said.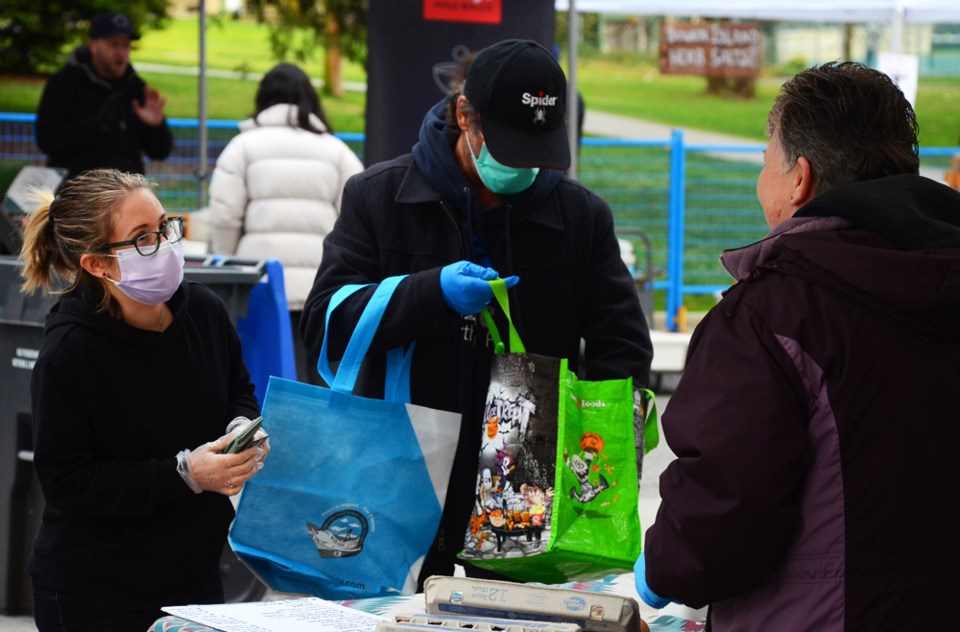 As far as turnout goes, Nichol said the first market was a success for the farmers taking part.
"The vendors were really happy. They really appreciated how the community came out," she said, noting it was never busy enough to see a long lineup but that there was a constant stream of customers over the afternoon and evening. "It was very steady for them."
Even beyond the food sales, though, Nichol was happy to see the way the market boosted the sense of community for attendees.
"It was super heartwarming to see people who clearly hadn't seen one another for a month, watching them have a conversation from a super safe distance away," Nichol said.
Jessica and Richard Bodnarek were among the shoppers who turned out for the first Thursday.
"We haven't been since the self-isolation was requested by the government because we didn't know they were going on, and then we were driving by and we're like, 'Oh my God, they're still having it,' so we decided to pull over and come on in," Jessica said.
The two arrived in masks, explaining they're trying to do their part to keep the whole community safe.
"We don't have it, but we could be asymptomatic, we don't know, and our community means a lot to us – more than looking silly," Jessica said.
Asked whether they were comfortable with the precautions taken by market organizers, the couple said yes, although Richard acknowledged no system would be perfect.
"They're trying," he said. "You can only do so much, and people will be people."
Nichol reassured New West residents that market organizers are taking safety very seriously and they want to hear if people have concerns.
"We're just a small group of people trying to do our best," she said.
She's determined to make the market a success, noting the events can meet many important goals: supporting small business, providing food and helping to raise the spirits of the community.
"People just appreciate a reason to be outside," she said. "We don't have to be unhappy at the same time as being safe. … A community can exist at a safe distance."
So far, Nichol has 13 vendors lined up to take part in the second event on April 9, up from 10 the first week. To find out which vendors will be at the next market, follow @newwestfarmers on Twitter and Instagram, find @newwestfarmersmarket on Facebook or see www.newwestfarmers.ca.
- with reporting by Cornelia Naylor