A new program is hoping to provide food for those who are struggling and to tackle stereotypes about folks who may need a helping hand.
The Don't Go Hungry food program is now taking place on Saturdays at St. Aidan's Presbyterian Church. Curbside pickup of food is offered at 1320 Seventh Ave. from 1:30 to 2:30 p.m., with seniors being served from 1:30 to 2 p.m., and others to follow.
"My hope is that people would receive support when they need it, if only for a short time," said Rev. Laurie Deacon. "Most people that go to a food bank or any food support are just caught at a particular time."
Deacon hopes the program can contribute to creating a more compassionate community.
"It's kind of humbling, but in our life, we all need to take some support when we need it," she said. "Then, when we don't need it, we have more compassion for people who do need it; When we can say, 'I've been there. I know what that's like.' And the stigma of people going to food banks or getting food supports will decrease. That's my hope."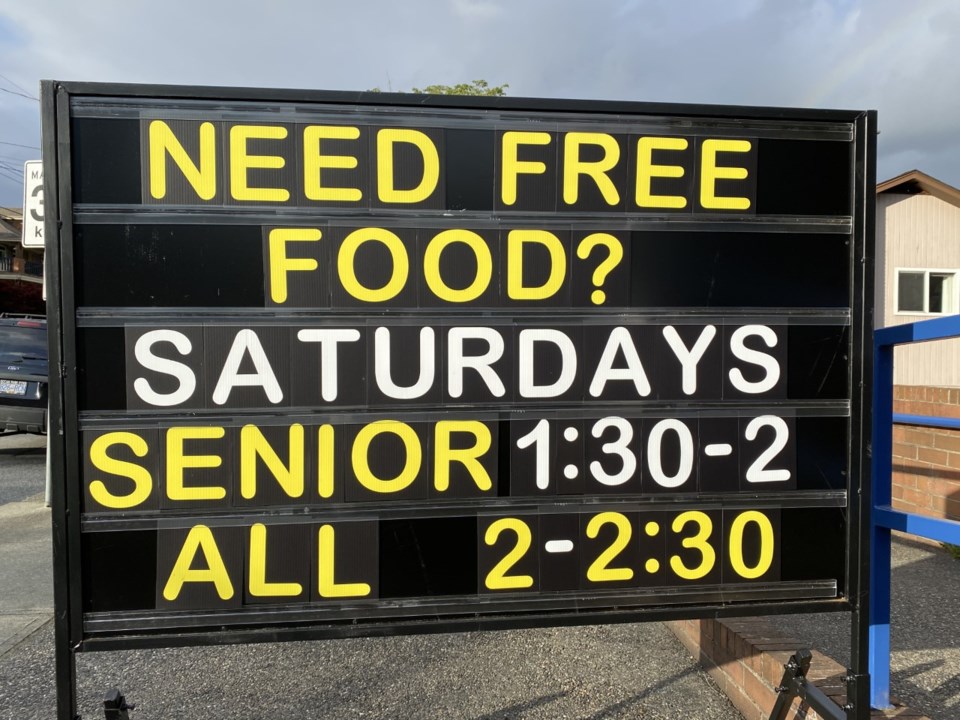 The program, which launched May 16, has different sizes of food packages available for singles, couples and families. Gluten-free and vegetarian options are also available.
"We had more food than we had people last week," Deacon told the Record. "We were prepared for 48 people and we had 27. We have more food than we have people, so we want to get the word out."
The program builds on the success of a food program St. Aidan's launched last summer, which saw reclaimed food, mostly fruits and vegetables, being collected and dispersed to 30 families from Lord Kelvin Elementary School.
"It went well," Deacon said. "We just targeted Lord Kelvin school because the concern was for the kids that didn't have the lunch and breakfast program. I asked, 'So what happens to the kids during the summer?' And one of the moms said, 'They come back hungrier and thinner.'"
In the fall, Deacon met with representatives from groups, including the New Westminster Homelessness Coalition and Fraser Health, to develop a follow-up program.
A donation of 100 bags of food from the Greater Vancouver Food Bank helped kick off the program. Dan's Legacy has made arrangement to pick up and deliver food from three Save- On-Foods stores.
"We are trying also to let people know that this food is good food. We are getting meat, we are getting dairy. We are getting breads," Deacon said. "We are also getting day-old from Cobb's Bread."
The City of New Westminster has provided items for the weekly pickup event, including face masks, gloves and tents. It also applied for a grant to the Vancouver Foundation, which was approved and will provide funding for a 12-week program.
"This time is really stressful, of course," she said of the pandemic. "Some people will say, 'Oh no, I am not the kind of person that needs a food bank.' But people don't realize that if you don't have to pay as much for food you can pay some of the bills. You can pay your hydro; you can pay some of the bills that are essential – like rent."
In addition to St. Aidan's, another new food program will be getting underway at Knox Presbyterian Church in Sapperton.
"Any food that is left over here we will just take over to Knox. With the grant money we can supplement that site as well. That will be Saturdays from 4 to 5 p.m.," Deacon said. "Hopefully we will be able to extend out to Queensborough because there is no site there either. This isn't just St. Aidan's – this is in collaboration with the whole community."
Betina Wheeler, coordinator of the New Westminster Homelessness Coalition Society, said the program at St. Aidan's is serving as the West End food hub during the pandemic but will carry on afterwards. She noted it's the only program that operates on the weekend, so people who may work during the week and can't access emergency food supports will now have somewhere to go for help.
"The program is also the first one that utilizes a new volunteer orientation we developed that aims at breaking down the myths around who actually uses food programs as a way to decrease the stigma and stereotypes some people may have," she said in an email to the Record. "This is all connected to the work we have been doing on the food security action plan implementation."
For more information on the program, go to www.dontgohungry.ca or the Don't Go Hungry page on Facebook and Instagram.