It's 8:36 a.m. and I am late for school.
I am sandwiched in between a bunch of high school students on a bus headed down Eighth Avenue. Somewhere in the middle of the bus is New Westminster school trustee Mary Lalji and Richmond-Queensborough MLA Jas Johal.
Our bus ordeal began at 7:30 a.m., when I met Lalji and Johal at a bus stop at Howes Street and Ewen Avenue in Queensborough.
It was cold out and the fog was thick. Lalji had invited us to travel by bus from Queensborough to New Westminster Secondary School. She wanted us to experience first-hand what it is like for students who travel to the high school from the 'Boro every day.
Since her election to the school board in 2016, Lalji has been pushing for a school bus for NWSS students living in Queensborough.
By the time I arrived at the bus stop, there was already a line of people, including NWSS students, waiting for the bus.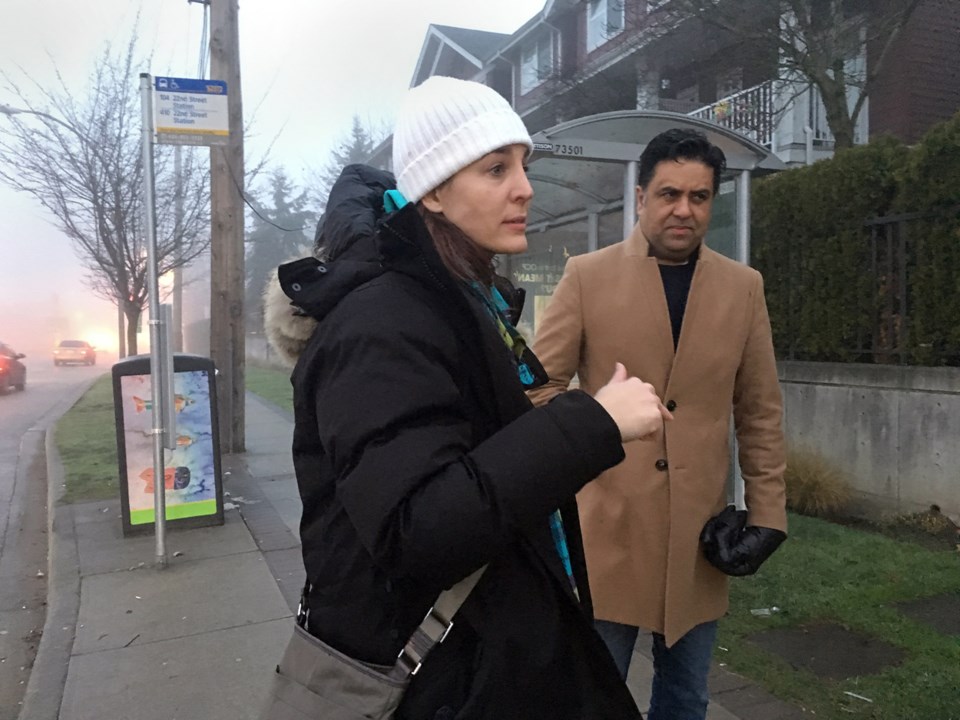 One student told us she had recently gotten her N, so she's been driving to school more often. Today, though, her dad had to use her car, so she was relegated to the bus.
Another said he arrives at the bus stop early in case the bus is full. That way, if it is full, he can just catch the next one. He's only been late to school a few times this semester, he said.
All NWSS students who live in Queensborough and take transit have to transfer at the 22nd Street SkyTrain station.
Lalji said most kids catch one of the buses between 7:30 and 8 a.m. Anything after 8 a.m. and they'd be late.
For about 25 minutes, we stood waiting, watching. Many of the buses were pretty full by the time they reached Howes and Ewen. At 7:57 a.m. we got on one with only standing room left.
At the 22nd Street station, another Queensborough student explained there are two buses that pass near the high school. The 128 Braid Station, which travels east on Eighth Avenue, and the 155 down Sixth Avenue. She said she takes the 128 so she doesn't have to walk too far.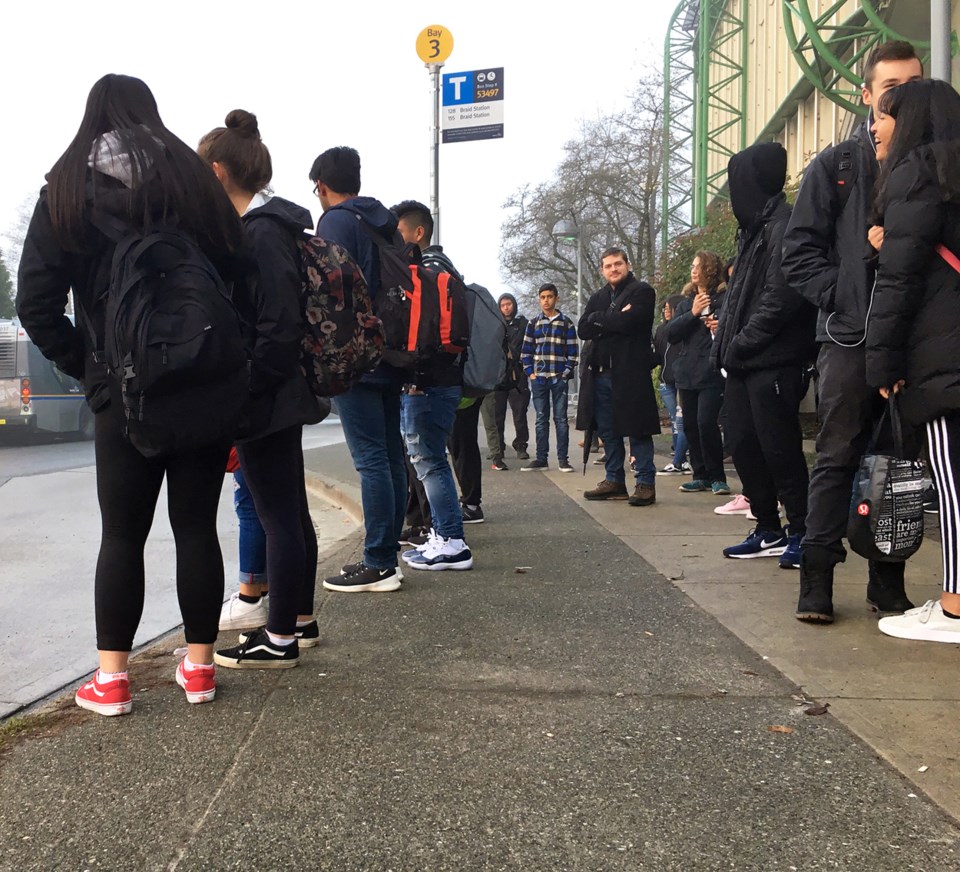 But that bus wasn't scheduled to arrive until 8:20 a.m. and it was only 8:04 a.m.
By 8:20 a.m., there were about 35 students waiting for the bus (not all are from Queensborough) and there was still no sign of the bus.
It finally arrived at 8:26 a.m. We were already late. The first bell at NWSS rings at 8:25 a.m.
***
Earlier this year, the school board approved Lalji's motion to have the district send a survey to Queensborough parents whose kids attended NWSS.
The survey asked parents if they were interested in a bus service to and from the high school, and whether they would be willing to pay for it. A total of 273 surveys were sent out; 47 were returned completed and less than half said they were interested in a service.
The main concern was cost. Parents were not willing to pay more than the price of a Compass card for a concession fare, which is currently $53 a month, according to a report by district staff presented in May.
Staff concluded a bus service wouldn't be possible without a significant subsidy.
But Lalji argued the survey lacked diversity and excluded the portion of Queensborough parents who don't speak English.
She pushed to have a second survey sent to parents, this time in several languages.
The results of the second survey were presented to the school board last month. This time, 59 people completed the survey and only one was completed in Tagalog.
Johal said he heard a lot of complaints about the bus service in Queensborough while campaigning in the area earlier this year.
I asked if he'd spoken with New Westminster MLA Judy Darcy.
"I don't see a problem working with Judy Darcy and getting this done," Johal replied.
"The multi-billion-dollar budget that the NPD has should be able to find a school or two I would think. … Maybe's there a unique way we can do this together."
That's what Lalji wants to see.
Lalji believes the surveys were poorly received because they focused mainly on the cost of the bus service, instead of polling people to find out who would be interested.
She believes the district could have done more to encourage parents to complete the surveys.
She hopes by getting the local MLA involved, she'll be able to get the service up and running.
BY THE NUMBERS:
Mary Lalji, Jas Johal and Cayley Dobie catch the 410 bus from Queensborough to the 22nd Street SkyTrain station at 7:57 a.m.
Arrive at 8:04 a.m.
Wait 21 minutes.
Bus 128 arrives at 8:25 a.m. and leaves at 8:26 a.m.
At 8:37 a.m. the 128 stops outside New Westminster Secondary School.
Total time on buses: 18 minutes.
Total time spent in-transit: 39 minutes.