A beloved New Westminster restaurant that has been in the city for decades has been closed for several days due to a COVID-19 exposure.
A notice on the door of the Waffle House on Sixth Street says it temporarily closed on Nov. 8 until "further notice.
"Due to a possible exposure among a staff member, we have decided to close, while all staff members get tested and all safety precautions are met," says the notice.
The Waffle House has been in New West in several locations since the mid-1950s and caters to a large contingent of seniors.
New cases of COVID-19 jumped by 32% in New Westminster last month, as cases in the city have surged since the beginning of September.
Cases spiked again in October, with 94 compared to 71 cases in September. The latest modelling says cases will continue to grow. 
Of the 268 total cases reported in New Westminster from the start of the pandemic until Oct. 31, more than half of them have occurred since September, according to data released by the BC Centre for Disease Control Thursday. 
Some of the cases have been seen in numerous New Westminster public schools. Multiple New West care homes have also seen cases. But many more cases are now being seen in other parts of the community.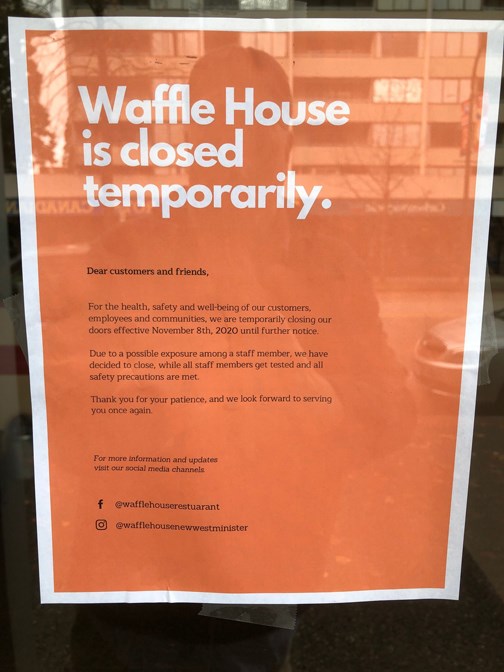 The New Westminster health delivery area — which includes Burnaby, Tri-Cities, New West and Maple Ridge — has seen a major uptick, having reported 587 cases of COVID-19 in the past week, a 48.7% increase over the previous week.
With the number of newly detected COVID-19 infections in B.C. surpassing 600 for the first time, and hospitalizations at a record high, there is more evidence that the extent of the deadly virus in the province remains more present than ever.
The province recorded, from Thursday to Friday, 617 new cases of the virus that has caused a global pandemic, for a total of 20,985 cases since the disease was first detected in B.C. in late January.
The number of those hospitalized as a result of infections hit a record high for the second day in a row, and there are now 167 people in B.C. hospitals. Health Minister Adrian Dix, in press briefings, has said multiple times this week that the hospital system has plenty more capacity to handle COVID-19 patients.
Of those hospitalized, 50 are in intensive care units (ICU) – the highest number since April 21, when 51 patients were in ICU. The situation in ICU was at its worst on April 6, when 72 COVID-19 patients were being treated in those units. 
With files from Glen Korstrom