When you gotta go you gotta go. But what do you do when there's nowhere to go?
That's the basis for a new petition, spearheaded by the Peer Network, urging the city to install publicly accessible washrooms in New Westminster. Rhonda Cummings, chair of the Peer Network, has witnessed the need for public restrooms.
"I live right by the SkyTrain. On a few occasions, I have come out of my building and there's been human feces in the back by the garage," she told the Record. "I have seen people going into behind, down on Carnarvon, they'll go into this little space to do their business. I can see that from my balcony."
Cummings said neither of the two SkyTrain stations in downtown New Westminster have public washrooms, nor does the Shops at New West station. She's heard of incidents of people doing their business in stairwells and even outside a store.
"People have to clean that up," she said. "That's not a pretty thing to have to do."
Cummings believes the city could offer a pilot project by providing porta-potties in busy areas like the downtown and uptown neighbourhoods.
"They have done this in Portland and Vancouver. It's gone beyond the porta-potty. They have self-cleaning bathrooms with dispensers," she said. "They are vandalism-safe – there is no glass, metal. We can start with the porta-potties and work our way up."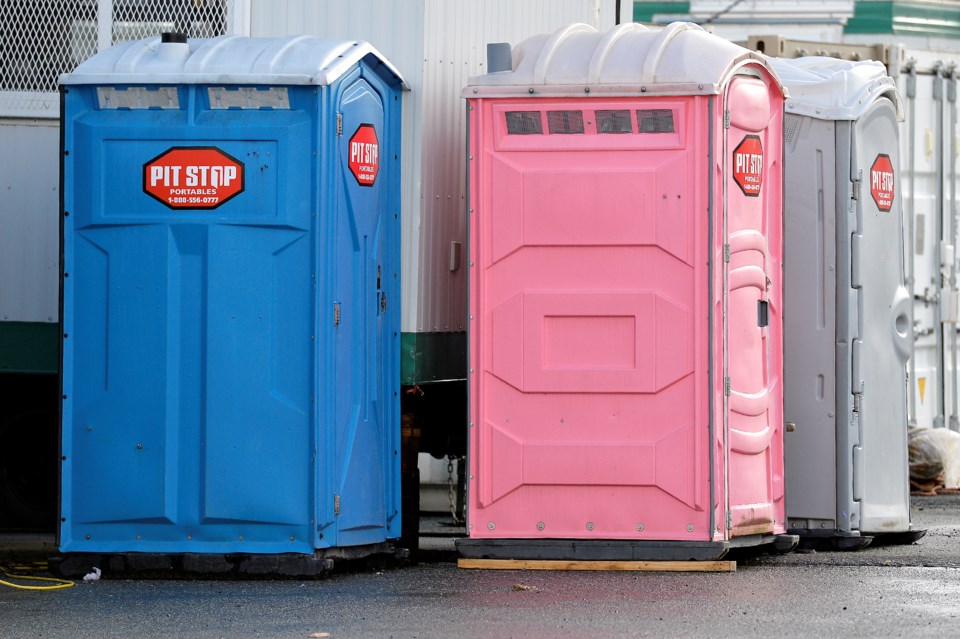 The petition, which will be presented to city council, states the lack of public restrooms affects people experiencing homelessness because most businesses will not allow non-customers to use their restrooms, and those they can use are only open during certain hours, forcing people experiencing homelessness to use alleys, streets and bushes to relieve themselves. It states that providing porta-potties in certain areas of New Westminster would help keep city streets clean and provide dignity to people living without homes.
"A lot of people, elderly people, have Chrohn's, irritable bowel syndrome. They can't go out of their house unless they know they are going to be able to go to the bathroom," Cummings said. "That is limiting them."
Cummings believes public washrooms should be located at all SkyTrain stations and at the Shops at New West. She said other malls have public restrooms.
"It covers a wide variety of people, not just homeless, not just people with issues," she said. "Everybody has issues. Going to the bathroom should not be one of them."
John Stark, the city's supervisor of community planning, said the city is aware of the petition. City staff are looking into the concerns that have been raised regarding the availability of and access to washrooms, particularly in the Downtown.
Cherie Mak, senior property manager for First Capital, said the Shops at New West doesn't have any public washrooms but most of the shops do have washrooms for their customers.  
"We are not interested or have the capacity in terms of space and monitoring in the provision of any public washrooms," she said in an email to the Record. "There are some incidents that some people use the stairwells at times but we are addressing that issue."
TransLink is currently conducting a feasibility study to determine a customer washroom implementation strategy, said spokesperson Dan Mountain.
Some members of the Peer Network recently visited Eastside Works in Vancouver, which has a Tech Café – something that's being explored for New Westminster. En route, they checked out some of the public bathrooms, including one near the Main Street SkyTrain station.
"The doors appear to have a timer so that they will open after a set amount of time has elapsed," said Courtney Pankratz, coordinator of the New Westminster Overdose Community Action Team. "Eastside Works also has a light-sensor technology that will alert staff if someone has been motionless in their bathroom for some time. This is to help notify in case of a medical emergency or overdose.  This technology has been made possible through a small organization called Brave."
The Peer Network is a group of people who have been directly impacted by the overdose crisis – through their own experiences or those of loved ones. One of its objectives is to raise awareness about matters that directly affect them and identify strategies to take action.
 "We had 35 people pass away in 2018," Pankratzsaid about New Westminster. "In 2019, that went down to 17. It's hard to know exactly why the numbers are going down. There are a lot more people who are aware, who are able to recognize the signs of overdose."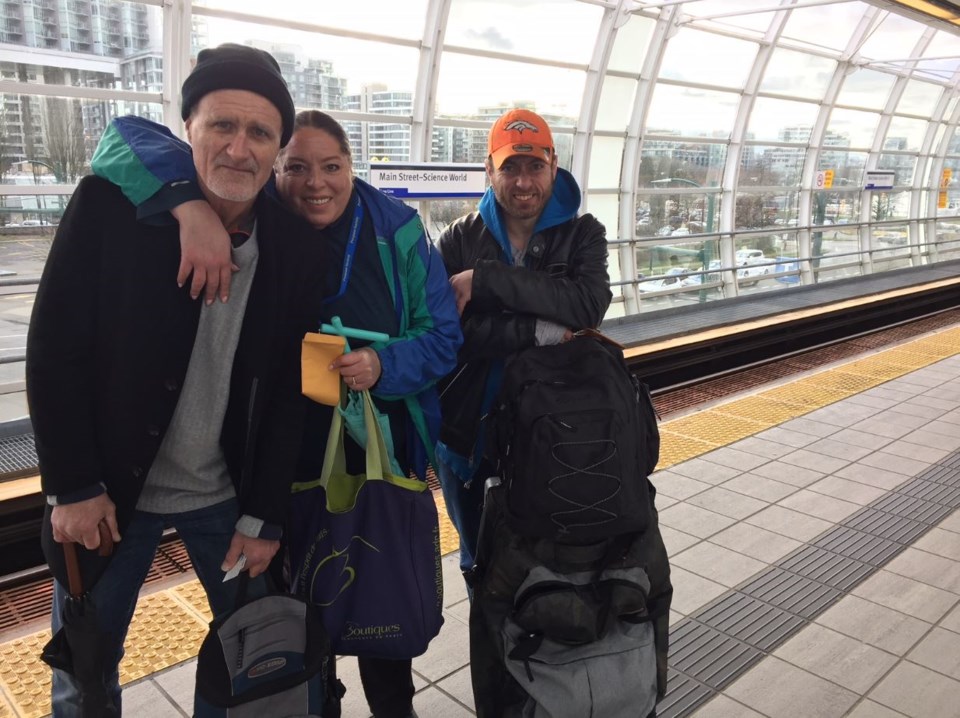 The Peer Network meets every Tuesday at 4 p.m. at Lookout Housing and Health Society's Russell Housing Centre, 740 Carnarvon St. (enter from Alexander Street). Its efforts have included dispersing care packages to those in need, providing phones so people can call 911 if they're in a crisis, doing art projects, offering Naloxone training and doing community outreach to share information about how the opioid crisis is impacting New West.
"We are doing a program that we call the New West Street Degree," Pankratz said. "That is based on a model from Vancouver, really acknowledging that a lot of people who are either using drugs right now or might have been using drugs in the past, they have a lot of knowledge and expertise around how to keep people safe. We are doing a certificate program for people who want to continue doing outreach work."
Cummings, who has lived in New West for 15 years, said it's rewarding to be involved with the Peer Network.
"It's given me a purpose. I know that sounds cliché. Really, it's given me something to do, and I feel like I am helping people. Therefore I feel like a worthwhile person," she said. "Other people who are coming, I see them feeling good about themselves. They feel like they actually matter."
The petition is found at www.ipettitions.com (search for Petition to Install Publicly Accessible Washrooms in New Westminster).