Stay home, stay safe has been a mantra for many folks during the COVID-19 pandemic, but that's next to impossible for those without homes.
On Monday, a new homeless emergency response centre is being activated at the Massey gym complex, which is located adjacent to New Westminster Secondary School. BC Housing, Fraser Health, Lookout Housing and Health Society, the New Westminster school district, the City of New Westminster and the Massey Theatre Society have been collaborating on the plan, which will provide "pods" for 40 individuals.
"We have the luxury of having homes to social distance and to isolate in," said Lookout CEO Shayne Williams, "but homeless folks don't, so this is that opportunity for those individuals."
Williams said the project's focus is to provide temporary shelter for people who are referred to the program because they're deemed to be "super vulnerable" to getting COVID-19 and succumbing to the illness. This includes people with ongoing health issues, long histories of homelessness or are elderly.
"Anything outside COVID, we will still be working with the health authorities to address, all in an effort to bolster that immune system so you don't become COVID positive," Williams said. "That would be the real goal of this project."
During their stay at the emergency response centre, people will have access to meals and medication, be able to get some good sleeps and receive assistance addressing any lingering health concerns.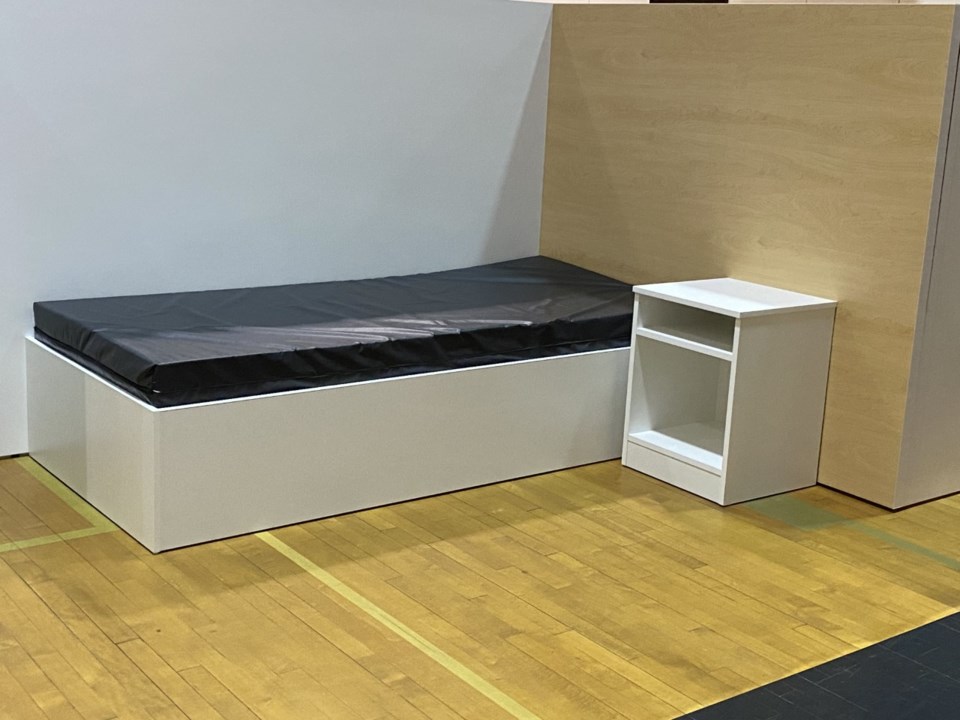 Why Massey gym?
John Stark, the city's supervisor of community planning, said the province required municipalities to develop a local plan to assist vulnerable and homeless populations and to create a list of civic facilities that could be used temporarily to help get through the COVID-19 crisis.  A number of buildings were considered, including Centennial Community Centre, the Armoury and Queen's Park Arena, with their size, layout, proximity to the downtown (where many homeless people stay) and availability being considerations.
"Queen's Park Arena would have been an ideal site, with the exception that it has no heating source," he said. "Great on a (warm) day like today; if it was cool out, there is no heating source whatsoever."
When it appeared there was not going to be a fulltime reopening of school this spring, Stark said the Massey complex was deemed to be a suitable location.
"It is temporary," he said. "It is really just here during the time of the pandemic."
A recent report to city council said a number of measures have been put in place to meet the needs of those sheltered and to address any concerns community members may have about the plan. This includes: 24-7 staffing; health and support services, both on-site and through referral; perimeter sweeps and private security in the vicinity of the centre; a reporting relationship between the operator and personnel in city departments, including engineering operations and parks; and daily meetings, at least initially, by representatives from all involved parties to address any concerns that may arise.
What about NWSS?
Bettina Ketcham, the school district's secretary-treasurer, outlined the project in a May 8 email to parents.
The email outlined a number of measures that have been take at the site, including: interior work to block access to any unneeded rooms; fencing around the exterior space where shelter guests can enjoy some fresh air; a secure space where residents can keep their belongings; 24-7 staffing; and security measures. The district noted people (who must not present with any possible COVID-19 symptoms) must be referred to the shelter by Fraser Health and walk-ups won't be permitted access to the centre.
"Safety and security of all parties has been the primary driver throughout," Ketcham wrote.
Why is this needed?
Stark said there may be some new faces in town, but New Westminster generally doesn't have a transient population when it comes to homelessness.
"Really, if we can look at this population and meet their health needs, it could reduce transmission to the larger population. It isn't just related to those individuals that find themselves homeless, it's the larger community that we need to contain the potential spread. It's also recognizing that this can be a highly vulnerable population," he said. "As a city, for us, it's really important to meet the needs, not just of this population but to protect the larger population."
Some people from existing shelters will be relocated to the newly created emergency response centre, as some facilities and shelters can't accommodate them because of social-distancing requirements. As part of the initial response to COVID-19, the extreme weather response program was initiated at the Cliff Block, but it's only able to accommodate 16 people because of social distancing.
What's the plan?
On Monday morning, Fraser Health will be doing a screening and assessment of the 16 people who have been staying at the extreme weather shelter at the Cliff Block in Downtown New West. Once cleared, they will move to their new temporary homes in Massey gym, while anyone who is symptomatic would be sent to an isolation facility.
"The idea is there will be a slow move-in," said Lauren English, BC Housing's director of land development for the Riverview lands. "It's not going to be 40 individuals, full-capacity on Day 1."
English said BC Housing purchased 664 pods pop-up pods from Staples Business Advantage in Ontario. Each pod, which measures eight-feet long by six-feet wide, includes a bed and a nightstand.
"The walls are about five-feet high, so it provides a sense of privacy and security, and also provides the lines of sight that are needed for the facility," she said. "We have purchased over 600 of them and deployed them all over the province."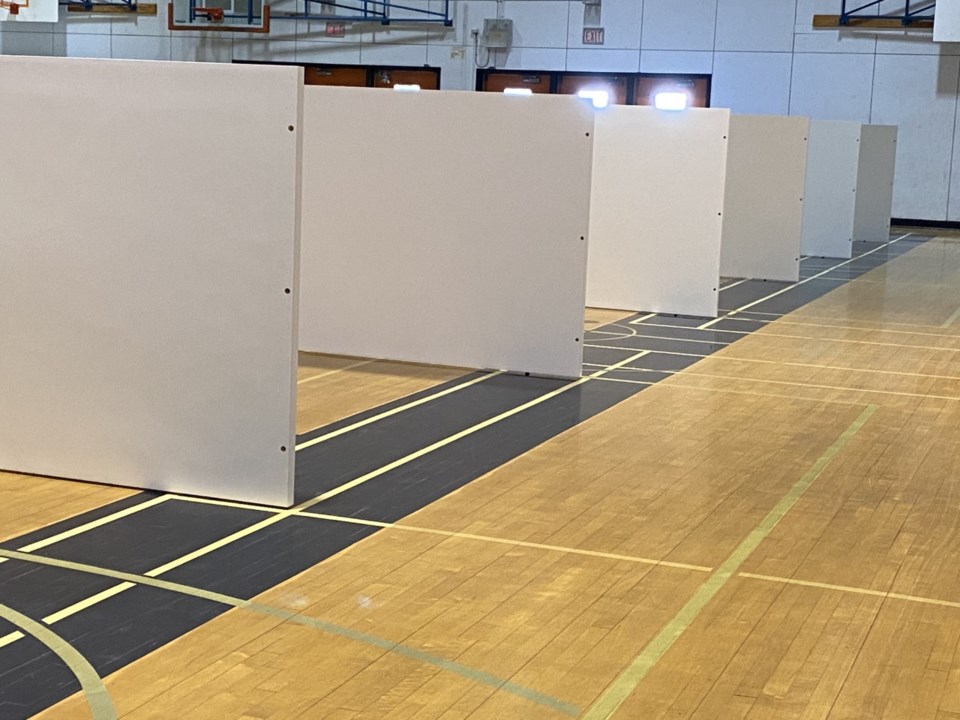 A focus on social distancing
Like the pods, the space inside Massey gym is being set up in a way that promotes social distancing.
"Eating together – it's very nice to share a meal together, but 40 people sitting down at one meal time, that's just not going to work. So, we will stagger meal times. A lot of people, hopefully, will be eating in their pods. There is a little table that comes with the pod itself. We will have little table where they can lay their food," Williams said. "This is truly the focus here is isolation to allow people to be safe through the pandemic."
While a couple of TVs will be set up in corners of the gym, there won't be any couches where folks can sprawl out.
"There will be chairs available, and we will be making sure that we mark floor space where people can sit feet away," Williams said.
In addition to their individual spaces in Massey gym, people staying at the centre will be able to get some fresh air and smoke in a fenced-in space outside the gym. To make the Massey gym suitable for the facility, some adaptations were made to the space, including the erection of temporary walls between the gym and the Massey Theatre and school spaces.
Will drug use be permitted?
While discussing the opening of an emergency response centre in New Westminster, members of city council stated plans needed to include a safe drug supply.
In other emergency response centres that it's been operating, Williams said Lookout has been able to work with its health counterparts to ensure people are getting what they need so they can socially isolate and be safe during the pandemic.
"One of the unintended consequence of COVID-19 is that the ability for people to go into a safe-use site, whether that is an overdose-prevention site or a safe-consumption site, because they aren't isolated there, they are group facilities," he said. "So, you have seen a crazy decrease – it's somewhere around 25% of folks are accessing these sites, as opposed to pre-COVID, so that's an amazing impact."
Williams said Lookout prides itself on trying to work with anybody who comes into its shelters and will do anything necessary to keep people safe.
"In all of the Lookout sites already, we have medication programs," he added.  "Our staff are trained in handling, pouring and dispensing medications. It's an extension of our medication program which is already doctor/nurse oversight, approved by the local health authorities. Within our current med regime, there are narcotics already that are involved in mental health wellness or addition management, that kind of thing. It would be a simple extension of what we currently do in terms of med management."
Homelessness on the rise?
With fewer people out and about because of the COVID-19 pandemic, Williams said community members may have noticed more homeless people on the streets.
"It's really in your face. With the absence of typical kinds of shoppers or typical people out there, almost anybody on the streets are folks that don't have somewhere to go right now," he said. "It's been really kind of prevalent."
In addition to being more visible, there are more homeless people out and about – for a number of reasons.
Williams said some people who are concerned about contracting COVID-19 have left places where physical distancing wasn't being respected, while others have been displaced from places they had been staying.
"There are a large number of homeless folks – we know this from the homeless counts. It's not an accurate count; It is a severe undercount," he said. "There are a lot of folks that are actually homeless that are couch-surfing or are able to stay at friends' houses or in garages. Well, in the COVID world, people aren't taking those same risks. So, what's happening is that they are being displaced."
How do emergency response centres help?
Williams said the emergency response centre provides an opportunity to help get these folks off the streets. He said some of the most street-entrenched folks and people with more difficult behaviours could be moved into existing sites and individuals who are health-comprised and need to be socially distanced could be relocated to the centre.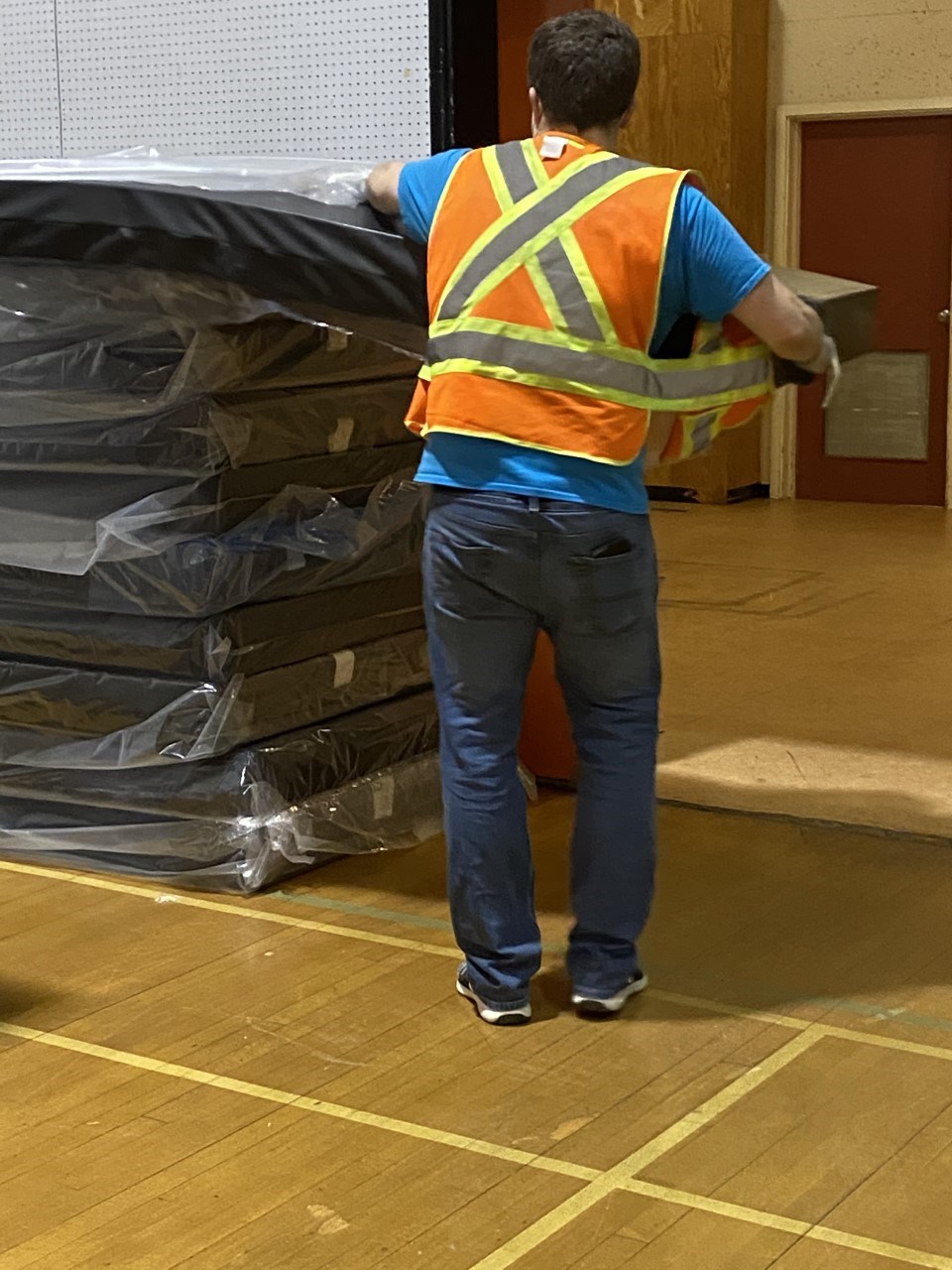 English said a two-month licence agreement between BC Housing and the school district allows the centre to operate until the end of June.
And, what becomes of the people who have been staying at the centre when it closes?
"There will be an assessment done with each individual and try to line them up with the supports necessary to be able to provide them with some stabilized housing," English said. "We are going to work with each one to understand what best suits their needs. That could be a rent supplement. It could be housing within Lookout's longer-term facilities."