For anyone who works in a school, attends a school or has a child in school, it's the question that's always looming: Will today be the day the COVID-19 exposure notice comes?
COVID-19 numbers are surging in B.C., and particularly in Fraser Health – the region that encompasses the territory from Burnaby to Boston Bar, including New Westminster. On Tuesday, 717 new cases were reported in B.C., and 484 of those were in Fraser Health.
Against that backdrop, the number of school exposure notices being issued by health officials is ticking steadily upwards – and with it, the number of school closures.
This past week has seen four COVID-related school closures in the Lower Mainland – one in Delta, one in Surrey, one in Abbotsford, and one at an independent Islamic school in New Westminster. Al-Hidayah School has closed its doors for two weeks in light of the staffing challenges posed by a cluster of cases at the 57-student school.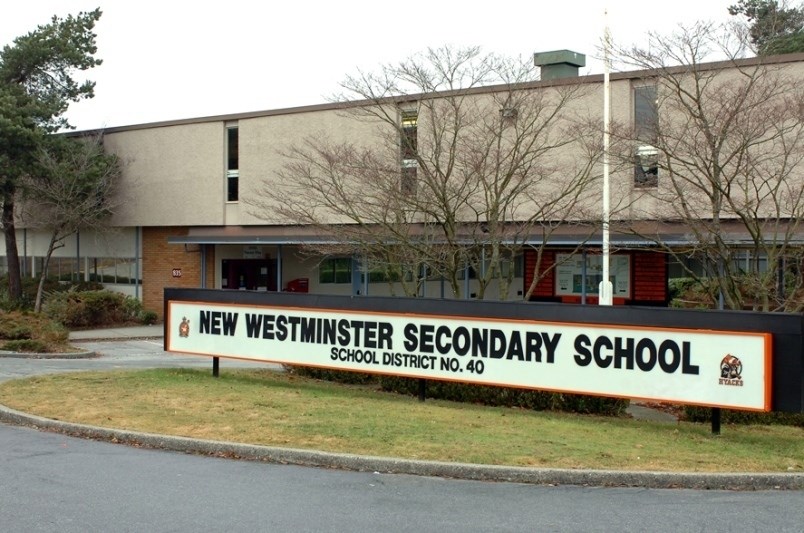 As of Wednesday, New Westminster's public schools have seen 15 "early notification letters" informing families of COVID-19 exposures since the beginning of the school year – five of those at New Westminster Secondary. All three middle schools have had exposures, while Queen Elizabeth, Lord Tweedsmuir and Richard McBride are the three elementary schools with known exposures so far. (McBride's early notification letter was just sent out this afternoon.)
That leaves five elementary schools and the district's alternate programs reporting no exposures – meaning about half of the district's schools and programs have had at least one case of COVID-19.
So far, none of those local exposures has turned into an outbreak – and school district superintendent Karim Hachlaf said the district is working hard to keep it that way.
"We're doing everything we can ... to make sure schools remain open and a safe place to be," he said at the Nov. 17 school board meeting.
But should more action be taken to keep schools safe?
B.C.'s teachers say yes.
FIRST, THE GOOD NEWS
Sarah Wethered has come to expect that her job this year includes nights and weekends. There's all the ordinary business involved in being president of the New Westminster Teachers' Union – and then there's the extraordinary task of being a leader in the midst of a viral pandemic.
She's quick to say she's grateful to be navigating these unknown waters in a district like New Westminster.
"We're a little slice of unique here in New West, and it's one of the reasons I like working in this district," she said.
Here, she says, she has good working relationships with all the other parties in the school system – with CUPE, the union representing support staff; with the principals and vice-principals' association; with the district parent advisory council. And, of course, there's the open line of dialogue she has with senior district administration.
"They are always, always available to take my calls if I have concerns," she said.
She needs that dialogue now more than ever, as COVID-19 anxiety among teachers reaches new heights.
When exposures turn into clusters and schools are closed, that's one level of anxiety. Then there's the kind of anxiety and heartbreak that comes along with hearing that one of your own – Darlene Lourenco, a music teacher in Surrey – is in the intensive care unit with COVID-19. Lourenco's school, Cambridge Elementary, is one of those that has been closed.
"I just can't imagine what that whole school community is going through right now," Wethered said.
Locally, Wethered said, health and safety protocols are teachers' first line of defence.
"We need to trust that the protocols the district has put in place are working," she said. "I think that they are. I trust that the custodians are doing an excellent job cleaning and that the people who came up with the protocols are trying their best in what is a really bad situation. …
"The administrators in this district, the principals and vice-principals, are working really, really hard to make this work. They don't want to see a COVID exposure in their schools. They don't want to see a student sick or a staff member sick, and they are working just as hard as teachers to make this all work."
But despite everyone's best efforts, COVID-19 is getting in to schools – and Wethered pointed out the exposures are coming more frequently than they did at the beginning of the year.
That's taking its toll on teachers, Wethered said – not just here, but across British Columbia.
"I'm hearing provincially that all teachers are stressed, that all teachers are exhausted," she said. "Teaching in a pandemic is exhausting."
SCHOOLS A PROVINCIAL PRIORITY
Since September, B.C. has been operating at what's known as Stage 2 of the province's Education Restart Plan. Stage 1 would be a return to full, normal, in-class instruction – a stage that will only happen when the pandemic is over and/or a vaccine is widely available.
Stage 3 would be one step back from where schools are now – with full-time, in-class instruction only for those who need it (such as children of essential workers and students who need additional supports). Other children would learn in-class some of the time, with remote learning the rest of the time. Density targets would be set at 50%, meaning half the students would be in school at any given time.
Decisions about which stage the system is at are made at a provincial level, and Hachlaf said the New Westminster school district is ready to shift stages should the province issue an order to that effect.
"We are prepared, if need be, to go to the blended learning model," he said, adding that, if that happens, it would mean students in school on alternating days rather than partial days.
Wethered said teachers are always aware that remote learning could be reintroduced. And, although it hasn't been proposed at this point, she noted the switch could be flipped quickly, at any time – as it was in March when, suddenly, schools closed down indefinitely.
"It's always just out there in the back of your mind that at any time we could go back to remote learning," she said.
The provincial government has consistently said it wants to keep schools open.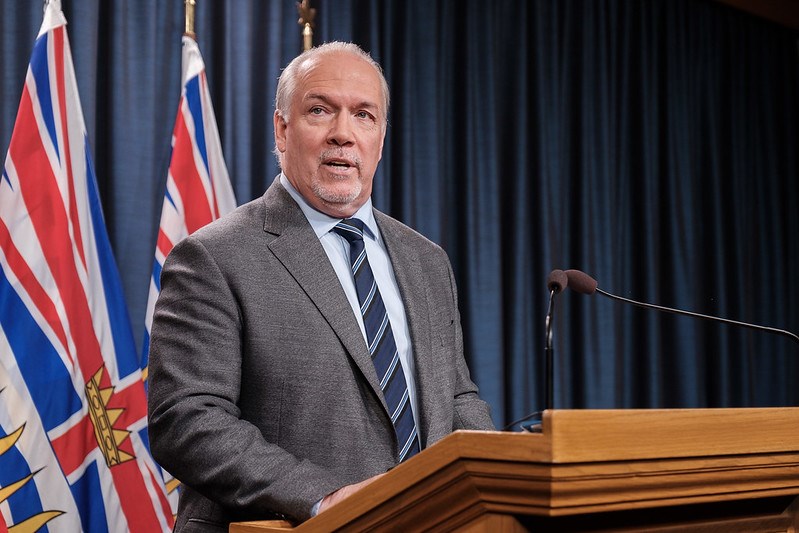 "It is important for kids, it is important for communities, that our school system remain open," Premier John Horgan said last week. "We have not seen any serious transmissions in our system since we reopened in September. But we need to be vigilant, particularly when case counts start to spike as they have. Bringing COVID-19 into our schools is something that we all need to guard against."
At a media briefing this morning (Wednesday), Horgan reiterated that stance – with some extra caution.
"Parents want their kids in classrooms to the greatest extent possible," he said. "We want to make sure we do that safely."
Horgan said B.C. has demonstrated it can operate schools safely despite the "isolated outbreaks." He said the evidence is clear children are not transmitters of COVID but that adults working within the system are bringing the virus into schools, and that's led to the outbreaks.
"We want to stamp that out. We want to work together with trustees, with administrators and others, to stamp that out," he said.
Horgan said provincial health officer Dr. Bonnie Henry will address the issue of schools more in her briefing tomorrow (Thursday, Nov. 19).
Throughout the fall, Henry has repeatedly referred to school as "essential" and has continued to focus on reducing transmission through social gatherings and workplaces rather than tightening up restrictions on schools.
At her Nov. 12 briefing, Henry pointed out that, statistically, nine in 10 B.C. schools had yet to even report a COVID-19 exposure and that there had, at the time, been fewer than a dozen transmissions of the virus within schools provincewide.
"What that tells us is that the measures that we have in place, and particularly screening out people who are ill, catching them early, making sure that we're reducing the probability of transmissions in schools, is working," she said.
"I just want to say again how impressed I am, how important it is, that teachers have risen to this occasion, that everybody in the school setting is doing their best to make sure it continues to be a safe learning environment for our children. These numbers tell us we're doing a really good job of that."
Henry's comments were based on monthly data from the B.C. Centre for Disease Control showing that 261 of B.C.'s 1,942 schools have had COVID-19 exposures (as of Nov. 5).
Hachlaf noted 50 of B.C.'s 60 school districts have had no exposures at all but pointed out the story is very different in the Fraser Health and Vancouver Coastal regions.
BCCDC numbers show that the vast majority of exposures – 175 – have taken place in Fraser Health.
And it's the rising number of exposures in this region that has teachers concerned.
'THE TIME TO ACT IS NOW'
The B.C. Teachers' Federation is calling on the government to take action on COVID-19 in schools.
The BCTF filed an application with the B.C. Labour Relations Board in September asking for help with enforcement of its concerns over communication processes and school health and safety protocols. On Nov. 10, the LRB released a decision agreeing to provide neutral "troubleshooters" to address health and safety issues on an expedited basis and to improve communication and consultation processes.
BCTF president Teri Mooring called the decision a "significant achievement" for teachers, but the union is continuing to advocate for stronger action to curb the spread of COVID-19 in schools.                                         
In a livestream session with members on Nov. 12, Mooring said the province shouldn't delay any longer.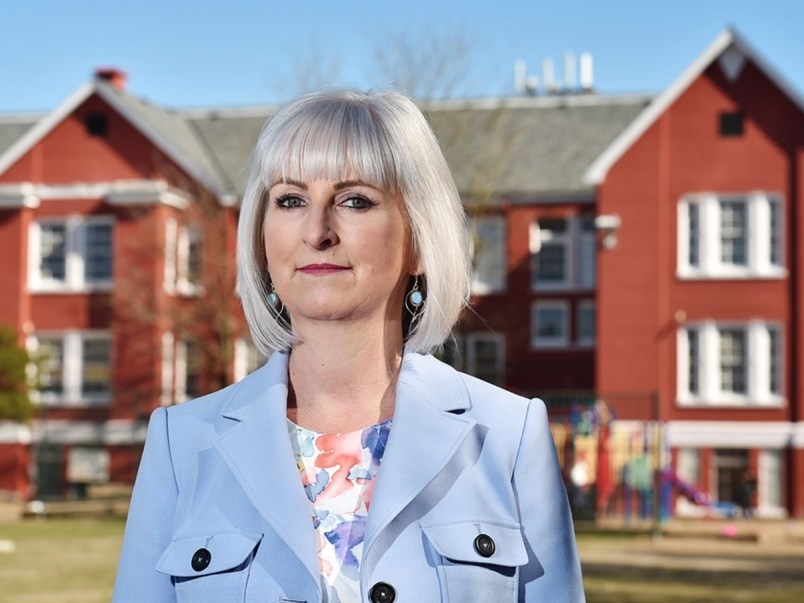 "The time to act is now. If we're seeing more community transmissions, we're going to see more in schools as well. We're going to see a lot more school exposures; it's just a matter of time. And with increased school exposures, we're going to see an increase in school transmission," she said. "It's an unfortunate numbers game. It's going to happen."
In a letter posted on social media this past weekend, Mooring called on the premier to respond to the dramatic rise in cases by reducing class sizes to 15 students – specifically in Fraser Health.
"This alarming surge in cases is of deep concern to British Columbians, but especially so to the teachers, staff and parents of students attending the hundreds of schools that have seen exposures to the coronavirus," she wrote. "With class sizes as they are now, teachers find it is virtually impossible to maintain physical distance in classrooms."
Wethered is on board with the call for reduced class sizes, noting it's the only way to maintain physical distance. While some distancing might be possible in a kindergarten classroom with 17 small children, she said, the situation is very different in a high school classroom full of 28 or 30 adult-size students.
Wethered said cutting class sizes would be possible in New West if the system moved to a model of having half the students attending at one time, on alternating days – as laid out in the district's Stage 3 plans.
But with everyone in class full-time? It's just not going to happen.
"I think a lot of the doctors who created the guidelines have not been inside a classroom for a long time, so they don't understand that it's very difficult to socially distance in a classroom," she said.
TO MASK OR NOT TO MASK?
Wethered can spell out another of her safety suggestions in just two words.
Mask. Mandate.
Currently, masks are required for middle school and high school students when in common areas (such as hallways) or when interacting with those outside of their own cohort. But masks aren't mandated for younger students or for students of any age within their own cohort.
Wethered said a global mask policy would give teachers some peace of mind.
"They are very anxious about teaching in a pandemic," she said. "Of course they're worried for their own safety and the safety of the students they're looking after."
She noted teachers had hoped masks would be mandated, at the very least, for the first two weeks of the new quarter in high schools – including NWSS – that have switched to a 10-week "quarter" system this year rather than semesters. The new quarter meant the introduction of new cohorts, or learning groups, which means teachers are exposed to an entirely new group of students.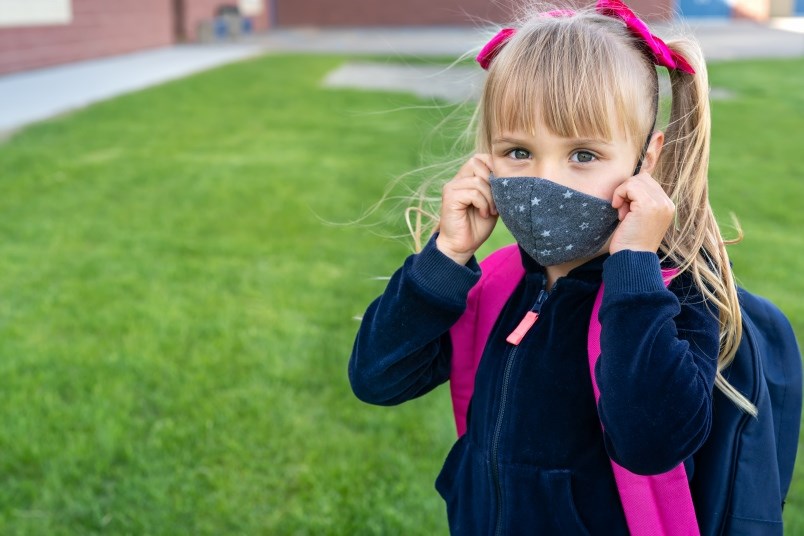 Monday (Nov. 16) marked the first day of the new quarter, with no mask mandate in sight.
With teachers already stressed about the new quarter, Wethered said a mask mandate would help alleviate some of their anxiety.
Hachlaf acknowledged the teachers' call for a mask mandate but said any changes to mask regulations would need to come from the province.
"It's not in fact school districts that change that mandate," he said.
While she waits for further word from provincial health officials, Wethered is hoping local parents will get on board and encourage their children to wear masks. (Check out some other ideas of how parents can help teachers, in this related article.)
"If parents encourage mask wearing and made it normal that you wear a mask, it would really help a lot," she said.
But she said total mask use will require an order from on high.
"Until Dr. Henry mandates that, it's not actually going to happen," she said.
SHOULD TEACHERS BE IN THE LOOP?
Another huge concern for teachers, Wethered says, is the way contact tracing is conducted.
Currently, as soon as a positive COVID-19 test is reported to Fraser Health, health officials take the lead on contact tracing – identifying close contacts of the person on days they may have been infectious and issuing orders to those people to self-monitor or self-isolate as required.
"Because of privacy, they're saying they can't say whether it's a student, a parent or a staff member that's been exposed. You don't know whether it's a kid in your class or whether it's a colleague or whether it's a parent," Wethered said.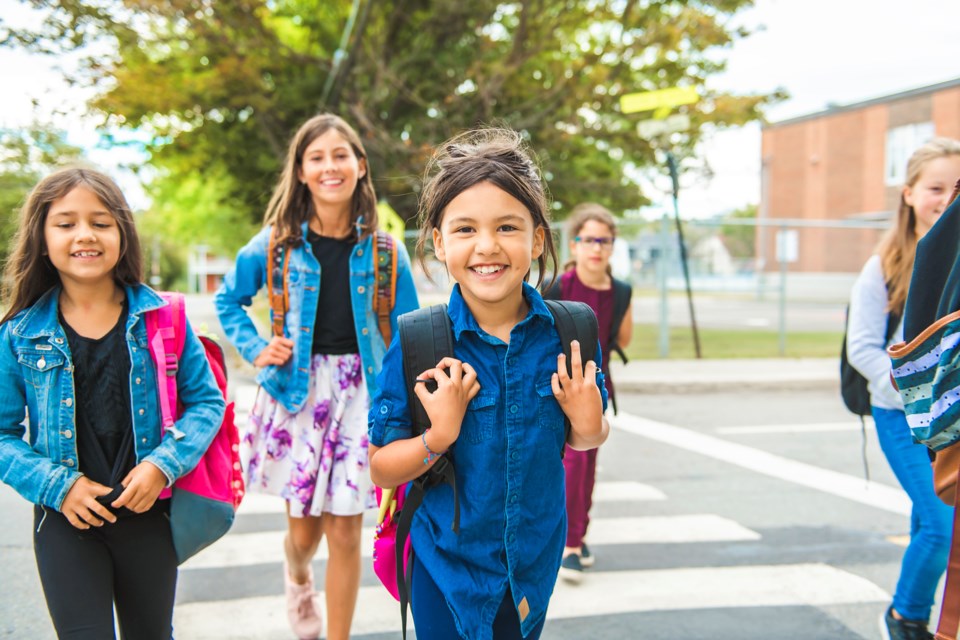 "Teachers are concerned that they could have a case in their class and not even know about it."
She said the standard definition of close contact – meaning you're within one metre of the person for at least 15 minutes – doesn't adequately reflect how classrooms operate.
"Students are supposed to stay in their own chairs, but that's not what's really happening in a kindergarten classroom or a Grade 2 classroom," she said.
Which means that when contact tracers use classroom seating plans to identify "close contacts," Wethered said, they may miss people.
Bringing teachers in to the contact tracing process would help to better identify those contacts, she said, noting it's the teachers who know which kids spend time together.
Teachers are also concerned about the provincial health protocols that dictate that even if someone in a household has tested positive for COVID-19, a student in that family can still come to school.
"It's still concerning that there's this very contagious disease at home, and you're allowing the student to come to school," Wethered said.
IS IT TIME TO EXTEND WINTER BREAK?
Is there a way to keep students out of classrooms long enough to break the chains of viral transmission without requiring a full school shutdown?
That question is being posed across the country as other provinces grapple with similar surges in COVID-19 numbers. One idea that's been put forward in Ontario and Quebec is the possibility of an extended winter break. Adding a week on both ends of the existing two-week holiday over Christmas and New Year's would give a full four weeks to help slow the spread of the virus.
Wethered said she hasn't heard the idea floated in New West, but she's open to it. Perhaps, she suggested, the two extra weeks could be turned into remote learning weeks at either end of the break.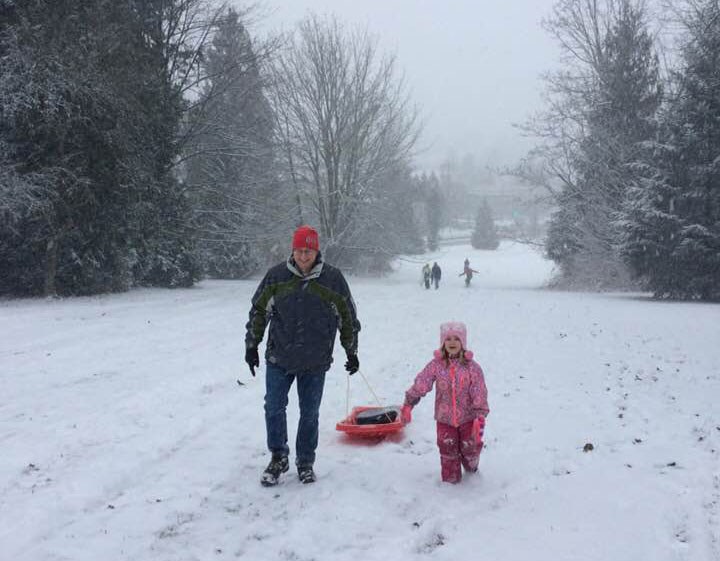 Asked about the idea by reporters on Nov. 16, Henry said the idea of an extended winter break is one she's been discussing with her counterparts across the country. She said chief medical health officers across Canada are discussing what the data from communities suggests is the best course of action.
She noted the idea of an extended school break isn't without its problems.
"We know some of the downsides are that there are many essential workers in our community, and finding places for children to be safely during the day needs to be considered," she said.
There's also the issue that older children, if out of school, might gravitate towards getting together in other settings, which raises its own question: "How do we make sure those aren't more risky than some of the things that are happening now?"
Henry said any changes to school breaks wouldn't be done hastily.
"If we are going to make this change, it will be a thoughtful change that will be done ahead of time, in discussion with the different stakeholder groups," she said.
MOVING FORWARD
Whatever the coming months bring, Wethered knows she and her colleagues will continue their efforts to keep schools as safe as possible.
She and other teachers' union local presidents from the Fraser Health region have asked for a meeting with Dr. Elizabeth Brodkin, the region's chief medical health officer, to discuss their concerns and hopefully get health officials on board with changes in policy. Wethered is anticipating that meeting to be set up this week.
In the meantime, she said, she'll keep on working – and she'll keep focusing on the positives.
"A positive is that students are in school, and for the most part they're happy to be in school, and teachers are teaching. Good things are happening; it's just a little different – a lot different," she said.
She knows the pandemic isn't going to last forever. She points to the news that vaccines may begin to be available by the early months of 2021 as a reason for even more optimism.
And in the short term? Everyone involved in the system – students, parents, staff, administrators – will continue to make it work as they already are: together.
"We will get through this," Wethered said. "We will all get through this working together."
THE LIST: HERE'S WHICH SCHOOLS HAVE REPORTED EXPOSURES
These are the New West public schools that have seen early notification letters regarding COVID-19 exposures, as outlined in a report by superintendent Karim Hachlaf to the school board on Nov. 17 (with letter date):
Queensborough Middle: letter sent Sept. 28
Glenbrook Middle: Oct. 26
Fraser River Middle (2): Sept. 21, Oct. 17
Queen Elizabeth Elementary (2): Nov. 10, Nov. 13
Lord Tweedsmuir (3): Sept. 28, Oct. 9, Oct. 10
NWSS (5): Sept. 21, Oct. 26 (2), Nov. 4, Nov. 9
Richard McBride Elementary: Nov. 18* (*this notification letter was sent out after Hachlaf's report to the board)
These are the schools where 'self-monitor' letters have been sent to classes, asking a larger group to monitor for symptoms because of the potential for more widespread exposure:
Queen Elizabeth: Nov. 13
Lord Tweedsmuir (3): Sept. 29, Nov. 9, Nov. 12
NWSS (4): Oct. 26, Nov. 9, Nov. 11 (2)
As of Nov. 17, no 'self-isolation' letters have been sent.