New Westminster voters are now heading to the polls on what stands to be one of the most anti-climactic election days in history.
Polls around British Columbia are open until 8 p.m. today as voters cast their ballots to decide whether NDP leader John Horgan's gamble on a snap election will pay off. But there's a strong likelihood that no winner will be declared tonight – or even for the next several days – as high numbers of mail-in ballots will delay counting.
In the New Westminster riding, 12,263 vote-by-mail packages were sent out by Elections B.C. as of Oct. 13. That number represents more than 26% of eligible voters in the riding. In Richmond-Queensborough, 7,149 vote-by-mail packages were sent out, or 18% of eligible voters.
Chief electoral officer Anton Boegman, at a news conference yesterday, said mail-in ballots must be counted by hand, and that process doesn't start until Nov. 6.
That final count typically takes three days, but Boegman warned it could take longer this year because of the unprecedented number of vote-by-mail and absentee ballots. Elections B.C. will let the public know on Nov. 5 how many certified mail-in ballots were received, which will help to indicate how long counting will take.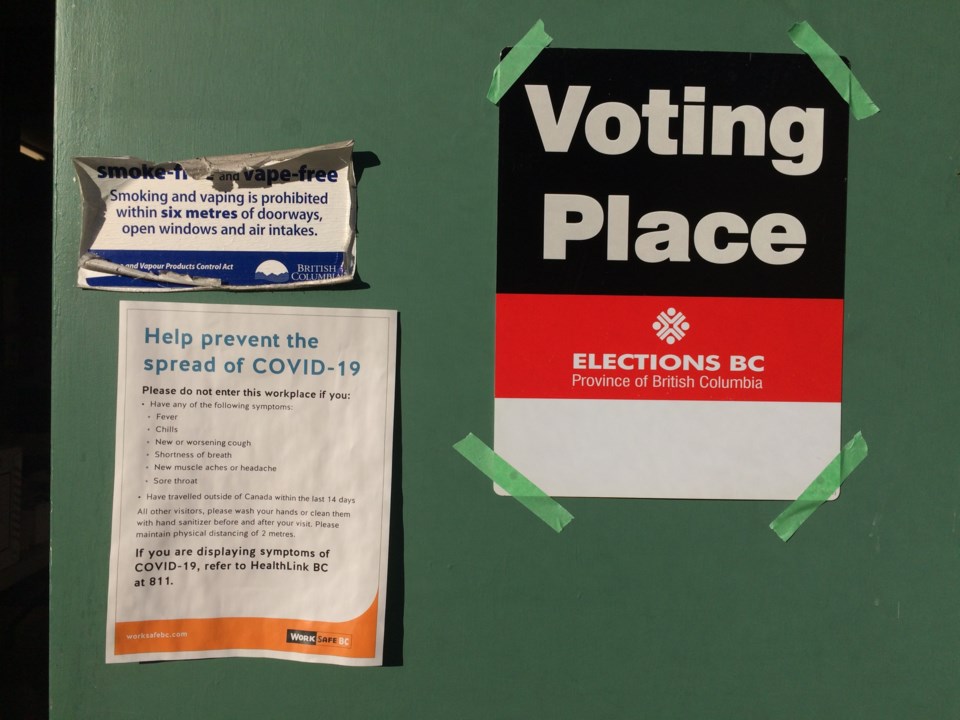 Voter turnout will play a significant role in this election, as it remains to be seen whether the surge in early and mail-in votes leads to a larger voter turnout. In New Westminster, 63.6% of eligible voters cast ballots last time, while the turnout was 55.8% in Richmond-Queensborough.
Results from in-person voting will be learned tonight. Elections B.C. estimates preliminary results will start to be released about half-an-hour after polls close – around 8:30 p.m.
In the 2017 election, the New Democrats (with now-retired Judy Darcy on the ballot) cruised to victory in the New Westminster riding with 51.9% of the vote. The Greens, with former school board chair Jonina Campbell, surged to their best showing in history with 25% of the vote, while the Liberals took 21.2% with candidate Lorraine Brett.
Brett is on the ballot again this year for the Liberals, against Green candidate Cyrus Sy and NDP candidate Jennifer Whiteside.
The 2017 battle in Richmond-Queensborough was significantly tighter, as Liberal Jas Johal edged NDP Aman Singh by a mere 134 votes, taking 41.4% and 40.8% of the vote, respectively. Green candidate Michael Wolfe was well back at 12.7%.
Johal and Singh are back for a rematch this time out, while Earl Einarson is on the ballot for the Greens.
If you haven't yet voted, you have until 8 p.m. tonight to do so. If you received a mail-in voting package but did not mail it back, you can drop it off in person at any voting place or electoral district office today.
See a full list of where to vote at https://wheretovote.elections.bc.ca/
If you haven't decided who to vote for, you can check out The Record's one-stop election page at https://www.newwestrecord.ca/bc-votes-2020, which includes questionnaires with all the candidates in both ridings.
The Record news team will be watching results come in tonight and will be providing regular updates. Be sure to stay tuned to our website and to our Twitter (@TheRecord) and Facebook (@NewWestRecord) for updates.
Now, get out there and vote.
- with files from the Times Colonist
https://www.newwestrecord.ca/elections-b-c-asks-for-patience-with-election-results-amid-unprecedented-mail-in-ballots-1.24226032