"To admit Orientals in large numbers would mean the end, the extinction of the white people. And we always have in mind the necessity of keeping this a white man's country."
Those now infamous words were uttered by then-premier Richard McBride on the night the Komagata Maru reached Coal Harbour. It was May 23, 1914, and the Japanese steamship had carried 376 passengers – Sikhs, Muslims and Hindus – to Canada in what would, in the end, be an unsuccessful attempt to challenge the country's immigration laws.
For Raj Singh Toor, the story of the Komagata Maru isn't just a page in a history book. It's his family's story – and it's a story he's determined to write a new chapter for: one of healing and justice.
Toor, a Surrey resident, is the vice-president and spokesperson for the Descendants of the Komagata Maru Society. He's on a quest to have McBride's name removed from all public landmarks in the province – schools, streets, parks, towns – and for the Komagata Maru to be remembered in its place.
In New Westminster, Toor has set his sights on Richard McBride Elementary School. The school district has agreed to embark on a renaming process after a request by the school's parent advisory council in June, and Toor would like to see it renamed Komagata Maru Elementary School. He's also asking the City of New Westminster to rename McBride Boulevard to Komagata Maru Boulevard.
FAMILY HISTORY
Toor has long been on a mission to right the historical wrong that was done to his family, among so many others.
His grandfather, Baba Puran Singh Janetpura, was one of those 376 passengers – the vast majority of whom were forced to return to India, where they were met with violence by British soldiers. Nineteen were killed by gunfire and many others injured and jailed. Janetpura spent five years in prison.
Toor pointed out his grandfather was, at the time, a British subject, with a British passport. He was an educated 24-year-old man, fluent in English, who'd attended an English-language high school in Ludhiana, Punjab, and studied telecommunications at the University of Amity. His aim in coming to Canada? To pursue higher education.
It was not to be. The passengers were met with a "cold refusal" to allow the ship to dock, Toor noted, and no official assistance of any kind.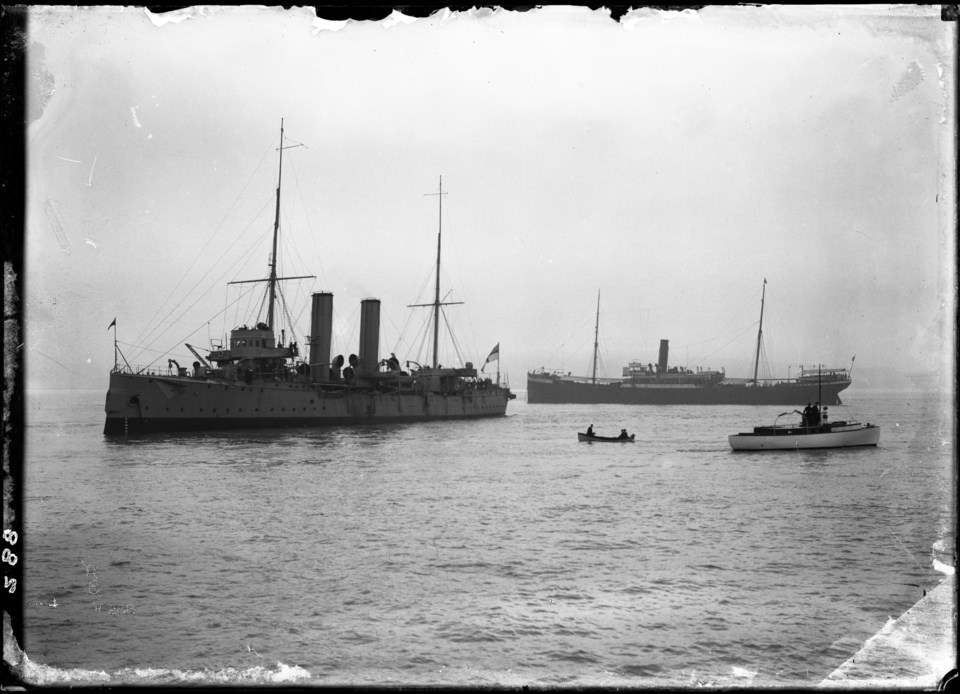 It was only through the fundraising and volunteer efforts of the local South Asian and Indigenous communities that the passengers were able to receive the necessities of life. About 100 members of the South Asian community working at Fraser Mill in New Westminster were among those who took part in the effort to provide food, water and medication for the passengers, Toor noted.
Even with outside help, however, the passengers were often forced to go 24 hours or more without food and water – even as long as two or three days. Many got sick as the days turned into weeks and officials continued to refuse to allow the immigrants to land.
None but a small number of passengers – those who were found to be returning residents of Canada – ever made it ashore. On July 23, 1914, the naval cruiser HMCS Rainbow escorted the Komagata Maru out of the harbour to begin the long voyage back to India.
It was, Toor pointed out, an incident that would help to change the course of India's history. Many of the passengers, including Janetpura, joined the Indian freedom movement, and India finally became independent of Britain in 1947. In 1962, Janetpura was recognized by the government of Punjab for his role in the freedom movement.
Janetpura never returned to Canada; though Toor's uncle sponsored him to come to Canada in 1968, Janetpura refused.
"He said, 'I have a painful memory of Canada. I am not going there, but one day my South Asian community will go there and will be very successful there,'" Toor said.
His grandfather was right.
MOVING FORWARD
Toor himself moved to Canada with his parents in 1983 as an 18-year-old. He never forgot the stories his grandfather had told him in childhood about the Komagata Maru, and eventually Toor started searching for other descendants' families.
Together they formed the Descendants of Komagata Maru Society and began lobbying both the British Columbian and Canadian governments for an official apology. Premier Gordon Campbell made a formal provincial apology in 2008; at the federal level, a formal apology came from Prime Minister Justin Trudeau in 2016.
"Both governments committed to learn from the mistakes of the past," Toor said.
Just this past June, Vancouver city council formally apologized on behalf of the City of Vancouver and declared May 23 as Komagata Maru Remembrance Day.
Toor said the descendants of the Komagata Maru have never asked for compensation; rather, their focus has been on apologies. Now that they have received those apologies from all three levels of government, he says, the group will continue to move forward on other fronts.
"This is a healing process, to start with the apologies," he said.
The group has already seen a number of successes in its quest to have the Komagata Maru remembered. In 2019, the City of Surrey agreed to rename 75A Avenue as Komagata Maru Way, and just this month the City of Surrey unveiled a new heritage storyboard about the Komagata Maru at R.A. Nicholson Park.
In Ontario, the City of Brampton officially opened Komagata Maru Park in June 2019.
Locally, Toor is looking forward to the chance to take part in the renaming process around Richard McBride Elementary School; a renaming committee is now being set up, and Toor noted his request to recognize the Komagata Maru will be forwarded to that committee.
As far as renaming McBride Boulevard, Toor approached city council in October 2019 about renaming a park or street in memory of the Komagata Maru. At the time, Coun. Chinu Das suggested staff report back on the New Westminster connections to the incident so the city could consider how to move forward.
Das was scheduled to bring a motion to the Sept. 28 council meeting this year asking staff to report back on the city's naming process for streets, parks and other civic assets, but the motion was taken off the table, as Das was away, with an agreement to bring it forward at an upcoming meeting.
Toor said he understands the city has had many issues on its plate over the past while, particularly in the face of the COVID-19 pandemic, but he's looking forward to hearing more about a potential renaming process. Renaming both a school and a street would serve as a learning tool for people to better understand the past, he said.
"We can move forward and leave a legacy for future generations by educating them about the past," he said. "I hope it will help in connecting British Columbians, Canadians and New Westminster residents with their past."
Toor said the renaming would be appreciated by not just the passengers' descendants but by "every Canadian who believes in treating human beings with dignity and respect."
"This is a Canadian history," he said, "and Canadians should be connected with that history."
WANT TO LEARN MORE?
More reading on the Komagata Maru can be found at http://komagatamarujourney.ca and https://www.southasiancanadianheritage.ca/koma-gata-maru/history/