Family gatherings and visits with Santa may be highlights of the Christmas season for some folks, but for many it's also a time for reaching out and helping those in need.
Since 1996, The Record has been offering the Guide to Giving to help readers decide where they'd like to help out in the community – at Christmas and beyond. The non-profits operating in the city appreciate your help, whether it's a cash donation, a few hours of volunteering or donations of much-needed items to them to continue their good works in the Royal City. Part 1 of the 2014 annual Guide to Giving starts today.
Arts Council of New Westminster
The arts council has been promoting the arts in the Royal for nearly five decades.
Founded in 1967, the Arts Council of New Westminster supports the performing, visual and literary arts – even in difficult financial times.
Along with financial donations, the non-profit organization welcomes volunteers, as they help keep programs and services up and running.
During the holiday season, community members can also support the arts council by dropping by the Treasure Room, a gift shop in the Arts Council Gallery that features one-of-a-kind handcrafted artisan gifts. The Treasure Room is open Tuesday to Sunday from 1 to 5 p.m., but evening bookings are also available.
For more information, visit www.artscouncilnewwest.org or call 604-525-3244.
Aunt Leah's Place
Aunt Leah's Place is once again selling Christmas trees to assist in its quest to prevent youth homelessness.
The New Westminster based society operates a tree lot every December to generate revenue for its various programs, which help kids who are in foster care and teen moms. It's estimated 45 per cent of youth who  "age out" of government support, end up homeless within three years – something Aunt Leah's seeks to prevent.
"It's definitely one of our main fundraisers," said Clete Hanson, communications coordinator. "It's a pretty cool event for us."
Now in its 20th year, Aunt Leah's tree lots are located in North Vancouver, Coquitlam, Vancouver and Burnaby (All Saints Anglican Church at Royal Oak and Rumble).  The tree lots, which have several varieties of high-quality trees ranging from $5 to $14 per foot, are open until Dec. 21.
Aunt Leah's is also accepting donations for hampers until Friday, Dec. 19 and will then put together hampers that will be distributed to youth and teen moms.
A wide range of items are included on Aunt Leah's hamper wishlist including baby items (toys, food items, clothing, baby bottles and soothers), gifts (chocolates, gift cards, recreation or gym packages, movie cards, festive cookies and treats), socks, slippers, toiletries, grocery cards, picture frames, school supplies and non-perishable food.
For more information about Aunt Leah's or the Christmas trees, visit www.auntleahs.org or call 604-525-1204. Donations can be made online via the website or dropped off at Aunt Leah's head office at 816 20th St.
Family Services of Greater Vancouver
Family Services of Greater Vancouver continues to make Christmas merry for local families and seniors.
For the past three years, Family Services has been coordinating the Caring Neighbours adopt-a-family/adopt-a-senior program in New West. The program matches families or seniors with sponsors, who buy food and gifts for those folks.
"We've got over 130 families and seniors," said Pat Steiner, coordinator of community education and development services. "Right now, we are doing a sponsorship piece for people that actually want to sponsor a family or senior and buy the presents and deliver them. We are coming to the tail end of that."
Not to fret, there's still time to fill a Christmas wish.
"Now what we are doing, is we are accepting donations of money. What we do then is buy gift cards, mostly for places like Wal-Mart and Superstore," Steiner said. "We divide the money between who is left over on our wait list so that everybody that we possibly can gets something."
With the gift cards, families are able to do a bit of shopping for their families for the holiday.
"Some people don't want to connect face-to-face but they really want to have an impact," Steiner said of cash donations. "We take care of it. When it comes down to the final days, it's probably easier for us to give gift cards to families because then the parents can buy exactly what their kids want. It empowers the parents in a way, too."
Family Services of Greater Vancouver welcomes donations of cash and gift cards year round to help people involved in its programs. For more information, call 604-525-9144.
The Food Bank
The Greater Vancouver Food Bank Society always appreciates donations of food, cash or time.
The society runs food banks in New Westminster, Vancouver, Burnaby and North Vancouver. People can contribute to the food bank in several ways, including making a donation online through www.foodbank.bc.ca, hosting a food drive or making a food donation.
"We have local participating grocery stores," said Kay Thody, the society's communications director. "Typically, most people like to be able to give where they live."
In New West, people can donate non-perishable food items in boxes can be found at Safeway stores (Shops at New West and Royal Square mall) and Save-on-Foods (Columbia Square, Royal City Centre and Brewery District).
"Because we are such a small team, if people aren't in a position where they can make a food donation or a monetary donation, we are always really grateful for volunteer help, as well," Thody said. "They are more than welcome to come and volunteer in our warehouse. We've got community events going on."
Volunteering at community events is a nice way to get involved and contribute time back to the local community, Thody said.
"The gift of time is one that is extremely meaningful. The holidays are a tough time for everybody, regardless of where you may happen to be," she said. "Volunteerism is one thing that is a really powerful and meaningful way to give back to your community and help boost community spirit at the same time."
Each week, the society helps more than 28,000 people through 15 food depots and various community agencies providing meals.
"Eighteen per cent of the demographic we are currently assisting are senior citizens, which is a number we have seen increase. Children represent 26 per cent," Thody said. "We still have quite a bit of work to do."
Along with non-perishable food items, items like Ensure are greatly appreciated.
"We have a name for the people that use the food banks – it's neighbour," Thody said. "It's easy to make an assumption about what somebody who needs help looks like, but the reality is we live in a very expensive province and it doesn't take very much to find people in a place where they need some support, be it children or seniors or working families or the rest of it. Any way people can contribute, it does make a big difference."
Donations can be also dropped off at the food bank at 1111 Sixth Ave. Call 604-525-9628.
Honour House
Honour House seeks to offer a welcoming place for first responders and their families.
The New Westminster based facility provides temporary housing and support to Canadian Forces personnel, veterans and first responders (police, fire and ambulance services) and their families while they are in Metro Vancouver receiving medical care and treatment.
Craig Longstaff, general manager of Honour House, said he is constantly touched by the stories of the guests who stay at the facility.
"The things that they experience and the things they have done in their lives, whether it is over in Afghanistan in the past or on the streets of this province, the things they experience and they see – if you think about it, they have some of the most stressful jobs you can imagine. Then of course, them or someone in their family gets sick or injured and they have to leave their homes where they have all their family and friends to support them and travel down here, it's a pretty tough time for them. Being able to provide this big beautiful house for them to stay in and try to recuperate and relax, it's the very least we can do really."
Honour House welcomes cash donations, which can come in the form of onetime gifts, monthly donations, legacy gifts, memorial and tribute gifts, membership ($20 per year) or fundraisers.
"We don't get any government funding, or any funding at all," Longstaff said. "All the money we use to keep the place running is by our own fundraising efforts."
The facility, which opened in September 2011, also appreciates donations of household items such as cleaning supplies, gardening equipment, toilet paper, paper towels, cleaning supplies, and a tool kit/maintenance equipment.
"We have a 10-bedroom property here. It's constantly in need of upkeep," Longstaff said. "We have the most pathetic tool kit you have ever seen."
A PlayStation 4 would also be a welcome gift, as Honour House often has children staying on site. The facility only has a few toys and games.
"We actually have some kids staying with us over the Christmas period," Longstaff said. "It's going to be tough on them."
Because Longstaff is the only full-time employee at Honour House, the facility relies on the support of volunteers.
"We always need volunteers," he said. "We do everything from gardening and grounds-keeping to helping out at events. I always make a joke and say one time you could be helping out Sarah McLachlan in the green room at one of our galas to cleaning a toilet. Housekeeping is a big one. Like I say, we have a big 10-bedroom mansion house with no staff. When our guests move out, we need to clean. We are constantly cleaning."
For more information or to help Honour House, call 778-397-4399 or visit www.honourhouse.ca.
KidSport New West
KidSport New West encourages community members to give the gift of sport this Christmas.
KidSport raises money and provides grants to local families to ensure finances aren't an obstacle preventing kids from participating in organized sports.
"Sports can play a much more valuable part in a child's life than simply physical activity," said Jen Arbo, treasurer/registrar of the local chapter. "When you think about the ability for children to adapt and to change, and to be flexible and to learn, sport fills a lot of check boxes. People need to recognize sport is not just about playing – it is about so much more."
There are a number of ways people can donate to the Gift of Sport campaign, including cheques and cash donations, as well as online donations designated to the New West chapter through kidsport.ca.
"In 2014, we gave just over $23,000 in New West. There were 126 kids helped so far. I've got two more applications to process," Arbo said. "It's helping directly in the community. It's actually kids in New West."
While soccer is by far the most popular sport among families getting a helping hand from KidSport New West, others have participated in lacrosse, martial arts, football and gymnastics.
"We know the data on registered sport playing a huge important part in things like social wellness and the ability to help problem solve and work as a team," Arbo said. "These are skills that kids don't necessarily learn through academics."
Because the costs of sports activities are rising, KidSport New West has decided to increase grants from $200 to a maximum of $300 per child annually starting in 2015.
In the past, KidSport New West held a sale of used sports equipment twice a year to raise funds for the organization, but it won't be offering the sale this year.
 Instead, the local chapter will help connect New West families to the KidSport Tri-Cities sale.
"It represented about 75 or 80 hours of volunteer time, and we made a grand total of $650 at our last sale," Arbo said. "The gear itself, we recognize there are families who enjoy purchasing the used equipment because they have the opportunity to buy less expensive gear. We will be encouraging all of the families to purchase at the Tri-Cities one."
For more information or to get information about the used equipment sale, visit www.kidsportnewwest.ca.
Lookout Emergency Aid Society
Lookout Emergency Aid Society always appreciates donations that help improve the lives of people who are homeless or at risk of homelessness.
The society provides a variety of housing and support services for people in New Westminster, Burnaby, Vancouver, the North Shore and Surrey. In New Westminster, Lookout operates the Cliff Block (23 beds), the Russell Residence (40 transitional beds and 15 emergency shelter beds), the Rhoda Kaellis residence (24 transitional beds), as well as an extreme weather shelter that aims to reduce the risk of illness, injury and death on nights of extreme weather conditions.
Monika Verma, Lookout's new community services manager in New Westminster, said socks and hygiene items are among the top needs of people involved with Lookout's programs.
For more information about Lookout, visit www.lookoutsociety.bc.ca. To help, call 604-544-5145.
Lower Mainland Purpose Society for Youth and Families
The Purpose Society aims to enhance the lives of many at Christmas – and throughout the year.
Along with running Purpose Secondary in New Westminster, the society provides social, health and educational programs and services to New Westminster, Burnaby and the Tri-Cities. Family and early childhood programs, youth programs, daycares, drug and alcohol addiction program and HIV/AIDS programs are among its offerings.
For more than two decades, the Lower Mainland Purpose Society for Youth and Families has offered a Christmas hamper program.
"This is the 23rd year we are doing this. We match families with a donor," administrative assistant Grace Lomat said of families involved in its programs. "We also partner with other organizations. Not all organizations have Christmas hampers."
While most of the families have been matched already, Lomat said there are still opportunities to contribute items that could help fill last-minute needs, help people still on the waiting list or top up hampers that may need a few extra food or gift donations.
"Most of the time we top it up. If we have donations of food, we add food. We may add toys that we wrap," she said. "People can still donate food and toys."
Volunteers are also wanted to help out on hamper delivery day, which is set for Monday, Dec. 22.
In addition to giving out about 110 hampers, the Purpose Society also distributes gift bags to people involved in its AIDS and HIV programs.
"We are preparing 100 bags for them," Lomat said. "It's socks, mittens, scarves, toiletries, a bar of chocolate."
The Purpose Society also appreciates cash and food donations throughout the year, as it helps folks involved in its HIV/AIDS outreach program.
If you're interesting in donating to or volunteering for the Purpose Society, call 604-526-2522.
Monarch Place
Monarch Place strives to families get back on their feet after
Women In Need Gaining Strength – WINGS – offers Monarch Place, an emergency first-stage shelter for women and children, Chrysalis Place second-stage house, outreach support services and other community programs.
Monarch Place recently distributed gift bags to women and children attending its annual Christmas reunion, but always appreciates items that help them get families set up when they're ready to move out on their own. Monarch Place tries to provide these families with starter kits containing household essentials such as bedding, bath lines, pots and pans, cooking utensils, small kitchen appliances, dishes, glasses and cutlery.
Other donations that are always welcome include bus tickets, coffee and tea, hygiene items and good, clean clothing such as pajamas, socks and underwear for women and children.
For more information or to help Monarch Place, call 604-521-1888.
New Westminster Family Place
Apple juice and toilet paper top the needs at New Westminster Family Place.
Family Place offers parent education programs, support groups, workshops, volunteer programs and free drop-ins for parents and children. The drop-ins feature playtime, crafts and snack time.
"The apple juice is particularly helpful. We also go through a lot of toilet paper here because they are toilet training in a lot of cases," said executive director Marjorie Staal. "We have a high volume of people coming through the doors, as well as our two off-site programs."
Along with apple juice and toilet paper, craft supplies are always needed for the drop-in program.
In October, New Westminster Family Place had 1,490 visits for its various programs including the drop-in, birthday parties, and various parenting sessions. On average, Family Place is dealing with about 20 local families each day.
Family Place offers drop-in programs Monday to Friday at its main location at 93 Sixth St. It also operates a drop-in at Lord Kelvin Elementary School on Thursdays and Fridays from 9 to 11 a.m. (while school is in session) and at Hospitality Project on food bank days.
For more information or to help Family Place, call 604-520-3666.
New Westminster Firefighters' Charitable Society
When they're not suiting up to attend fires and emergencies, New Westminster firefighters can often be found giving back to the community.
Year-round, the New Westminster Firefighters' Charitable Society raises funds to help services like the pediatric unit at Royal Columbian Hospital, New Westminster Family Place, the Royal City Education Foundation, the Union Gospel Mission and meal programs at inner city schools. The New Westminster Firefighters' Charitable Society also makes an annual donation to the B.C. Professional Firefighters Burn Fund.
Each Christmas, the society makes a donation – and collects some extra cash from its individual members – to do a big shop for the Union Gospel Mission. Its members also volunteer at a toy drive for Family Place and the Purpose Society, and collect toy donations at fire halls that are dispersed to local organizations.
"We collect toys and non-perishable food at any of the halls," said firefighter Josh Sharkey. "One of us will go around and collect them and redistribute them. We are a middle man. If anyone want to donate any toys or food they can just drop it off at a fire hall and we will make sure it goes to a good place."
Aside from cash donations, community members can contribute to the charitable society by supporting events such as the shred-athon in the summer, the Hyrdant Cup (a hockey game held against the Canucks alumni every two years) and the tree-chipping event. This year's Christmas tree chipping is taking place on Saturday, Jan. 3 and Sunday, Jan. 4 from 10 a.m. to 3 p.m. in the Canada Games Pool parking lot.
Year-round, donations of cash and toys can be dropped off at the Glenbrook fire hall (1 East Sixth Ave.) Monday to Friday from 8:30 a.m. to 4 p.m. Cheques can be made out to the New Westminster Firefighters' Charitable Society, 1 East Sixth Ave., New Westminster, V3L 4G6.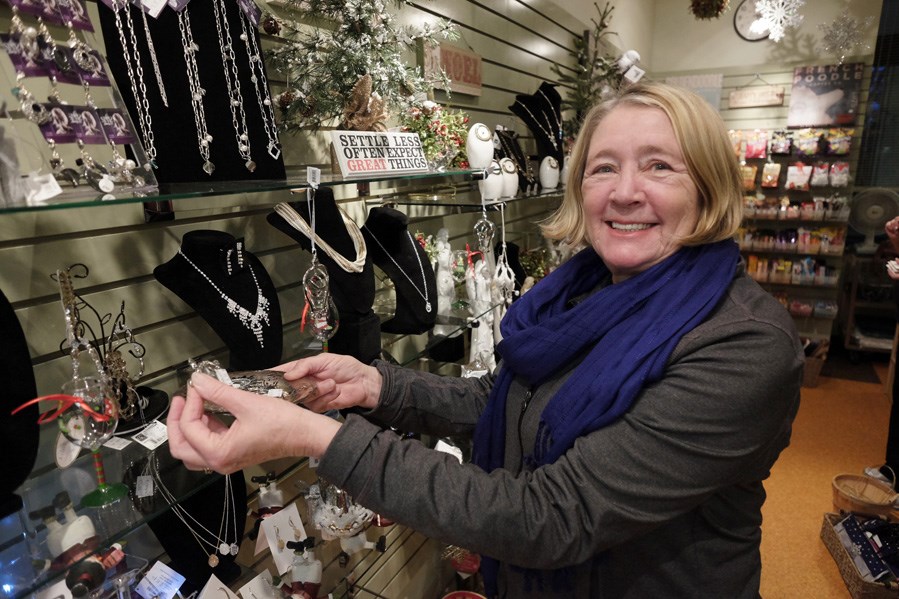 Queen's Park Healthcare Foundation
The Queen's Park Healthcare Foundation enriches the lives of many folks.
The foundation raises funds for equipment, facility enhancement and activity programming at Queen's Park Care Centre and William Rudd House. Recent purchases have included air conditioners for William Rudd house, items needed to redo the hair salon, blanket warmers, ice machines and a computer for a family room so residents and family can connect while apart.
"We are always welcoming of donations of any kind," said Lizz Kelly, the foundation's executive director. "Every little bit helps. There are needs of all kinds throughout out the many areas of the centre. It's a multi-generational, multi-use facility here. There are lots of different needs."
In addition to making financial donations, the community can also support the work of the foundation through its gift shop, which is located inside the lobby of Queen's Park Care Centre.
"They always need people to come and work in the gift shop," Kelly said. "And, come and shop. There is amazing merchandise. We try to make it a destination place to come and do your shopping – it is that nice. There are things that are unique and special and good quality."
Volunteers carefully select items they believe residents, staff and visitors will enjoy.
"My husband calls it New Westminster's little secret," said Colleen McDonald, who buys for the gift shop. "It's quite the place."
Scarves, small purses, pyjamas, umbrellas like the Queen carries (clear domed brollys), home décor, seasonal items and jewelry are among the treasures to be found in the shop.
All proceeds from the gift shop are donated to the Queen's Park Care Centre.
"There are so many needs," Kelly said. "We literally have an ongoing list of things that we try to get funded to enhance the experience of the residents and guests here at the centre."
The gift shop also helps to make Christmas merrier for residents of Queen's Park Care Centre.
"A big part of the gift shop is funding for the residents' Christmas presents on Christmas morning. On Christmas every single resident on the second floor does receive a gift. That is funded through the foundation, through the gift shop."
For more information or to donate, visit www.qphf.org. The gift shop is located inside Queen's Park Care Centre at 315 McBride Blvd.
People can also call 604-517-8661 or send donations to the Queen's Park Health Care Foundation, 315 McBride Blvd., New Westminster, V3L 5E8.
ROYAL CITY HUMANE SOCIETY
The Royal City Humane Society has been helping some of the city's forgotten for two decades.
Since 1994, the society's volunteers have been dealing with feral, abandoned and surrendered animals. The society runs foster and spay/neuter programs, provides shelter and adoption operations and advocates for the welfare of animals.
While the society always appreciates financial donations, the item at the top of its wish list is foster families who'll offer a "forever home" to a senior or special needs cat living in the society's shelter.
Stash, a friendly senior found wandering the streets, is one of those cats. He's classified as special needs because he needs medication to control hyperthyroidism.
Anyone wanting to foster a cat can contact the shelter at 604-524-6447 and make an appointment to view the cats. Tax-deductible donations can also be made to Royal City Humane Society, Box 102, 667 Columbia St., New Westminster, V3M 1A8.
SAINT BARNABAS CHURCH
St. Barnabas Church greatly appreciates support for its community outreach programs.
The church offers a community lunch every Thursday and an emergency food cupboard each Friday. Every year, the church holds a dinner on Christmas Day.
"We can always use money," said associate warden Roxee Forrest. "We use it to put on a Christmas meal."
While the turkeys are often donated to the dinner, the church has to buy the rest of the fixings (such as 100 pounds of potatoes) that are needed to feed 140 or more people on Christmas Day.  Donations of toques, mitts, socks and scarves – for men and women – are also appreciated, as they can be given out in Christmas gift bags.
In addition to donations, St. Barnabas Church relies on its thrift store to raise funds to keep its community programs running. The thrift store is open Wednesday to Saturday from 10 a.m. to 4 p.m. and donations of clothing and small household items are always welcome.
Turkeys are appreciated year round, as volunteers use them to make soup and sandwiches for the community lunch. Donations of nonperishable food and frozen meats in original packaging can be distributed through the emergency food cupboard.
"We are such a little church. Without donations … I would hate to think. It really wouldn't be the same. They are so appreciated," Forrest said. "Every year, it seems to be the same thing – there seems to be more and more people coming. We are so dependent on people."
To help St. Barnabas Church, call 604-526-6646 or drop off donations at the thrift store at 1010 Fifth Ave.
SALVATION ARMY
You don't have to go far to help out The Salvation Army at Christmas.
The Salvation Army's annual kettle campaign is in full swing, with volunteers stationed at locations around town until Christmas Eve. In addition to the Christmas kettles, the Salvation Army welcomes donations throughout the year to help with its programs, which include food and meal programs for the needy.
In addition to meal programs, the Salvation Army runs the local toy bureau every Christmas and operates shelters year-round.
Donations of socks, underwear and T-shirts for men in its shelters are always appreciated. To help the Salvation Army, call 604-521-0363.
SENIORS SERVICES SOCIETY
The Seniors Services Society helps people play Santa to seniors at Christmas but it works to better the lives of older folks throughout the year.
The society provides a wide range of services including Meals on Wheels, grocery shopping, support calls and tax clinics to hundreds of seniors annually.
"It's very cliché for nonprofits to always say that the need is growing, but it is for us. It's no surprise that the aging population is aging and growing. The homeless population is aging and the aging population is becoming homeless," said Anna Truong, the society's assistant director. "Our numbers over the last few years definitely show a sharp incline of people calling us. It's very much in line with the homeless count, the homeless numbers region wide."
Each Christmas, the society coordinates the Be a Santa to a Senior program.
Trees set up at four locations are decorated with ornaments that contain the names of people who are in need and some gift suggestions.
"The community has been really generous this year," Truong said. "We can't keep the trees stocked with ornaments fast enough. They can always drop off generic gift cards, blankets, scarves, goodies, candies, diabetic treats, pet supplies – we will find someone who would need it.'
Locally, trees have been set up at London Drugs (555 Sixth St.), Save-On-Foods (270 East Columbia St.), Your Dollar Store With More (811 Carnarvon St.) and London Drugs (7280 Market Crossing in Burnaby).
The society's volunteers and staff deliver the gifts to seniors a few days before Christmas.
"The seniors are completely filled with joy," Truong said of the gift recipients. "A lot of the clients we serve don't have anyone. They are alone on Christmas Day so it is nice to know that they are not forgotten. Even if it's just a quick visit from a volunteer to drop off a gift, it brings tears to a lot of our clients."
The program wraps up on Dec. 19, but community members can help our local seniors year round.
"We do accept donations year round. We are the only agency that works specifically with homeless seniors," Truong said. "There are always things we need to help our seniors get housed."
The society appreciates donations of good-quality used furniture and household items such as pots and pans, blankets and bedding, as well, gift cards for grocery stores, Wal-Mart and London Drugs where items such as mops, brooms, vacuums and cleaning supplies can be purchased.
"We get a lot of seniors who don't qualify for the annual bus pass," Truong added. "We have a lot of seniors who are stuck having to buy the monthly fare card or the transit ticket, so that's always a hot commodity around here."
To help the Seniors Services Society, call 604-520-6621, visit www.seniorsservicessociety.ca (click on Donate Now) or drop by one of the Be a Santa to a Senior locations.
UNION GOSPEL MISSION
The Union Gospel Mission in New Westminster served up 250 meals at its recent Christmas dinner – but that's one of the many services provided by the mission.
Each weekday, the mission offers a full breakfast from 8:30 to 9:30 a.m., followed by soup and other food later in the morning. The mission serves 700 to 800 cups of coffee daily.
"We are always looking for the pot of gold, which is coffee," said manager Bill Wong. "Socks are always a hot commodity. They allow people to get from one place to another."
Cash donations are always helpful because the mission can purchase items that may be needed at any given time.
"We are starting to look at new ways to help our folks, recognizing that there are some unique needs," Wong said. "For example, we recognize that some of our folks can't read. If you help them with a program or something, that may not help them if there is a lot of material to read."
The Union Gospel Mission is going to begin piloting an art therapy project  in January.
"We think it's going to be a very non-threatening way of building bridges to our folks. It allows us to understand their needs a lot better," Wong said. "We are tying to find ways to reach out to people that will get them to be safe with us, and we will go from there."
The mission is also looking to expand its facility on Carnarvon Street by building some classrooms in its lower level.
"We are making a shift. We are hoping it's going to help the community a whole lot better," Wong said. "We are looking to find new ways to be able to help. You take it for granted people read, and they don't always read well or read at all."
People who are making financial donations to the UGM can ask that the money be designated to specific purchases, such as the coffee or supplies for the art therapy program.
Anyone wanting to help the Union Gospel Mission can call 604-525-8989 or drop by the mission at 658 Clarkson St.
VEATA
Foster parents for dogs and cats are at the top of VEATA's Christmas wish list.
Volunteer Education and Assistance Team for Animals, a New Westminster animal welfare group, focuses its efforts on providing emergency, short-term pet fostering for individuals and families in crisis situations, such as transition houses, detox centres/drug treatment or an emergency hospital stay.
"Having a pet can be a barrier to accessing help. We receive calls every year from people looking for a safe place for their pets to stay while they get the help they need. They cannot afford to pay boarding fees and are afraid if they leave their animals that they will lose them," said VEATA president Cheryl Rogers. "They love their pets; they're family. It's very important to reassure them they will be reunited with their pets after they receive help they need to recover and get back on their feet again."
VEATA's main need is people who are willing to foster, usually for no more than two months. Most fosters are cats and dogs, but VEATA does get requests for small animals or exotics and will try to find foster homes for any species.
Along with fostering, VEATA's mandate also includes educating the public about the humane treatment of animals and disaster planning for animals. The group needs volunteers to develop and deliver educational programs for schools and other public forums.
Doggy Fun Day, held every August in Queen's Park, is VEATA's main fundraising event.
"In 2015, Doggy Fun Day will be held on Aug. 30," Rogers said. "We're always looking for more volunteers and sponsors in order to continue improving this special event. The money raised allows us to continue our work, but the event also shows that New Westminster is a dog-friendly community."
Cash donations are always welcome, as they help with veterinary costs, nutritional food and other pet-related needs for low-income pet owners.
If you're interested in volunteering for the society, providing an emergency foster home for a pet or making a financial donation, contact veatasociety@gmail.com or Box 31, 667 Columbia St., New Westminster, B.C. V3M 1A8. You can also like VEATA on Facebook at www.facebook.com/VEATAsociety.
WESTMINSTER HOUSE
Westminster House invites community members to make their shoes count during its holiday shoe challenge.
Westminster House, which offers a homelike setting for adult women who are recovering from addictions, is holding Make Your Shoes Count holiday shoe challenge until Dec. 31.
"We are challenging people to count the shoes in their closet and donate $1 per pair," said Susan Hogarth, development assistant. "That's one way to help Westminster House."
After counting their shoes and making a donation to Westminster House, people are encouraged to nominate a friend.
Westminster House is also hoping Santa may outfit the women for West Coast weather.
"This year for our women, we are outfitting them with rain gear – hoodies, rain jackets, rain boots that we got from Army & Navy, boot socks that we got made special for them, socks, umbrellas, toques," Hogarth said. "It's all about staying warm and dry."
The women in the recovery program will get their goodies on Christmas morning, so there's still time to help out on that front. Westminster House has ordered 30 pairs of boots and has purchased the socks, but welcomes donations to help prepare the women for the winter weather.
"Remember, they go for two meetings a day and then they do their community meetings and volunteering. Everything they do is walking. They walk probably five or six kilometres a day and their feet get wet," Hogarth said. "We decided it's about being cozy and warm – and pink. We love pink. We're like the pink ladies."
To donate to Westminster House, call Susan Hogarth at 604-524-5633 or send donations to Westminster House, 228 Seventh St., New Westminster, V3M 3K3. People can also donate online via www.westminsterhouse.ca/donate or by email transfer at challenge@westminsterhouse.ca.