Welcome to another weekend!

The calendar might say April, but there are no showers in Vancouver's forecast, at least for the next two weeks. Don't let the sunshine trick you into pulling out the shorts and sandals this weekend though: temperatures are expected to stay on the chilly side (at least by West Coast spring standards), reaching a high of 9°C Saturday afternoon. That said, your summer wardrobe might be weather-appropriate sooner rather than later. Daily temperatures in Vancouver are forecasted to start climbing Sunday and continue rising throughout the week, reaching a high of 17°C on Thursday.

If the sunshine and steadily warming temperatures aren't enough to convince you to move any indoor gatherings outside, perhaps the fact that B.C. just logged its highest two-day total of new COVID-19 cases will do the trick. Health officials detected 1,262 new infections detected on Friday, April 9—the second-highest daily total so far, after Thursday's 1,293 cases. Stay safe out there!

Thankfully, there are plenty of ways to have fun this weekend while adhering to all of B.C.'s public health orders and staying a solid six feet away from others.

1. Step into the world of Vincent Van Gogh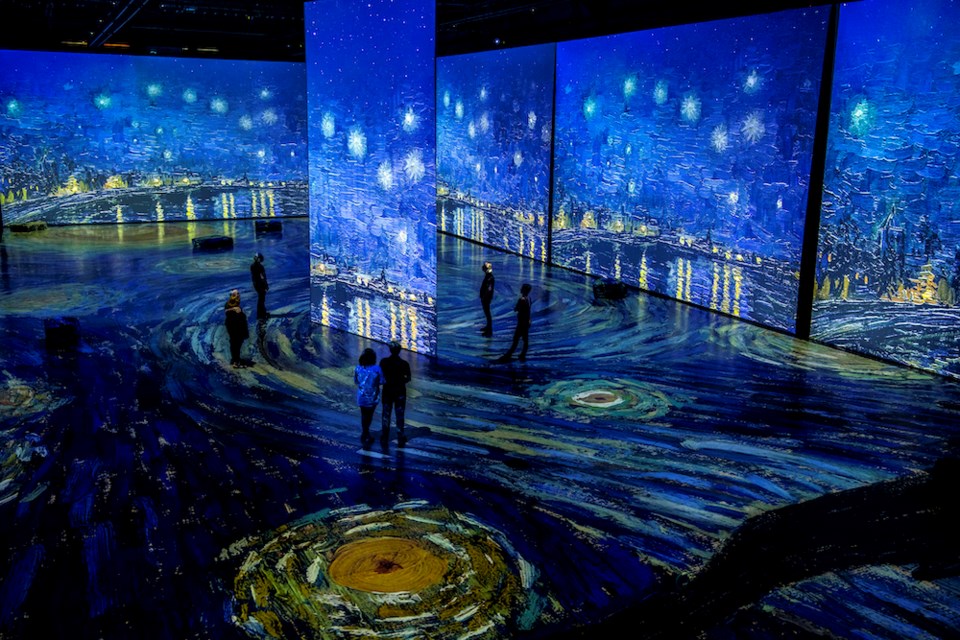 Imagine Van Gogh, an immersive art exhibition, is set to open at the Vancouver Convention Centre in February 2021. Photo courtesy of Imagine Van Gogh

Past meets present in the latest art exhibition at the Vancouver Convention Centre, where Imagine Van Gogh is now open and available to take Vancouverites inside the world of the renowned Dutch post-impressionist painter, thanks to cutting-edge technology.
It's a contact-free experience many of us have been daydreaming about since it was first announced last fall. Actually, let's be real: since we all watched Lily Collins visit a similar exhibit in Emily in Paris. While we won't get to see the late great painter at work, this breathtaking journey into the art of Vincent Van Gogh is the next best thing.

Tickets appear to be sold out for this weekend, so if this popular experience is on your must-see list, make sure to lock in your time slot sooner rather than later. Luckily for all of us, VIA video reporter Thor Diakow and managing editor Lindsay William-Ross stopped by the Vancouver Convention Centre to offer you a look inside the immersive exhibition before it opened its doors to the general last month.
2. In the Fraser Valley? Visit Western Canada's largest tulip festival.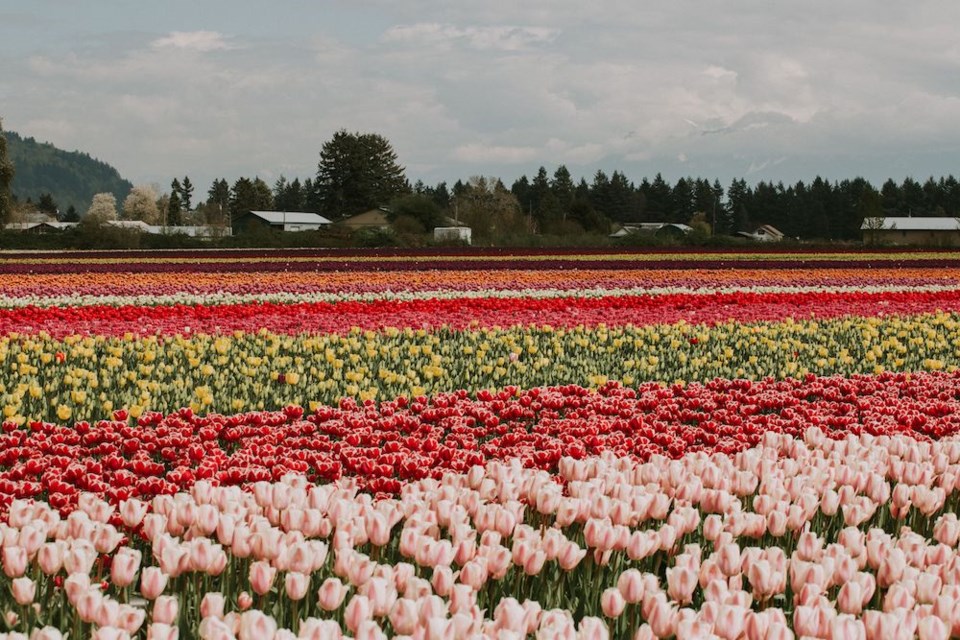 Formerly known as Tulips of the Valley, Chilliwack Tulip welcomes thousands of visitors to marvel at millions of beautiful bulbs. Photo via Tulips of the Valley

Formerly known as Tulips of the Valley, Chilliwack Tulip is ready to welcome thousands of visitors to once again marvel at millions of beautiful bulbs—6.5 million, to be exact!
The colourful attraction was forced to take a hiatus in 2020 due to the pandemic, but it returns this year with a host of health and safety protocols in place for its 15th annual edition, starting Sunday, April 11.

Considering that aforementioned pandemic and the B.C. government's recommendation against non-essential travel outside of your reason, festival organizers encourage only residents of the Fraser Valley to visit the fields for the foreseeable future.
3. While you're at it, take a stroll to admire the blooming cherry blossoms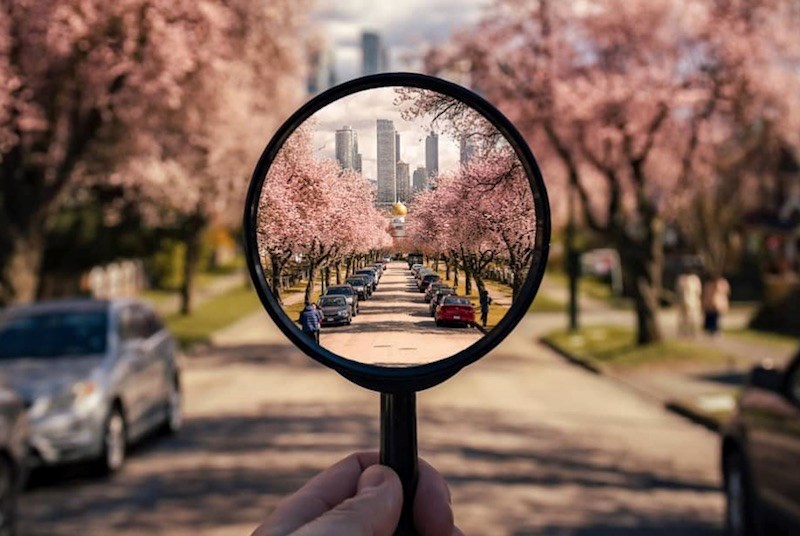 Cherry blossom season has begun in Vancouver for 2021. @neillogan.photography/Instagram

In case you've been isolating from the outdoors AND the Internet, cherry blossom season is in full swing across the city. As such, locals are taking every opportunity to capture and share their view of the pink and white blooms. If you're wondering where to find the best cherry blossom sightseeing the city has to offer, the Vancouver Cherry Blossom Festival posted this Google map dotted with 2,689 places where you can get your blossom fix.

If a virtual tour through Vancouver's tree-lined streets is more your speed today, we've rounded up a sampling of the many pics tagged with #vancouverisawesome (that's us!) on Instagram showing cherry blossoms (and a few pretty-in-pink magnolia blooms, no doubt) from all sorts of angles. Enjoy!

4. Celebrate lens-based art throughout the city, courtesy of Capture Photography Festival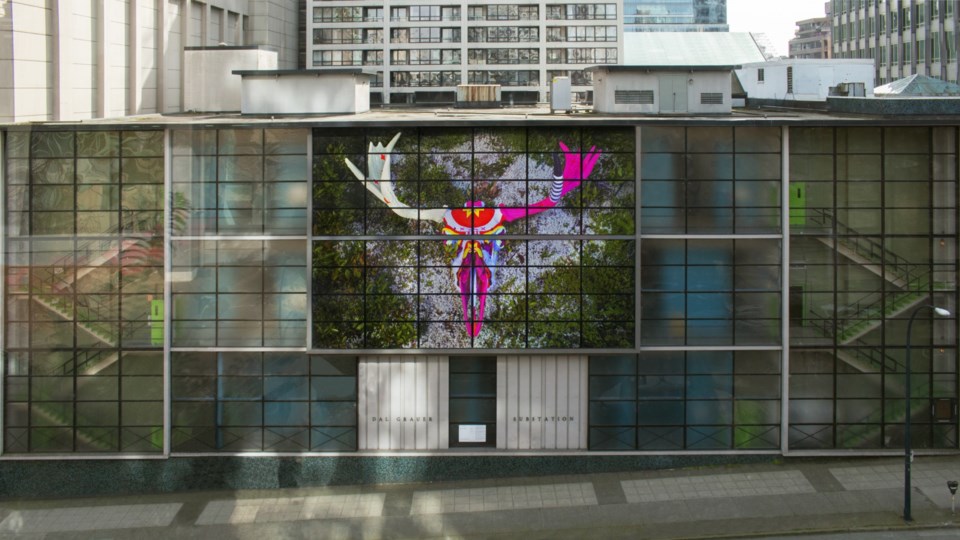 Mi'kmaq artist Jordan Bennett's al'taqiaq: it spirals, 2020, can be seen adorning the side of BC Hydro's Dal Grauer Substation on Burrard Street this April, as part of Vancouver's 2021 Capture Photography Festival. The artist's inspiration for the piece reportedly came from a photograph of a Mi'kmaq porcupine quill basket created by ancestor Mi'kmaw artists, an artifact currently held in the collection of the Museum of Vancouver.Photo by Jocelyne Junker, courtesy of Capture Photography Festival
In addition to the numerous virtual events packing the 2021 Capture Photography Festival's month-long calendar, the festival—first launched in 2013—is also celebrating its return to the streets and galleries of Vancouver until the end of April.

This year's festival consists of two featured exhibitions, 23 selected exhibitions and 17 public art projects. That roster is rounded out by 46 events, including four speaker series talks, and a series of digital tours.

Here are a few of the highlights.

5. Grab some take-out and picnic at Canada's best urban beach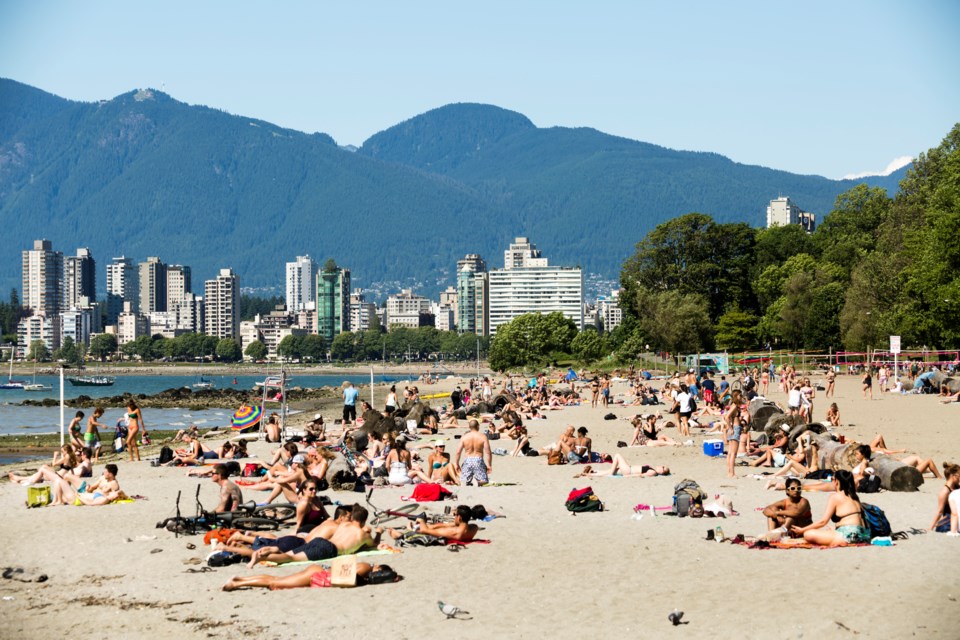 Kitsilano Beach has been named 'Best Urban Beach' in Canada. Getty Images

Travel publisher Lonely Planet recently named their picks for the top 10 beaches in the country, and to no one's surprise, B.C. was well-represented on that list. But instead of ranking the beaches, Lonely Planet gave each a title. Kitsilano Beach was awarded "best urban beach" in the country.

With sunshine in the forecast, what better way to support local businesses and support your mental health than grabbing a take-out picnic and heading for Kits beach? Or any other of Vancouver's picturesque beaches, for that matter!

Whether it's date night, a birthday or anniversary, or for no reason at all except "dinner," we've rounded up a few of our favourite splurge-worthy Vancouver take-out options to make this Saturday or Sunday a special one.
6. Feast your eyes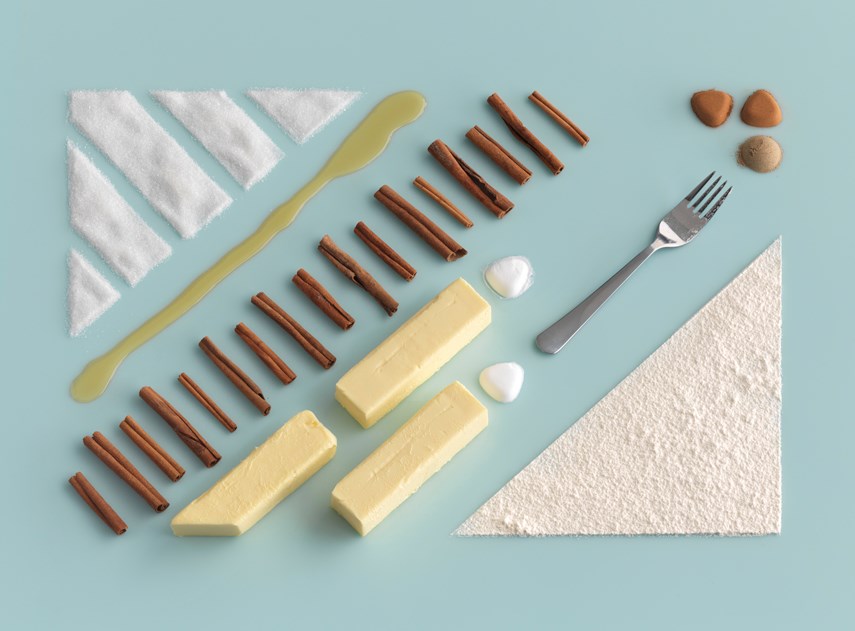 This piece by photographic artist Carl Kleiner (Hembakat är Bäst, 2010, Pigment print on acid-free cotton rag 300 gr.) will be on display during Feast for the Eyes at Polygon Gallery. Courtesy Carl Kleiner and Evelina Kleiner

There's a new art exhibition at North Vancouver's Polygon Gallery, but don't come on an empty stomach.
'Feast for the Eyes: The Story of Food in Photography' is a tasty tour through the history of food photography; something that has exploded in popularity in recent months, given the pandemic and our social media-obsessed society.
The exhibition contains works from over 60 of the world's leading artists, from the late 19th century to today, and features an assortment of over 100 images from photojournalism, fashion photography, rare cookbooks, and even advertising. V.I.A. video reporter Thor Diakow stopped by to give us all a preview. Find it here!
7. Go on a burger tour of Vancouver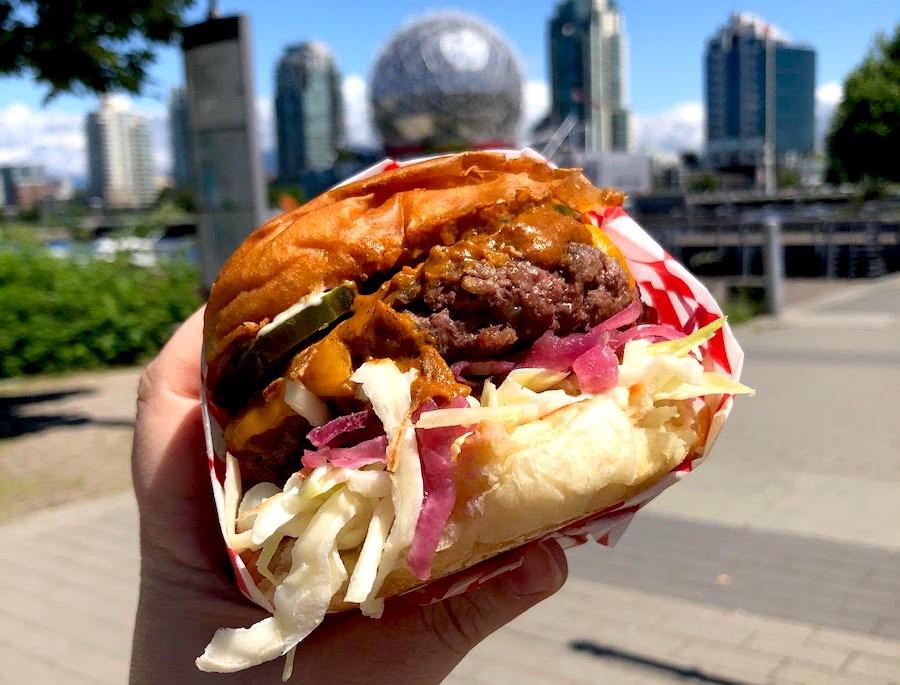 The Not in Kansas burger from Downlow Burgers is among the burgs available to PattyPass holders for half-price. Photo by Lindsay William-Ross/Vancouver Is Awesome
Is all this talk about food making you hungry too? (Our apologies.) Why not satisy those hunger pains with a burger tour through the city?
Vancouver is enjoying a burger renaissance right now, and there's no better way to take advantage than to get out there and eat burgers. In order to sandwich your burger-eating goals with a way to both save some bucks and do some good in the community, there's a new "PattyPass" you'll want to get your hands on.
We've got all the details for you HERE.
8. Learn a TikTok dance
No, this is not a re-posted article from April 2020, and no, we're not kidding.

Follow in the footsteps of these rad Vancouver moms who've been taking to the platform to show off their skills (they call themselves The House Wives of Hip Hop!) and bust a move, even if it's only in the comfort of your own home, to boost your mood. "If we could encourage somebody to dance in their living room or try to learn a TikTok and just enjoy themselves, try something new that they might find scary, that just makes us really happy as a group," co-founder Alexa Uhrich told V.I.A.