The team at Cap's Bicycles Shop in Sapperton have been going "full throttle" since April.
The COVID-19 pandemic has caused a surge of interest in cycling in cities across the world – resulting in a spike in bikes sales for many retailers.
"There are a lot of people interested in bicycles," said Gord Hobbis, who owns Cap's Bicycle Shops in New Westminster and Port Moody.
Hobbis, who has lived through various bike fads during his years in the family business, was just a kid when the "10-speed boom" hit in the early 1970s.
"That's when the OPEC oil crisis happened and people flocked to bikes," he recalled. "There were shortages of bikes and some similar things going on."
What's different this time round is that there's interest in all kinds of bikes – everything from kid's bikes to commuter bikes to recreational bikes to electric bikes.
"Everything is selling," Hobbis said.
When he started to see what was happening in other cities being hit by COVID-19, Hobbis purchased a lot of bikes in March. Since then, he said suppliers have pretty much sold out of any bicycles costing under $1,000.
"Even the higher-end bikes are going now," he said. "More product is going to come in eventually, but we are looking maybe to October for replenishment."
Hobbis said one of the first things that sold out was baby seats that allow parents to take little ones for a spin.
"It happened so quickly that we didn't have a chance to stock up on those," he said. "Now it's parts. Some sizes of tires – sold out."
According to Hobbis, Cap's sales "would be more than double" compared to the same time last year.
While bike shops weren't deemed to be an essential service in some places in Canada and the United States, Hobbis said they were given that designation in British Columbia. He said that followed a last-hour lobbying campaign by bike stores, where they argued people would need bikes for transportation and recreation during the COVID pandemic.
Prior to that essential service designation, Hobbis had been making plans to lay off staff and send product back to suppliers, but COVID-19 changed that.
"April 8 was when it started. April 8 was a Wednesday. We had an average, busy summer weekend before that, and then we came in to work on April 8 and it was boom. It was double what we would have been expecting," he said. "It's been full throttle since April 8."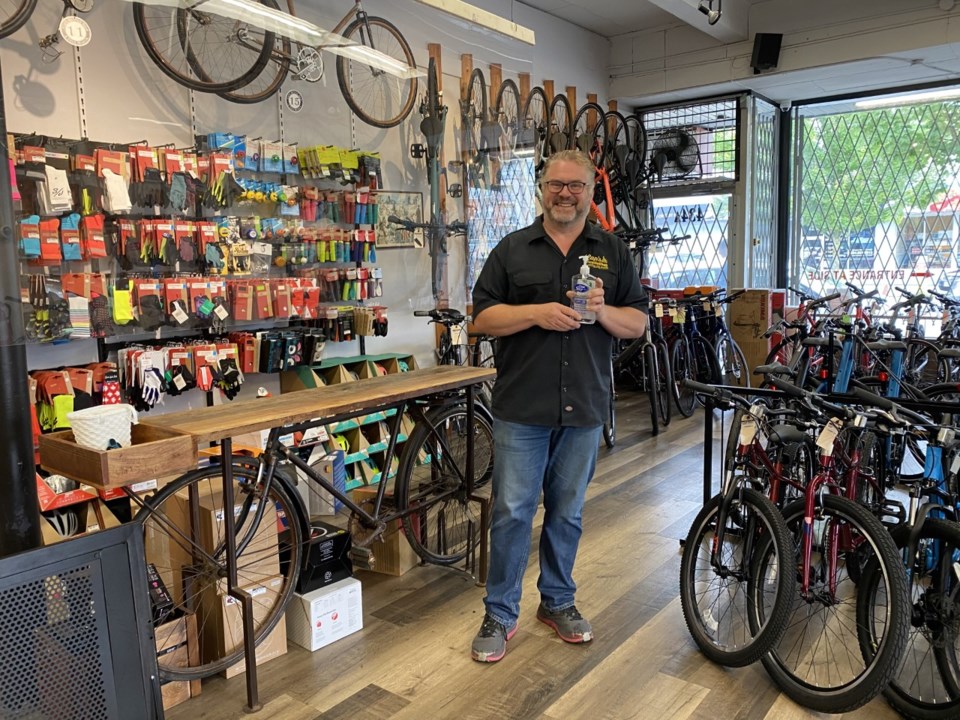 Cap's Bicycle Shop has had to make a number of changes in response to COVID-19.
"We have been adapting and reacting as the situation changes. We have done a bunch of things. We used to be open seven days a week. We have had to cut back to five days a week so we can have all the staff on all the time, instead of spreading it out," Hobbis said. "I have two stores – I have a store in Port Moody that I have temporarily closed so I could move the staff from Port Moody to Sapperton. Put all the eggs in one basket, so to speak. So that we can serve people safely, we have been doing a lot of business outside."
Cap's has set up big tents in its parking lot to serve customers. Each morning, staff move about 100 bikes that are stored inside overnight to the outdoor sales areas.
"We did a big hire. We had to do emergency hiring, which is basically phoning all my friends, my kids' friends," Hobbis said. "We brought on about 10 new people. Normally my staff is six."
Inside the store, Cap's has cleared out some space so people have more room when looking at items in the store. Other changes include limiting the number of people allowed inside at any one time, providing baskets where people deposit items like gloves that need to sit for two days before they're returned to stock, sanitizing products such as bikes taken out for test rides.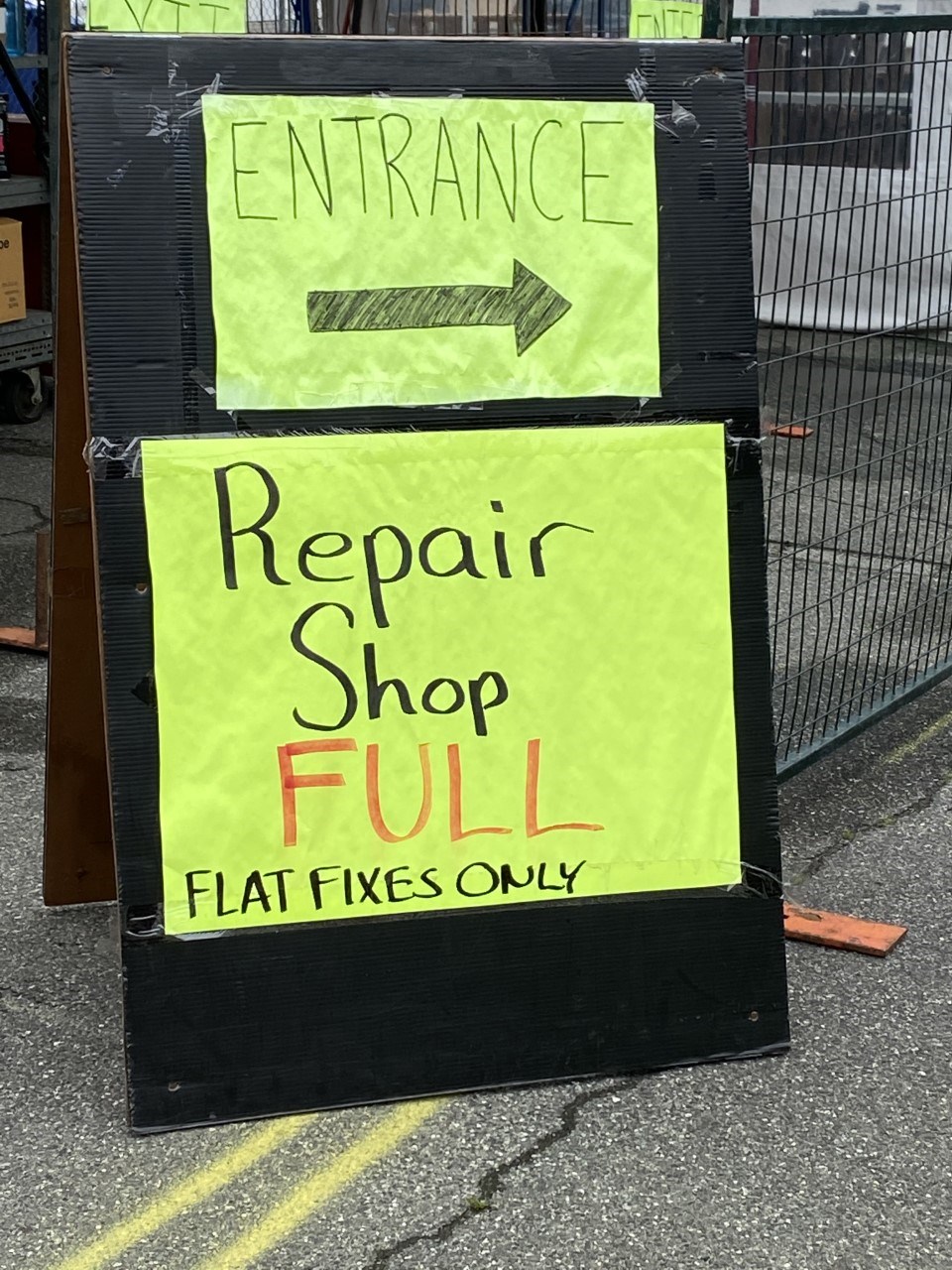 The increased interest in cycling has also resulted in an increase to Cap's repair service.
"That's actually one area where it has increased the most," Hobbis said. "We have had to do something I never thought I'd do – I had to close the repair shop. It is just full. We are doing small repairs – anything we can do the same day, we will do. I don't have room to store bikes."
Hobbis feels badly for all those businesses that are suffering because of COVID-19. At the same time, the cycling enthusiast is grateful to see interest in cycling booming.
 "I try not to use the word fortunate. I don't want to have fortune from the situations that is going on, but there's a surge in cycling. I talk with my staff on a daily basis about how important it is what we are doing," he said. "We get comments from customers – and I don't mean to overstate our importance – but we are helping people with their mental health. They are able to get out. They are able to ride. They are able to exercise. They are able to do things. We are helping families. I think we are doing something that the bicycle has done since its invention – just helping. If you don't have a little bit more of a higher purpose than that, it's hard to get up and work this hard."
As someone who supports all the positive benefits that come with cycling, Hobbis is thrilled to see the growing interest in the pastime and the efforts cities are making to improve cycling infrastructure.
"Do I enjoy this? Absolutely," he said. "I was out for a bike ride the other day and I'm in a bike lane and there's a bike signal – and there were so many people that I missed the light."