Industry Arcade is hoping to provide folks with a rad escape from COVID-19.
City council recently approved a two-year temporary-use permit allowing East Van Amusements to temporarily run an arcade in its current warehouse space at 30 Capilano Way in the Braid industrial area.
"There is really nothing like it anywhere," said owner Kyle Seller. "People are probably pretty desperate to do something. I always tell people I am COVID-phobic; I am very concerned about COVID. When I did this, I wanted it to be the safest thing you could do indoors."
In the few weeks Industry Arcade has been open, the business has been a hit with customers.
"People send us emails and they are like, 'we are so excited!'" said Seller, who runs the arcade with his wife Amanda. "I get it – you've been stuck in your house for six months, you get your own space and you are super stoked. Your kids? They probably won't forget it. So it's rad. This could be one good memory that they've had during COVID."
Industry Arcade aims to provide a safe, COVID-friendly facility for families or trusted bubbles.  
"We have a very strict policy of 10 people," Seller said. "It's COVID – and that's all we are comfortable doing. Period."
Customers rent the space in two-hour sessions, during which time they have it all to themselves. Alcohol isn't permitted, but customers can bring in their own food.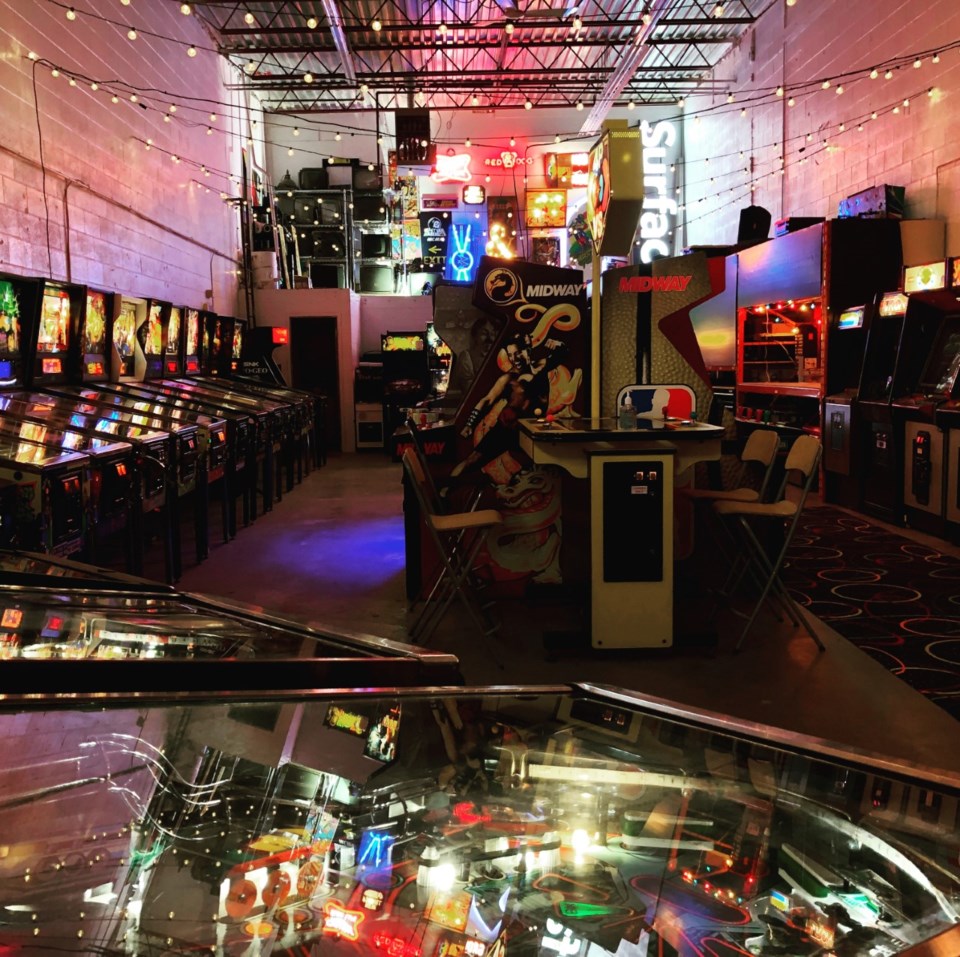 "Ultimately, it's a private rental. You book it in advance. It's your people. .. There is no general public," Seller said. "I feel like that's as safe as it gets. If you go to a restaurant, it's with the general public. If you go to a bar, it's the same thing. If you are getting your hair cut, anything, it's all with the general public. This is not."
Seller, who started the Vancouver Regional Pinball Association in the early 2000s, bought his first pinball machine when he was 16. About half of his collection of 80-or-so games can be found at Industry Arcade – a place customers have called "different and unique" as it has an eclectic array of games for customers to play.
"What we tried to achieve, I tried to do something that was a bit for everyone," he said. "So we've got pinball machines that are from the early 90s. We've got pinball machines from this year. We've got modern games as well like Pac-Man Battle Royale. We've got skeeballs that are modern skeeball machines. And then we've got some classic arcades as well. We've got bubble hockey. We've got driving games. Just everything. It's just a completely different experience. We really just wanted to try and please everyone. We didn't follow any sort of genre of game."
East Van Amusements, which opened in 2013, had been leasing arcade machines to restaurants, pubs, the film industry and other businesses – until COVID.
"Business was just awesome – 2019 and the first three months of 2020 were our best three months ever," Seller said. "We were just like on point. Everything was figured out. We were organized and just rolling right along. But then, it stopped just dead."
Some of East Van Amusements' customers closed their businesses, while others removed the machines to create more space.
"It's pretty harsh when you are making 2% of what you used to make," Seller said of the impact of COVID on his business. "It's hardcore."
During the early days of the pandemic, Seller worked on some of the games he's amassed through the years.
"It was kind of like a bit of my mental escape was to go to the shop," he said. "A lot of these pinball machines, they take like, to get them reconditioned, a lot of times it takes 20 hours a game to get a machine playing like new. Sometimes longer."
After deciding to pivot and open the arcade – and getting the green light from council to operate an arcade in an industrial area – it took a bit of work to get the warehouse space into shipshape for Industry Arcade.
"It was a really rough shop when we got it," Seller explained. "It was an old wood shop. There was wood dust, like two inches, on every rafter in the unit. The unit was so bad; it was incredible. We had to do everything to it. It was a lot of work."
Along with cleaning up the space, Seller displayed his collection of old TV sets and neon signs to create a sort of art installation in the industrial space.
For more information, go to www.industryarcade.ca.