She joined choir in elementary school because her mom thought it would be a good way to smooth the edges off her Midwestern accent.
Chances are Mom didn't count on that early musical experience opening the door to a career in burlesque.
Now Kyrst Hogan is all grown up and better known as Burgundy Brixx – and the mom whom she lost to ovarian cancer a couple of years ago passed away full of pride at her daughter's fierce and fearless stage persona.
Hogan, sitting down over a pumpkin spice latte to talk about her new performance series at the Columbia Theatre, walks the line between laughter and tears as she talks about her mother – an intensely private woman, Hogan says, who was so modest about her own body that she didn't even get changed in front of her own husband.
Hogan laughs a little, now, as she remembers how she didn't even want to tell her parents about her burgeoning burlesque career in Vancouver. She moved from New York City to the West Coast with her husband, Doug Thoms, and launched Kitty Nights Burlesque in 2008, beginning what would become a regular and award-winning burlesque series at the Biltmore Cabaret.
She wasn't a kid anymore. She'd been performing professionally since the 1990s. Yet, somehow, telling her parents was still tough.
It wasn't, Hogan notes, that they were opposed to her performing career. In fact, they had long nurtured their daughter's artistic streak. Both her parents had lovely singing voices, Hogan recalls, and both were musical – her mom played guitar, and her dad was a drummer in jazz ensembles. They took her and her brothers to art shows and concerts of all kinds while she was growing up in Wisconsin. They got her into ballet at age six and encouraged her love of dance at every opportunity.
Hogan recalls seeing Mikhail Baryshnikov's Nutcracker on PBS and getting hooked on ballet. Then she found tap.
"Gene Kelly in Singing in the Rain is the one I fell in love with," she recalls with a smile.
Even so, Hogan hadn't originally intended on studying performance. She had her sights set on art and business, with an eye on getting into advertising. But then a college recruiter came to her school and suggested Hogan's skills would make her a perfect fit for theatre.
It was, she recalls, a bit of a revelation that theatre could actually be a career.
"I'd always been in school plays but not as the lead," she says.
That recruiter, as it turned out, was right. Hogan pursued her degree in theatre at Viterbo University in La Crosse, Wisconsin, the school where her mother worked. It's a small Catholic liberal arts college run by the Franciscan Sisters of Perpetual Adoration, a group of nuns whom Hogan speaks of with admiration and fondness.
They were fiercely independent women who bonded together; the original definition of "girl power."
"They were ballsy, for nuns," Hogan says with a smile. "Their nun-ness did not define them as strong and powerful women."
Hogan's mentor was the little nun who founded the theatre department. She would don a habit, even though her order didn't wear habits, and head into the city to watch theatre companies rehearse. No one ever asked her to leave, Hogan notes with a laugh – after all, she was a nun, and who'd ask a nun to leave? She even legendarily saw Tennessee Williams rehearsing The Glass Menagerie, a story Hogan recounts with admiration.
Viterbo has become known as a school that turns out a large number of Broadway performers; Hogan, who graduated in 1990 with a major in theatre and a minor in dance, notes she was on the early edge of that wave.
After university, Hogan set her sights on a theatre career – and she made it happen, thanks to her willingness to accept that auditioning was pretty much a full-time job unto itself.
"You have to hustle. You have to constantly be creating opportunities for yourself and other people," she says.
Hogan's resume includes such shows as Singin' in the Rain, Jesus Christ Superstar, Cabaret and 42nd Street. If there was a need for a tap dancer or a "sassy redhead sidekick," she laughs, she was the gal. She was also a singer for Norwegian Cruise Lines and in the ensemble at Radio City Music Hall for its Christmas Spectacular (no, she wasn't a Rockette).
Hogan started performing burlesque while working in New York City, embracing it for the creative freedom it gave her. While being cast in theatre productions meant Hogan was living out someone else's artistic vision, burlesque gave her the chance to realize her own.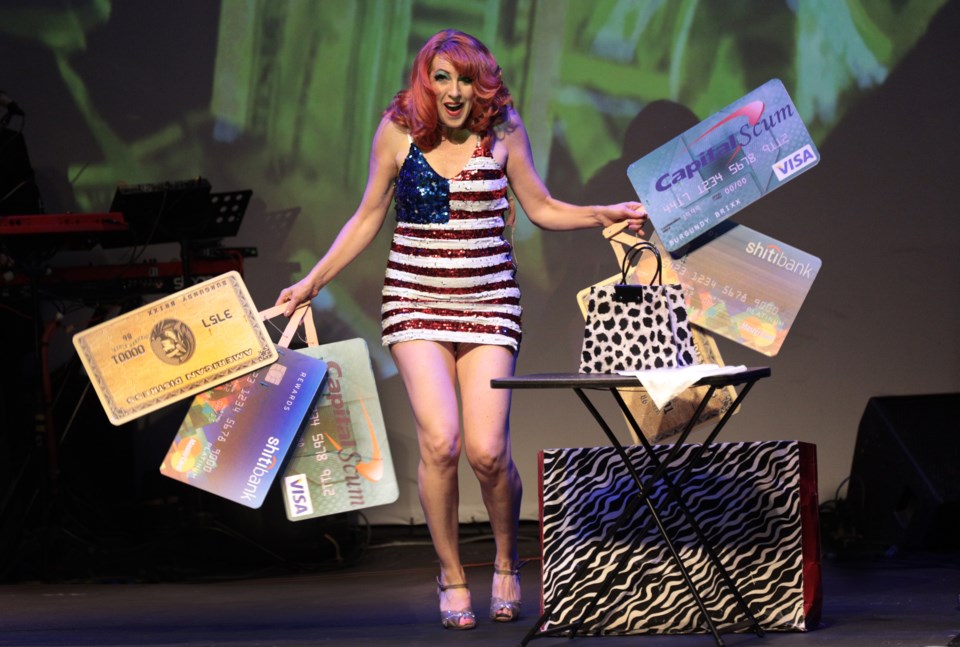 Once she and her husband made the decision to move west, Hogan decided to make burlesque her full-time endeavour, setting up Kitty Nights Productions and creating her own burlesque troupe for regular shows in Vancouver.
"It was very empowering for me to shift and have control," she says.
But it wasn't until 2011, she recalls, that she finally told her parents what she was doing. They were coming out west for a visit, and Hogan had a show booked. She told them they were welcome to come see her but that she'd understand if they didn't.
It turned out they weren't surprised – they had been following their daughter on the internet, and they already knew about her Burgundy Brixx alter-ego. So they went to the show.
In their honour, Hogan recalls, she performed one of her most elegant numbers to classic jazz music.
Her father, the jazz musician, loved the musicality of it. And her mom, that shy and private soul who would never show anyone her body?
"My mom said, 'Gypsy Rose Lee, eat your heart out,'" Hogan says, tearing up a little at the memory. "After that, they were on board."
Hogan's burlesque career has earned her multiple honours. She was named one of the top 10 burlesque performers in Canada two years running, earned the Best Soloist nod at the Boston Burlesque Expo in 2012 and was chosen to compete for the title of Reigning Queen of Burlesque by the Burlesque Hall of Fame in Las Vegas in 2012, 2013 and 2014. Kitty Nights Productions earned awards from the Georgia Straight's Best of Vancouver competition in 2015, 2016, 2017 and 2018.
But no award will ever be more meaningful to Hogan than one conversation with her mother.
Hogan lost both her parents a couple of years ago – her mom from ovarian cancer, and her father a few months later after a stroke.
She holds close the memory of her mother, in the hospital at the end of her life, coping not only with her illness but with the embarrassment of the invasion of her bodily privacy. The older woman called her daughter over and told her she was proud of her for helping to break down the stigma around women's bodies.
"She said to me, 'I think what you're doing for women is amazing,'" Hogan says.
As she takes her Burgundy Brixx persona to the stage as the host of the new Rock & Roll Carnival series at New Westminster's Columbia Theatre, she'll remember that moment.