The sea of empty red seats in the Massey Theatre reflects the wider reality of the entertainment industry across the country.
Those 1,260 seats haven't been filled since before the COVID-19 pandemic took hold in March, and no one knows when the house will be full again.
But Jessica Schneider, the Massey's executive director, is determined not to let the historic theatre sit empty and silent.
The Massey is partnering with the Feldman Agency, which represents a roster of well-known Canadian talent, to offer up fall shows by two artists: Canadian singer-songwriter Chantal Kreviazuk and rocker Bill Henderson of Chilliwack fame. Kreviazuk will be onstage for four nights, Oct. 28 through 31, while Henderson is set to appear Nov. 26 through 29.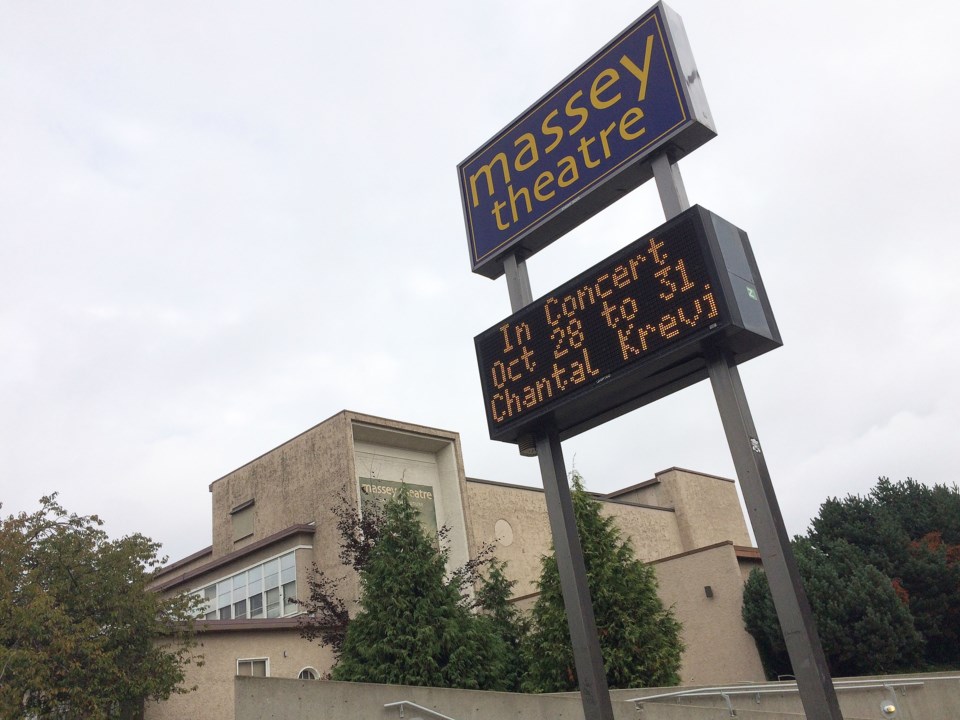 Schneider is looking at the concerts as a chance for her team to finesse how to offer live shows in the face of COVID-19 – and to present uniquely intimate, small-audience performances for local music lovers.
With public health directives capping audiences at 50, the theatre is offering 200 tickets for each performer – 50 apiece for four nights running. That way, the artists are able to get a pay guarantee that's closer to what they would have expected in a pre-COVID world. The catch is, they have to perform four shows to get it.
"They really have to work harder," Schneider said, noting the amount of energy involved in a solo artist, such as Kreviazuk or Henderson, performing the same show four nights running.
But she has no doubt the experience will be good for the people who turn out.
"I think it's great for audiences. They're the winners. They're going to get the same calibre of show, for a similar price," she said. "With only 50 people in there, it'll just be really special."
HOW IT BEGAN
The Massey and Feldman teams have worked together for years, so when Feldman agent Rob Wright was looking for venues for some of the agency's artists to return to live performance, it made sense for him to call Schneider.
For Wright, having Kreviazuk perform at the Massey was perfect timing. The singer, now based in L.A. and Toronto, was coming to Canada to perform a couple of private shows after quarantining, and she was eager to tour again.
"It's obviously taken a very different form in 2020 than it would normally," Wright said.
Kreviazuk has been selling out capacity shows in a tour that has featured dates in Ontario, Manitoba, Saskatchewan, Alberta and B.C.  – with ticket sales capped at 50, 100 or 150, depending on the region.
"We're just so happy to be able to bring her to the Lower Mainland," Wright said, adding he's pleased to be working with the Massey team. "It's a beautiful, historic theatre and great folks to work with."
Though performers of Kreviazuk's stature are used to performing in front of much larger audiences, Wright noted many artists have been happy to bring their shows to fewer people for the sake of performing in front of live audiences again.
"There's been a bit of a pivot to a virtual space, but it certainly never completes or competes with that live experience," he said. "Nothing really does that. It's a very sort of visceral, emotional response to be able to take in a concert and witness an artist performing their work."
'IT'S MY ESSENCE'
Kreviazuk couldn't agree more. When the pandemic first brought live performance to a halt, she began connecting with her audience virtually through Instagram.
But she knew she had to return to the stage as soon as she could.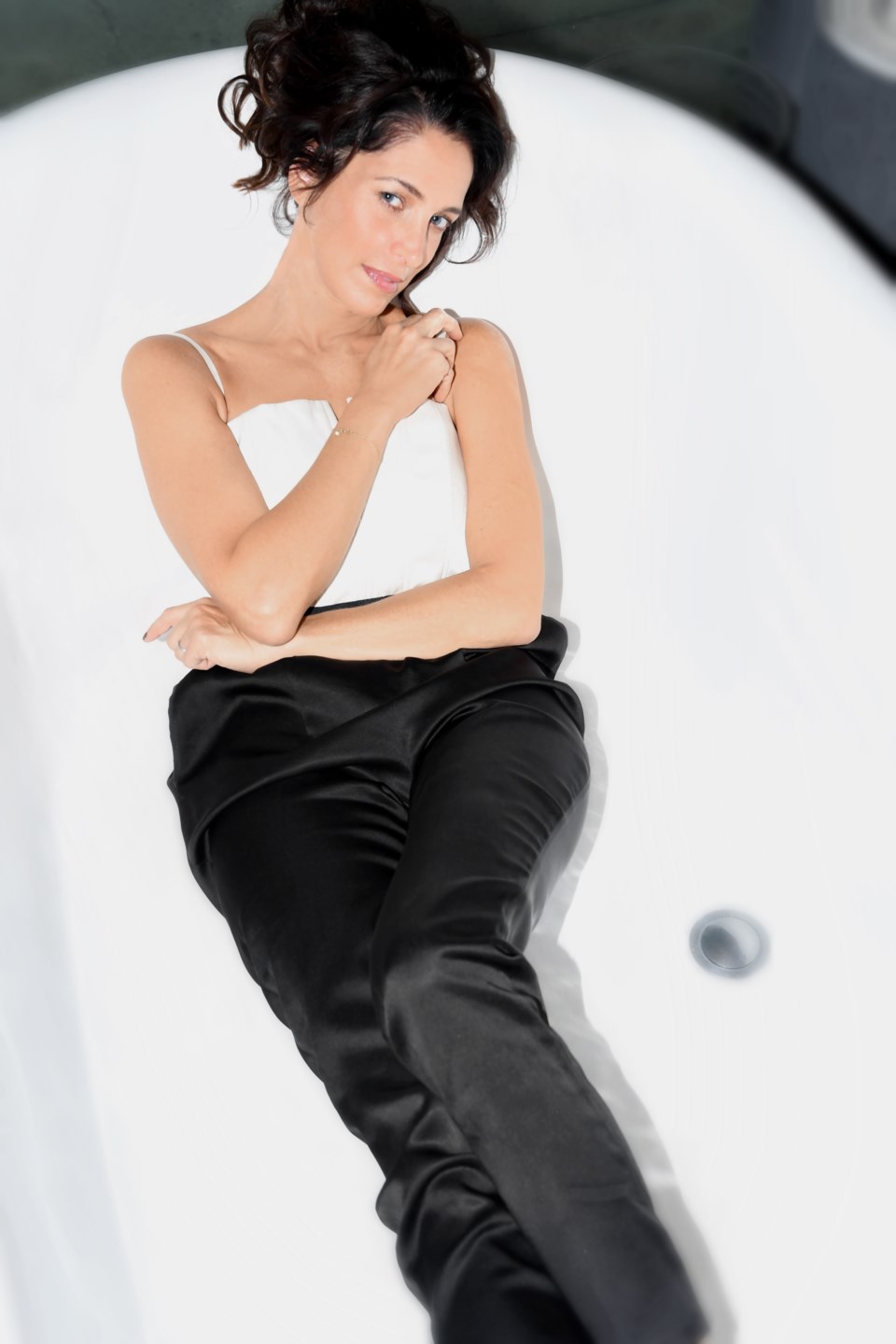 "You learn a lot about yourself in a pandemic, or when things get turned upside down," she said, on the phone from Alberta. "A little bit of it was just like instinct, like a migrating bird. I didn't even know why I had to, but I knew I just needed to go and do performances, and along the way, I've figured it out.  It's my essence; it's what drives me; it's what makes me sane; it's what drives me crazy. It's my everything. It's the first thing I am, and it's brought me everything else."
As it happens, she has a new album out – Get To You was released in June, and Kreviazuk notes there was talk about potentially holding it back to release it at a better time. But she rejected that plan.
"Honestly, why do I care when an album comes out? If the pandemic has taught us one thing, it's that you just don't have any control. The older I get, the less in control I am," she said. "I really didn't care if the album came out or didn't. It's material I was playing during the pandemic because it felt good to play."
The fact that she has to perform for much smaller houses than usual doesn't bother her; this tour, she says, was never about making money.
"It was just about 'This is how I survive' – and I don't mean economically or fiscally. It is my essence to perform. It is my essence to be a human that sings and plays the piano."
To do that, Kreviazuk knows, she needs places to perform – and she expresses profound gratitude for all the venues that, like the Massey, are continuing to find ways to bring artists to the stage in the face of COVID-19.
"I am nothing without them," she said.
WHY THE MASSEY?
Schneider points out the Massey is uniquely positioned to be able to serve as a venue at a time that's particularly challenging to the entertainment industry.
Most visibly, of course, there's the sheer size of the 1,260-seat theatre.
"We were never scared about how to fit people in the facility," Schneider said.
The theatre could seat as many as 380 people and still keep everyone safely two metres apart, she noted. With only 50 audience members, the theatre is selling one pair of seats per 39-seat row, with seats staggered – one set on the left, the next set on the right – and with empty rows between them.
"We're calling it extreme social distancing," Schneider said with a laugh. "We could have compressed people, but we thought, no, they'll be happier and more relaxed if they're far apart."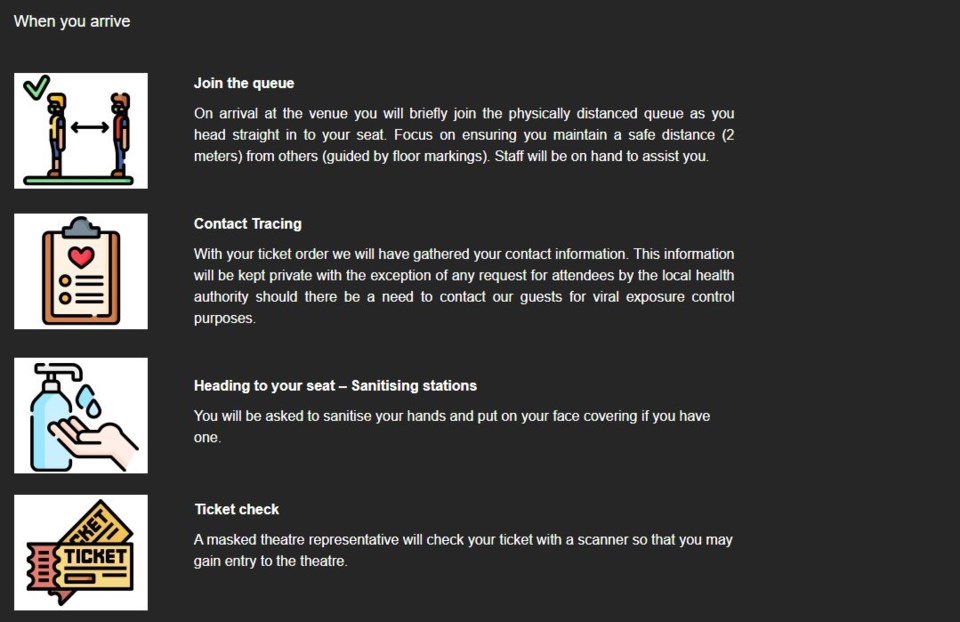 With the federal wage subsidy keeping the theatre's team employed over the summer, the Massey was able to develop a comprehensive safety plan to cover details such as how to get the audiences in and out safely, how to run a contactless ticketing system and how to eliminate crowding.
The Massey's only capacity challenge is on the washroom front. The theatre is getting around that challenge for now by keeping shows short, with no intermissions, so there isn't a crush of people descending on limited space at the same time.
Beyond the physical issues, the theatre also benefits from its operational structure. As a not-for-profit society with a broad audience base for all types of shows, Schneider noted the Massey has the ability to respond to the COVID-19 situation with more flexibility than municipally operated or commercial venues might have.
"We're sort of nimble as an organization. We can take a bit of risk, and we definitely are," Schneider said.
A big part of that risk, of course, is financial – and that's where a non-profit society has the edge over commercial operators.
"We're not dependent on liquor sales, like nightclubs are. We don't have to have the bar cranking out drinks to break even," Schneider pointed out.
(Mind you, audiences at the 50-person shows will indeed be able to buy drinks. The limited capacity means the theatre is able to license the venue so audience members don't have to stand in a bar lineup; rather, they can pre-order beer and wine to enjoy at their seats.)
Schneider pointed to the Massey's varied sources of program funding: gaming grant money, a grant from the Vancouver Foundation towards Indigenous programming, funding from the B.C. Arts Council.
Even in "normal" times, she noted the Massey is able to offer programming without an expectation that it turn a profit – or even necessarily pay for itself.
"We do do programs that break even, … but lots of times we do them at a loss because it's something that's missing from the community," she said, citing the examples of its LGBTQ+ and Indigenous-focused programming. "That's why the ticket prices are still the same as they would normally be. … It's OK for us to lose a little bit. We're able to do that."
As a non-profit, she noted, the theatre has very specific accountability for how it spends the grant money it gets.
"We're meant to be using it. We're meant to be doing things for the community," she said.
Which meant that keeping the lights off and the doors closed was never an option.
OUT OF THE DARK
Wright has been happy to find theatres like the Massey who want to bring live music back to the stage. He noted the onset of COVID-19 left the entire entertainment industry reeling.
"In terms of industries, I think ours was sort of the first with the lights off and will probably be the last with the lights on," Wright said. "Everyone misses concerts, but I don't know if the economic impact is widely known, just how many jobs this industry creates and upholds."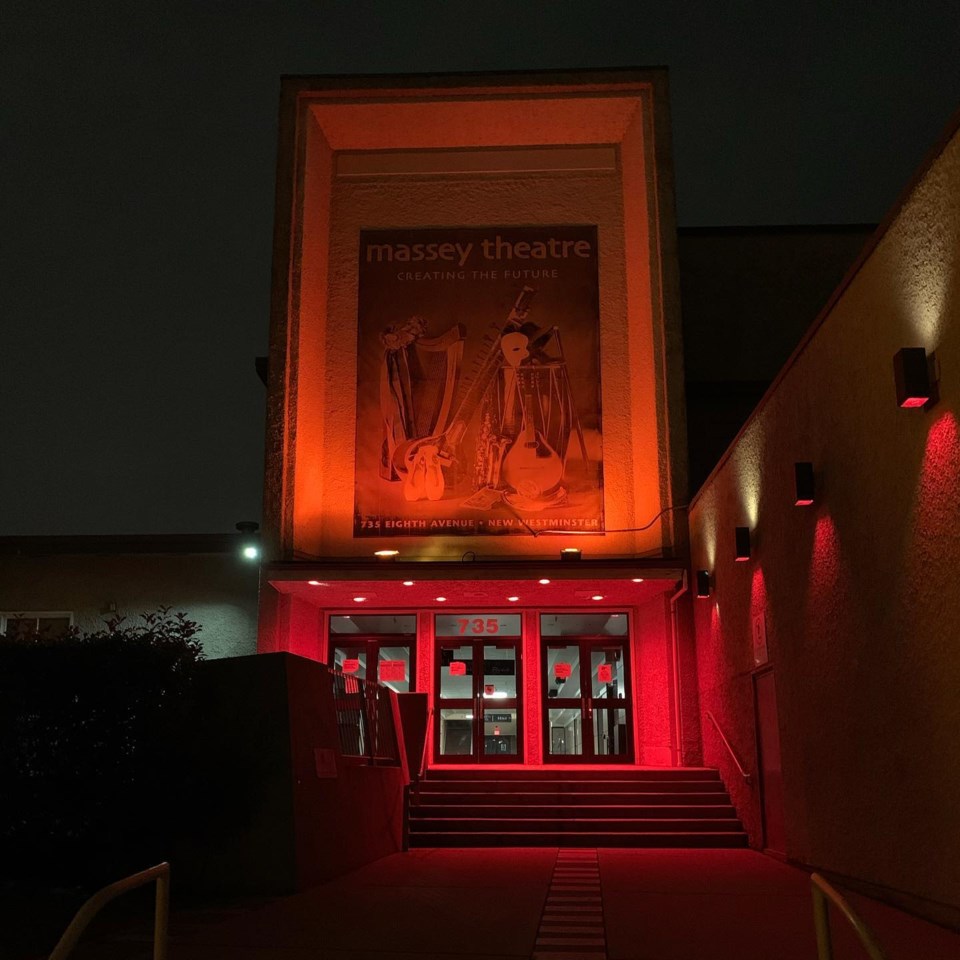 One ongoing Canadian Entertainment Industry COVID-19 Impact Study has released initial findings showing some $55.9 million in lost revenue and more than 3,300 potential layoffs, based on submissions from 426 organizations across the country.
Another ongoing study by Hill Strategies Research Inc., looking at the impacts of COVID-19 on Canadian artists and independent cultural workers, reported a loss of some 29,232 gigs, with lost income climbing to more than $20.7 million in the time period between March 30 and Aug. 15. (See ilostmygig.ca.)
Schneider, for her part, is blunt about the effect that COVID-19 protocols – in particular the 50-person cap on audiences – have had on the arts and entertainment industry.
"The conditions are basically a 98% barrier to doing anything," she said. "The arts have generally not been very vocal about what it's doing to us, because it's basically impossible. You have to be really confident, like I am, to just know that it's going to be OK, that you should do some stuff, that experiment is OK, that risk is OK."
Schneider noted the "mixed messages" around what's allowed to operate and what's not – citing the example of the airline industry.
"They're not being expected to fly with only 50 people in the plane, because it's expensive to operate," she said. "Well, so is the arts."
Schneider noted that, even beyond the practical and financial obstacles posed by the restrictions on audience size, theatres are also up against audience anxiety and the practical challenges caused by restrictions on people's social lives – like the inability to hire babysitters and the fact that someone's usual theatre- or concert-going friend may not be in their "bubble."
Plus, she noted, some people are primarily interested in attending live shows because of the "spectacle" of huge events – and those events just aren't happening right now.
"With smaller scale being the only thing that's really doable, they're just not interested," she said. "There's going to need to be some time to make up the losses."
WHAT LIES AHEAD
Wright finds himself eyeing an uncertain future as he works to line up both virtual and live performances for the artists he represents.
 "Certainly no one has a crystal ball as to when things will be back to quote-unquote normal," he said.
At this point, he's going by what he believes are the best projections: the return of some outdoor festivals in the summer of 2021; the reopening of venues by percentages, rather than hard seat caps, by the fall of 2021; and some return to "normal" by early 2022. Right now, he's working on a live tour for one of his artists for March and April 2022.
Wright is looking to the international example of places such as Taiwan and New Zealand, jurisdictions that have been able to get a good handle on the pandemic and that are starting to return to more widespread concerts and events.
In the short term, he's already in discussions with the Massey about which artists they may be able to bring to the stage in 2021.
For Schneider, looking to that future is an essential part of her work right now.
She notes that, whenever health officials do raise the cap on audience numbers, she wants the Massey to be ready to jump in. The theatre, which is located in the existing New Westminster Secondary School complex, will be helped by the opening of the new school – the construction of which is currently nearing completion. Once students vacate the existing NWSS, Schneider points out, the theatre will have more options for multiple entry and exit points and washrooms – and, thus, the ability to safely accommodate bigger audiences.
"If we were allowed 200, it's a total game changer for the arts," she said. "We would see a lot of activity return. That's a doable number to pay for the cost of a show."
'WE CANNOT LET LIVE DIE'
Helping to pave the way for the future of live music is something that's very much on Kreviazuk's mind as she tours.
"There's nothing like live. We cannot let live die," she said.
For Kreviazuk, it's been interesting to realize she's among the artists leading the way for the future of touring.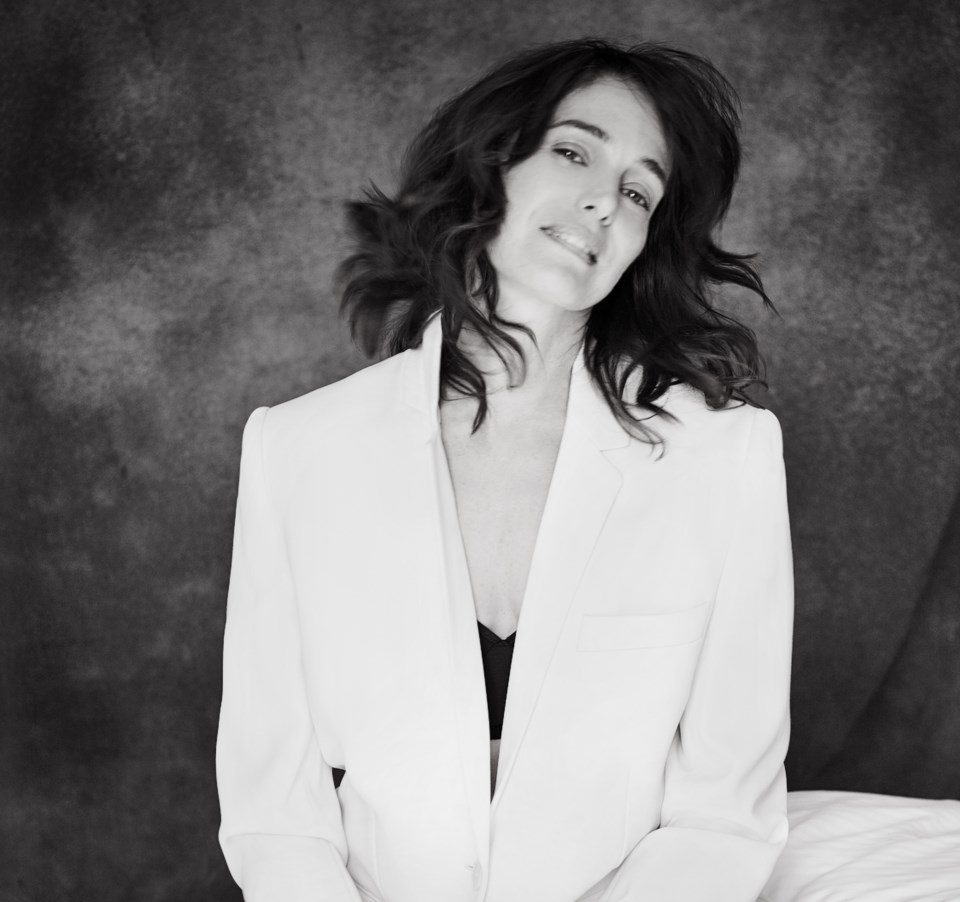 "I feel like a bit of a pioneer in a weird way. I don't think I've ever felt exceptional before," she said with a laugh.
"One of the conscious mindsets of this tour was, I truly believe that if we are responsible, we can co-exist with this virus until things get a little more on the rails. I wanted to be somebody that would have a successful run at this so that people could feel like, 'OK, it's doable.'"
She doesn't deny the virus or dismiss its impact, but she believes that as long as we're all willing to take those much-talked-about precautions – wearing masks, washing hands, maintaining physical distance, avoiding mingling – then there's no reason why live performance can't return safely.
So far, she noted, no issues related to COVID-19 have arisen during her tour.
"There is no perfect," she said, "but I think so far we've been pretty close."
Kreviazuk said performing for small audiences, during a pandemic, has brought a "complex sea of emotions" for both her and her audiences.
"It's been emotional, overall," she said. "For a lot of people, it's the first time they've gone out (since COVID-19). For a lot of people, it's the first time they've seen or heard anything live, so that energy is there. …
"That's bigger than me. The collaborative relationship between the audience and the artist – watching all that happen is so magical. It takes a shape, and it's so riveting and emotional and spiritual to have a front-row seat to that."
Schneider is hoping local audiences will embrace this concert series and help to pave the way for the lights to stay on – not just at the Massey, but across the country.
"People who love the arts, they're important to it – not just psychologically and emotionally, but financially," she said. "To just show up? That's the audience's part to play."