For three months, Cassius Khan lost his music. He would sit down in front of his tabla to play, but the music wouldn't come.
The tears would, though. And he would put the instrument down and walk away.
"I felt like my instruments did not want to look at me, either," Khan says. "There was no music playing in the house."
For Khan, the loss of music was perhaps the darkest experience he has ever encountered. He had expected 2020 to be a busy and productive year; he had concerts and tours set up and was ready to record an album. Instead, the Queensborough resident, along with performing artists across the country, found himself adrift in March when the COVID-19 pandemic brought live performances to a halt.
"I went into such a dark state," he said. "I think for three months, at least, all I would do is get up in the morning and lie on the couch with a bag of chips or something, and just watch TV. I had no idea what date it was or what day it was."
He credits his wife, Amika Kushwaha, for pulling him out of the darkness. Kushwaha is a performer – an acclaimed artist in the Northern Indian art form of kathak dance – and an engineer, so she continued to work from home throughout the pandemic.
Like Khan, though, she stopped performing when COVID-19 hit.
"Amika and I did not practise at all," Khan says.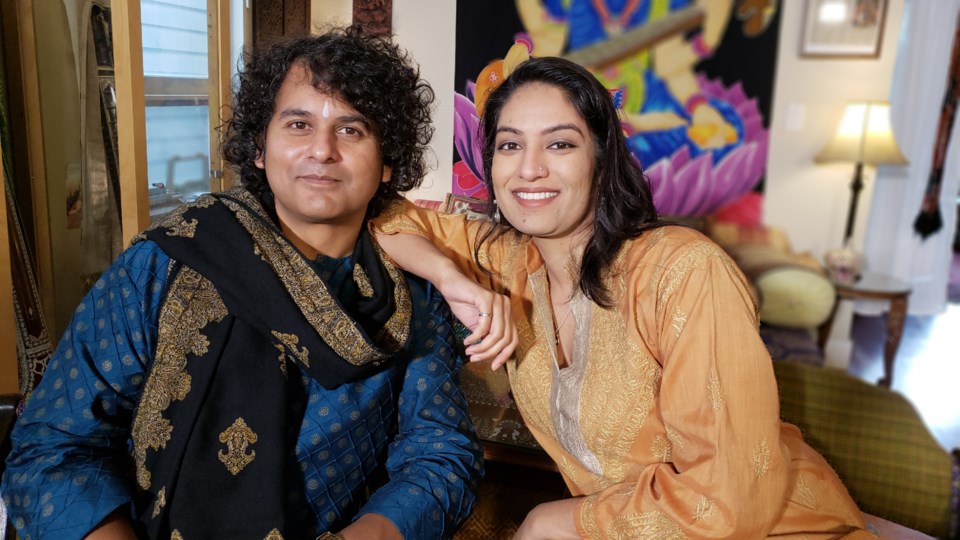 That changed when the two found purpose again - in the chance to stage their annual Mushtari Begum Festival of Indian Classical Music and Dance, which returns to the Massey Theatre this Saturday, Sept. 26.
Khan and Kushwaha have been producing the festival for the past nine years, striving to share their love of these art forms with a wider audience.
At first, the idea of bringing a festival to the stage this year was simply beyond imagination. With audiences capped at 50 people, how could they even make a festival happen?
But, with encouragement and partnership from Massey Theatre, they found a way. They're selling 50 tickets at a much-higher-than-usual price - $100 a seat – so that, Khan says, they can bring light and hope back to the stage.
"The fact that the Massey Theatre has worked this hard to make this opportunity for us? We're completed elated that we can present our festival for an audience of 50 people," said Khan, adding his gratitude for the efforts of the theatre's executive director, Jessica Schneider. "Jessica has been our rock. She's been looking out for all of the artists in New West and trying to make sure everybody is looked after, making sure their health and well-being is stable, making sure they all have work."
With the Massey's help, Khan and Kushwaha are once again able to provide work to other professional performers.
To accommodate the limitations of safe performance in an era of COVID-19, the festival will have a more limited scope than past years, with no set changes. This year's will focus on tabla – featuring Khan and Amarjeet Singh – and kathak dance, featuring Kushwaha and Prajakta Potnis Trehan. Khan also sings; he's renowned for the ability to play tabla while singing in the ghazal and thumri genres. They'll be joined by Baljit Singh on dilruba, an Indian bowed instrument.
It will be shorter than the typical festival – 75 to 90 minutes long, with no intermission, to eliminate the chance for crowding.
Khan is disappointed there won't be snacks at intermission – because, he notes, it's an Indian tradition to feed your audience – but there will indeed be food. Their friend Ram Nayyar is sponsoring a tiffin-box-style dinner for every guest, so all ticketholders will leave with an Indian-style vegetarian dinner to enjoy at home.
He admits to some concern about ticket sales, knowing that $100 is a big ask and that some audience members – in particular the older audience members who tend to make up the majority of classical music fans – may still have trepidation about going out in public.
But they're taking every precaution to keep the audience and performers safe – and to send a message of positivity into the world to counter the doom and gloom of COVID-19.
Khan notes there's already been an incredible amount joy in rehearsal and in watching the other musicians revel in the chance to play again.
"The sparkle in their eyes, their smiles – we haven't seen that in so many months," he says. "It's amazing."
Now, he says, their mission is to bring that joy to the audience.
"The whole idea is to bring love, to bring joy, to bring explosiveness, happiness, to bring sparks," he said.
He's pleased that he and Kushwaha get to be on the leading edge for festivals in Canada, noting no other Indian music festivals – and few festivals of any kind – have returned to the country's stages.
"I've never felt like this in my entire life," Khan said. "What a great lesson it was to me that we can lose everything, but there's always going to be a ray of hope. …
"The music is excited to be back. The music itself has come back to life, and it has brought us back to life."
WANT TO KNOW MORE?
For information, see www.mbfestival.ca. For tickets, see www.masseytheatre.com or call 604-521-5050.