Tom Morgan has never forgotten the teacher who caught him drawing a picture of a nude woman when he should have been doing his schoolwork.
Instead of scolding or punishing him, the teacher instead examined his drawing and pointed out he had failed to include the S-curve of the woman's spine. He was in Grade 6 – and, for the more than half a century since, Morgan has been working hard to get that S-curve just right.
Morgan's work is on display at the Plaskett Gallery in May in an exhibition he's calling How Nude Is Too Nude?
The title, he says, stems from the fact that he's long found it difficult to get his work into galleries because so many refuse to display nudes – at least, those that are considered "too nude."
And painting without having a place to show your work, he says, can be frustrating.
"That's what it's all about really, is to have somebody look at it and appreciate it," he says.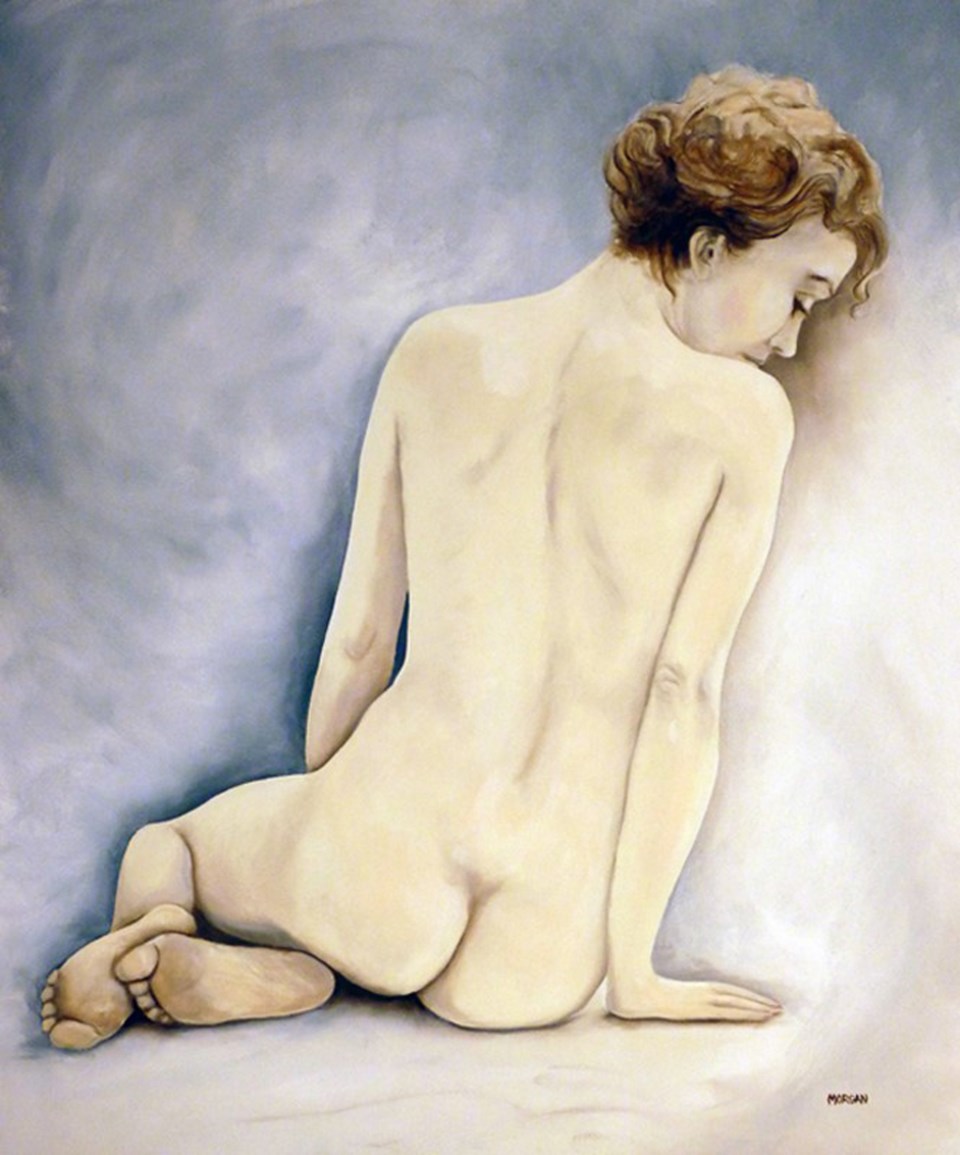 It wasn't until Morgan came across the world of online galleries – particularly a New York City-based site called Barebrush Gallery – that he found a market for his work. On that site, curators from the New York art scene jury in prospective artworks, and chosen pieces are given a featured day in the calendar.
As Morgan writes in an artist's statement: "Had it not been for this site, I would probably have gone back to painting trees long ago."
As it is, though, the unclothed female form has remained his favourite subject.
He finds the human body fascinating, he says, because it's never just static.
"It always changes. It's a very hard thing to draw. I'm fascinated with hands and feet; they change according to how they move," he says, flexing his own outstretched hand as he chats over coffee.
His skill at drawing the human body has evolved over the years through the simple act of continuing to draw – yes, he started with stick figures, like everybody else. After that, he says: "You do a lot of staring and looking."
In his very early years, he used the models that were close at hand.
 "I used to do nudes from the Sears catalogue," he says with a laugh, noting he'd use the lingerie section as his starting point.
As he grew up, he continued to pursue his artistic endeavours. He studied at the Vancouver School of Art for two years, and he lived as a "starving artist" for a time in his early adulthood before deciding to pursue a career in graphics. After that career ended, he turned back to painting as a full-time passion.
Over the years, Morgan has taken a variety of life drawing workshops at such schools as Vancouver Community College, Langara College, Surrey Art Gallery and Malaspina College. He's long been involved in life drawing, and these days he helps to coordinate the New Westminster Life Drawing meetup on Thursdays – where artists have a chance to produce sketches of live, undraped models.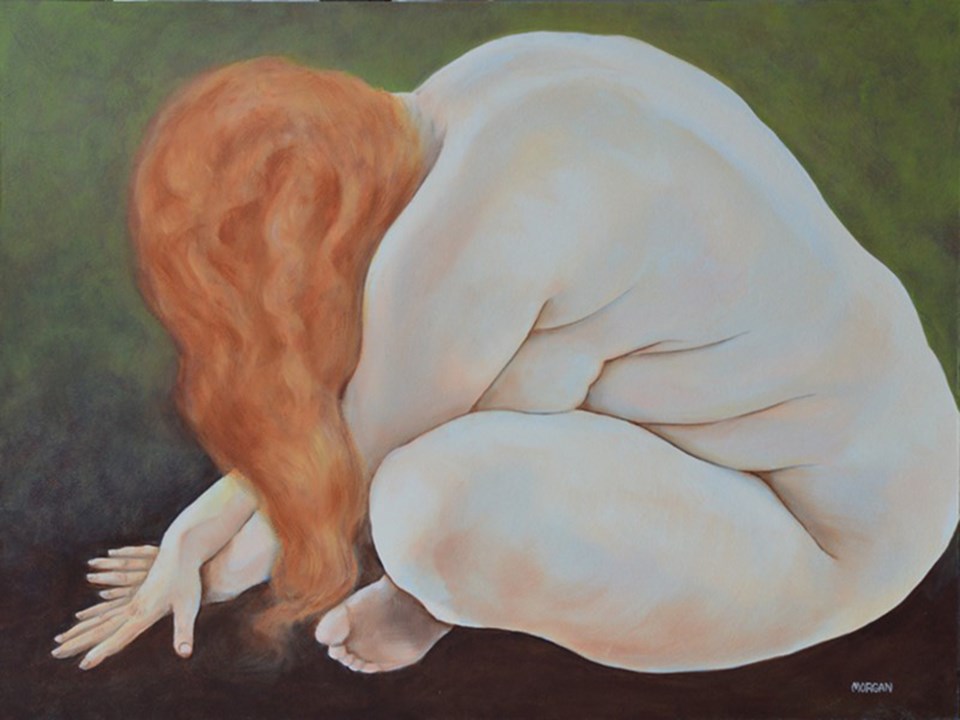 Many of those sketches become the basis for his full-scale oil paintings; if he finds himself inspired by a particular model, he'll often ask to take photographs that he can work from later.
Morgan often finds himself drawn to aspects of the female body that aren't considered the stereotypical "ideal" – in one painting, for instance, he chose to focus on the folds around a model's midsection.
He notes that he used to spend "hours and hours and hours" on each painting, applying multiple layers of paint and an exacting level of detail. These days, he says, he's trying to finish each of his paintings in three working days (with time between coats for drying).
And, no, he doesn't just work on nudes, either – the current painting on his easel is a village scene from Spain, where he and his girlfriend spend part of every year. His Spanish travels and a variety of other wildlife scenes – particularly birds – serve as inspiration for much of his work.
These days, he says, he's trying to figure out a way to work less.
"I'm doing too much right now," he says. "My studio is jam-packed with paintings, and I'm running out of space."
Giving up painting altogether, though, just isn't an option.
 "It gnaws at you," he says. "If you decide, no, I'm not going to paint anymore, it gnaws at you. It's something you sort of have to do. You sort of get addicted to it."
CHECK IT OUT
How Nude Is Too Nude? is on at the Plaskett Gallery from May 1 to 31.
Plaskett Gallery is at Massey Theatre, 735 Eighth Ave. It's open Tuesday through Saturday from 1 to 5 p.m., during performances at the theatre or by appointment. See www.masseytheatre.com or call 604-517-5900.
For more about Morgan, check out his work at https://tom-morgan.pixels.com/