You know there's a simple explanation.
You know he didn't just reconstruct and fill a torn Splenda packet – the same packet that, a moment earlier, you had held onto, helped to tear open and watch him pour out mere inches from you. But when he hands you back the intact Splenda packet – which has your own initials on it, so you know it was the same one – you just choose to believe.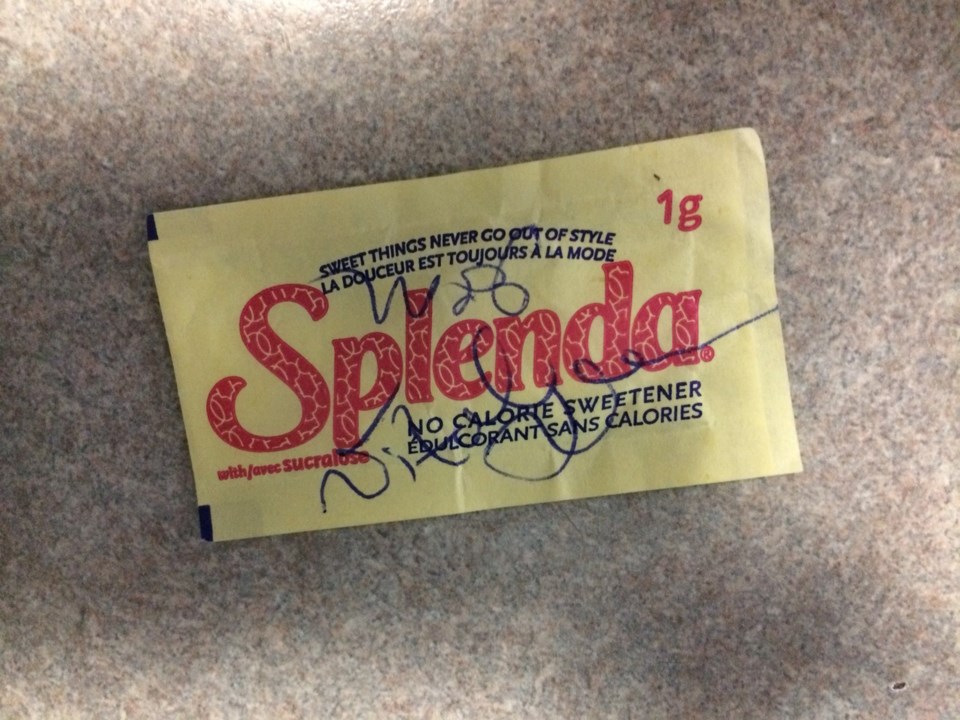 Because this is Vitaly Beckman. And he may be a professional illusionist. Or he may be some sort of wizard with actual magical powers, and who wants to mess with that?
Beckman is onstage June 5 at The River Rock Show Theatre in Vitaly: An Evening of Wonders.
The New Westminster resident has gone from success to success in the world of illusion – not the least of which was fooling famous Las Vegas magicians Penn & Teller on their hit TV show Fool Us. He also had an off-Broadway run this past summer, playing for 16 weeks at the Westside Theatre, the same venue where Penn & Teller started their careers in the 1980s.
"It was amazing to see my face on all those billboards in Times Square," he says, his eyes lighting up with the remembered wonder of the moment. "It was surreal."
Beckman, who was born in Russia and raised in Israel, couldn't help but remember his first trip to New York City many years before, when he had stood in Times Square and been awed by the sheer size of the buildings.
He figures it was seeing the photo of his face on those giant buildings that helped to convince his family this whole illusionist gig just might be the real thing. His engineer father and economist mother took some convincing that the dream that had taken their son to North America in 2008 – to become a magician in Las Vegas or on Broadway – was a legitimate career choice.
"Nobody made a living as an artist, nobody even had a dream to be an artist.  My family is a very, very traditional family in that sense," Beckman says. "It was quite difficult to convince them this is what I wanted to do."
They're convinced now.
"They're very, very proud of me," he says with a smile.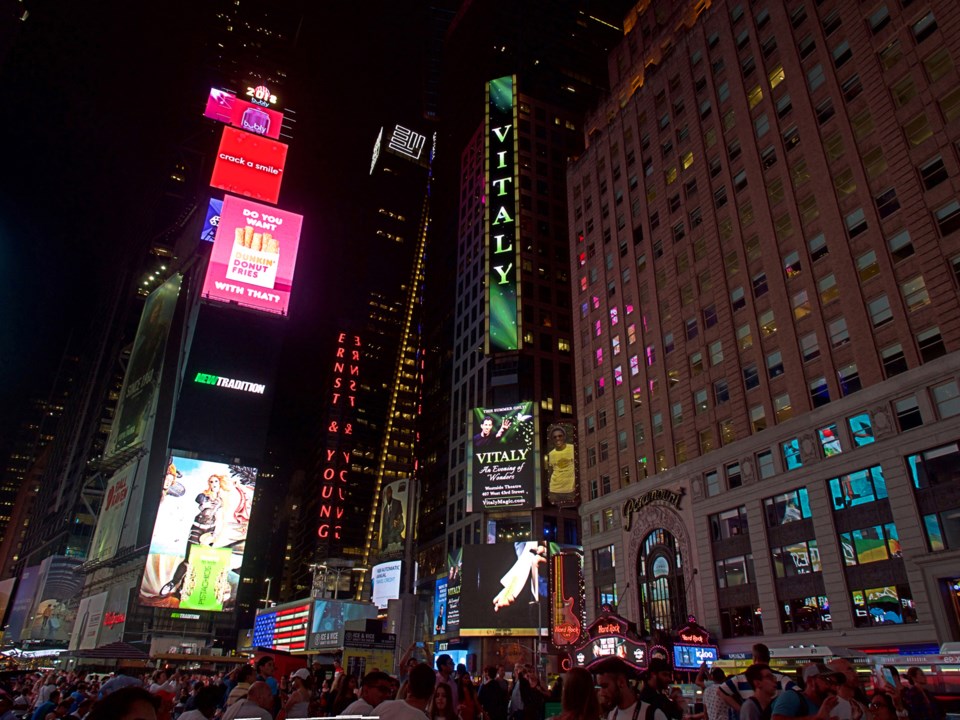 As well they might be, seeing the acclaim Beckman has gained around the world for his illusions - which include such impossibilities as making drawings and paintings come to life, teleporting objects from one audience member to another and making a paintbrush paint by itself, just to name a few.
Beckman avoids the job title "magician," preferring to define himself as an illusionist.
As he points out, all artists are illusionists in their own way. Painters use paint to create their illusions; sculptors use clay; filmmakers use film. His chosen medium just happens to be magic.
For Beckman, being a successful illusionist means balancing the philosophical aspects of magic with the concrete and practical. With a degree in mechanical engineering under his belt, combined with a lifelong love of art – he's been painting and drawing since childhood – he brings both sides of the equation to his work.
"I think magic requires you to have both. It really is a marriage between science and art and theatre," he says, noting the key is being able to create complex illusions that seemingly just happen.
"That's maybe one of the differences of the art of illusion with other art forms," he muses. "Because you do not see how it works, sometimes the audience can not appreciate the hard work that goes into it."
A huge part of the challenge, he says, is simply coming up with original ideas in the first place.
"There are so many people on the earth, and so many of them have invented such beautiful and remarkable things," he says.
Many of his ideas, he says, are based on personal and childhood experiences; others are inspired by the work of other artists.
"I get a lot of inspiration from artists that are not magicians," he says, citing such masters in their genres as Alfred Hitchcock and Salvador Dali.
An idea for an illusion may sit in his mind for a decade before he has the courage to actually start working out how to make it come to life; from there, it's still a long road to the stage. Beckman cites, as an example, one seemingly simple illusion – he draws a leaf on a page, then turns it into a real-life leaf. It's a few seconds in his show, based on two years of development.
"You want it to look convincing to real people who are very critical, who can look at it from all angles. You have to test things, try things. It's a long process," he says.
But once an illusion works, and he can hear the "ooooohs" of wonder from his audience?
"That feels great. It's a very satisfying moment which brings the creativity full circle," he says.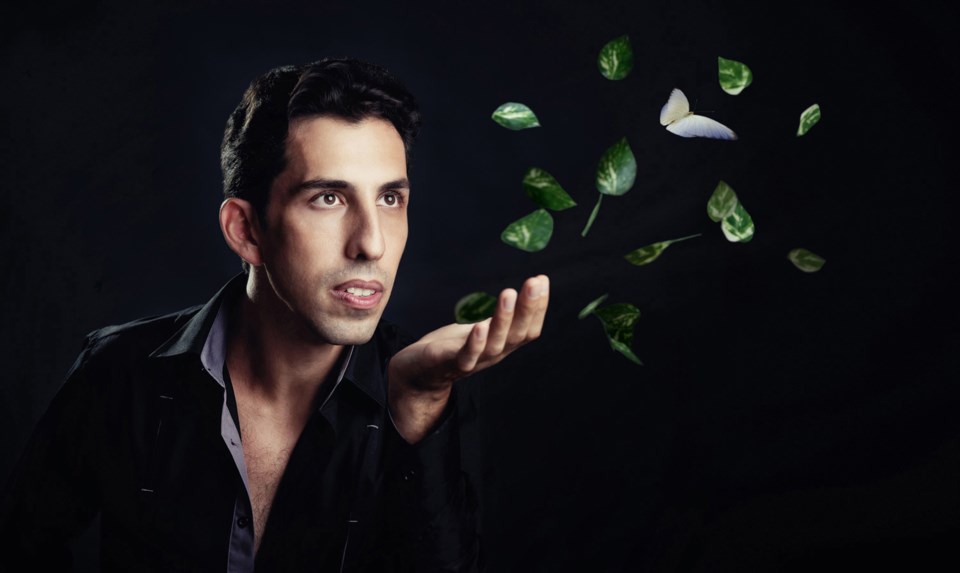 And, yes, the odd time, an illusion won't quite work as planned – it's inevitable in a live show full of complex moments.
Beckman shrugs.
"It's not the end of the world," he says. "It's all about creating a memorable evening of wonders."
Beckman is hard pressed to pick a favourite illusion but says the one that creates the biggest buzz is making people's faces disappear from their driver's licences – and switching them with other audience members.
"It's an interesting way to connect with strangers," he says.
That audience interaction is important to Beckman.
"I like when the show is about the audience, and less about me," he says. "I want them to be immersed in what they see, not just see it with their eyes."
Beckman notes there are two main types of people in an audience: those skeptics who spend their time trying to figure out how the illusions work, and those who sit back and simply enjoy the wonder.
The world of magic and illusion, he says, taps into something very primal in humans.
"It's a very unique art form. It's very ancient. People have been performing it for thousands of years," he says. "It can be light, it can be fun, or it can be very deep, even life-changing."
For the skeptics, he says, "skepticism is their mechanism to cope with what they find possibly threatening."
And for the others? Well, suffice it to say Beckman's shows often end with audience members in tears, overcome with emotion.
"I feel like the whole reason why we admire wonder and magic is because we don't know the most basic answers to the most basic questions: Why are we here? Why are we here for such a short time?" he says. "Life is fleeting. Wonder is fleeting. It's beautiful, but it can be so sad."
Beckman says he's thrilled to have the chance to perform for hometown crowds, given that he's spent so much of his time touring and performing in the U.S. and South America.
He'll spend the summer developing new illusions and honing his ever-changing show, while also working towards some other goals – he has ideas for a TV series, he'd love to go back to Broadway, and, of course, he still wants to one day secure that coveted Las Vegas run.
His ultimate goal?
"Take over the world," he says, deadpan.
But he promises he'll use his magic powers for good.
CHECK IT OUT
What: Vitaly: An Evening of Wonders (a fundraiser for Beth Tikvah Synagogue)
When: Wednesday, June 5, 7 p.m. (doors open at 6 p.m.)
Where: River Rock Show Theatre, 8811 River Rd., Richmond
Admission: $45/$70 (plus fees and service charges), through www.ticketmaster.ca. Recommended for ages eight and up.
Info: www.eveningofwonders.com