It's been a couple of years now since the historic Naramata Inn in B.C.'s beautiful south Okanagan has been in its newest chapter, and there's never been a better time to put a pin in this property and plan out a much-needed visit.

Built in 1908, the Naramata Inn has retained much of its old-fashioned charm - but don't worry, there's WiFi. In ushering the Inn into its next generation, the Inn's owners - a quartet of Vancouverites - chef Ned Bell, communications specialist Kate Colley, designer Maria Wiesner and retired A&W Canada CEO Paul Hollands, have ensured the property has received some modern upgrades while staying true to its roots as an elegant touchstone hotel in a close-knit town.
On the fence about spending some time at the Naramata Inn? Whether you're booking an overnight stay or making room on your Kettle Valley Trail cycling or Naramata Bench wine tasting journey for a meal at the restaurant, there are plenty of reasons to work this charming property into your Okanagan agenda.
Location, location, location
There's a reason why "location" is said three times in a row, and there are three levels of amazing when it comes to the Naramata Inn's location. First off, you're in Naramata, an absolute gem of a destination in the south Okanagan with a bounty of wineries, outdoor activities, and small-town charm to make you fall in love with its somewhat off-the-beaten-path locale.
Secondly, the Inn itself is situated in the most ideal spot within Naramata, given that it's at the foot of Robinson Avenue - the town's main road. From there you can easily go by foot, bicycle, or car to the park, beaches, shops, and restaurants.
And, of course, the hotel itself as a location is noteworthy. The rooms are cozy and updated and are perfect for peaceful slumber after a hard day's exploring (and/or drinking and eating). Step into a clawfoot tub for a soak, or use your exterior door key to let yourself back into the property after an evening out.
Connection to incredible activities
Though you may be content to simply kick back in your room or on the porch of the Inn, if you'd prefer to amp up your stay, there are plenty of options at your disposal as a hotel guest. The Naramata Inn has thoughtfully curated several "experiences" you can book, like local wine tours, picnic packages, and yoga classes or personal training. But if there's something else in the area you're yearning to do, the staff at the hotel can help you, whether it's steering you towards a kayak rental, tipping you off about which local farms and wineries have animals you can visit or their favourite trails for biking or hiking.
Some of the best food in the South Okanagan, period
You didn't think I'd just casually drop the name "Chef Ned Bell" and say no more, right? The Restaurant at the Naramata Inn is a legend in its own right, thanks to Bell and his wildly talented team in the kitchen and dining rooms and behind the bar. The prominent Okanagan-born chef rose to national prominence thanks to his passion for sustainable seafood (he was the culinary force behind OceanWise at the Vancouver Aquarium) and his work creating memorable dishes using local and seasonal ingredients; Vancouverites will likely recall Bell from his days at Yew at the late, great Four Seasons Hotel.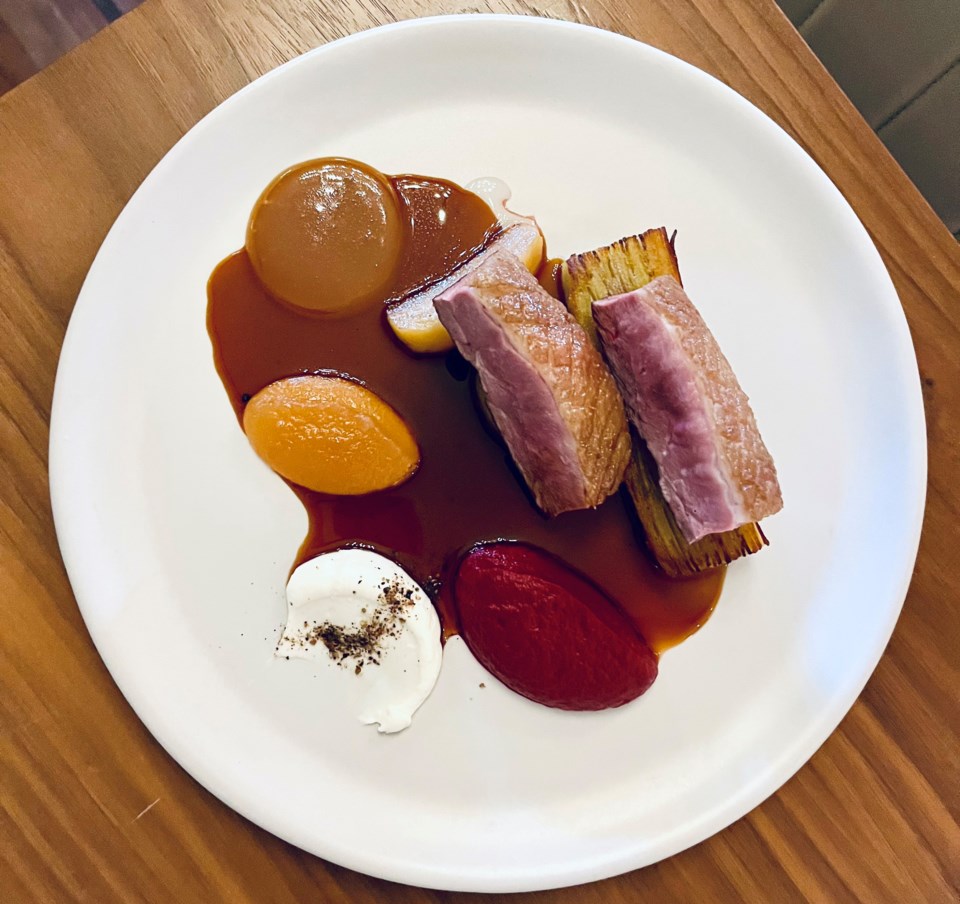 At the Restaurant at the Inn you'll find the same meticulous focus on locally-sourced ingredients and minimum-waste cooking, realized in vibrant, exciting dishes that reflect the bounty of B.C. and the best of the season. You'll also enjoy expertly-created wine and cocktail lists (and of course A&W root beer), breakfast options for guests, and - when it resumes service after the summer - a new on-site wine bar called Eliza.
Dining events at the Inn are a great excuse to make the trip, in particular this fall's "Season of Culinary" Chef Collaboration Events. Take note of the dinner on Monday, Oct. 3 called The Future is Female, featuring the Inn's own Stacy Johnston (Chef de Cuisine), Liz Stevenson (Pastry Chef), and Minette Lotz (Fermenting, Foraging + Farmers) cooking alongside Vancouver's own Chef Andrea Carlson, with pours by the Inn's Wine Director, Emily Walker.
A real chance to disconnect and enjoy a getaway
No matter what draws you to Naramata, the Inn offers a great way to slip into somewhere as quiet (your room) or lively (the restaurant) as you need it to be, for as long as you can spare to spend time on the property. There's a natural serenity to Naramata and in the Inn in particular; though you might easily splash boisterously in Okanagan Lake, crunch dirt beneath the wheels of your bike, or clink glasses at a nearby winery, cidery, or distillery, the quiet elegance of the property is a wonderful spot for a much-needed reset.

Thanks to the Naramata Inn for a one-night stay and dinner at the restaurant in support of this article. All opinions and inclusions are those of the author and were not guided or influenced in any way by the hosts or facilitators. No businesses or representatives were granted any previews of this article prior to publication.